PSYC 5304 Discussion Classify Your Healthcare Experience
PSYC 5304 Discussion Classify Your Healthcare Experience
PSYC 5304 Discussion Classify Your Healthcare Experience
The collaborative care model in theory seeks to address mental health issues with patient care in the primary care setting According to Ward et al., (2016) primary care resources are stretched thin trying to treat everything from colds to "roughly one in four primary care patients presenting with multi-morbidity and up to half meeting criteria for a psychiatric disorder. By design, the collaborative care model includes medical assistants, nurses, primary care physicians, a variety of specialists, and behavior specialists to include health coaches, psychologist, and psychiatrist. The last piece of this continuum are case managers responsible for helping navigate the complexities of insurance coverage and finding the care needs a patient requires to stay in their home.
Is this the perfect solution for patients to receive the best mental, physical, and spiritual help necessary to live productive lives in their community and home? This year, I became involved in a situation in which personal liberties, the need for a mental health intervention, and the safety of law enforcement, along with potential innocent bystanders.
My loved one has suffered from paranoid schizophrenic symptoms since returning home from the service. The violent outbursts have mellowed as he aged into his 60s. It is unclear if his primary care staff missed the warning signs or if they chose to look the other way because he seemed harmless during the previous 10 years. There is no way to know, but it is very possible the isolation associated with the pandemic and the many theories floating around of the COVID-19 origins led to him spiraling out of control.
Beginning with thousands of bats in his yard, to secret government agents, white supremacist, and an Irish gang building secret bunkers in the pasture across from his home. He had been calling law enforcement to come out to his property for nearly 15 years to investigate one issue or another. It was a relationship between a couple of the deputies that were able to prevent him from harming someone or being harmed himself.
Continuing to spiral, he purchased multiple weapons. After the second encounter holding a loaded shotgun on his porch, a fellow veteran and Sheriff's deputy contacted his primary care physician. They involuntary committed him for psychiatric observation. In 10 days, his primary care physician, a hospitalist, a psychiatrist, and a caseworker would become involved at two facilities. The Veteran Healthcare System kept him for three days before transferring him to a civilian psychiatric ward.
In only two days, they decided he was safe to go home. Today, he is living at home, isolated and with no psychiatric care. The collaborative care model has the potential to help those with mild behavior disorders or temporary mental breaks in which early intervention can decrease the likelihood of catastrophic consequences. However, because it is not illegal to be mentally ill, there are missing pieces to the equation. Law enforcement, insurance providers, community leaders, and the frontline medical workers need to be part of the equation together.
References
Ward, M. C., Miller, B. F., Marconi, V. C., Kaslow, N. J., & Farber, E. W. (2016). The role of behavioral health in optimizing care for complex patients in the primary care setting. Journal of General Internal Medicine, 31(3), 265-267. https://10.1007/s11606-015-3499-8 [doi]
Primary care doctors are not always able to help patients that have mental health issues or struggle with addictions. This is why the Collaborative Care Model is so essential. The Collaborative Care Model is more of an organized team-centered approach in Healthcare. This allows patients to receive the psychiatric services needed in a primary care setting. The team will consist of a Behavioral Health manager who will work directly with the primary care team under the direction of a consulting psychiatrist. This model allows more patients to be assessed and treated in one setting to receive adequate care. Also, it is affordable, prompt, less stigmatizing for clients, and cost-effective for the healthcare systems. Getting help from multiple doctors can improve treatment options.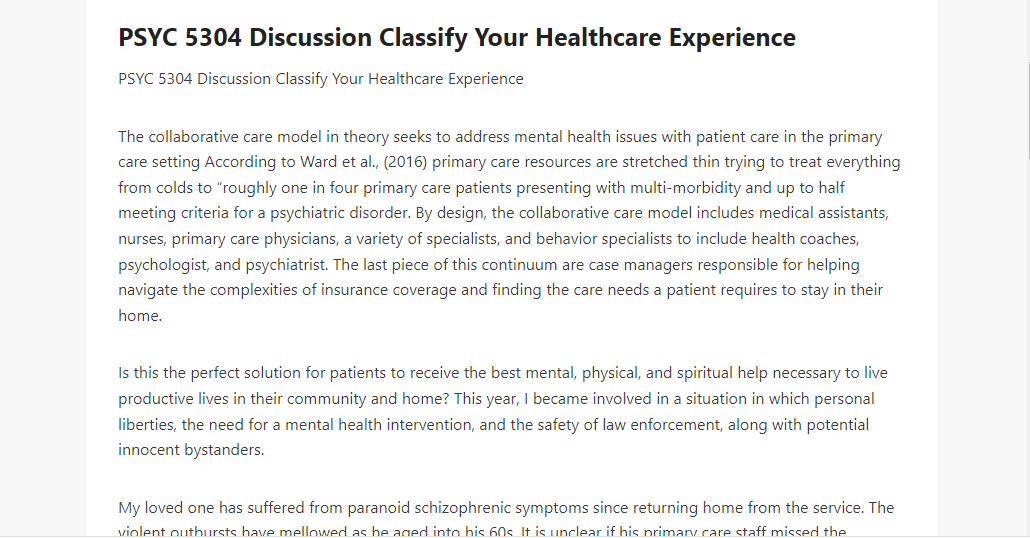 I remember going to my Primary Care Physician in July, and the nurse asked me questions from a mental health assessment sheet after completing my medical assessment. The doctor asked if I was feeling depressed, and he could give me medication and refer me to a psychiatrist if my needs were beyond his scope of practice. I assured him that I was okay. I believe the Collaborative Care Model would have worked in my favor if I was experiencing a need for psychiatric care. Unfortunately, everyone is not as fortunate, and not all healthcare institutions have implemented this plan of care yet.
This brought my mind back to a situation that occurred when I used to work in Healthcare. A young man in his late 20's came into the emergency room with severe stomach pain. I could tell that he was in distress. They ordered a series of labs and performed an abdomen CT on this young man. Well, it turned out that he had severe pancreatitis. After the nurse completed an assessment, it was determined that he suffered from depression and anxiety and turned to alcohol when he felt defeated. He also vomited a lot whenever he was stressed out, causing the lining of his stomach to be damaged. They ended up admitting him to the hospital for his pancreatitis, and while there, they got him a psychiatric evaluation. They determined that he also had PTSD. In this case, the care team worked together to meet his medical and mental care needs. Before being discharged, he was given a few referrals to mental health facilities in the same network as his doctor. This will ensure that he will continue getting the care he needs.
References:
American Psychiatric Association & Academy of Psychosomatic Medicine. (2006). Dissemination of integrated care within adult primary care settings: The collaborative care model [PDF file]. https://www.psychiatry.org/File%20Library/Psychiatrists/Practice/Professional-Topics/Integrated-Care/APA-APM-Dissemination-Integrated-Care-Report.pdf