PSY 6305 Assignment Complete Your Presentation Outline
PSY 6305 Assignment Complete Your Presentation Outline
PSY 6305 Assignment Complete Your Presentation Outline
Solutions to various problems experienced in clinical settings or patient care settings require that healthcare professionals engage in a comprehensive literature search to find out the most effective or evidence-based strategies that can be applied in solving such clinical or patient care setting problems (Fisher & Bloomfield, 2019). As part of the evidence-based practice, the findings obtained are usually presented in a formal forum of professionals and stakeholders who have an interest in that particular issue (LoBiondo-Wood & Haber, 2021). It is important to formulate or create an outline for such a presentation to help cover every aspect of what has been obtained. Therefore, the purpose of this assignment is to formulate an outline for the presentation on nurse burnout. The outline will show various aspects which will be covered during the presentation.
Slide One: Introduction and Overview of Nurse Burnout
Highlighting the need to understand, address, and prevent nurse burnout.
The significance of addressing the nurse burnout problem.
Slide two: Identification of the problem
The specific definition of nurse burnout and how it impacts patients, healthcare professionals, and healthcare systems.
The affected population: Identifying the population mostly affected by nurse burnout, such as patients and nurses
Slide 3: The Need for the Webinar
Objectives of the webinar: To enhance the audience's knowledge regarding nurse burnout, its impacts, and the EBP strategies that can be used in the prevention and management
Importance: A discussion on why addressing nurse burnout can help enhance healthcare service quality
Slide 4: The Target Audience
The audience that will benefit most: the educators, healthcare administrators, nurses, policymakers, and healthcare researchers.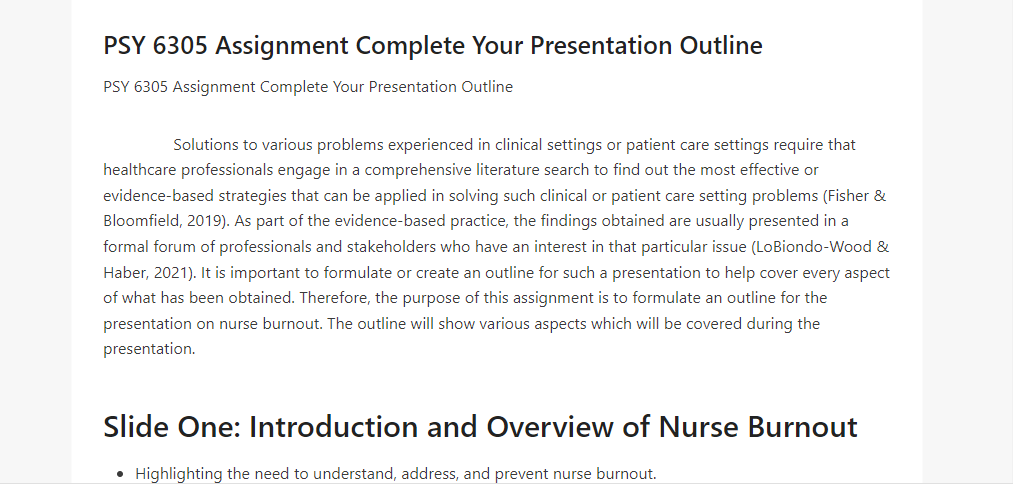 Rationale for choosing the group or audience: An explanation of why each member would benefit from the presentation
Slide 5: The evidence-Based Approaches
A discussion of approaches used in combating burnout, such as the promotion of work-life balance, resilience training, and stress management, the use of team-based care, leadership, and management support, and the use of mental health supports
Slide 6: Diversity, Cultural and Ethical Considerations.
A discussion of diversity, cultural and ethical aspects of nurse burnout, and strategies for combating it.
Slide 7: Resources/Activities.
Discussion of various resources such as interactive case studies, self-assessment tools, a discussion by a panel of nurses who have appropriately managed burnout, and question-and-answer sessions/
Slide 8: Conclusion
A summary of the key points addressed in the webinar
Call to action
Slide 9: References
A list of references for every cited information
References
Fisher, M. J., & Bloomfield, J. (2019). Understanding the research process. Journal of the Australasian Rehabilitation Nurses Association, 22(1), 22–27. Doi: 10.3316/informit.500673642524420
LoBiondo-Wood, G., & Haber, J. (2021). Nursing research E-book: Methods and critical appraisal for evidence-based practice. Elsevier Health Sciences.