PRAC 6645 Comprehensive Psychiatric Evaluation Note and Patient Case Presentation
PRAC 6645 Comprehensive Psychiatric Evaluation Note and Patient Case Presentation
PRAC 6645 Comprehensive Psychiatric Evaluation Note and Patient Case Presentation
Subjective:
CC (chief complaint): "Violent conduct and oversexualized behavior."
HPI: K.Y is a seventeen-year-old female patient who was brought to the facility accompanied by her mother. The patient has a history of intermittent explosive disorder and attention deficit hyperactivity disorder. The mother indicates that her daughter has been exhibiting violent behaviors and oversexualized behaviors in the past few months. She reports bringing the patient in since she thought the behavior would go away, but it keeps on coming back.
Past Psychiatric History:
General Statement: The patient has a history of the intermittent explosive disorder and ADHD
Caregivers (if applicable): The patient lives with her mother and father, who are her caregivers.
Hospitalizations: The patient was hospitalized at six years for unexplained stomach pain and ADHD
Medication trials: No records of medication trials
Psychotherapy or Previous Psychiatric Diagnosis: the patient had previously been diagnosed with ADHD and intermittent explosive disorder
Substance Current Use and History: The patient denies any current use of substances or previous use of the same.
Family Psychiatric/Substance Use History: The patient's father has a history of depression which he has been managing through medication, while the mother was diagnosed with postpartum depression after giving birth to the second child. The grandparents are both dead, and the grandfather had schizophrenia shortly before his death.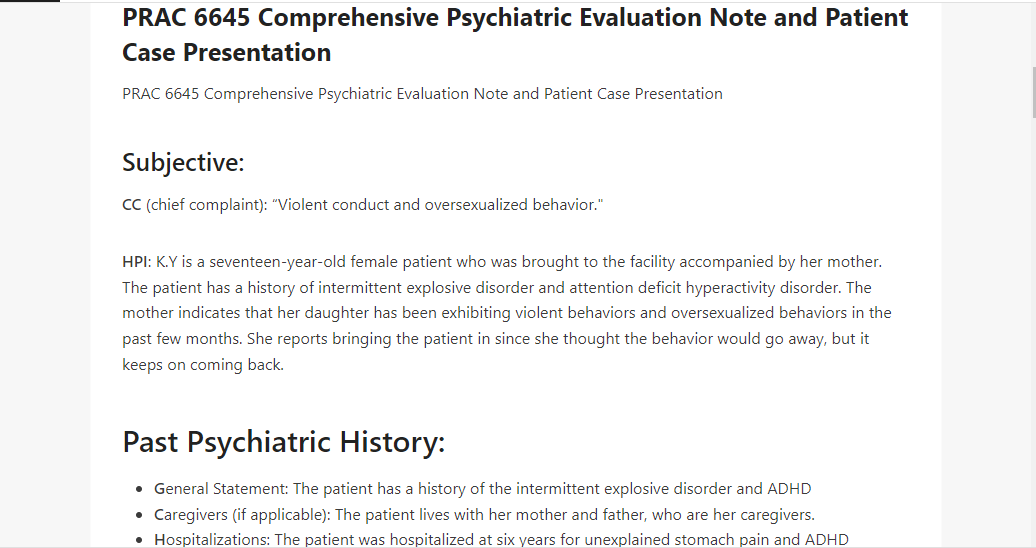 Psychosocial History: The patient currently lives with her mother and father, both of whom work within the city. The home environment has not been conducive as the parents are violent and abusive towards each other. The patient likes her mother more and blames her father for violent behaviors, and she reports failing to understand why her mother is still putting up with her father's destructive behavior.  She is the third born in a family of three children. The firstborn is female, while the secondborn is male. The patient likes going for walks and is currently in college.
Medical History:
Current Medications: The is no history or records of current medications
Allergies:The patient has no known allergy
Reproductive Hx:The patient identifies as female, and she is currently single. She plans to have a boyfriend in the future, marry and possibly have children. She has regular menses.
ROS:
GENERAL: No weight loss, fever, or body weakness.
HEENT: No photophobia, loss of vision, hearing loss, dysphagia, sore throat, or nasal congestion.
SKIN: No skin dryness or skin rash.
CARDIOVASCULAR: There is no chest discomfort/pain, palpitations, or lower limb edema.
RESPIRATORY: No wheezing, cough, or difficulty in breathing.
GASTROINTESTINAL: no anorexia, abdominal pain, nausea, vomiting, diarrhea, constipation, or blood in the stool.
GENITOURINARY: No reported discomfort or burning sensation on urination, no blood in urine, and no increased frequency.
NEUROLOGICAL: No incontinence, dizziness, seizures, or headaches
MUSCULOSKELETAL: There is no myalgia, arthralgia, joint stiffness, or swelling.
HEMATOLOGIC: No anemia or bleeding.
LYMPHATICS: There are no reported enlarged lymph nodes or splenomegaly.
ENDOCRINOLOGIC: No polyuria, polydipsia, polyphagia, intolerance to cold or heat, or increased sweating.
Objective:
Physical exam:
Vital signs: Blood pressure 118/80 mmHg, Pulse rate 80, Temperature 97.5, Height 5'6, Weight 161 lbs
General: The patient looks normal but uncomfortable.
HEENT: The head is atraumatic, pupils' reaction to light is normal, no eye or ear discharges, the neck is normal, no throat inflammation.
Neurological: The cranial nerves are intact. The patient is also alert and oriented.
Cardiovascular: the S1 and S2 are both normal, and no murmurs were detected.
Musculoskeletal: No muscle or joint tenderness, no joint swelling, no stiffness, and no limitations in the range of motion.
Respiratory: No chest pain noted. Normal breathing with no labored breathing noted
Gastrointestinal: no abdominal pain; the bowel sounds present
Diagnostic results: None
Assessment:
Mental Status Examination:
K.Y is a seventeen-year-old female patient who was brought to the facility accompanied by her mother. The patient is appropriately dressed and well-groomed. She is also oriented in person, space, and time. The patient initially looked reluctant. However, she became more anxious and kept on fidgeting and showing distress. She found it had to make and maintain eye contact, and she preferred looking down or sides. The patient spoke in a low voice, even though the speech was fluent and audible. The patient looked sad and became teary as the session progressed and expressed sadness and hopelessness. The patient's memory was intact. The patient's attention and concentration seemed poor. The patient had intact cognition, judgment, and insight. The patient confirmed suicidal thoughts/ideation.
Differential Diagnoses:
Intermittent explosive disorder-this is one of the diagnoses since the patient has shown symptoms such as irritability, aggression, and rage. The patient also has impulsive behaviors. All these are DSM-5 criteria for diagnosing this condition (Coccaro, 2019)
Major depressive disorder: The patient appeared depressed during the session, and the parents also have a history of depression. Therefore, the major depressive disorder can be a possible condition. According to DSM-5 criteria, this condition is known to be associated with symptoms such as sadness and suicidal thoughts or ideation (Hasin et al.,2019).
Attention-deficit hyperactivity disorder: The patient has a history of ADHD. During the session, the patient showed a substantial lack of attention and concentration, which also makes this condition a possibility. However, the patient no longer displays symptoms connected to this condition, hence making this diagnosis less likely. Based on the DSM-V criteria, a person with this condition is expected to present with various symptoms such as lack of concentration, excessive talking, interrupting conversations, and acting without thinking, among others (Grananavel et al.,2019)
Reflections:
This case offered an opportunity to learn. For example, it was evident that previous psychiatric conditions may recur and may coexist with new conditions. The implication is that a practitioner needs to perform a thorough assessment to enable them to narrow down on the possible diagnosis. One of the aspects I would do differently is getting a more comprehensive detail on the patient's prior history and experience with intermittent explosive disorder and attention-deficit hyperactivity disorder. Such a step would help in formulating a better plan of care. Ethical principles should be considered when offering treatment and management to this patient. For instance, autonomy and maleficence should both be considered when prescribing psychotropic medications (Ellis, 2020). Such an approach ensures that the patient is safe and protected from any potential harm. In addition, the patient needs to be educated on the importance of taking the medications as prescribed for optimum treatment and management.
Case Formulation and Treatment Plan:
From the assessment and case impression, it is evident that the patient has a recurring intermittent explosive disorder. The patient has shown several symptoms supported by the DSM-V criteria as those of intermittent explosive disorder, for example, aggressive behavior, anger, and impulsivity. The condition had been managed through medications when it was first diagnosed. However, the patient stopped taking these medications sometimes back. Therefore, as part of the plan, there is a need to start a treatment plan which combines both medication use and psychotherapy. The patient should commence the use of Fluoxetine (20 mg) daily, and she should be observed for two weeks before the next visit (Costa et al.,2018). She should also start cognitive behavioral sessions alongside the medication approach. The modality of choosing cognitive behavioral therapy is that it has been proven to be effective for conditions such as intermittent explosive disorder. The patients should visit the clinic for a follow-up session after one month having attended atleast four sessions of cognitive behavioral therapy. Based on the psychotherapy session, referals can be made such as working with a psychotherapist for more cognitive behavioral therapy sessions.
I confirm the patient used for this assignment is a patient that was seen and managed by the student at their Meditrek-approved clinical site during this quarter course of learning.

References
Coccaro, E. F. (2019). Psychiatric comorbidity in intermittent explosive disorder. In Intermittent Explosive Disorder (pp. 67-84). Academic Press. https://doi.org/10.1016/B978-0-12-813858-8.00004-8
Costa, A. M., Medeiros, G. C., Redden, S., Grant, J. E., Tavares, H., & Seger, L. (2018). Cognitive-behavioral group therapy for intermittent explosive disorder: description and preliminary analysis. Brazilian Journal of Psychiatry, 40, 316-319. https://doi.org/10.1590/1516-4446-2017-2262
Ellis, P. (2020). Understanding ethics for nursing students. Sage
Gnanavel, S., Sharma, P., Kaushal, P., & Hussain, S. (2019). Attention deficit hyperactivity disorder and comorbidity: A review of literature. World Journal of Clinical Cases, 7(17), 2420. https://doi.org/10.12998%2Fwjcc.v7.i17.2420
Hasin, D. S., Sarvet, A. L., Meyers, J. L., Saha, T. D., Ruan, W. J., Stohl, M., & Grant, B. F. (2018). Epidemiology of adult DSM-5 major depressive disorder and its specifiers in the United States. JAMA Psychiatry, 75(4), 336-346. https://doi.org/10.1016/B978-0-12-813858-8.00004-8.