PHN 652 Provide a short description of the intervention you developed and how you plan on evaluating it
PHN 652 Provide a short description of the intervention you developed and how you plan on evaluating it
PHN 652 Provide a short description of the intervention you developed and how you plan on evaluating it
People expect to live in the environments free from any form of health complications. Therefore, healthcare providers are mandated with the responsibility of working alongside other stakeholders to ensure that communities are not endangered from social, political, and environmental vulnerabilities. Community health promotion help in informing and sensitizing people against decisions and lifestyle choices that may expose them to health risks (Kavanagh et al., 2022). Healthcare professionals play an important role in community health promotion. These experts use their proximity to their patients to guide them towards self-care and healthy lifestyle choices. The ecologic model and social determinants of health (SDOH) reveal the community well-being involves social and ecological wellness. Therefore, community health promotion takes an elaborate approach in addressing public healthcare concerns (Wennerstrom et al., 2022). Unfortunately, low income-earners and less educated population struggle to access affordable and reliable healthcare services. Community health promotion enables healthcare organizations to address public health vulnerabilities. As a result, public health nurses are critical in community health promotion.
References
Kavanagh, S., Shiell, A., Hawe, P., & Garvey, K. (2022). Resources, relationships, and systems thinking should inform the way community health promotion is funded. Critical public health, 32(3), 273-282. https://doi.org/10.1080/09581596.2020.1813255
Wennerstrom, A., Silver, J., Pollock, M., & Gustat, J. (2022). Action to Improve Social Determinants of Health: Outcomes of Leadership and Advocacy Training for Community Residents. Health Promotion Practice, 23(1), 137-146. https://doi.org/10.1177/1524839920956297
The public health issue that I would like to address is the vaccine hesitancy among African Americans. Studies shows that racial disparities exist with vaccination rates, particularly the African Americans who have the lowest vaccination rates (Quinn et., al. 2017). My proposed Evidence-Based intervention is an informational campaign to address the vaccine hesitancy among African Americans. The information campaign will be led by community leaders, public leaders, and clinicians which they will be called informational campaign board members. To evaluation the intervention, I will collect data from reliable source before I start the intervention regarding the vaccination rate among African Americans. After the implementation of the intervention, I will gather data about vaccination rate of African Americans to see if there is improvement. If there is positive result, I will advise to keep the information campaign board members as a resource of information for this population. When I don't see any improvement, I will extend the informational campaign for another three months. If there is still no improvement then I will advise to stop the information campaign and to gather more data to improve the intervention. The evaluation data that has been collected will be utilized to improve the intervention or served as evidence that intervention is a success.
Reference
Quinn, S. C., Jamison, A., Freimuth, V. S., An, J., Hancock, G. R., & Musa, D. (2017). Exploring racial influences on flu vaccine attitudes and behavior: Results of a national survey of white and african american adults. Vaccine, 35(8), 1167–1174. https://doiorg.lopes.idm.oclc.org/10.1016/j.vaccine.2016.12.046
In a nutshell, my intervention plan is to introduce physical activity through a gymnasium center to adolescents and introduce eating habits through a healthy school diet. According to the CDC.gov (2017) the effective program evaluation is a systematic way to improve and account for public health actions by involving procedures that are useful, feasible, ethical, and accurate. To evaluate this plan, I would track the weight progress of the adolescent population involved in the program.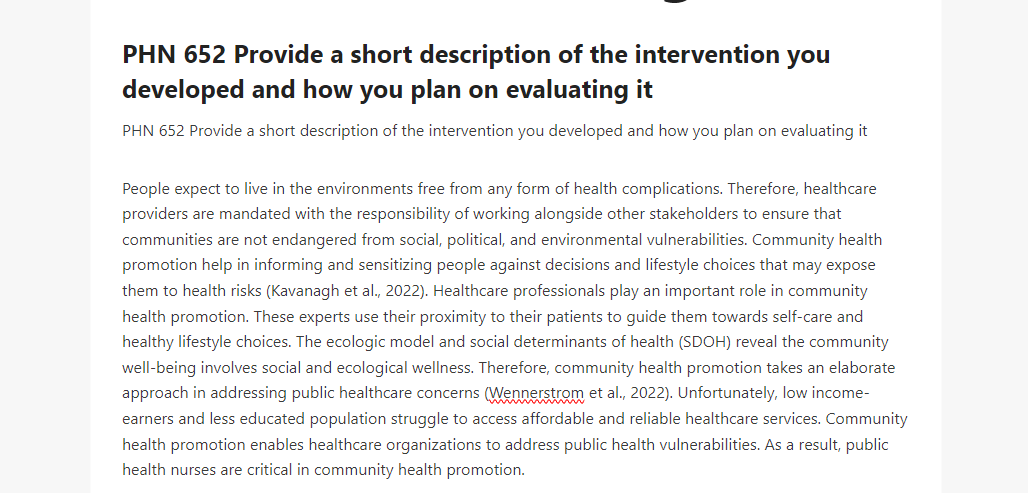 The next step after evaluation is to involve all stakeholders into the ongoing evaluation strategies. With the evaluation data, I would plan effective public health strategies, improve existing programs, and demonstrate the results of resource investments (CDC.gov, 2017).
Reference
Centers for Disease Control and Prevention, (2017). Program Performance and Evaluation Office: A Framework for Program Evaluation. Retrieved from: https://www.cdc.gov/evaluation/framework/index.htm
The interventions that I have focused on is African American Males with hypertension, It is imperative to look at this community and focus on the disease process that is referred to as the "silent killer". I would identify the values of the intervention, improve on the health education intervention once implemented, to gain insight on the health education and its purpose. As public health nurses we would be able to clarify program objectives and goals as well as developing evaluation questions and developing evaluation methods.
As Public Health Nurses setting up a timeline for evaluation activities that identifies when evaluation should begin. I also think description of the health education intervention, in addition to utilizing an evaluation design as well as engaging stakeholders for feedback, we will gather credible evidence and information and analyze data and forming conclusions.
We can develop a short-term outcomes by six months increase in hypertensive self-management skills, monitoring blood pressures and continuous education on the medication regiment, as public health nurses sharing evaluation data with stakeholders and participants and making adjustment to the implementation of the intervention.
Reference
Center for Disease Control and Prevention. (2015). Evaluation.
The intervention that I have developed focuses on depression in the adolescent student. My intention is to develop an educational project for both the adolescent students and their families. This will make them aware of this disorder that is drastically changing the lives of teenagers and their families in a negative way. This education strategy focuses on assessing for and providing education about depression and suicide in adiolescent population. The students will identify mental health resources that are available in their community. This will also encourage the adolescents and parents to seek help when needed and where to get help.
Family, friends, and educators are often the first to notice the signs of anxiety and depression in the adolescent who feels that something isn't right, but is afraid to access help because of stigma. Sometimes the adolescent does not know where to find help or does not even know that help is needed. Therefore, it is important to educate adolescents and individuals who are closest to them about the signs and symptoms of mental illness and how to access help. Nurses working in community or acute care settings may also encounter families and adolescents and individuals who have questions about mental illness and the resources that are available in the community (Anxiety, Depression, and Suicide in the Adolescent Population, n.d.).
After the evaluation I will examine the intervention's plan, objectives, and the outcomes. Then include a summary of the teaching project's overall evaluation. Successful evaluations rely on collection of data and the use of reliable analysis methods. Evaluation plans should illustrate how, where, and from what sources data will be collected. Quantitative and qualitative data should be collected within a framework that aligns with stakeholder expectations, project, time lines and program objectives (Evaluation Data Sources – Rural Services Integration Toolkit, n.d.). The data will be organized in a way that make them easier to work with.
References
Anxiety, Depression, and Suicide in the Adolescent Population. (n.d.). Retrieved from https://www.nln.org/education/teaching-resources/professional-development-programsteaching-resourcesace-all/acep/ace-p-teaching-strategies/anxiety-depression-and-suicide-in-the-adolescent-population-03ffc65c-7836-6c70-9642-ff00005f0421
Evaluation Data Sources – Rural Services Integration Toolkit. (n.d.). Retrieved from https://www.ruralhealthinfo.org/toolkits/services-integration/5/evaluation-data-sources
The adolescent population has been greatly affected with mental issues especially depression. Depression is known for causing educational and social problems by increasing the risk of smoking, substance abuse, and obesity within the adolescent's community. In an article by Sarizadeh, Najafi & Rezaei (2020) religious and spiritual beliefs can reduce depression level caused by life-threatening events and increase individuals' life satisfaction.
"Studies on the relationship between depression and religion usually coexist in the form of two theories. First, religion as a coping strategy helps individuals recognize and understand stressful events when they are confronted with these events. The second theory focuses on the social dimension of religion and emphasizes religious beliefs as a means of social reinforcement and sense of belonging" ( Sarizadeh, Najaf & Rezaei (2020). I believe the use of religion can be a great and effective coping strategy in the adolescent population affected by mental issues.
Reference
Sarizadeh, M. S., Najafi, M., & Rezaei, A. M. (2020). The prediction of depression based on religious coping and the components of positive youth development in adolescents. Mental Health, Religion & Culture, 23(2), 216–228. https://doi-org.lopes.idm.oclc.org/10.1080/13674676.2019.1710123
The intervention developed centers around obesity amongst the adult population. In my intervention a multi-component approach will be utilized, which would consist of the public health nurses leading interventions that involve in-person meetings and offer opportunities for counseling, coaching, and support, frequently also include nutrition education, aerobic or strength training exercise sessions, training in behavioral techniques, and promote exercise and healthy eating habits (CDC, 2022). My role in the community is to focus on supporting preventive strategies that can be used in early childhood, such as implementation of programs in elementary, middle, and high school. This is important to plan and have a strategy for community development and determine how to intervene depending on what resources the community has available to work with and utilize a mixed method approach utilizing both qualitative and quantitative data. Each method has their unique benefits in data analysis.
Quantitative data utilizes concrete values and numbers that provide objectivity in the data while qualitative data helps analyze thoughts, feelings, and behaviors. Qualitative data provides the means to examine the why in certain phenomenon's which can in turn provide meaningful understandings in what motivates certain behaviors. Utilizing both quantitative and qualitative data can provide deeper insight about a specific behavior. This would be especially useful in conducting primary data collection in Santa Fe Springs about obesity especially since obesity is a complex and multifactorial problem (City of Santa Fe Springs, 2022. Furthermore, addressing this community issue can be comprised of the residents, a physical structure or building, and local businesses; all of which are key stakeholders interested in the positive environment where its residents feel safe exercising outdoors and have the resources available to meet their needs. These combined approaches can have a beneficial impact on in the community and help reduce obesity.
References
Centers for Disease Control and Prevention (2022). Obesity and socioeconomic status. https://www.cdc.gov/obesity/data/adult.html.
City of Santa Fe Springs(2022). StayActive.https://www.santafesprings.org/cityhall/community_serv/parks/virtual_recreation_page/stay_acti
In this course, I focused on people living with Human Immune-deficiency Virus (PLWHIV). This population has a high disease burden and faces physical, social, and economic challenges. Patients have weak immune responses, thus highly prevalent to opportunistic diseases and infections. PLWHIV are most likely to develop mental disorders and suicide due to high discrimination, stigmatization, and isolation (Center for Disease Control and Prevention, 2022). The major community needs among this population are the under-utilization of healthcare services. This health need is attributed to poor health literacy and social barriers (discrimination) (World Health Organization, 2022). I proposed the implementation of a multi-intervention program that includes the provision of education, mental health services and counseling. This multi-intervention program aims to address health disparities and increase the utilization of healthcare services among the target group to prevent HIV progression to AIDS. The program targets community settings and public forums using virtual and face-to-face approaches to reach a large population.
The evaluation plan involves gathering data on outcome indicators, including the rate of antiretroviral therapy utilization, reported suicide cases, HIV and mental disorder co-infection cases, and the rate of maintenance in psychotherapy (Clarke et al., 2019). Public health nurses can gather data from health records to identify the trends in the consumption of antiretroviral drugs and the viral suppression among people living with HIV. Nurses can also assess the participants' attitudes towards antiretroviral therapy and psychotherapy during the evaluation.
I can use the evaluation data to conduct a cost and return on investment to assess the cost-effectiveness of implementing the intervention. The next step is making meaningful conclusions that can influence the generalization of the proposed intervention. I can disseminate the results through a report to support the future implementation and sustainability of the intervention. The evaluation data is important in supporting the effectiveness of the proposed interventions.
Reference
Center for Disease Control and Prevention. (2022, June 21). Basic Statistics. https://www.cdc.gov/hiv/basics/statistics.html
Clarke, G. M., Conti, S., Wolters, A. T., & Steventon, A. (2019). Evaluating the impact of healthcare interventions using routine data. BMJ, 365. doi:https://doi.org/10.1136/bmj.l2239
World Health Organization. (2022, July 27). HIV Keyfacts. https://www.who.int/news-room/fact-sheets/detail/hiv         aids#:~:text=There%20were%20an%20estimated%2038.4,2.0%20million%5        D%20people%20acquired%20HIV
The population-based intervention implementation, in addition to the already existing Women Infant Children (WIC), and nutrient program, to incorporate a health care (clinic) inside the facility. I realize that there are other collaborations within the WIC facility. Like how to apply for government assistance, nutrient classes, breastfeeding classes, and other health promotion and disease prevention classes. If a clinic was readily available more women of color will have better access to health care for pregnant women, infants, and children, (CDC.gov., 2017).
The Nurse aids in the operation of the WIC and Immunizations Programs. Certify WIC participants according to program guidelines. Complete hemoglobin checks. If new clients do not have a primary care physician, they are able to see one at the WIC office, (WIC, 2022). Before implementing the assessment of community needs, develop a systematic team (staffing, stakeholders, health care provider, and community members) and the collaborative care model (interaction with primary care physicians), and implementation of the intervention. The Public Health nurse manager will assess the value and impact of their work all the time when they ask questions, consult partners, make assessments, and obtain feedback. The next step is to develop the program in other facilities if the impact of this service is valuable. The information collected to improve the program, by a systematic collection of the activities, characteristics, and outcomes of programs to make judgments about the program, improve program effectiveness, and/or inform decisions about future program development, (CDC.gov., 2017).
References
Centers for Disease Control and Prevention, (2017). Program Performance and Evaluation Office: A Framework for Program Evaluation. Retrieved from: https://www.cdc.gov/evaluation/framework/index.htm
Food and Nutrition Services, (2022). Special Supplemental Nutrition Program for Women, Infants, and Children. Retrieved from: https://www.fns.usda.gov/wic/wic-eligibility-requirements
During this course I identified mental health illiteracy among adolescents as a community need that needed to be addressed through a population health intervention. Mental health illiteracy has led to poor help-seeking behaviors and stigmatization of mental disorders and those consuming mental health services. I proposed a population health intervention of implementing a school-based education program on mental health targeting adolescents. The program will be conducted in schools to target as many adolescents as possible. Adolescents will be educated on common mental disorders, drug and alcohol use, suicide, help-seeking, and professional help.
The plan for evaluation includes collecting data using surveys and questionnaires to assess the impact of the program in improving adolescents' literacy levels on mental health. I will apply outcome evaluation to examine how well the school education program achieved the outcomes that were set at the beginning (Fynn et al., 2020). During evaluation, I will ask questions like: What is the impact of the intervention? To what degree did the intervention meet its purposed goals and objectives? Furthermore, I will evaluate the affective impact of the intervention, which is the change in adolescents' attitudes or feelings toward mental health and their adoption of new behaviors like seeking mental health services (Fynn et al., 2020). In addition, I will evaluate learning change, which is the new knowledge and awareness acquired, and status change, the improved health outcomes.
After evaluation, I will disseminate the intervention's outcomes to public health agencies and state department of education and health so that they can support similar interventions in the future. I can use the evaluation data to make recommendations for future program improvements (Holt et al., 2021). Besides, I can use the evaluation to conduct a cost-benefit assessment to establish whether the program outcomes were worth the investment in program development and operation.
References
Fynn, J. F., Hardeman, W., Milton, K., & Jones, A. P. (2020). A scoping review of evaluation frameworks and their applicability to real-world physical activity and dietary change programme evaluation. BMC Public Health, 20(1), 1-16. https://doi.org/10.1186/s12889-020-09062-0
Holt, C. M., Fawcett, S. B., Hassaballa-Muhammad, R., Partridge, D., & Jordan, S. (2021). Participatory Monitoring and Evaluation of the COVID-19 Response in a Local Public Health System. Health promotion practice, 22(6), 750–757. https://doi.org/10.1177/15248399211041085