PHN 652 Discuss the sources of evidence for public health nurses
PHN 652 Discuss the sources of evidence for public health nurses
PHN 652 Discuss the sources of evidence for public health nurses
Smith et. al., (2012) discuss that public health policies and recommendations aim to be informed by the best available evidence. In every research evidence-based information is vital so public health practitioners must be ready to implement an evidence-based approach in their work to meet health goals and sustain necessary resources such as funding (Jacobs, Jones, Gabella Spring & Brownson, 2012). Research helps to integrate results of trials, while public health decision making is largely based on evidence. Sources of evidence may include the systematic reviews, trials, cohort studies, case series, case study, surveillance systems and backgrounds information from the population.
"Key elements of evidence-based public health (EBPH) have been summarized (3) as the following:
· Engaging the community in assessment and decision-making;
· Using data and information systems systematically;
· Making decisions on the basis of the best available peer-reviewed evidence (both quantitative and qualitative);
· Applying program planning frameworks (often based in health behavior theory);
· Conducting sound evaluation; and
· Disseminating what is learned" (2012).
In an article by Jacobs, Jones, Gabella, Spring & Brownson (2012) increasing disease rates, limited funding, and the ever-growing scientific basis for intervention demand the use of proven strategies to improve population health.
Every data collection or source of evidence is tailored to help particular communities with intervention, assessment and implementation of resources. Among the sources of evidence, public health surveillance is a critical tool for understanding a community's health issues. Often conducted through national or statewide initiatives, surveillance involves ongoing systematic collection, analysis, and interpretation of quantitative health data (Jacobs, Gabella, Spring & Brownson, 2012).
References
Jacobs, J. A., Jones, E., Gabella, B. A., Spring, B., & Brownson, R. C. (2012). Tools for Implementing an Evidence-Based Approach in Public Health Practice. PREVENTING CHRONIC DISEASE, 9. https://doi-org.lopes.idm.oclc.org/10.5888/pcd9.110324
Marissa J. Smith, Andrew J. Baxter, Kathryn Skivington, Mark McCann, Shona Hilton, & Srinivasa Vittal Katikireddi. (2021). Examining the sources of evidence in e-cigarette policy recommendations: A citation network analysis of international public health recommendations. PLoS ONE, 16(8).
The importance of the social determinants of health is determined by the variability of health of a population. By determining the social determinants in a certain population a researcher can formulate plans to yield the best outcomes. Social determinants can include incomes, education, occupation and culture. Cultural social determinants can include different diseases, risk factors and health behaviors. Factors that influence health or create social determinants are age, sex, and genetic factors, risk factors (smoking, exercising and diet). There are social determinates of health that include network, socioeconomic, health systems and environmental; these determinates are created by where individuals are born, grow, and live. Determinates of health create health inequalities that are dependent upon money, power and resources and each level. By identifying and understanding the determinates within an area the researcher can identify unequal distribution of resources and determine vulnerability.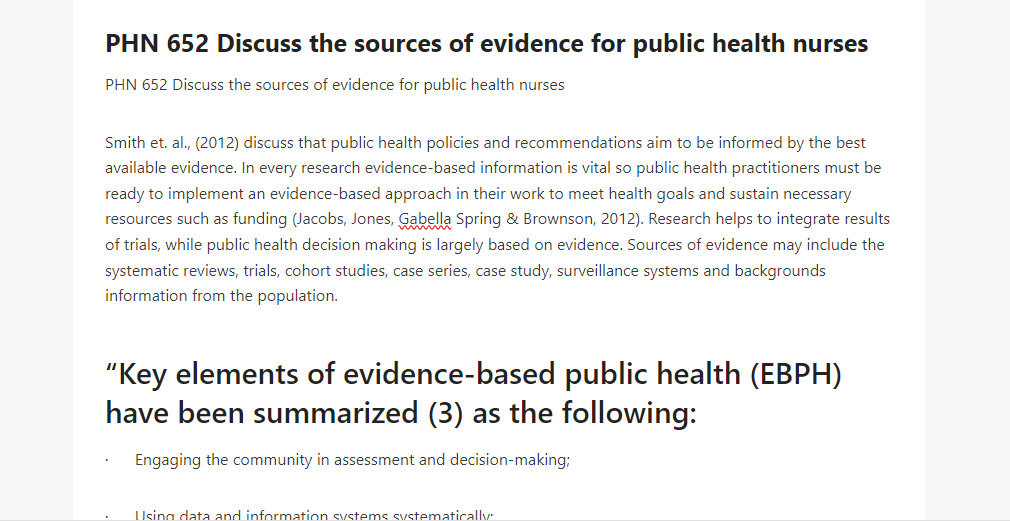 Social Determinants of Health- an introduction. (2017) . https://youtu.be/8PH4JYfF4Ns
Scientific evidence supports decision-making, thus promoting the delivery of quality healthcare services. The sources of public health evidence include reference material, national plans and guidelines, procedures from local authorities, nursing journals, personal experience, and knowledge from nursing training programs. The Institute of Medicine recommends public health organizations adopt the evidence-based practice approach in providing patient-oriented healthcare services (Lhachimi et al., 2016). Reference material includes peer-reviewed articles, literature reviews, books, and nursing journals. Public health nurses search for articles relevant to the practice issue and published within the past 5-7 years. These reference materials provide quantitative and qualitative data based on research studies (Lhachimi et al., 2016). As such, nurses can appraise data from epidemiological results, which is crucial in making clinical decisions. Nurses can apply personal experience in cases where they face similar clinical issues. For instance, a nurse treating a patient with a mental disorder can use cognitive behavioral therapy techniques based on the successful treatment of a previous patient. In addition, nurses can refer to other nurses' experience in decision-making. Despite positive outcomes, personal experience is not a reliable source (Lhachimi et al., 2016). The rationale is that personal experience is highly susceptible to cognitive bias, systematic errors and has no citation.
Another source of evidence is public health policies. Research-derived evidence informs policy-making, which involves the development of laws, regulations, and guidelines (Lhachimi et al., 2016). Nurses are obliged to enforce federal policies which regulate nursing practice. For instance, the nurse practice act guides nursing actions, thus balancing nurses' rights and the responsibility to protect population health (Hyunh & Haddad, 2020). Nurses also gain practice skills and knowledge from nursing institutions and training programs. Nurses apply evidence to support evidence-based practice through making informed decisions during diagnosis, treatment, and evaluation of health outcomes at the point of patient contact (Lehane et al., 2019).In addition, nurses apply evidence in utilizing limited healthcare resources to improve patient outcomes. Evidence-based practice enables nurses to reach patient needs and population health goals and reduce health disparities.
References
Huynh AP & Haddad LM. (2022 Jul 18). Nursing Practice Act. In: StatPearls [Internet]. Treasure Island (FL): StatPearls Publishing; 2022 Jan–. PMID: 32644438. https://www.ncbi.nlm.nih.gov/books/NBK559012/
Lehane, E., Leahy-Warren, P., O'Riordan, C., Savage, E., Drennan, J., O'Tuathaigh,                    C., … & Hegarty, J. (2019). Evidence-based practice education for   healthcare professions: An expert view. BMJ evidence-based medicine, 24(3),       103-108. http://dx.doi.org/10.1136/bmjebm-2018-111019
Lhachimi SK, Bala MM, Vanagas G. (2016 Jan 28). Evidence-Based Public Health. Biomed Res Int. 5681409. doi: 10.1155/2016/5681409. PMID: 26942196; PMCID: PMC4749765.
Public health nurses have critical role to disease prevention and promoting health and safety of the community. To meet their health goals, they must be prepared to implement evidence-based practice. There are several sources of evidence that public health nurses can utilize to support their evidence-based practice. Some of this evidences are empirical evidence, ethical evidence, personal evidence, and aesthetic evidence (Mick, 2017). Empirical evidence is obtained from experimentation and observation bases on scientific research. Ethical evidence is based on the values and preference of the patients. Personal evidence is based on the clinical experiences of the nurses while caring for their patients. And the aesthetic evidence is acquired through nurses interpretation, value, and understanding. Evidence-based practice is associated in making decision in a professional capacity based on a combination of systematically acquired research-based knowledge, evidence-based knowledge and the patient's wishes and needs in the given situation (Weum et al., 2017).
Reference
Mick, J. (2017). Call to action: How to implement evidence-based nursing practice. The Peer-Reviewed
Journal of Clinical Excellence 47(4), p.36-43. DOI: 10.1097/01.NURSE.0000513603.03034.5c
Weum, M., Bragstad, L.K., & Glavin, K. (2017). How public health nurses use
sources of knowledge. DOI: 10.4220/Sykepleienf.2017.64242
Read
For a public health professional, evidence is collected in many forms. The sources range from national plans and guidelines, Centers for Disease control and prevention, BMJ best practice, Up-to-date, evidence-based nursing articles, acquired knowledge and training in the public health field as a nurse, clinical experiences and guidelines and procedures issued by the individual stated and local authorities. (Lovelace et. al, 2015, All evidence noted above enables nurses to evaluate research with the goal of obtaining new knowledge, research, and up-to date information of treatments and both diagnosing testing, screening, education to both the community and health care providers. Furthermore, it's important to recognize that public health nurses work from evidence. According to Bragstad, Glavin,& Weum (2017). "There is a need to look closer into what sources of knowledge public health nurses use as a basis for their professional decision-making".
References
Bragstad,L., Glavin,K.,Weum,M.,(2017).How Public Health Nurses use sources of Knowledge. Retrieved from https://sykepleien.no/en/forskning/2018/02/how-public-health-nurses-use-sources-knowledge. doi10.4220/Sykepleienf.2017.64242en
Lovelace, K. A., Aronson, R. E., Rulison, K. L., Labban, J. D., Shah, G. H., & Smith, M. (2015). Laying the groundwork for evidence-based public health: why some local health departments use more evidence-based decision-making practices than others. American journal of public health, 105 Suppl 2(Suppl 2), S189–S197. https://doi.org/10.2105/AJPH.2014.302306
According to Green et al (2020) Understanding the varied applicability of evidence across populations and settings, and its uses and limitations to help professionals and communities advance the goals of health promotion and public health received increased attention throughout the first decade of this century. The importance I believe here is the fact that evidence-based practice is essential for public health. As Identified by Green et al (2020) the public health community has made considerable progress in closing the gap between certainty and uncertainty by marshalling evidence along dimensions of relevance, generalizability and effectiveness from a wide range of sources. This is a great indication that public health and evidence-based practice goes hand and hand in the progression of public health.
According to the CDC Evidence-based Practice gives rise to the fact experiences and community trails as sources of evidence rather than depending so exclusively on evidence generated from highly controlled investigator-initiated experimental trials. This thought gives the premise that evidence-based Practice is the source that can heighten the balance of public health nursing and propel this important aspect of nursing into the next century with it being the building blocks of communities, the well-being of the public and their health moving forward. Public health nurses can continue with the healing aspect with essential in healing and building communities one step at a time.
References
Center for Disease Control and Prevention, (2018). Public health professional gateway. Retrieved From:https://www.cdc.gov/publichealthgateway/bestpractices/
Green, Lawrence W.; Allegrante, John P. AMERICAN JOURNAL OF HEALTH PROMOTION; NOV 2020; 34; 8; p946-p948, Database: Social Sciences Citation Index