PHN 652 Discuss the advantages and disadvantages of using qualitative or quantitative data
PHN 652 Discuss the advantages and disadvantages of using qualitative or quantitative data
PHN 652 Discuss the advantages and disadvantages of using qualitative or quantitative data
Qualitative research in combination with quantitative research, can play an important role generating an improved understanding of disease, health and health care. Data collected in qualitative research are usually in narrative rather than numerical form, such as the transcript of an unstructured, in-depth interview. The goal of qualitative research is the development of concepts that help clarify phenomena in natural, rather than experimental, settings, giving due emphasis to the meanings, experiences and views of all participants being studied. For example, to understand why some members of ethnic minorities have refused tuberculosis treatment, qualitative, culturally sensitive interviews may be much more informative than standardized quantitative interviews (Verhoef & Casebeer,1997).
Quantitative research is usually deductive, relying on experimental and survey methods to test specific hypotheses based on general principles. It is strong in inductive reasoning, building and expanding theories concerning relationships among phenomena (Verhoef & Casebeer,1997). Advantages of quantitative research include: data collection occurs rapidly, the samples are randomized, it offers reliable and repetitive information and the findings can be generalized. Disadvantages include: The researcher cannot follow-up on any answers in quantitative research, the characteristics of the participants may not apply to the general population, cannot determine if answers are true or not, researcher cannot gain access to specific feedback details (Gaille, 2019). One example of using quantitative data finding out the number of people suffering from diabetes in a group.
Both quantitative and qualitative have weaknesses that to some degree are compensated for the strengths of the others. Quantitative research is very suited to establishing cause-and-effect relationships to testing hypotheses and to determine the opinions, attitudes and practices of a large population. Qualitative researcher lends itself very well to developing hypotheses and theories and to describing processes such as decrease and continued process. Quantitative research generates factual reliability outcome data that are usually generalizable to some larger populations, and qualitative research produces rich detailed and valid process data based on the participant's rather than the investigator's, perspectives and interpretations (Verhoef & Casebeer, 1997).
References
Gaille, L. (2019, February 04). 13 Pros and Cons of Quantitative Research Methods. Retrieved from https://vittana.org/13-pros-and-cons-of-quantitative-research-methods
Verhoef, M. J., & Casebeer, A. L. (1997, March). Broadening horizons: Integrating quantitative and qualitative research. Retrieved from https://www.ncbi.nlm.nih.gov/pmc/articles/PMC3327344/
The public health nurse can access data sources when it comes to investigating diseases or outbreaks, by tapping into the U.S Department of Health and Human Services (HHS). The HHS is most heavily involved in the health and warfare concerns of U.S citizens, (Stanhope & Lancaster, 2019). The Centers for Disease Control and Prevention and Health Resources and Services Administration (HRSA) are great resources to access that analyze surveillance data on disease or condition outbreaks. The most important public health nursing reasons for investigating an outbreak are to help guide disease prevention and control strategies. Even for diseases that are well characterized, an outbreak may provide opportunities to gain additional knowledge by assessing the impact of control measures and the usefulness of new epidemiology and laboratory technique, (CDC, 2012). Most outbreaks come to the attention of health authorities because an alert clinician is concerned enough to call the health department. Another reporting source for apparent clusters of both infectious and noninfectious diseases is patients or other members of the community. There are numerous sources of data that the public health nurse can utilize to gain information when investigating disease or condition outbreaks.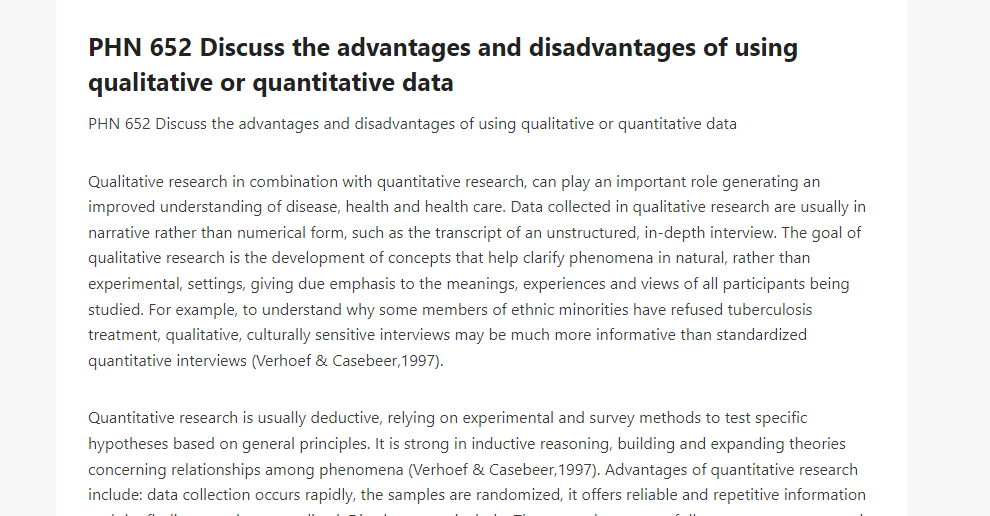 Reference
Centers for Disease Control and Prevention, (2012). Investigating an Outbreak: Uncovering outbreaks Retrieved from: https://www.cdc.gov/csels/dsepd/ss1978/lesson6/section1.html#
Stanhope, M. & Lancaster, J. (2019). Public health nursing: Population-centered health care in the community (10th ed.). St. Louis, MO: Elsevier. ISBN-13: 9780323582247
Data surveillance is important to identify trends and disease patterns with available resources. There are multiple sources of data that a public health nurse can use when investigating a disease or condition outbreak. CDC.gov is usually a good starting place. The CDC epidemiologist work with multiple potential data sources to consider what data is relevant to the condition. The CDC can look at primary source, such as public health departments, a mandatory reporter that has first-hand access to notifiable disease case data. Secondary, the CDC can receive secondary sources from hospital discharges on chronic disease and injuries. Ways for public health nurses to collect information on risk behaviors can be completed by population-based surveys, census.gov and the Morbidity and Mortality Weekly Report. The vital statistic reports, mortality, are death certificates, medical examiners report and birth certificates. The morbidity is information from notifiable disease reports, lab reports, hospital discharge summaries, billing data, environmental and sentinel surveys.
CDC.gov. (2018). Collecting Data. Collecting Data | Epidemic Intelligence Service | CDC
Stanhope, M. & Lancaster, J. (2019). Public health nursing: Population-centered health care in the community (10th ed.). St. Louis, MO: Elsevier. ISBN-13: 9780323582247
Quantitative data refers to data that is countable and measurable. In essence, quantitative data is presented in numerical form. Advantages of using quantitative data include objectivity, time-saving, and generalization. Quantitative data has concrete numerical values that are tested and checked for credibility (Farghaly, 20118). In addition, researchers can replicate experiments and quantitative results. Another advantage is that quantitative data is easier to obtain even in large sample sizes. Quantitative data is generalizable to a larger population thus promoting the application of research findings in the promotion of population health status. The objectivity of quantitative data reduces the susceptibility to research bias (Farghaly, 2018). As such, the quantitative results are accurate and reliable. The major limitation of quantitative data is that it is only applicable to specific case studies. As such, the generalization of conclusions drawn from quantitative data solely relies on hypotheses. I would use quantitative data in the statistical analysis of population demographics.
Qualitative data refers to descriptive data about categorical variables that are presented as symbols or number codes. Advantages of using qualitative data include flexibility, free exchange of information, detail, and ease of data collection (Farghaly, 2018). Qualitative data provides detailed information about the attitudes, perspectives, and feelings of research participants. Researchers are open and ask flexible questions that allow participants to share thoughts on various topic areas. Qualitative data is easy to collect and researchers do not require prior knowledge of research participants (Moises, 2020). Qualitative data is also reliable since researchers consider participants' responses rather than their perspectives. Qualitative data has a few limitations which include time-consuming, expensive, lack of generalization, respondent bias, and interviewer errors (Moises, 2020). Qualitative data requires researchers to guide the subjects in responding to research topic questions. Therefore, the data depends on participants' responses which is prone to bias. Researchers can also make errors in the collection and interpretation of quantitative data. Therefore, quantitative data is less reliable compared to quantitative data. I would use qualitative data in the coding or analysis of population content.
References
Farghaly, A. (2018). Comparing and Contrasting Quantitative and Qualitative Research Approaches in Education: The Peculiar Situation of Medical Education. Education in Medicine Journal, 10(1).https://doi.org/10.21315/eimj2018.10.1.2
Moises Jr, C. (2020). Online data collection as an adaptation in conducting quantitative and qualitative research during the COVID-19 pandemic. European Journal of Education Studies, 7(11).
DOI: http://dx.doi.org/10.46827/ejes.v7i11.3336
Qualitative research is defined as the investigation into the way people explain a certain social condition around them to provide qualitative data (Humans of Data, 2018). Conversation or interview is usually involved to provided non-numerical information. There are three methods of collecting data for qualitative research. The first method is in-depth interview. It is the commonly used type of data collection for qualitative research by conducting one-to-one interview (Humans of Data, 2018). It is useful when the research needs detailed information. The participants must provide informed consent before participating for the interview. The second method of qualitative research is focus group discussions (FGD). It is another common qualitative data collection conducted by investigator exploring the perceptions and experience of group of people. The participating group of people usually are similar in some ways or have a common description such as employment, education, and gender (Humans of Data, 2018). This type of method of qualitative research is useful when researcher's goal is to explore different people's opinions on the issue or topic. The third and last qualitative research data collection is observations. Observation collects data by observing people's behavior or events in their natural setting (Humans of Data, 2018). It is used when we want to understand ongoing process or situation. I would use a qualitative data if I would like to study and understand the behavior of certain population towards a health issue.
Quantitative data is utilized when a researcher is trying to quantify a problem or trying to identify a numerical problem (Dewitt Wallace Library, 2021). Data can be counted or compared on a numeric value such as height, weight, and age. Quantitative data is useful in studies that is trying to determine prevalence of communicable disease.
Reference
Dewitt Wallace Library. (2021). Quantitative vs qualitative data. Retrieved from
Humans of Data. (2018). 3 Qualitative research methods you should know. Retrieved from
Qualitative research is subjective and uses inductive reasoning to synthesize data. It seeks to generate new insight or knowledge or to validate existing knowledge. Qualitative data is associated with some advantages, including producing detailed descriptions of participants' feelings, opinions, and experiences (Busetto et al., 2020). It interprets the meanings of the participants' actions and thus helps to achieve deeper insights into the issues. In addition, qualitative data helps to holistically understand the human experience in specific settings since it gives an in-depth analysis. Qualitative data also provides rich data, facilitating further research on the topic of interest (Busetto et al., 2020). It helps to discover the research participants' inner experiences and understand how meanings are shaped through and in culture. Besides, specific themes and patterns can be identified when using qualitative data.
Some disadvantages are apparent with qualitative data. Firstly, it focuses more on meanings and experiences and tends to leave out contextual sensitivities. Qualitative data interpretation and analysis are often complex, with indefinable data on one side and stringent requirements for analysis on the other (Aspers & Corte, 2019). Consequently, it is difficult to generalize results due to the research method and small sample size, which raises the issue of generalizability to the whole population of the research. In addition, qualitative data lacks objectivity because it is influenced by the researchers' views (Aspers & Corte, 2019). Furthermore, personal experience and knowledge influence observations and conclusions, and the participants have more control over the content of the data collected.
Qualitative and quantitative data are both credible, and they are selected based on the goal of the research. I would use qualitative data in a study that aims to understand the subjective experience of a particular target population concerning an intervention or a health concern (Busetto et al., 2020). On the other hand, I would utilize quantitative data in a study that aims to generalize results from the participants to a larger target population, like the impact of an intervention in improving a health outcome.
References
Aspers, P., & Corte, U. (2019). What is Qualitative in Qualitative Research. Qualitative sociology, 42(2), 139–160. https://doi.org/10.1007/s11133-019-9413-7
Busetto, L., Wick, W., & Gumbinger, C. (2020). How to use and assess qualitative research methods. Neurological research and practice, 2, 14. https://doi.org/10.1186/s42466-020-00059-z
The purpose of research is to enhance society by advancing knowledge through the development of scientific theories, concepts, and ideas. The key aim of the research is to have a detailed understanding of a subject matter which can be achieved by exploration, description, and explanation. Contribute to comprehensive community-health assessments through the application of quantitative and qualitative public health nursing data, (Stanhope & Lancaster, 2019).
Qualitative Research is best used to understand concepts, thoughts, or experiences. Qualitative research allows the researcher to provide more generalized data despite the multiplicity of perspectives and opinions. It involves investigating methodologies by collecting data where the researcher engages in an open-ended question and gathers in-depth insight. The respondents to the researcher are hopefully authentic, unfiltered, and creative with their answers which promises more accurate data, (Chukwuemeka, 2021). The advantages of qualitative research are due to the depth of qualitative research, subject matters can be examined on a larger scale in greater detail. Qualitative Research has a more real feel as it deals with human experiences and observations. The disadvantage of qualitative research takes a lot of time and effort to execute. There is the possibility of lost data in the process of gathering, (Chukwuemeka, 2021).
Quantitative research is usually expressed in numbers and graphs. It is used to test or confirm theories and assumptions. It is used in numbers and statistics. The method is used in experiments, observations, and recorded as numbers, testing, measurement, objectivity, and replicability. The advantages of using quantitative research data It allows you to reach an accurate conclusion no matter how large the subject matter is. It is less time-consuming since it is based on statistical analysis. Thus, researchers are not burdened by drawing out explanatory strategies to generate an outcome, (Chukwuemeka, 2021). Quantitative research does not focus on opinions but only on accurate data which is more reliable and concrete. There is no need for face-to-face conversations or time-consuming cross-examinations to get the data the researcher needs. The disadvantage of using quantitative the cost of Quantitative research is relatively high, (Chukwuemeka, 2021). It becomes extremely difficult to reach a valid conclusion when the data gathered is not an accurate representation of everyone involved especially when it involves a large study group.
Reference
Chukwuemeka, E.S., (2021). Advantages and disadvantages of quantitative and qualitative research. Bscholarly. Retrieved from: https://bscholarly.com/advantages-and-disadvantages-of-quantitative-and-qualitative-research/
Stanhope, M. & Lancaster, J. (2019). Public health nursing: Population-centered health care in the community (10th ed.). St. Louis, MO: Elsevier. ISBN-13: 9780323582247