PHN 652 Choose the two data collection methods you feel are the most effective
PHN 652 Choose the two data collection methods you feel are the most effective
PHN 652 Choose the two data collection methods you feel are the most effective
The most effective data collection method is focus groups and surveys. Focus groups and surveys are the most appropriate data collection systems, these systems provide support for objectives of programs. These databases enable assessments of the community's perception of health status and understanding how the system works and how to obtain service needs. A focus group is an open discussion of a small group of representatives. These representatives can be community members or leaders in the community. The goal is to identify needs, provide a picture of need and resources in the community at a low cost. The reason for choosing focus groups for the most effective data collection method is because it provides the full assessment of need at a low cost. Surveys are the measurements of a population that are completed by an interview or questionnaire. This provides direct and accurate data on the population and the problems that there are in the community (Stanhope & Lancaster, 2019). The reason for choosing survey for the most effective data collection method is because it is a comprehensive community assessment tool. When determining what data collection techniques, it is most effective in choosing a population the researcher needs to know the purpose for the evaluation, resources available (money, volunteers, and time), tyle of information and degree of intrusiveness (CDC.gov, 2018).
Stanhope, M. & Lancaster, J. (2019). Public health nursing: Population-centered health care in the community (10th ed.). St. Louis, MO: Elsevier. ISBN-13: 9780323582247
CDC.gov. (2018). Selecting Data Collection Methods. chrome-extension://efaidnbmnnnibpcajpcglclefindmkaj/https://www.cdc.gov/std/Program/pupestd/Selecting%20Data%20Collection%20Methods.pdf 
There are different data collection that are essential in fulfilling research studies and that helps in identifying solution to health issues or problem. One of the data collections that I think is very effective is one-on one interview. It is a common data collection that provides detailed information (Humans of Data, 2018). I chose this data collection due to it is useful in exploring the perception of the participants. It helps us understand the behaviors of the participants in a certain topic. The second data collection that I think is very effective in conducting research is observation. Observation is a process of collecting data through by watching behavior, events, or noting physical characteristics in their natural setting (Center for Disease Control and Prevention, 2018). Observations can either be overt which means the participant s are aware that they are being observed or covert which means the participants are not aware that they are being observed. Covert would be more ideal way of observing due to participants can act naturally. However due to ethical reason, overt method would be more preferred. This method of collection of data is helpful in monitoring or watching a process or situation that you are valuating as it occurs.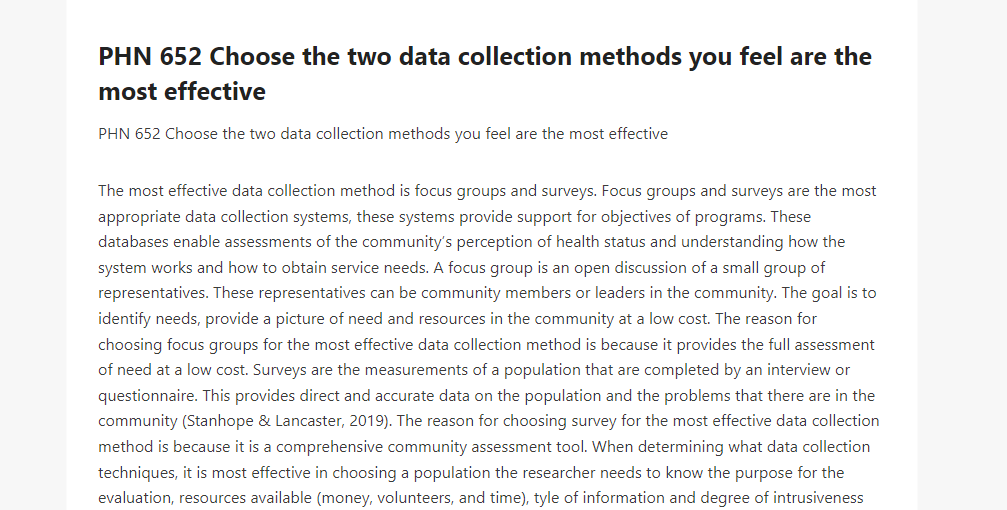 Reference
Humans of Data. (2018). 3 Qualitative research methods you should know. Retrieved from
Center for Disease Control and Prevention. (2018). Data collection methods for
program evaluation: observation. Retrieved from
"There are four methods that can be utilized to collect a significant amount of health care related data, the methods include environmental monitoring, survey, and notification". Notification and environmental monitoring are two great effective methods primary because both public health monitoring is useless without public health reporting, patterns, outbreaks, cases and much more. Furthermore, the public health officials are responsible for reporting and communicating the current state of health in a population affected by the current outbreaks and diseases. Both methods support the preliminary as well as evaluative phases of health policy making and health care planning.
The notification method is effect in public health for those diseases that are highly communicable and have short incubation periods. In order for the public health response professionals to be maximally effective, the notification of cases by medical providers must be prompt. Public health authorities must encourage notification and provide feedback to their adviser as to their amount of disease control in the community (Ferson, 2013).In environmental monitoring is imperative as there have been a reported lack of basic information on the linkages between environmental hazards and chronic disease. According to Goldman & Coussens (2004) "Acknowledging a critical environmental health gap, the Pew Environmental Health Commission proposed in 2001 the establishment of a national tracking system was noted to monitor environmentally related exposures and diseases". Collecting and monitoring data on environmental hazards and health effects can stop or decrease hazards the individuals are exposure to.
References
Centers for Disease and Control (2012). Sources and Methods for Gathering Data. Retrieved from https://www.cdc.gov/csels/dsepd/ss1978/lesson5/section4.html
Ferson M. J. (2013). Notification and Disease Control: Obligations of the Medical Practitioner Under Public Health Legislation. Legal and Forensic Medicine, 707–725. https://doi.org/10.1007/978-3-642-32338-6_152
Goldman,L., & Coussens ,C., (2004).Institute of Medicine (US) Roundtable on Environmental Health Sciences, Research, and Medicine. Overview of Environmental Health Monitoring and the Use of Indicators. Retrieved from: https://www.ncbi.nlm.nih.gov/books/NBK215456/
I agree with you that public health nurses van collect data through environmental monitoring, survey, and notification. Choosing the right data collection methods increases the accuracy of nursing research and any engagement that rely on the same study (Doyle et al., 2020). Therefore, notification and environmental monitoring are effective primary data collection methods. Public health nurses attend to people with various healthcare needs. Data collection process is detailed to cover every aspect of public health. Public health monitoring is incomplete without public health reporting, patterns and outbreaks (Younas et al., 2020). Therefore, effective data collection facilitates public health monitoring and related activities. The notification methods ensure that health nurses are updated on health event. Notifications may be send at intervals or according to public health nurses' scheduling. However, notification method is timely in conveying data. Therefore, most public health nurses benefit from notification. Public health authorities must encourage notification and provide feedback. Feedback confirms receiving the message and responding based on the interpretation and understanding.
References
Doyle, L., McCabe, C., Keogh, B., Brady, A., & McCann, M. (2020). An overview of the qualitative descriptive design within nursing research. Journal of Research in Nursing, 25(5), 443-455. https://doi.org/10.1177/1744987119880234
Younas, A., Pedersen, M., & Durante, A. (2020). Characteristics of joint displays illustrating data integration in mixed‐methods nursing studies. Journal of Advanced Nursing, 76(2), 676-686.  https://doi.org/10.1111/jan.14264
Focus group and surveys are important aspects in public health, according to Garcia (2021) the earliest sickness survey of the US Public Health Serve, which started in 1915, was the service's first socioeconomic study of an industrial community. It was also the first to define illness as a person's inability to work. This gives the sense that surveys were a true beginning in the public health sector. As identified by Garcia (2021) Health Survey became a major source of information for the arguments that eventually led to the establishment of Medicaid.
In terms of focus groups is incorporated to facilitate exploration of a perceptions and views about alterative, noted with signed consent forms, noted with certain participants that will be involved in each scenario. According to Whittaker et al 2021 a focus group was chosen in preference to individual interviews or an open question survey because it has been shown to be an effective methodology for assessing ideas and experiences and enables participants to respond to an appraise peers' ideas.
These two important aspect focus group and surveys is imperative with public health nursing and its need to utilize the aspects that will benefit and empower the public sector of health as it continues within nursing.
Reference
Garcia, M; PHD (2021) The Social Survey, the Metropolitan Life Insurance Company, and the Beginnings of the US Public Health Survey's Sickness Surveys
Whittaker, J (2021) Students' views about alternates to traditional dissertation for Master in Public Health: results of a spiritual focus group
As the question stated there are numerous ways public health nurses can collect data. But it is also possible to focus on assets and strengths, emphasizing what the community does have, not what it doesn't. Those assets and strengths can be used to meet those same community needs and improve community life (Community Tool Box, 2018). A secondary data source can be obtained from the Centers for Disease Control and Prevention (CDC), a great resource for nurses to collect data. I feel that the CDC is a resource that uses public health surveillance, which gives a snapshot of the community's health conditions (Stanhope & Lancaster, 2018). it is an effective way to compare the current health status in the community with the same community at different time points, with other communities, or with larger populations such as state or national data. Understanding and studying the community in which you serve sometimes dictate which resource at the time is needed.
The other data collection method that will be beneficial for my chosen population, is a focus group. A focus group is a good way to generate information about a community's unique beliefs, norms, values, power and influence structures, and problem-solving processes, (Stanhope & Lancaster, 2018). A focus group can provide great information on the targeted population. It is time-consuming when but is worthwhile to make the effort to systematically collect primary data in the community and to avoid concluding limited observations or unconfirmed intuitions. Knowledge of the availability, affordability, and condition of the community's housing is a vital assessment tool. It can help in planning the amount and location of affordable housing, and in deciding whether such housing needs to be built from scratch, or whether existing vacant and run-down buildings can be restored. Talking with members of the community through churches, associations, and block clubs. Focus groups should be structured to balance a diversity of perspectives with opportunities for an in-depth understanding of the chosen topics, (Stanhope & Lancaster, 2018).
References
Community Tool Box, (2018). Developing a plan for assessing local needs and resources, chapter 3; section 1. Retrieved from: https://ctb.ku.edu/en/table-of-contents/assessment/assessing-community-needs-and-resources/qualitative-methods/main
Stanhope, M. & Lancaster, J. (2019). Public health nursing: Population-centered health care in the community (10th ed.). St. Louis, MO: Elsevier. ISBN-13: 9780323582247 
Public health surveillance is the ongoing collection, analysis and dissemination of health related data to provide information that can be used to monitor and improve the health of populations. Such surveillance systems can be established in many settings to study a variety of populations and conditions. The most effective systems are designed around specific, well-defined objectives, collect data in a standardized fashion, analyze the data frequently and disseminate the results to those who need to know the information. Data can be collected from a variety of sources. For example, health data can be collected as part of surveys that are population based or they may be healthcare provider-based (Soucie, 2012). Focus groups and surveys are two data collection methods I feel are most effective.
Focus groups have been widely used in health research to explore the perspectives of patients and other groups in the healthcare system. They are often included in mixed-methods studies to gain more information on how to construct questionnaires or interpret results. The fact that the group process helps people to identify and clarify their views is considered to be an important advantage of focus groups compared with individual interviews. Although focus groups allow participants to respond in their own words and to choose discussion topics themselves, they are not completely unstructured (Tausch & Menold, 2016). The main objective of focus groups is to gather collective opinions rather than individual ones.
Surveys are one of the most frequently employed study designs in healthcare epidemiology research. Generally easier to undertake and less costly than many other study designs, surveys can be invaluable to gain insights into opinions and practices in large samples and may be descriptive and/or be used to test association. Often, a survey is a key step toward collecting data on practice and perceptions and can help identify potential interventions to be tested in a randomized control trial (Safdar et al., 2016). When handling complex research, interviews and focus group data collection strategies are significantly reliable. The benefit of using surveys to collect data is that when one selects a sample correctly, the information obtained will be of acceptable accuracy.
References
Safdar, N., Abbo, L. M., Knobloch, M. J., & Seo, S. K. (2016, November). Research Methods in Healthcare Epidemiology: Survey and Qualitative Research. Retrieved from https://www.ncbi.nlm.nih.gov/pmc/articles/PMC5325124/
Soucie, J. M. (2012, April). Public health surveillance and data collection: General principles and impact on hemophilia care. Retrieved from https://www.ncbi.nlm.nih.gov/pmc/articles/PMC4515757/
Tausch, A. P., & Menold, N. (2016, March 14). Methodological Aspects of Focus Groups in Health Research: Results of Qualitative Interviews With Focus Group Moderators. Retrieved from https://www.ncbi.nlm.nih.gov/pmc/articles/PMC5342644/
Every data collection method is based on data a researcher wants to accumulate.
Conducting interviews are qualitative methods that are great and effective to collect data. Bhandari (2020) explains that with interviews the researcher receives objective data and gains an in-depth understanding through verbally asking participants open ended questions in individual interviews or focus group discussions. With open-ended questions, a researcher can ask how well a policy is doing in an institutional, and what can be done better in future. When conducting interviews, public health nurses have to decide on what form of questions should be used.
Experimental research, a quantitative method is also an effective way to collect data. It is used to test a causal relationship and to assemble the data, the researcher manipulates variables and measures their effects on others (Bhandari, 2020). In experimental research experiments are conducted in the laboratory under controlled conditions to find the cause-and-effect relationship between two or more variables.
Stanhope & Lancaster, 2020) state that like observational studies, experimental studies generally use comparison (or control) groups, they are subject to the consequences of randomly allocating persons to a particular intervention group and determining the type or level of the "exposure" (the treatment or intervention) (pg. 292).
Reference
Bhandari, P. (2020). Data Collection, Definition, Methods & Examples. Retrieved from https://www.scribbr.com/methodology/data-collection/
Stanhope, M. & Lancaster, J. (2020). Public Health Nursing Population-Centered Health Care in the Community. Elsvier
Researchers rely on collected data to answer research questions and test hypotheses. Appropriate data collection methods are crucial in drawing meaningful research conclusions. Interviews and focus groups are effective methods of data collection. Interviews involve an interviewer who uses an interview guide to ask the respondent (interviewee) questions (Moser et al., 2018). In essence, the interviewer and respondent interact freely to describe a specific topic regarding the life experience of the respondent. An interview guide has a sequence of general and detailed questions and probes. Interviews are convenient because researchers can reach respondents virtually (online) or face-to-face (Moser et al., 2018). The rationale for choosing interviews as effective data collection methods is that interviewers can prompt respondents to share detailed information (Moser et al., 2018). Interviews also enable interviewers to capture non-verbal cues, emotions, and behaviors.
Focus groups involve 8-12 participants with similar characteristics who gather to discuss a specific topic (Moser et al., 2018). The researcher uses a questioning route to guide the focus group. Focus groups are flexible and allow interaction between participants and participants and moderators. Focus groups also save time since all participants are observed collectively (Moser et al., 2018). However, poor participant interaction, non-responsive members, and difficulties sharing sensitive information affect the collection of reliable data in focus groups. The rationale for choosing focus groups is that participants stimulate each other to share in-depth information. As such, researchers can gather views, experiences, and different opinions on the topic of interest. Focus groups also allow the collection of patient feedback and evaluation of treatment and healthcare programs (Marques et al., 2021). Researchers consider the type of data required for the study, the time frame, and the availability of participants. In terms of time frame, focus groups are less time-consuming than interviews. Researchers can use virtual means in case participants are unavailable for face-to-face interviews or focus group discussions (Marques et al., 2021). The two methods are effective in the collection of data to identify patient needs and preferences.
References
Marques, I. C. D. S., Theiss, L. M., Johnson, C. Y., McLin, E., Ruf, B. A., Vickers, S.     M., … & Chu, D. I. (2021). Implementation of virtual focus groups for              qualitative data collection in a global pandemic. The American Journal of  Surgery, 221(5), 918-922. DOI:https://doi.org/10.1016/j.amjsurg.2020.10.009
Moser, A., & Korstjens, I. (2018). Series: Practical guidance to qualitative research.          Part 3: Sampling, data collection, and analysis. European journal of general   practice, 24(1), 9-18. https://doi.org/10.1080/13814788.2017.1375091