PHN 652 Choose the tool used in public health that is, in your opinion, the most effective
PHN 652 Choose the tool used in public health that is, in your opinion, the most effective
PHN 652 Choose the tool used in public health that is, in your opinion, the most effective
The Population-Based Intervention Information video was a great source of knowledge. The Public Health Nursing Interventions (PHI) Model was developed through a collaborative process by public health nurses at the state and local levels. The purpose of the model was to define the practice of public health nursing more clearly and to better describe the work of public health nurses at the community and systems levels. The video discussed some important aspects of population health management-continuum of health needs and opportunities. To meet the needs of the public through public health, community-based partners, and social services within the health system. Population health interventions, like programs, policies, and resource distribution approaches that impact a number of people by changing the underlying conditions of risk and facilitating health improvement or maintenance for the population as a whole.  This is a great guide for public health nurses to plan programs for health promotion to disease prevention in communities to develop effective outreach programs to reach the targeted population.
Week 2 Summary: Models and Tools Used in Public Health
This week we learned about the importance of public health models in providing quality health care. This week we also learned about the origins and evolution of the Intervention Wheel that outlines the assumptions that serves as its foundation. The wheel is a conceptual framework that has proved to be a useful model in defining population-based practice and explaining how it contributes to improving population health. It has become a valuable tool for use in practice, education, and management. When the nurse understands the three components of the intervention wheel, this serves as a tool for applying the nursing process at multiple levels, including individual and family, community, and a systems level of practice.
Joshua 1:9-"Be strong and courageous; do not be frightened or dismayed, for the Lord your God is with you wherever you go."
There are so many tools available for public health nurse to guide them to implement their goals and improve the process in assessment and planning such as Community Health Assessment and Group Evaluation (CHANGE), Community Toolbox, Healthy People 2030, National Public Health Performance Standards, and Planned Approach to Community Health (Centers for Disease Control and Prevention, n.d.).
Healthy People was established in 1979 by Surgeon General Julius Richmond which he issued a report entitled Healthy People: The Surgeon General's Report on Health Promotion and Disease Prevention (U.S. Department of Health and Human Services, n.d.). This report was created to reduce preventable death and injury which was followed by another report after a decade. Healthy People 2030 framework is the fifth edition which aims to face the new challenges and to apply lessons learned from the last four decades. Healthy People is useful and very effective in guiding communities across the U.S. through its objectives and goals. Municipalities can adjust the goals and objectives to fit in their own needs ((U.S. Department of Health and Human Services, n.d.). Since the Healthy People began, the U.S. has made impressive progress including reducing the major cause of death such heart disease and cancer, reducing infant and maternal mortality, and reducing risk factor such tobacco smoking and elevated cholesterol. Healthy People is an effective way to guide communities to improve their health.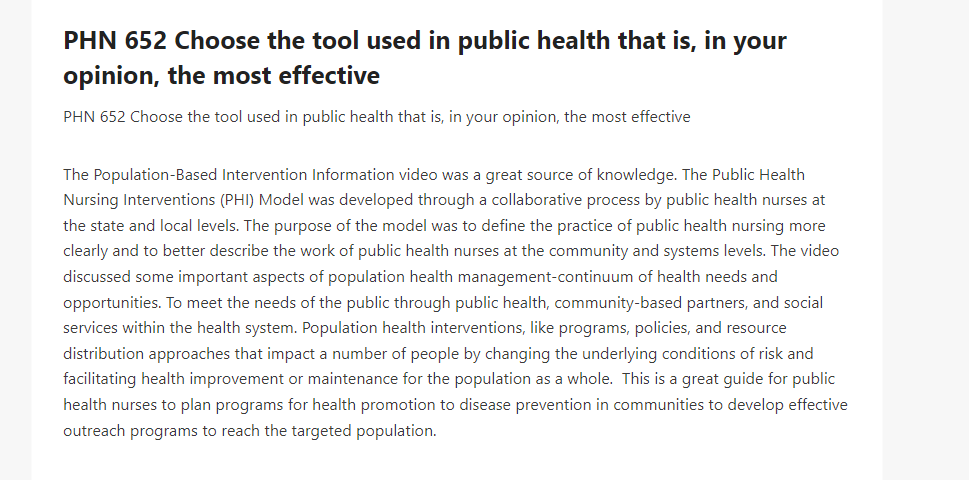 Reference
Centers for Disease Control and Prevention. (n.d.). Assessment & planning models, frameworks & tools.
             Retrieved from https://www.cdc.gov/publichealthgateway/cha/assessment.html
U.S. Department of Health and Human Services. (n.d.). Healthy people 2030 framework. Retrieved from
2030/Framework#:~:text=History%20of%20the%20Healthy%20People%20Initiative&text=The%
20initiative%20began%20in%201979,reducing%20preventable%20death%20and%20injury.
In a changing and complex health care system, public health nurses face challenges to explain their work and contributions to health outcomes. The tool in my opinion is beneficial to public health is Public Health Nursing Intervention Model (PHI). Using this model focuses on the greater good of the population. It's a great tool that guides public health nursing practice. This framework, known as the Intervention Wheel, defines the scope of public health nursing practice by type of intervention and level of practice (individual/family, community, or systems), rather than by the site of services such as home, school, occupational health, clinic, and others. The Intervention Wheel describes the scope of practice by what is similar across settings and describes the practice of public health nursing at the individual/family, community, or systems level, (Minnesota Department of Health, 2019). The Intervention Wheel answers the question, "What do public health nurses do?" and delineates public health nursing as a specialty practice of nursing.
Each intervention and practice level contributes to improving population health. The public health nurse will be guided on how to use this tool at the community and system levels. An example of when this tool has been used to increase outreach effectiveness. Recommendations include providing education on population-based concepts, such as community assessment and at-risk populations, and using interventions from the Public Health Intervention Wheel in conjunction with community outreach programs. According to Stanhope & Lancaster (2019), noted that "one example is the use of health education for health teaching. These interventions are not exclusive to public health nursing, as they are also used by other public health disciplines.
Reference
Minnesota Department of Health. (2019). Public health interventions: Applications for public health nursing practice (2nd ed.).
Stanhope, M. & Lancaster, J. (2019). Public health nursing: Population-centered health care in the community (10th ed.). St. Louis, MO: Elsevier. ISBN-13: 9780323582247
Public health surveillance is a beneficial tool that enables experts in the sector to learn more about the status of health among people who have either illnesses or are prone to them. Disease surveillance is the cornerstone of public health tracking and prevention. Public health surveillance acts as a sentinel for identifying trends in disease and emerging public health concerns and helps to identify potential points of intervention. Surveillance data can provide benchmarks for evaluating intervention measures for curbing disease spread in populations and allow health experts to set priorities and policies (Aiello et al., 2020). When public health officials are encountering health challenges, they use surveillance to enable the collection and interpretation of data to learn about ways to develop solutions to the concerns (Aiello et al., 2020). The information that is collected can lead to the understanding of a need for experts to intervene. Professionals also use the tool to collect information to learn if they have controlled certain diseases through the strategies used.
The National Health and Nutrition Examination Survey (NHANES) is an example of a modern-day survey that has been applicable in public health in the United States. The survey took place in 2017 to collect information useful in learning the nutrition status of individuals in the country. This survey is one of the series of health-related programs conducted by the National Center for Health Statistics to provide information on the health and nutritional status of the noninstitutionalized civilian resident population in the United States (Chen et al., 2020). People are faced with many health challenges like obesity and diabetes which arise from their diets. The survey results have been useful in developing ways to prevent the development of complications from these diseases.
References
Aiello, A.E., Renson, A., & Zivich, P. (2020). Social media-and internet-based disease surveillance for public health. Annual Review of Public Health, 41, 101.
Chen TC, Clark J, Riddles MK, Mohadjer LK, Fakhouri THI. (2020). National Health and Nutrition Examination Survey, 2015−2018: Sample design and estimation procedures. National Center for Health Statistics. Vital Health Stat 2(184). https://www.cdc.gov/nchs/data/series/sr_02/sr02-184-508.pdf
As identified by Jacobs et al. (2012), the increase in disease rates, limiting funding and need for scientific basis for health interventions have led to the demand for the use of proven strategies or evidence-based interventions to improve health. To meet health goals and sustain necessary resources to improve health, Jacobs et al. (2012) acknowledges that public health practitioners must be ready to implement an evidence-based approach in their work by the using easily accessible and time-efficient tools. Evidence-based public health tools available for public health professionals to utilize includes training and planning tools, US health surveillance, policy tracking and surveillance, systematic reviews and evidence-based guidelines, economic evaluation, and gray literature (Jacobs et al. 2012).
The Systematic reviews and evidence-based guidelines tools are effective because they provide evidence-based recommendations on population-level interventions on health topics such as diabetes, HIV/AIDS, cancer, asthma, tobacco use etc. (Jacobs et al. (2012). It is identified that not all public health workers have formal training in public health discipline such as epidemiology or health education (Jacobs et al. 2012). Thus, providing recommended guidelines and evidence-based intervention on public health topics that all public health workers can use no matter the level of training is very important.
The Systematic reviews and evidence-based guidelines tools are used by government agencies such as the U.S. Department of Health and Human Services (Guide to Community Preventive Services (the Community Guide)and learning institutions such as the Cochrane Library to provide the evidence-based information that all public health workers can utilize to carry out the key elements of evidence-based public health.
Reference
Jacobs, JA., Jones E., Gabella, BA., Spring, B., Brownson, RC. (2012). Tools for Implementing an Evidence-Based Approach in Public Health Practice.
Out of the many tools great tools that are available one tool that will always work out for any public health professional in The Public Health Nursing assessment Tool (PHNAT). This tool not only supports decision making in health care but provides information about the health of the individual community, family, system, and population(Rabarison, Timsina, & Mays, 2015). Since community assessments are one of the three core functions of the public health nursing process and makes sense to utilize this tool as it integrates the process of self-reflection requiring the nurse to be open to the assessment practice and facilitating a broader worldview. Londrigan & Lewsnson (2012) Suggest "The PHNAT offers a unique tool that facilitates reflective practice in public health nursing. Public health nurses and nursing faculty can use this tool to introduce oneself into a community and develop relationships towards partnerships and collaborative practices". The PHNAT tool also allows the health care professionals to use the determinants of health as a guide in assessing the population and community and directed them to apply the Intervention Wheel Strategies. Additionally, This tool is commonly used baccalaureate programs and even graduate nursing programs as well as in public health settings.
References
Londrigan, Marie & Lewenson, Sandra. (2012). Population Health Nursing Assessment Tool (PHNAT) and reflective practice.
Rabarison, K. M., Timsina, L., & Mays, G. P. (2015). Community Health Assessment and Improved Public Health Decision-Making: A Propensity Score Matching Approach. American journal of public health, 105(12), 2526–2533. https://doi.org/10.2105/AJPH.2015.302795
Advancing public health requires research to help transform policies and practice. Adoption of strong tools in public health can pose a great advantage. According to Stanhope & Lancaster (2020) legislation is a public health tool used to ensure the health of populations. Implemented with extreme concern for the balance between individual rights and community rights, public policy is a critical function for the public health nurse (Pg. 1019). Stanhope & Lancaster (2020) give examples of legislation that have successfully improved the health of populations which are required immunizations for school entry, seatbelt use, smoke-free environments, and bicycle and motorcycle helmet use.
"In an epidemic caused by a new pathogen such as SARS-CoV-2 drugs and vaccines will not be immediately available. The only tools available to control the spread of disease are the public health measures that have been used for hundreds of years. These methods include, broadly speaking controlling infection sources, blocking transmission routes, and protecting susceptible population". For these rules to be effective, legislation plays a major role.
References
Stanhope, M. & Lancaster, J. (2020). Public Health Nursing Population-Centered Health Care in the Community. Elsvier
Tang, J.-L., & Li, L.-M. (2021). Importance of public health tools in emerging infectious diseases. BMJ (Clinical Research Ed.), 375, n2374. https://doi-org.lopes.idm.oclc.org/10.1136/bmj.n2374
From a personal assessment, the public health tool that is most effective is the health impact assessment (HIA) tools. Jabot et al. (2020) state that HIA are essential tools adopted at various levels, including at the national, regional, and local levels. Moreover, HIA effectively evaluates whether and how a proposed decision will influence or impact a population, as well as the effect of such policies or interventions on vulnerable populations. From an equality perspective, HIA assesses if the impacts attained are well distributed within their intended communities. From a public health perspective, HIA primarily applies in identifying a regional or community diagnosis. In such a case, evaluating personal factors, the environment, surroundings, housing, access to clean water, healthy and fresh foods, as well as community safety mechanisms. At the same time, HIA examines exposure to community risks, fire management, and resource availability, effective approaches in promoting response and decision-making related to the issue.
As highlighted, HIAs are effective tools employed in making a community or regional diagnosis. According to the CDC (2016), the approach helps screen plans, projects, and policy decisions of which assessments would be useful. At the same time, scoping assists in the planning phase, accurately describing and identifying the health risks and benefits that decision-makers should consider or prioritize. Assessments effectively locate and isolate affected populations and help quantify the influence of the recommended actions of addressing the said challenge. Other aspects that illustrate the usefulness and efficacy of HIA encompass the capacity to recommend evidence-based actions or responses to improve and attain positive outcomes from the adopted solutions. HIA also facilitates the reporting of results to stakeholders, a vital phase of promoting effective funding and evidence-based decision-making. Lastly, HIA applies in monitoring and evaluating the change and its impacts on the targeted behavior. As a result, HIA is effective in addressing an identified challenge or community diagnosis.
References
Jabot, F., Tremblay, E., Rivadeneyra, A., Diallo, T. A., & Lapointe, G. (2020). A comparative analysis of health impact assessment implementation models in the regions of Montérégie (Quebec, Canada) and Nouvelle-Aquitaine (France). International Journal of Environmental Research and Public Health, 17(18), 6558. https://doi.org/10.3390/ijerph17186558