PHN 652 Assignment Community Health Needs Assessment Report
PHN 652 Assignment Community Health Needs Assessment Report
PHN 652 Assignment Community Health Needs Assessment Report
A Community Health Needs Assessment (CHNA) is a methodical process that engages the community in identifying and examining community health needs. CHNA provides a means for communities to prioritize health needs and to plan and take action to meet community health needs. It describes the local people's state of health and helps identify the major risk factors and causes of disease in a community. The purpose of this purpose is to write a community needs assessment report.
Community or Population Researched
Adolescents (10-19 years) are the population researched in the community needs assessment. Adolescence is a phase of life between childhood and adulthood, usually from ages 10 to 19. It is a distinctive stage of human development and an essential period for laying the foundations of good health and wellbeing. Adolescents undergo rapid physical, cognitive, and psychosocial growth, which affects their feelings, thinking, decision-making, and interactions with their environment (Gunnell et al., 2018). Although adolescence is viewed as a healthy stage of life, there is considerable illness, injury, and mortality, which are mostly preventable and treatable. During the adolescence phase, individuals establish behavioral patterns, which are healthy or unhealthy.
Data Available
CDC data shows that approximately 3.2% of adolescents aged 12–17 years are in fair or poor health. In 2020, 4.1% of adolescents missed 11 or more school days within 12 months due to illness or injury. Access to healthcare is relatively high compared to the overall population, with 97.0% of adolescents having a usual source of health care in 2020 (CDC, 2022). However, about 5.8% of this population did not have health insurance. Data show that smoking and alcohol use is relatively prevalent in adolescents, with 2.3% of adolescents in 2020 reporting that they had smoked cigarettes, and 9.4% used alcohol in the past month. The leading causes of adolescent deaths were accidents, homicide, and suicide.
Health Needs Identified Through Analysis of Data
Data analysis shows that adolescents have mental health disorders, which are significant health needs in the population. Adolescents' leading mental health causes of illness and disability include depression, anxiety, and behavioral disorders. Roughly 14% of 10-19 year-olds experience mental health disorders globally, with suicide being the fourth leading cause of mortality among 15-19 year-olds (Gunnell et al., 2018). Mental disorders in adolescence have been attributed to high-stress levels. Factors that cause adolescent stress include peer pressure, exposure to adversity, exploration of identity, quality of home life, relationships with peers, media influence, and gender norms (Gunnell et al., 2018). Adolescents with mental disorders are vulnerable to discrimination, social exclusion, stigma, educational difficulties, physical illnesses, risk-taking behaviors, and violations of human rights.
Data Collection Method Planned For Collecting Secondary Data
Secondary data refers to data obtained and analyzed by another party other than the researcher. Government publication is the planned data collection method for secondary data in the community needs assessment. It was selected because it is one of the most reliable secondary data sources (Mazhar et al., 2021). The local, state, and national governments in the US research the different populations for various problems. The data collected from the public is used to create public awareness of the prevailing health problems, and researchers use the data for further research (Mazhar et al., 2021). Publications by the National Institute of Mental Health (NIMH) will be used to obtain data on adolescents' mental health issues. NIMH is the leading federal agency for research on mental disorders. It is committed to accelerating the speed of scientific progress and transforming mental health care. NIMH publishes publications on mental health disorders in children and adolescents on various disorders including ADH, Autism, Bipolar disorder, Disruptive Mood Dysregulation Disorders, depression, and anxiety disorders (NIMH, 2020). Government Publications publish data every so often, including monthly, biannually, and annually, which ensures that current data is available.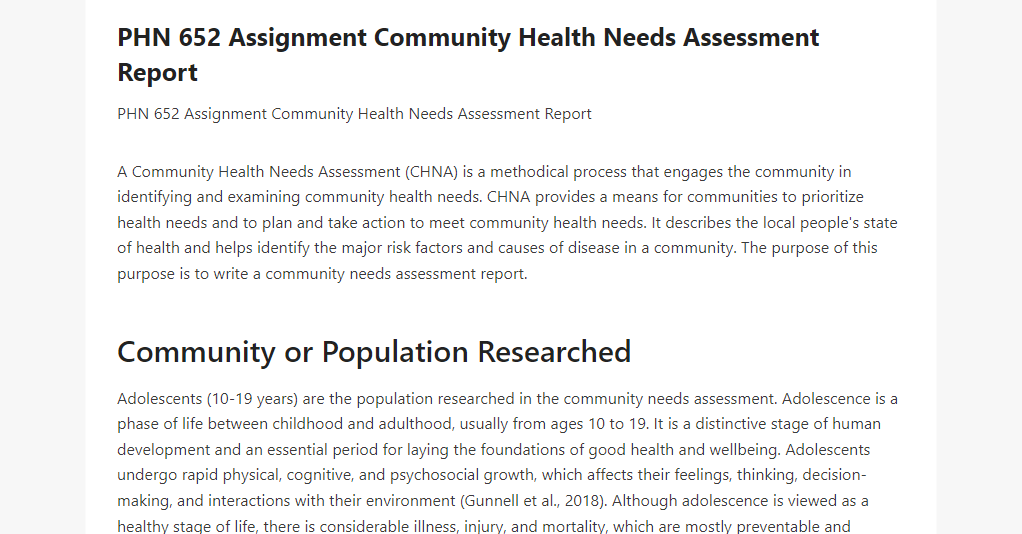 Key Health Issue/Need from a Nursing Diagnosis
Knowledge deficit among adolescents about mental health is the identified need from the nursing diagnosis. Studies reveal that high knowledge levels about mental health and mental disorders in populations across the lifespan result in increased awareness of how to get medical help and treatment and early identification of mental disorders (Ahmad et al., 2022). It also reduces stigma against mental illnesses, enhances mental health outcomes, and increases the utilization of mental health services at micro, meso, and macro levels. Mental health illiteracy among adolescents has led to the inability of individuals to identify and recognize early signs of mental disorders, inadequate help-seeking behaviors, and stigma toward mental disorders (Bahrami et al., 2019). The assessment established that many adolescents do not understand mental disorders, treatments, and how to access and maintain good mental health. They also have negative attitudes toward mental health, which have led to help-seeking inefficacy.
Identified Social Determinants of the Health Issue
Education is a social determinant of health (SDOH) issue identified in the community assessment. Zajacova and Lawrence (2018) explain that education enhances a person's knowledge, reasoning, skills, effectiveness, and abilities, which can be used to promote health. Individuals with lower educational attainment experience poor health compared to those with high education levels. The pattern is associated with the large health inequalities caused by education. Adolescents with low educational attainment had a high illiteracy level on mental health compared to their counterparts who accessed high-quality education (Artiga & Hinton, 2019). In addition, those with high educational attainment demonstrated an understanding of how to achieve good mental health and were knowledgeable about mental disorders. They also exhibited less stigma against mental illness than those who dropped out or accessed low-quality education.
Plan for Addressing the Chosen Health Need
Mental health illiteracy will be addressed by creating an education program on mental health for adolescents. The program will be conducted in schools to target as many adolescents as possible. Adolescents will be educated about common mental health disorders, including signs and available treatment options such as psychotherapy (Ahmad et al., 2022). In addition, they will be educated on where they can access adolescent-friendly mental health services to improve the utilization of these services. The education program aims to enhance adolescents' awareness of mental health disorders, increase early detection and treatment, and reduce the stigma associated with mental health.
Conclusion
Mental health disorders are the identified health needs in adolescents and include depression, anxiety, and behavioral disorders, which are the leading causes of illness and disability. Government publications like the NIMH will be the source of secondary data since it supports research that helps to change the understanding and treatment of mental disorders through basic and clinical research. Mental health illiteracy was identified as a key health need in adolescents since it is a major determinant of mental health and influences individual and population health. The issue will be addressed by conducting mental health education programs to increase adolescents' mental health awareness.

References
Ahmad, A., Salve, H. R., Nongkynrih, B., Sagar, R., & Krishnan, A. (2022). Mental health literacy among adolescents: Evidence from a community-based study in Delhi. The International journal of social psychiatry, 68(4), 791–797. https://doi.org/10.1177/00207640211006155
Artiga, S., & Hinton, E. (2019). Beyond health care: the role of social determinants in promoting health and health equity. Health, 20(10), 1-13.
Bahrami, M. A., Bahrami, D., & Chaman-Ara, K. (2019). The correlations of mental health literacy with psychological aspects of general health among Iranian female students. International journal of mental health systems, 13(1), 1-7.
CDC. (2022, March 4). FastStats: Adolescent Health. Centers for Disease Control and Prevention. https://www.cdc.gov/nchs/fastats/adolescent-health.htm
Gunnell, D., Kidger, J., & Elvidge, H. (2018). Adolescent mental health in crisis. Bmj, 361. https://doi.org/10.1136/bmj.k2608
Mazhar, S. A., Anjum, R., Anwar, A. I., & Khan, A. A. (2021). Methods of data collection: A fundamental tool of research. Journal of Integrated Community Health (ISSN 2319-9113), 10(1), 6-10.
National Institute of Mental Health. (2020). About NIMH. National Institute of Mental Health (NIMH). https://www.nimh.nih.gov/about
Zajacova, A., & Lawrence, E. M. (2018). The Relationship Between Education and Health: Reducing Disparities Through a Contextual Approach. Annual review of public health, 39, 273–289. https://doi.org/10.1146/annurev-publhealth-031816-044628