PHI 413 Benchmark – Patient's Spiritual Needs: Case Analysis
PHI 413 Benchmark – Patient's Spiritual Needs: Case Analysis
PHI 413 Benchmark – Patient's Spiritual Needs: Case Analysis
Religion and spirituality are critical factors in the lives of many people seeking medical care as they are part of providing cultural-competent and patient-centered care. Based on the four principles of biomedical ethics that include autonomy, beneficence, non-maleficence, and justice, it is essential for healthcare providers to consider the spiritual and religious concerns and needs of their patients (Sabo, 2021). The purpose of this paper is a case study involving a parent postponing the treatment of his son who has been diagnosed with acute glomerulonephritis (kidney failure). The decisions that the parents make are based on their spiritual and religious grounds but seem medically harmful to the minor. The paper evaluates the situation by a considering a host of factors; from the biomedical ethical principles to Christian perspective on the issue.
Allowing Mike to Continue Making Decisions that Seem Irrational and Harmful to James
The principle of autonomy obligates physicians to respect patient decisions and choices after providing them with necessary information about their conditions and possible treatment interventions. Patient autonomy entails the rights of a patient to make decisions about their medical care and treatment without the undue influence from the healthcare providers (Sabo, 2021). The case presented involves a minor who legally is incompetent to make decisions and relies on the parents to determine what happens to him. James parents, Mike and Joanne make decisions concerning the course of his treatment. Here, the principle of patient autonomy is important as the physician should allow Mike to make whatever decision he deems fit for his son, like the choice to forego dialysis in the first instance.
Research is categorical that patient autonomy allows healthcare providers to educate patients in a better way and enable them make better decisions (Zhou et al., 2019). While the physician has an ethical obligation to respect the decisions by James' parents, he should use his expertise to educate the family on the risks of foregoing the recommended medical procedures, like the kidney transplant to save the boy's life. The physician should be emphatic that foregoing medical interventions like the dialysis and even the recommended kidney transplant in hope of miracles is irrational and harmful to the quality of life of the boy. The physician should provide a medical and scientific account of the impact of such decisions on the boy for the parents to appreciate the magnitude of the problem (Paris et al., 2018). Through the approach, the physician will enable the parents to make decisions from an informed perspective. However, the physician should not impose anything on Mike, even in situations where their decisions are not rational to the overall health of James. The physician should keep to the biomedical principle of patient autonomy and use the rational theory to allow them make decisions.
Christian Perspectives on Sickness and Health & Medical Interventions
Religion and spirituality are critical elements in healthcare and impact patient's perspective on treatment interventions. Christians look at sickness and health from a religious perspective, especially based on one's level of spiritual growth. Christians look at sickness as a consequence of sin and disobedience to God. Christians also consider sickness as testing one's faith and resolve in God. Further, health is a sign of God's blessings and allows individuals to witness the goodness of being a believer. However, Christians ought to consider sickness and health differently (Sabo, 2021). They should look at sickness as a natural occurrence that requires medical interventions and remedies. Further, they not consider health as the only blessing from God but an attempt by individuals to maintain a balance in life. Sickness reiterates the need to care for those suffering and reaffirms their obligation to get close to God and Jesus.
Christian should not be against medical interventions as they are called to accept science and its biomedical uses. Medical interventions are scientific approaches to reduce and even eliminate unnecessary suffering that individuals endure in life. Medical interventions used along prayers lead to healing and restoration of health (Zhou et al., 20119). God has given people intelligence and through this, they discover medical interventions to cure diseases and alleviate suffering. Therefore, Christians should consider medical knowledge and expertise as God's gift to humanity. Jesus implored his disciples to seek medical interventions (Mathew 9:12, NIV). Christians need to understand that seeking medical intervention does not mean that one lacks faith but a ways of respecting God's command to seek medical care when sick.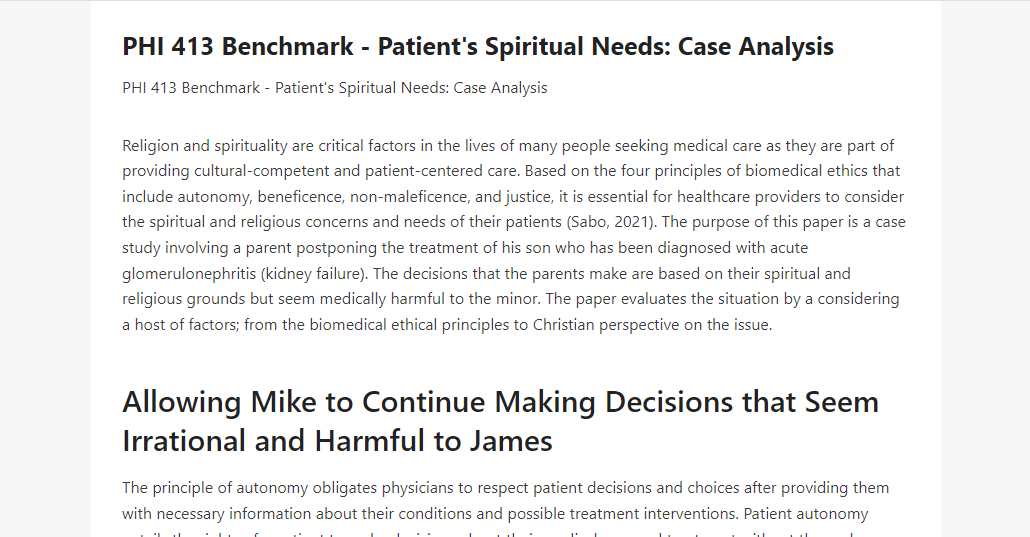 On his part, Mike need to maintain his faith in God that he has power to heal his son. Christians believe in God's power to health the sick and restore health. Mike should allow his son to undergo the medical intervention while trusting in God that He will use the physicians to restore his health (Sabo, 2021). Mike should use the information given by the physicians and figure out the most effective way to alleviate the suffering that his son endures (Paris et al., 2018). The most appropriate approach is for him to allow James undergo the recommended medical interventions that include a kidney transplant.
Honoring the principles of beneficence and non-maleficence implores the parents to allow James to have the medical intervention as recommended by the physician and the team. Beneficence implies doing greater good and ensuring that all actions and decisions by healthcare provider are in the best interests of a patient. Non-maleficence implies that healthcare providers should not perform actions that intentionally harm a patient (Zhou et al., 2019). Mike should reason that the physician does not recommend the interventions to harm James but doing so is the best interest of his health. Therefore, he should allow the son to undergo the suggested procedures.
Spiritual Needs Analysis
Considering a patient's spiritual needs is an essential part of providing effective and holistic care. The main goal of a spiritual needs assessment is to enable a healthcare provider support a patient by integrating their religious beliefs, values, norms, and concerns to enhance quality outcomes. Spiritual needs are a critical component of patient-centered and evidence-based practice (EBP) care, especially when dealing with patients from diverse sociocultural and economic backgrounds (Timmins & Caldeira, 2017). The assessment is critical as it allows a patient to leverage the existing spiritual resources to improve their overall wellness and perspective on health interventions.
Conducting a spiritual assessment before treatment of a patient enables the healthcare provider to develop a therapeutic rapport and alliance with the patients while providing a chance for renewal, resiliency, growth and a positive attitude to their health condition that are important in health restoration (Isaac et al., 2018). The implication is that satisfying the spiritual needs of a patient is the basis of holistic care. Carrying out a spiritual assessment is complex, especially in this case where the individual with the problem is a minor yet the person making decisions is the parent.
Physicians may not be the best placed to conduct a spiritual analysis on Mike based on the decisions that he is making. The physician should refer Mike to a chaplain who can help determine effective interventions to help Mike reach better decisions for the sake of James. However, the physician can use tools like HOPE and FICA frameworks. These tools have tests that will allow the physicians to develop a rapport with Mike and incorporate his religious preferences in James' care plan.
Conclusion
The case study on "Healing and Autonomy" shows that Christians have different perspectives on aspects like healing and medical interventions. The paper demonstrates the need for physicians to adhere to biomedical principles and enable patients to make decisions based on autonomy without any undue influence. A spiritual needs assessment is critical in evaluating a patient's perspective concerning the recommended treatment interventions.
References
Isaac, K., Hay, J., & Lubetkin, E. (2018) Incorporating Spirituality in primary Care. Journal of
Religion and Health, 55(3), 1065-1077. DOI: 10.1007/s10943-016-0190-2
Paris, W., Seidler, R. J. H., FitzGerald, K., Padela, A. I., Cozzi, E., & Cooper, D. K. (2018).
Jewish, Christian and Muslim theological perspectives about xenotransplantation. Xenotransplantation, 25(3), e12400. DOI: 10.1111/xen.12400.
Sabo, A. (2021). Practicing Dignity: An Introduction to Christian Values and Decision Making
In Health Care (1st Edition). Grand Canyon University – Digital Resources.
Timmins, F., & Caldeira, S. (2017). Assessing the spiritual needs of patients. Nursing standard,
31(29): 47-53. doi: 10.7748/ns. 2017.e10312.
Zhou, S. K., Rueckert, D., & Fichtinger, G. (Eds.). (2019). Handbook of medical image
computing and computer assisted intervention. Academic Press.