NURS 8302 Strategies for Building Effective Teams
NURS 8302 Strategies for Building Effective Teams
NURS 8302 Strategies for Building Effective Teams
Strategies for Building effective Quality Improvement Teams
Primary care clinics manage several chronic diseases, and diabetes is one such chronic disease requiring intense management. However, evidence suggests clinical practice gaps in diabetes care (Mukerji et al.,2019). As a family nurse practitioner and certified diabetes care specialist affiliated at a community clinic, applying a quality improvement (QI) strategy are apparent in improving such gaps in care delivery. One way of such an application is developing a QI team. Quality improvement teams are mechanism healthcare industry utilize to initiate and implement improvements within its organization (Rowland et al., 2018). This team comprises individuals from various disciplines and departments working together to identify problems, design solutions through testing, and implement a sustainable plan to accomplish the QI goals set in place (Rowland et al., 2018). Therefore, it becomes essential for a successful improvement effort to include the right people within the organization as team members suitable to meet the needs of the organization or department (Institute for Healthcare Improvement, 2021).
The effectiveness of the QI process often depends on the ability of the improvement team members to work well together with the healthcare system. Some of the qualities of a team member include but are not limited to the following: one respected by a broad range of staff, a team player, a good communicator and listener, a problem solver, creative, and one who is ready for change due to frustration with the current situation. (U.S. Department of Health and Human Services Health and Services Administration. (n.d.)). Additionally, it is also important to include members possessing three different kinds of expertise within the organization, namely system leadership, technical expertise, and day-to-day leadership, to drive improvement successfully (Institute for Healthcare Improvement, 2021).
The role of a strong leader is crucial because such a leader should understand the implications of the changes and the consequences of the proposed change to the organizational system; therefore, the leader should be one with clinical expertise with authority in the healthcare organization. For example, the medical director of the community primary care center's primary is the QI leader of our organization. Secondly is selecting a technical expert knowledge about the care process, providing technical support, assisting with design, measuring tools, interpreting, and displaying data such as models for improvement, the plan do-study act cycles, workflow mapping (AHRQ, 2013).
Thirdly, is selecting day-to-day leadership. According to IHI (2021), this individual team member has a vital role because they oversee data collection, ensure implementation, and understand the system's details and the effects of making changes in the system. Additionally, this individual should have a good working relationship with the leader and front-line clinician, or nurse manager fit such description. Lastly is the project sponsor, who can be the chief operating officer in an organization who may not necessarily participate with the QI team but stay apprised with teams' progress because of the crucial position by serving as a link to the QI team and senior management in obtaining resources and help overcome barriers on behalf of the team (AHRQ, 2013).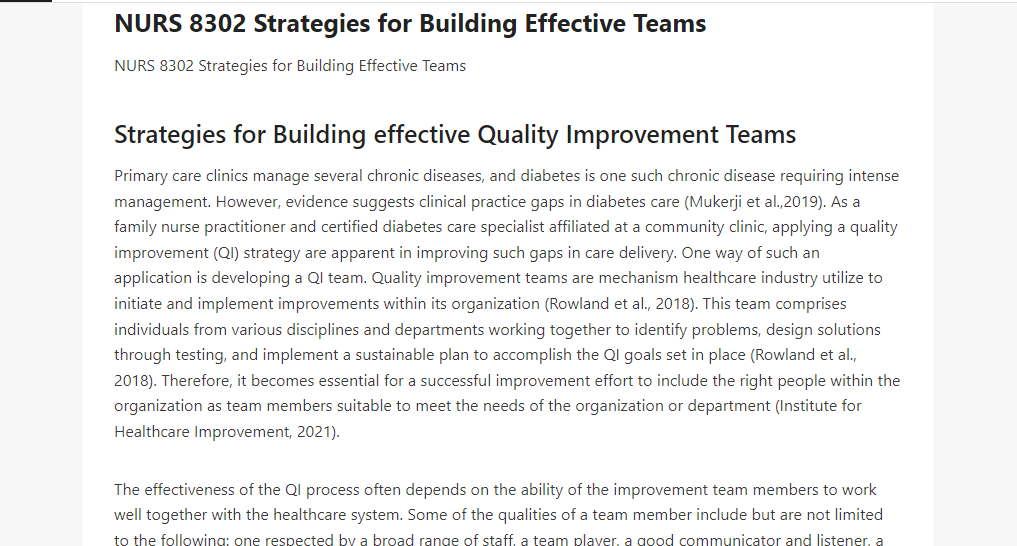 Finally, stakeholders in a QI team are those staff members, physicians, such as nurses, Dietitians, medical assistants who have an interest and can influence the outcome of QI implementation. Organizations such as primary care clinics or any healthcare setting embarking on QI should seek and identify stakeholders who will buy in to change projects early to develop a positive relationship, thus preventing conflict and delays of project implementation from creating sustainable change in the organization (AHRQ, 2013).
References
Agency for Healthcare Research and Quality. (2013). Model 14. Creating quality improvement teams and QI plans. https://www.ahrq.gov/ncepcr/tools/pf-handbook/mod14.html
Institute for Healthcare Improvement. (n.d.). Science of improvement: Forming the team. http://www.ihi.org/resources/Pages/HowtoImprove/ScienceofImprovementFormingtheTeam.aspx
Mukerji, G., Halperin, I., Segal, P., Sutton, L., Wong, R., Caplan, L., Whitham, D., and Gilmour, J. A. (2019). Beginning a diabetes quality improvement project. Canadian Journal of Diabetes. 43(4): 234-240
Rowland, P., Lising, D., Sinclair, L., Baker, R. G. (2018). Team dynamics within quality improvement teams: a scoping review. International Journal for Quality in Health Care. 30(6), 416–422
U.S. Department of Health and Human Services Health and Services Administration. (n.d.). Improvement teams. http:// www.hrsa.gov/sites/default/files/quality/toolbox/508pdfs/improvementteams.pdf.
Strategy for Building Effective Teams to Support a Quality Improvement Initiative
Quality improvement (QI) in medical practices is a method for continuously finding better ways to provide better patient care and service. At its core, QI is a team process. Before assembling a QI team, it is recommended to create an infrastructure within the practice that will support the team's work. Without such infrastructure, teams risk being set adrift with no clear course, no resources, and no destination. Some strategies are to be a QI champion and actively support the teams (Schwarz et al., 2019). Without strong endorsement, support, and resources from practice leaders, teams will struggle. In larger practices, it is recommended to pull together an interdisciplinary oversight group, such as a quality council, that keeps the QI momentum going and provides guidance and resources to the teams. For smaller practices, a physician and office manager can provide this function. One can cultivate a spirit of QI within the practice that continuously encourages everyone to improve services and programs. One can even develop a set of improvement principles to help guide the practice. One can identify internal experts or external consultants who have experience and training in QI to help get the teams started. Staff members' skills can be developed in data collection, analysis, information retrieval, such as conducting literature searches and accessing databases (Van Zelm et al., 2019).
Before a team can be assembled and begin its work, one must establish what the team is to accomplish and why. One should establish clear parameters and goals for the QI project and define the team's mission (Van Zelm et al., 2019).
Stakeholders to Make Up this quality improvement team
Stakeholders are individuals or groups who have an interest in a project and can influence its outcome. They may support or resist changes that are part of improvement. Identifying stakeholders who can affect your project early is essential so that these relationships can be developed. Stakeholder mapping and analysis are valuable tools, and these are reviewed to help identify individuals who might have a vested interest in the project. After stakeholders are identified, the stakeholder map requires analysis to determine which stakeholders to approach. Analysis requires prioritization of different stakeholders because it is not feasible or necessary to engage all stakeholders with the same level of intensity. Stakeholder analysis also involves consideration of stakeholder motivations that may act as facilitators or barriers. These motivations may include patient care, finances, process efficiency, staff satisfaction, or staff recognition. Different stakeholders have different perspectives on a given quality improvement initiative. Therefore, stakeholder engagement strategies may have to be individualized to build a change team and overcome resistance to change. It is important to note that stakeholder mapping and analysis are dynamic processes, with new stakeholders emerging and stakeholder influence and interests changing as a quality improvement project evolves (Schwarz et al., 2019).
Members Making up the Quality Improvement Team
Quality improvement involves a combined effort among health care staff and stakeholders to diagnose and treat problems in the health care system. The members making up the quality improvement team including team lead, the individual responsible for the day-to-day management of the quality improvement project, who is also part of the system that will change; the technical experts, the individuals who understand different components of the quality of care problem and constitute a significant part of the system that needs to be improved; the clinical/system leader, the manager who understands the implications of changes on other parts of the system, with sufficient authority to test changes that are recommended by the team lead and technical experts; the improvement advisor, the individual with expertise in quality improvement methods to act as a resource and advisor for the team lead and technical experts; and the executive sponsor, the individual with power and leadership skill within the organization who can be approached when needed to secure resources and remove barriers. Filling these roles will help ensure that an improvement team possesses the right balance of leadership, management, expertise, and power to succeed. Although these team members can come from any area of health care, the role of physicians and patients/families in quality improvement has garnered the most attention (Silver et al., 2016).
References
Silver, S. A., Harel, Z., McQuillan, R., Weizman, A. V., Thomas, A., Chertow, G. M., Nesrallah, G., Bell, C. M., & Chan, C. T. (2016). How to Begin a Quality Improvement Project. Clinical journal of the American Society of Nephrology: CJASN, 11(5), 893–900. https://doi.org/10.2215/CJN.11491015
Schwarz, M., Landis, S. E., & Rowe, J. (2019). A Team Approach to Quality Improvement. Family Practice Management Journal 6(4), 25-30.
Van Zelm, R., Sermeus, W., Coeckelberghs, E., Seys, D., Panella, M., & Vanhaecht, K. (2019). Setting improvement priorities: Importance-Performance-Analysis in care pathways for integrated care. International Journal of Integrated Care (IJIC), 19(S1), 1–2. https://doi-org.ezp.waldenulibrary.org/10.5334/ijic.s3297