NURS 8302 Quality Improvement Models
NURS 8302 Quality Improvement Models
NURS 8302 Quality Improvement Models
One quality improvement model (QIM) that is specific towards adverse events is Root Cause Analysis (RCA). The RCA model uses a team approach with significance on the system versus the individual, to accumulate pragmatic data on what happened and why (Balakrishan et al., 2019). The RCA model supports a Just Culture. More specifically, the RCA method focuses on determining what transpired, why it occurred and what can be done to keep it from happening again; it looks beyond human inaccuracy to detect system issues that contributed to an event (Charles et al., 2017). The University of North Carolina Medical Center (UNCMC) outlines an effective process for RCA in Table 1. I favor this QIM related to adverse events because it takes out the human factor and assesses process. Humans are prone to error (Kohn et al., 2000); therefore, the next best action is to focus on what can be controlled and changed, and that is processes.
The RCA QIM is presently being used in my healthcare organization. The RCA QIM is something that has significance to me because I have been the one to make an error and have navigated the RCA process. In the most succinct explanation possible, I was a link the in the chain of events that contributed to an already critically ill patient receiving tranexamic acid (TXA) instead of tissue plasminogen activator (TPA) in a newly opened free standing emergency department. As soon as I realized what had happened, I notified the doctor and followed reporting processes after assuring care of the patient. Using a brief RCA, the human factor (3 nurses and a physician) is removed. The process examination revealed lack of education regarding TXA and TPA, poor Pyxis labeling and placement, and poor Pharmacy resources for staff. Because I was a staff nurse and not on management at the time of the incident, I was not acutely aware of the RCA process. As noted with the UNCMC Program Guide, information synthesis and action plan formation are key components of the process. As a nurse leader, my focus would focus on action plan formation that addressed the process deficiencies found to have contributed to the adverse event. By utilizing the RCA QIM, nurse leaders can fortify staff nurse trust by fostering a Just Culture in practice that also contributes to increased patient safety and outcomes through process improvement.
Balakrishnan, K., Brenner, M. J., Gosbee, J. W., & Schmalbach, C. E. (2019). Patient Safety/Quality Improvement Primer, Part II: Prevention of Harm Through Root Cause Analysis and Action (RCA 2 ). Otolaryngology–Head and Neck Surgery : Official Journal of American Academy of Otolaryngology-Head and Neck Surgery, 161(6), 911–921. https://doi-org.ezp.waldenulibrary.org/10.1177/0194599819878683
Charles, R., Hood, B., DeRosier, J. M., Gosbee, J. W., Bagian, J. P., Li, Y., Caird, M. S., Biermann, J. S., & Hake, M. E. (2017). Root Cause Analysis and Actions for the Prevention of Medical Errors: Quality Improvement and Resident Education. Orthopedics, 40(4), e628–e635.
Kohn, L. T., Corrigan, J., & Donaldson, M. S. (2000). To err is human. [electronic resource] : building a safer health system. National Academy Press.
University of North Carolina Medical Center. (2020, July). UNC Medical Center Root Cause Analysis (RCA) Program Guide. UNC Medical Center Root Cause Anaylsis (RCA) Program Guide. Retrieved from https://www.med.unc.edu/ihqi/wp-content/uploads/sites/463/2021/01/UNCMC-RCA-Team-Packet.Final7_.1.2020.pdf.
This is insightful. Quality improvement in the healthcare system is necessary for ensuring effective patients outcomes and the provision of quality care. There are different quality improvement models used in the healthcare systems to facilitate the delivery of quality care. These models are always aligned to the organizational objectives (Mannion & Davies, 2018). Quality improvement models refer to the framework applied to systematically improve ways in which care is delivered to patients (Alghamdi, 2019). Quality improvement models should have characteristics that can be analyzed, measured, improved, and controlled. The models used ought to consist of efforts aimed at achieving predictable and stable process results. Root Cause Analysis (RCA) is an effective quality improvement model that can reduce process variation and improve the outcomes of quality improvement processes for both healthcare organizations and patients (Dyab et al., 2018). The root cause analysis refers to identifying the primary causes or source of a given health problem. In clinical practice, root cause analysis is often used to examine differences between the desired state of health of a patient or social issue and the outcome or what is taking place at a given time.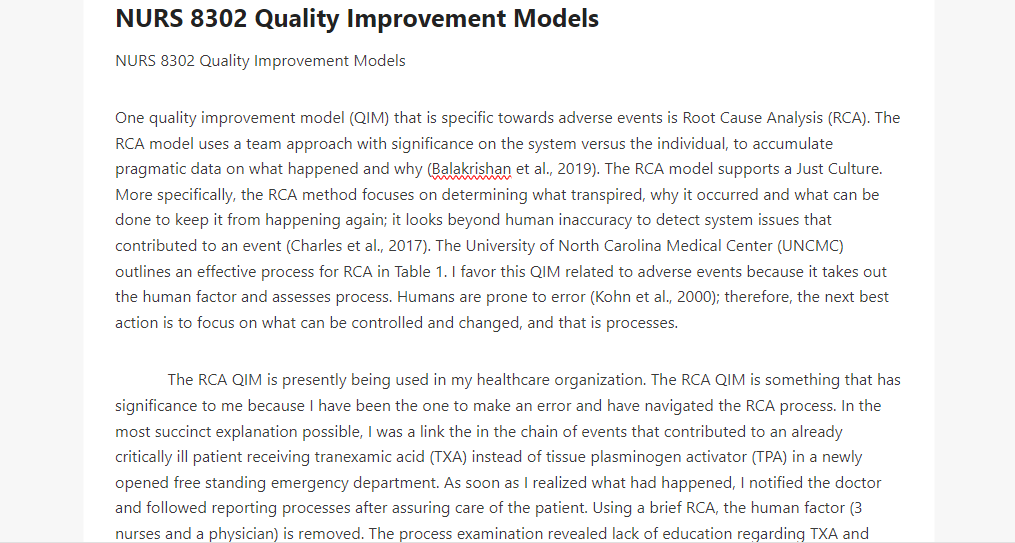 References
Alghamdi, A. A., Keers, R. N., Sutherland, A., & Ashcroft, D. M. (2019). Prevalence and Nature of Medication Errors and Preventable Adverse Drug Events in Paediatric and Neonatal Intensive Care Settings: A Systematic Review. Drug safety, 1-14. Retrieved from: https://link.springer.com/article/10.1007/s40264-019-00856-9
Dyab, E. A., Elkalmi, R. M., Bux, S. H., & Jamshed, S. Q. (2018). Exploration of nurses' knowledge, attitudes, and perceived barriers towards medication error reporting in a tertiary health care facility: A qualitative approach. Pharmacy, 6(4), 120-134 https://www.mdpi.com/2226-4787/6/4/120
Mannion, R., & Davies, H. (2018). Understanding organizational culture for healthcare quality improvement. Bmj, 363. https://doi.org/10.1136/bmj.k4907
The Plan-Do-Study-Act Cycle is the Quality Improvement Model that I have chosen for this discussion. It has been utilized for continuous improvement as described by Edwards Deming (Nash et al., 2019). This improvement model assumes that 15 percent of poor quality is due to people and 85 percent of poor quality is due to improper management, systems and processes (Nash et al., 2019).
Plan
Under this phase of the quality improvement model, we seek to understand the problem and where a gap in practice exists as well as establish an objective laying out what we are trying to accomplish. In my clinical arena, we would be collecting and analyzing data to identify where a gap exists based on the data. It is possible that we find what we least expected or that the gap exists in a different place than expected. From here we can plan how to carry out the cycle.
Do
Under this phase of the cycle, we use the gap that we've identified and the plan that we've made to educate and train staff to carry out the plan. We can start to make small scale changes and evaluate its effectiveness, challenges, and problems on a small scale to prepare for implementing in a much bigger scale.
Study/Check
In this phase of the quality improvement model, we evaluate the effects of the change and decide if it was successful or not. We evaluate whether and to what degree success was obtained or did the gap get larger. Here we can determine what changes need to be made and what steps should be taken next to achieve the objective that was set during the initial plan phase of the cycle.
Act
This is action phase of the cycle where we make changes based on what we have learned whether that is repeating what was done, making small modifications, or creating an entirely new plan and cycle. It is the ending as well as the beginning. In this phase, new gaps can be identified, or current gaps can be modified until the goal or objective is met (Nash et al., 2019).
Shaw et al. (2019) utilized rapid cycle PDSA quality improvement model to improve hypothermia in term and near-term infants delivered vaginally. After 4 PDSA cycles, the incidence of hypothermia dropped from 50% to zero at 1 hour of life (Shaw et al., 2019). A similar project utilizing the PDSA would be beneficial in my healthcare organization in the population mentioned above but could be expounded on to include premature infants who are also risk complications secondary to hypothermia. Shaw et al. (2019) found that regular feedback regarding success and correction of the previous PDSA cycles was important to continue to move forward with the quality improvement project. This model is ideal because the cycles required to achieve the necessary change will vary from hospital to hospital and can be affected by many variables but if continued the result will eventually be achieved. The expectation is not that the objective will be achieve after the first cycle, but that continuous improvement will be achieved. Healthcare is a dynamic field where change is the only constant and therefore, we must aim to be improving continuously an not stop the cycle once a goal is achieved.
References
Nash, D. B., Joshi, M. S., Ransom, E. R., & Ransom, S. B. (Eds.). (2019). The healthcare quality book: Vision, strategy, and tools (4th ed.). Health Administration Press
Shaw, S. C., Devgan, A., Anila, S., Anushree, N., & Debnath, H. (2018). Use of Plan-Do-Study-Act cycles to decrease incidence of neonatal hypothermia in the labor room. Medical Journal Armed Forces India, 74(2), 126–132. https://doi-org.ezp.waldenulibrary.org/10.1016/j.mjafi.2017.05.005
This is insightful, there are different quality improvement strategies that can be employed to enhance effective patient outcomes. These approaches/strategies ought to adhere to the organizational objectives and the operational standards. The Plan-Do-Study-Act Cycle is considered one of the best quality improvement model used by different healthcare institutions (Nash et al., 2019). The model involves the application of the systematic processes for gaining valuable learning and knowledge for the continual improvement of the clinical processes, service delivery, and the products used in enhancing the treatment processes (Shaw et al., 2018). This model has been successfully used to facilitate processes undertaken by different healthcare providers. Under this phase of the quality improvement model, we seek to understand the problem and where a gap in practice exists as well as establish an objective laying out what we are trying to accomplish (McNicholas et al., 2019). Through the use of The Plan-Do-Study-Act Cycle, healthcare providers have been able to integrate all the elements required in the treatment processes and to determine the possible outcomes before undertaking the actual quality improvement program.
References
McNicholas, C., Lennox, L., Woodcock, T., Bell, D., & Reed, J. E. (2019). Evolving quality improvement support strategies to improve Plan–Do–Study–Act cycle fidelity: a retrospective mixed-methods study. BMJ quality & safety, 28(5), 356-365. http://dx.doi.org/10.1136/bmjqs-2017-007605
Nash, D. B., Joshi, M. S., Ransom, E. R., & Ransom, S. B. (Eds.). (2019). The healthcare quality book: Vision, strategy, and tools (4th ed.). Health Administration Press
Shaw, S. C., Devgan, A., Anila, S., Anushree, N., & Debnath, H. (2018). Use of Plan-Do-Study-Act cycles to decrease incidence of neonatal hypothermia in the labor room. Medical Journal Armed Forces India, 74(2), 126–132. https://doi-org.ezp.waldenulibrary.org/10.1016/j.mjafi.2017.05.005