NURS 8302 Quality Improvement Initiative
NURS 8302 Quality Improvement Initiative
NURS 8302 Quality Improvement Initiative
Quality improvement aims to understand the complex healthcare environment, apply a systematic approach, and design, test, and implement modifications using real-time measurement to improve safety, effectiveness, and care experience (Jones et al., 2019). It is an opportunity to address concerns about how care processes and systems are delivered. Quality improvement (QI) is a team activity that collaborates with other disciplines, including patients, to improve care processes (Jones et al., 2019). Done well, QI is a valuable process, enabling clinicians to deliver actual change to benefit themselves, their organizations, and their patients (Jones et al., 2019). This week's discussion will focus on a quality improvement initiative, how adverse events are handled at my organization and impact public and internal perspectives on healthcare quality, and review a scholarly article where a serious error occurred and how this may relate to my organization.
QI Initiative Selected
I have been the co-chair of the Fall Prevention Quality Improvement Team for the network for several years. My co-chair and I have led many fall prevention initiatives, including Dr. Patricia Quigley and Dr. Amy Hester's (Hester Davis Scale for fall risk assessment) on-site visits to educate the network on fall prevention. I am fortunate to have met both fall prevention experts.
The QI initiative selected is a Fall Prevention Agreement to reduce fall events. I chose this QI initiative because I am passionate about fall prevention. This QI initiative was initially a Nurse Residency evidence-based project in 2018 and then expanded network-wide. Most patients are unaware of their fall risk. The Fall Prevention Agreement provides a standard format for communication between nursing staff and the patient, increasing patients' knowledge of their fall risk factors. It is a two-sided agreement with specific fall prevention interventions and things the patient can do to prevent a fall. The nurse reviews the Fall Prevention Agreement on admission, and then after review, the patient and nurse sign/date the agreement. It is scanned into the electronic health record, being a permanent part of the electronic health record.
Adverse Events in My Healthcare Organizations
My organization supports a just culture where colleagues are encouraged to do the right thing. It is a culture that promotes reporting and open discussion when adverse events occur. The aim is to avoid similar adverse events. Frontline staff is included in root cause analysis meetings to learn and discuss adverse events, identify opportunities for improvement, and implement action items to improve safety and quality of care. Research has shown that in units where feedback about adverse events is routinely given, staff have positive views on patient safety and are more apt to report adverse events (Liukka et al., 2017).  
Leadership and the organizational structure play a vital role in developing and implementing QI plans (U.S. Department of Health and Human Services Health Resources and Services Administration, 2011). In my organization, senior leadership acknowledges the importance of discussing adverse events and encouraging frontline staff involvement in decision-making and policy development, positively impacting public and internal healthcare quality perspectives. I believe it is crucial to include frontline staff to gain a firsthand perspective on potential solutions. When firsthand perspectives are not discussed in the aspects of QI planning, the QI initiative may fail.
Published Scholarly Article that Recounts a Serious Error
Medication reconciliation is an essential component of patient safety. The scholarly article I selected refers to a 71-year old female who accidentally received Navane, an antipsychotic medication, instead of her anti-hypertensive drug Norvasc for three months (da Silva & Krishnamurthy, 2016). She sustained physical and psychological harm, including ambulatory dysfunction, tremors, mood swings, and personality changes (da Silva & Krishnamurthy, 2016). Unfortunately, multiple healthcare providers overlooked her symptoms (da Silva & Krishnamurthy, 2016). Errors occurred at numerous levels, including prescribing, pharmacy dispensation, hospitalization, and outpatient follow-up. (da Silva & Krishnamurthy, 2016). The outpatient pharmacy accidentally dispensed Navan instead of Norvasc (da Silva & Krishnamurthy, 2016). Navane/Norvasc is one of many sound-alikes, look-alike drug names (da Silva & Krishnamurthy, 2016). "It is believed that preventable medication errors impact more than seven million patients and cost almost $21 billion annually across all care settings" (da Silva & Krishnamurthy, 2016, p. 1).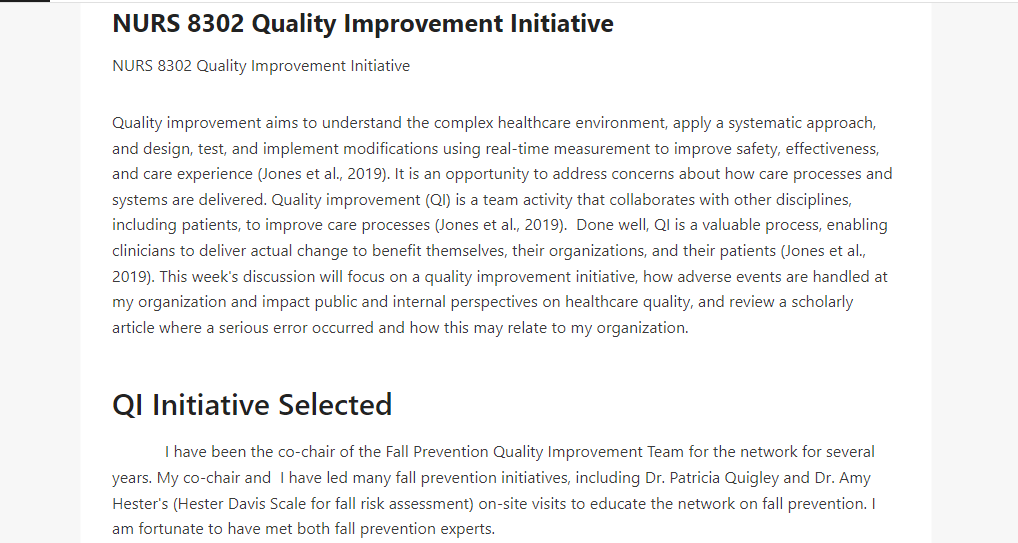 Related to My Healthcare Organization
Unfortunately, this alarming medication error can occur in any healthcare organization. At my organization, medications added to the formulary are evaluated for a look-alike, sound-alike potential with other products, and then appropriate safeguard education to staff. Look-alike and sound-alike medications are stored in red bins and different locations in the pharmacy. The regularly updated list appears in the policy manual and the pharmacy website. When possible, the electronic medical record system will place a warning comment and tall man letterings such as DOPAmine and DOBUTamine. My organization has developed a series of procedures to identify look-alike and sound-alike medications to prevent medication errors from these mix-ups. Medication errors are low but still occur. By creating a culture of teamwork and communication, we learn from our mistakes and aim to decrease preventable medication errors.
References
da Silva, B. A., & Krishnamurthy, M. (2016). The alarming reality of medication error: A patient case and review of Pennsylvania and national data. Journal of Community Hospital Internal Medicine Perspectives, 6(4), 31758. https://doi.org/10.3402/jchimp.v6.31758
Jones, B., Vaux, E., & Olsson-Brown, A. (2019). How to get started in quality improvement. BMJ, k5408. https://doi.org/10.1136/bmj.k5437
Liukka, M., Hupli, M., & Turunen, H. (2017). How transformational leadership appears in action with adverse events? A study for finnish nurse manager. Journal of Nursing Management, 26(6), 639–646. https://doi.org/10.1111/jonm.12592
U.S. Department of Health and Human Services Health Resources and Services Administration. (2011). Developing and implementing a QI plan. Retrieved October 3, 2021, from https://www.hrsa.gov/sites/default/files/quality/toolbox/508pdfs/developingqiplan.p
Research refers to the systematic review as well as the creative approach of promoting the standardized knowledge on a given topic or healthcare processes. Research processes are important in establishing new knowledge that can be used to enhance healthcare operational activities. Research process may involve different factors and resources. The entire process of research often involves the collection and analysis of data to determine effective outcomes. In the healthcare processes, research studies are always conducted to determine possible solutions on a given process of healthcare activity (Peden et al., 2019). The research can also be done to enhance knowledge and increase the understanding of a given area of knowledge. The process of research may also involve the expansion of a given area of knowledge. For instance, it may extend the process of the study from what had already been established.
Quality improvement, on the other hand, refers to the direct relationship that is often experienced at various levels of the improved services and the anticipated healthcare outcomes for the given population under the study. Quality improvements involves the application of the already established knowledge or information to promote the overall quality outcomes in the healthcare processes (Dahrouge et al., 2019). Establishing quality improvements in the healthcare processes involves safe, efficient, timely, and the customer centered practices. Adherence to the quality improvement processes often leads to effective and quality healthcare outcomes in most of the organizations or clinical settings.
In the emergency room where I currently work, quantitative and qualitative research processes are used to determine the best approaches in enhancing quality practices for effective healthcare outcomes. Both the research approaches are also used to enhance already established knowledge to ensure effective healthcare delivery.
References
Dahrouge, S., Armstrong, C. D., Hogg, W., Singh, J., & Liddy, C. (2019). High-performing physicians are more likely to participate in a research study: findings from a quality improvement study. BMC medical research methodology, 19(1), 171. https://link.springer.com/article/10.1186/s12874-019-0809-6 Peden, C. J., Stephens, T., Martin, G., Kahan, B. C., Thomson, A., Rivett, K., … & Pearse, R. M. (2019). Effectiveness of a national quality improvement programme to improve survival after emergency abdominal surgery (EPOCH): a stepped-wedge cluster-randomised trial. The Lancet, 393(10187), 2213-2221. https://doi.org/10.1016/S0140-6736(18)32521-2
There are many hospitals grappling with diverse challenges like nosocomial infections, preventable medication and medical errors, understaffing, fatigue and dissatisfaction by both the patients and patients. The development of quality improvement programs is intended to reduce as much as possible the occurrence of undesired outcomes which have a negative effects on the health of the patient (Toma, Dreischulte, Gray, Campbell, & Guthrie, 2018). The process of quality improvement is continuous and it involves review of the systems and other activities which then lead to measurable improvements in the services that are targeted towards specific patients. An established healthcare facility has diverse sources of data and this makes it possible to carry out comparative analysis for intended improvement. Sources of data include clinical records, the evaluation of the population's health and quality surveys carried out from time to time. The purpose of this paper is to discuss the program of educating medical staff of the hospital for the sake of improving the quality of care provided.
Overview of The Problem and Setting of The Problem
The setting for this study is a prominent hospital in the United States, attending to a huge number of patients. Apart from provision of healthcare, it is also a not for profit teaching hospital that is known for its safe and spectacular healthcare services. The mission of the hospital is commitment to innovation and quality patient care and community social responsibility. In addition, the vision is to promote quality life of patients through access to stellar patient centered care through interdisciplinary collaboration.
Bed sores are the problem being considered for the sake of this discussion. The sores are defined as injuries that patients experience on the skin or the underlying tissue as a result of extended period of stay in the hospital (Ferris, Price, & Harding, 2019). Bed sores are frequent on the hips, heels, ankles and the tailbone and those at highest risk include the ones who are unable to change positions as well as those who spend long periods in bed due to illness.
The development of the sores is usually quick and resolves upon initiation of the appropriate treatment as soon as possible, although it is difficult to attain complete healing. Based on the observed increase in the number of bed sores among the hospitalized patients, the hospital therefore embarked on training staff as a way to reduce the occurrences.
Quality Improvement Initiative Needed and Expected Outcome
Since the hospital is focused on providing patient centered care, it would be important to impart the medical professionals with adequate skills which would enable them to attend to the diverse patient needs. Proper management of the bed sores reduces the suffering the patients go through due to long hospital stays, the comorbidities and mortality. At the end, proper management of bed sores improves the quality of life of the patients. The bed sores are also a point of concern since they could lead to poor prognosis and this increases the cost transferred to the patient.
Based on the clinical data from the hospital, a single bed sore is responsible for 6 days hospital stay when compared to an average of 2 days for those without ulcers. Besides, there are chronic conditions, whose presence would lead to significant increase in the length of hospital stay. Some of the conditions include CHF, pulmonary disorders coagulopathy, fluid & electrolyte disorders and stroke. Further, addressing the pressure ulcers is an important consideration because healthcare settings spend extensively in managing such patients. Considering the study by Bauer, Rock, Nazzal, Jones, and Qu (2016), the average charge by a hospital for patients without pressure ulcers is about $17,200. Those with pressure ulcers spend as much as $36,500 and the prognosis is worse therefore leading to significant mortality. It has been shown that the probability of a patient succumbing due to bed sores is 2.8 times higher than those who do not have. In view of the revelation therefore, the ulcers should be addressed as soon as possible to prevent potential complications.
The expected outcomes from this intervention is to see a reduction in the number of bed sores in the hospital setting. It is also intended to ensure a reduction in the length of hospital stay while reducing patient suffering as much possible in order to improve quality of life. It is also intended that the costs incurred by the patients especially those with chronic conditions while seeking healthcare in the facility would reduce to a great extent.
Results from Previous Research Demonstration of the Need for Quality Improvement
The hospital opted for education of the medical staff about bed sore ulcer bundles and this is supported by a number of review articles. According to a study by Bauer et al. (2016), there is a great impact of pressure ulcers on the hospitalized patients especially in the long term care. The study focused on patients who had high probability of developing a single or more bed sore. The article states that there is a significant increase in the length of hospital stay for patients with bed sores and this could lead to significant comorbidities and mortality.
In another study carried out by Zuo and Meng (2015), which aimed at analyzing and describing the pressure ulcer prevention bundles. The article outlines some of the strategies to reduce the ulcers including assessment of the skin that is more prone, proper care of the skin that is likely to be affected, repositioning and proper nutrition. In the study it is evident that proper identification of the risk factors forms the basis of effectively addressing. The article also underscores that pressure ulcers develop due to a number of factors both intrinsic and extrinsic. Decreased tissue perfusion resulting from pressure on the skin, friction due to frequent rubbing and maceration of the skin are some of the extrinsic factors. The intrinsic factors include age of the patient, underlying morbidities and tissue perfusion.
In a different study, Bhattacharya and Mishra (2015) assert that there is need for any healthcare institution to put in place measures to prevent occurrence of pressure ulcers. The article brings to light some of the causes, symptoms and diagnosis, while also considering prevention, severity and recommendations for both surgical and non-surgical removal of the ulcers. The study provides that most of the patients with pressure ulcers suffer conditions which make them immobile. The authors therefore recommend the assessment of the skin in the patients who are at higher risk. Nutritional recommendations are highly advocated for throughout the study as a way of preventing the occurrence of pressure ulcers.
Steps in Implementation of the Quality Improvement Initiative
In order to successfully implement the quality improvement process, there is need for the hospital to prepare adequately. To begin, the hospital should form the bed sore quality control units/teams. The team is responsible for designing guidelines and protocols to be followed in assessment and treatment of patients with pressure ulcers (Eboreime, Eyles, Nxumalo, Eboreime, & Ramaswamy, 2019). The teams should have healthcare professionals across all healthcare cadres: nurses, physicians, nurses, clinical nurses and PU therapists. The teams should be organized in structures in order to educate all the nurses and the physicians in the affected areas. The teams should then be assessed at the end of the training to determine mastery of the interventions.
In the next step, quality management objectives are set, rules and hypotheses are put in place. The teams are encouraged to convene and meet as often as possible and during each meeting, there are discussions on the objective care bundles. The teams also ensure there are standard guidelines on reporting and management of possible complications. There should be development of policies to include risk assessment, nutrition, support surfaces and repositioning.
In the next step, the individual members of the teams are assigned responsibilities to know specific roles in the care (O'Toole et al., 2017). The care bundles are applied in the fourth and final step. Specific team leaders are then mandated to ensure they truck the implementation processes and make sure there is full implementation of the measures.
Evaluation of The Improvement
In order to ensure full compliance and adherence to the bundles, frequent audits can be done on the nurses and physicians. The recorded clinical data can also be used for the sake of comparison from the numbers of cases before intervention and cases after the intervention. Changes in the lengths of hospital stay are also pointers towards the effect of successful implementation of the interventions. A typical hypothesis is that the full implementation of care bundles decreases the incidences of pressure ulcers and if it is accepted, then it points to the success of the intervention.
Conclusion
Different hospitals struggle with different challenges in meeting the needs of their patients and this therefore calls for continuous quality improvement as a way of dealing with the problems and improving patient experience. Quality improvement encompasses deliberate steps that are meant to achieve measurable outcomes with regards to better patient experiences.
References
Bauer, K., Rock, K., Nazzal, M., Jones, O., & Qu, W. (2016). Pressure Ulcers in the United States' Inpatient Population from 2008 to 2012: Results of a Retrospective Nationwide Study. Ostomy/wound management, 62(11), 30-38. https://www.o-wm.com/article/pressure-ulcers-united-states-inpatient-population-2008-2012-results-retrospective
Bhattacharya, S., & Mishra, R. K. (2015). Pressure ulcers: current understanding and newer modalities of treatment. Indian Journal of Plastic Surgery, 48(01), 004-016. doi: 10.4103/0970-0358.155260
Eboreime, E. A., Eyles, J., Nxumalo, N., Eboreime, O. L., & Ramaswamy, R. (2019). Implementation process and quality of a primary health care system improvement initiative in a decentralized context: <scp>A</scp> retrospective appraisal using the quality implementation framework. The International Journal of Health Planning and Management, 34(1), e369–e386. https://doi.org/10.1002/hpm.2655
Ferris, A., Price, A., & Harding, K. (2019, July 1). Pressure ulcers in patients receiving palliative care: A systematic review. Palliative Medicine, Vol. 33, pp. 770–782. https://doi.org/10.1177/0269216319846023
O'Toole, T. R., Jacobs, N., Hondorp, B., Crawford, L., Boudreau, L. R., Jeffe, J., … LoSavio, P. (2017). Prevention of Tracheostomy-Related Hospital-Acquired Pressure Ulcers. Otolaryngology–Head and Neck Surgery, 156(4), 642–651. https://doi.org/10.1177/0194599816689584
Toma, M., Dreischulte, T., Gray, N. M., Campbell, D., & Guthrie, B. (2018). Balancing measures or a balanced accounting of improvement impact: A qualitative analysis of individual and focus group interviews with improvement experts in Scotland. BMJ Quality and Safety, 27(7), 547–556. https://doi.org/10.1136/bmjqs-2017-006554
Zuo, X. L., & Meng, F. J. (2015). A care bundle for pressure ulcer treatment in intensive care units. International Journal of Nursing Sciences, 2(4), 340-347. https://doi.org/10.1016/j.ijnss.2015.10.008