NURS 8302 Leadership for Change
NURS 8302 Leadership for Change
NURS 8302 Leadership for Change
Relationship between Transformational Leadership for Change and the Need for Quality Improvement
Leadership style and effectiveness certainly plays a significant role in strengthening and improving quality and patient care. Although there are various leadership styles, the transformational leadership style seems to align very well with our complex and ever-changing health care system, as it encourages adaptation and change. The principles of this leadership style are well suited for our fast-paced, diverse workforce (University of Massachusetts Global, 2020). The four components of transformational leadership are individualized consideration, inspirational motivation, idealized influence, and intellectual stimulation. This is a leadership style characterized by creating relationships and motivation among staff members (Sfantou et al., 2017). It aims to cause change in individuals as well as social systems by creating positive changes in followers with the ultimate goal of developing followers into future leaders. This type of leadership involves leaders to achieve goals by learning from and meeting the personal needs of those who choose to follow them, and it is this process and learning from those following them and meeting their needs that allows them to develop a sense of ownership with regards to their processes, which in turn inspires them to strive and reach for greater levels to meet the organization's goals (Omar, 2017). Transformational leadership supports quality improvement by focusing management and leadership attention on the training and personal development of the followers and improvement processes (Omar, 2017).
Experience with Transformational Leadership in my Health Care Organization
            My experience with transformational leadership has been a positive one. This style of leadership strives to improve the overall work environment as well as the personal lives of the followers. Transformational leadership seems to make upper management more accessible to the employees. Leaders which utilize this style, focus less on establishing strategic plans and more on facilitating overall organizational collaboration which helps to drive a vision forward (University of Massachusetts Global, 2020). Management is visible, available, and encouraging of questions and feedback from employees so that they may provide adequate support and employ individualized consideration. Team member engagement surveys are distributed quite frequently to all members via the organizational intranet and we are all highly encouraged to participate with our responses. Incentives are even provided with prizes being awarded by randomly choosing the name(s) of survey engagement submission participants. Engagement surveys are utilized as a means by which to identify factors that lend themselves to disengagement, and the goal at this point is to address those factors and make changes that are meaningful to the employees.
Leadership is continually encouraging feedback for recommendations, and/or the identification of issues that they feel need to be addressed, which encourages employees to be creative and innovative, and results in intellectual stimulation. The lines of communication are always open and management is easily accessible. Upper management makes rounds on the units to speak to and engage employees as an opportunity to hear "real-time" questions/comments/concerns from that which are affected by them directly as a way to garner buy-in and meet the employee's needs, an approach which is clearly supported by the transformational leadership style. In exchange for this type of approach, employees are more than willing to push themselves harder and meet the organizational goals and have their actions align with the organizational values and vision (Omar, 2017). The unified vision that encourages team members to exceed expectations is an example of inspirational motivation. This leadership style inspires employee confidence, staff respect, and communicates loyalty through a shared vision which strengthens employee morale, job satisfaction, and increased productivity (Sfantou et al., 2017). Earning the necessary level of trust and respect from followers towards leadership helps leaders to guide decision-making that provides an overall organizational improvement, an example of idealized influence.
Application of Project Management Approaches to Support Transformational Leadership Practices for the Promotion of a Quality Improvement Initiative
Transformational leaders work to change the system while maximizing their team's abilities, they serve as role models for their followers/team members and challenge their followers to overachieve and outperform by empowering them to perform at their very best. They utilize planning structures, set goals, and then work to create new systems to accomplish it by gaining buy-in from their followers to adopt common goal(s)/vision(s) to achieve improvements that benefit all pertinent stakeholders, via the use of team communication, cohesiveness, collaboration, and effective and efficient team-building (Ali et al., 2021). This is where transformational leadership and project management join forces. A transformational leader will employ collaborative efforts to achieve organizational improvement with the aid of their followers (Omar, 2017). Project managers/leaders much like transformational leaders are agents of change, and this is the same philosophy that is the general underpinning of transformational leadership.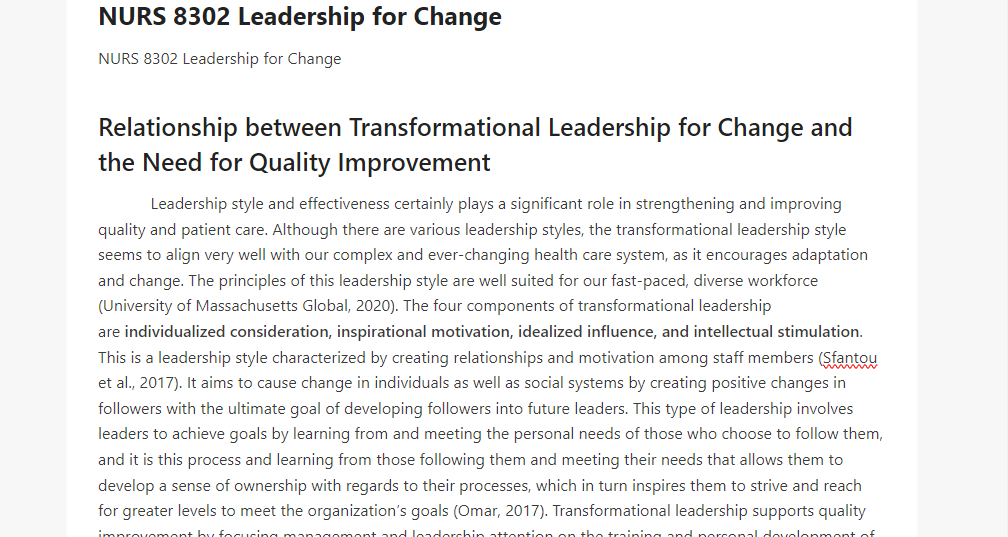 A project manager with a transformational leadership style is someone with the right attitude and drive to formulate a quality improvement initiative vision, propose the change, easily get follower/team member buy-in, and has the ability to get others to be excited and enthusiastic about not only the proposed improvement initiative but also the change process, which improves project performance (Ali et al., 2021). The transformational leader makes an effective project manager due to the fact that they possess the characteristics of this leadership style, and as such would be able to easily convey their vision, justify the project improvement investment to the proper stakeholders, secure resources, get the proper team members engaged to become active participants in the quality improvement team, develop a specific management plan, lead and motivate the team, execute the plan, monitor for change and progress, meet all due dates, and carry the project to completion (Sipes, 2020). A project leader with a transformational leadership style will not have to chase down team members to accomplish tasks or stay focused and on task. It is the transformational factor that makes quality improvement initiatives successful when this approach is adopted, and this style is implemented.
References
Ali, H., Chuanmin, S., Ahmed, M., Mahmood, A., Khayyam, M., &Tikhomirova, A. (2021). Transformational leadership and project success: Serial mediation of team-building and teamwork. Frontiers in Psychology, 12(689311). https://doi.org/10.3389/fpsyg.2021.689311
Omar, H. O. (2017). Transformational leadership in quality management. Graduate Student Theses, Dissertations, & Professional Papers. https://scholarworks.umt.edu/etd/11018
Sipes, C. (2020). Project management for the advanced practice nurse (2nd ed.). Springer Publishing Company.
Sfantou, D. F., Laliotis, A., Patelarou, A. E., Sifaki-Pistolla, D., Matalliotakis, M., &Patelarou, E. (2017). Importance of leadership style towards quality of care measures in healthcare settings: a systematic review. Healthcare (Basel, Switzerland), 5(4), 73. https://doi.org/10.3390/healthcare5040073
University of Massachusetts Global. (2020). What is transformational leadership? Understanding the impact of inspirational guidance. https://www.umassglobal.edu/news-and-events/blog/what-is-transformational-leadership
Thank you for a wonderful post. Your focus on transformational leadership is excellently done and highly insightful. You have brought exceptional points about the relationship between transformational leadership for change project and need for quality improvement, practical experiences of transformational leadership in your practice, and how project change management approaches can support transformational leadership. I agree with you. However, despite the many benefits that are associated with transformational leadership, organizations and project managers should always be aware of the various pitfalls of this leadership approach and take actions to combat the limitations (Collins et al., 2019). One of the common limitations of transformational leadership includes disruption of routines. Application of this leadership approach requires workers to change how they think about work, which can cause confusion and disruption (Jacobsen & Staniok, 2020). Moreover, if an organization is undergoing extensive changes simultaneously, unified system may fall apart or employees risk forgetting typical set of rules and best practices. The approach is also risky since employees can be influenced to satisfy vision of their leader even if it lacks merits and deceptive (Moon et al., 2019).
References
Collins, E., Owen, P., Digan, J., & Dunn, F. (2019). Applying transformational leadership in nursing practice. Nursing Standard, 35(5), 59-65. doi: 10.7748/ns.2019.e11408
Jacobsen, C. B., & Staniok, C. D. (2020). Sharing the fire? The moderating role of transformational leadership congruence on the relationship between managers' and employees' organizational commitment. International Public Management Journal, 23(4), 564-588. https://doi.org/10.1080/10967494.2018.1486930
Moon, S. E., Van Dam, P. J., & Kitsos, A. (2019, December). Measuring transformational leadership in establishing nursing care excellence. In Healthcare (Vol. 7, No. 4, p. 132). Multidisciplinary Digital Publishing Institute. https://doi.org/10.3390/healthcare7040132
Transformational leadership is a leadership style that focuses on creating change in an organization. When a leader has a transformational leadership style the correlation to change, meaning adopting new changes or techniques, is positive (Peng, Wang, and Lin, 2021). This knowledge shows us why it is important to strive to have transformational leadership in place in an organization that needs change.
I have had many great leaders throughout my nursing career. One leader used transformational leadership style in her leadership practices. Everyone on the unit loved working for her and with her. She was often seen on the floor helping where she could and promoting teamwork and unity. If there was a change that she wanted to pilot we were more than willing to go along with her because we knew that she would have our backs and that she would support us and help us. She was a wonderful leader. When she switched to a different unit many of the nurses followed her because they liked her so much and felt so supported.
The project management approach to support transformational leadership practices is a great option for the advanced practice nurse. Project management comes naturally to many nurse leaders because many of the same concepts are used in project management and the nursing process (Sipes, 2020). I could use the project management approach in my organization through the use of outlining the project to improve quality and showing the steps that could be required for the improvement of quality. For example, at my long term care facility there has been an increase in pressure ulcers acquired at the facility. The first step in the project management process is to create a quality improvement team, from there decisions will be made about what interventions need to be implemented. The decision is made to set up big clocks outside the residents rooms who need to be turned. These clocks show what side the resident should be on during every two hour interval. This intervention is put into place. After that the results of the quality improvement project would be monitored and reported to the director of nursing to see if the visual clocks were helpful in reducing the amount of pressure ulcers. The short term goals would be to have 75% of residents be on the appropriate side during any two hour time span. The long term goals would be to decrease the number of pressure ulcers in the facility.
References
Peng, J., Li, M., Wang, Z., & Lin, Y. (2021). Transformational leadership and employees' reactions to organizational change: Evidence from a meta-analysis. Journal of Applied Behavioral Science, 57(3), 369–397. https://doi-org.ezp.waldenulibrary.org/10.1177/0021886320920366
Sipes, C. (2020). Project management for the advanced practice nurse (2nd ed.). Springer Publishing Company.
You have provided in-depth analysis of transformational leadership in quality improvement projects and a clinical experience of this leadership approach. I concur with you. Although the transformational leadership model is largely regarded as effective, it should be noted that it is not appropriate for every organization (Thibault et al., 2019). In health care, it may not have wide appeal for broad range of settings. Therefore, it is prudent for conduct thorough assessment of the organization's needs before integrating this leadership model. On the other hand, this approach can be ideal in situations that require some innovations and risks due to its tolerance for risk (Arif & Akram, 2018). Innovations are not easy. There is no secure way to disruptive change. However, transformational leaders know that planned risk taking is a crucial and essential part of their job (Lange et al., 2018). Transformational leaders can rely on their intrinsic oddity to pursue new approaches, seek expert opinions, use research, and act aggressively when opportunities to be explored presents.
References
Arif, S., & Akram, A. (2018). Transformational leadership and organizational performance: the mediating role of organizational innovation. SEISENSE Journal of Management, 1(3), 59-75. https://www.journal.seisense.com/index.php/jom/article/view/28
Lange, S., Bormann, K. C., & Rowold, J. (2018). Mindful leadership: mindfulness as a new antecedent of destructive and transformational leadership behavior. Gruppe. Interaktion. Organisation. Zeitschrift für Angewandte Organisationspsychologie (GIO), 49(2), 139-147. https://doi.org/10.1007/s11612-018-0413-y
Thibault, T., Gulseren, D. B., & Kelloway, E. K. (2019). The benefits of transformational leadership and transformational leadership training on health and safety outcomes. In Increasing occupational health and safety in workplaces. Edward Elgar Publishing. https://doi.org/10.4337/9781788118095.00027