NURS 8302 Identifying Practice Gaps for Quality Improvement
NURS 8302 Identifying Practice Gaps for Quality Improvement
NURS 8302 Identifying Practice Gaps for Quality Improvement
Identifying a practice problem in an organization can either be simple and obvious or more complex and hidden. When identifying a problem it is important to talk with those in an organization who may be witnessing it more often. This means that if there is a problem on the floor of the unit you will be more successful talking with nurses on the floor than with nurses who are in the back office of the unit. Involving stakeholders in identifying problems can also be a successful way in recognizing where a quality improvement project can take place. These ways can be considered collection of information through surveys.
A potential quality improvement practice gap in my organization could be getting the residents at the long term care facility that I work at to all get a shower at least 2 times a week. It is a 125 bed facility and at the moment we have 96 residents. Many residents are not getting bathed or even given the opportunity to shower. This is a right that needs to be taken care of. The care of the residents are so important and sometimes something as simple as a shower can change how a person feels. There is a lack of communication when it comes to who is responsible for what at my facility. Changing the narrative and really assigning and then holding people accountable for what they have been assigned could help in getting all residents the opportunity to shower. This is an example of improving the processes in order to improve the quality of the organization which is one of the main reasons for research (Nash, Joshi, Ransom and Ransom, 2019).
Implementing a morning huddle about showers is a method that could be used to address the practice gap. Huddles in healthcare improve communication and collaboration between different levels and areas of care and can include improvement in team outcomes and clinical outcomes (Pimentel, Snow, Carnes, Shah, Loup, Vallejo-Luces, Madrigal and Hartmann, 2021). Huddles can help with communicating the needs of the residents and it will also help with the accountability of staff. The second method that could be effective in improving this quality problem is to teach staff the importance of informing residents about what is happening with cue cards or other items in order to reduce the amount of anxiety a resident may experience from bathing (Novotney, 2013). This communication with the resident allows the resident to feel like they are in control and that what is going on is not just happening to them, but that they are an active participant in it. Allowing residents to make decisions can help them feel included and empowered. Teaching these appropriate communication techniques to the staff can help them feel more comfortable approaching residents and helping them bathe. Having both parties be more comfortable with showering and/or bathing can help increase the amount that it happens at the facility.
References
Nash, D. B., Joshi, M. S., Ransom, E. R., & Ransom, S. B. (Eds.). (2019). The healthcare quality book: Vision, strategy, and tools (4th ed.). Health Administration Press.
Novotney, A. (2013, May 1). Flex bathing for all: being able to adapt bathing equipment, spaces and materials to a changing census is critical for long-term care providers and residents. McKnight's Long-Term Care News, 34(5), 32.
Pimentel, C. B., Snow, A. L., Carnes, S. L., Shah, N. R., Loup, J. R., Vallejo-Luces, T. M., Madrigal, C., & Hartmann, C. W. (2021). Huddles and their effectiveness at the frontlines of clinical care: a scoping review. JGIM: Journal of General Internal Medicine, 36(9), 2772–2783.
This is an exceptional work Barbie. You have clearly identified a potential quality improvement practice gap in your organization and provided methods that can be used to address the practice. This is a clear indication that you had a good grasp of the content. I agree with your post. Essentially, nursing students are expected to develop effective problem-solving skills and critical thinking to enable them to identify practice problems and create solutions (Ahmady & Shahbazi, 2020). Problem solving is anchored on the ability recognize critical issues and develop solutions. Nursing profession merges science, research, art, and creativity. Therefore, having problem solving skills, thinking creatively by asking the appropriate questions, and exploring multiple options, nurses can identify and solve practice problem more effectively (Bordoll et al., 2021). The application of problem-solving skills starts with critical thinking. Critical thinking is important in identifying courses of action and creating clear answers to the practice problems (Chan, 2019). Integrating problem-solving skills, critical thinking, and creativity can enable nurses to address specific practice problems and system-wide issues.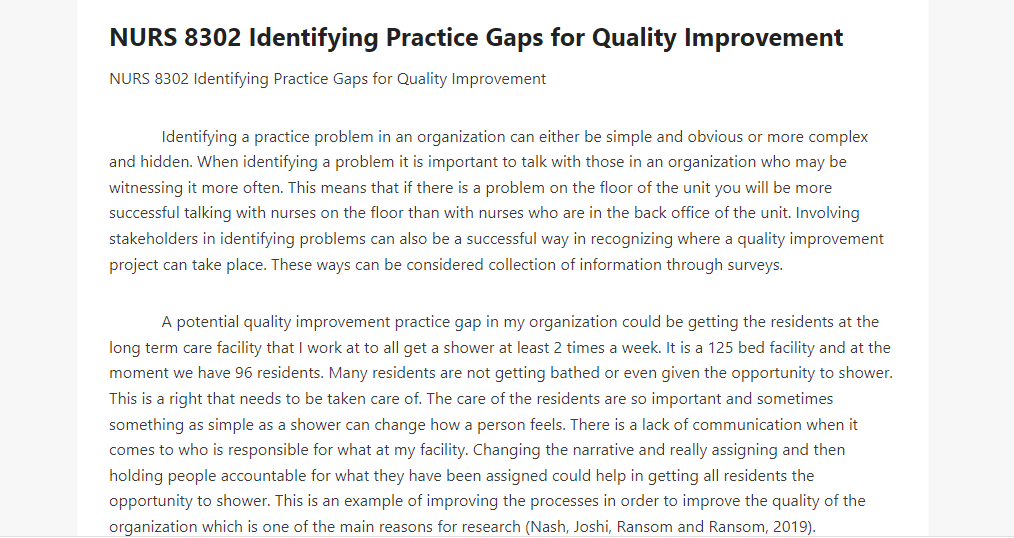 References
Ahmady, S., & Shahbazi, S. (2020). Impact of social problem-solving training on critical thinking and decision making of nursing students. BMC nursing, 19(1), 1-8. https://doi.org/10.1186/s12912-020-00487-x
Bordoll, J. C., Leyva, J., & Gonzalez, M. P. A. (2021). Innovation in Nursing Care. Innovation, 2022. https://guies.uab.cat/guies_docents/public/portal/html/2021/assignatura/44459/en
Chan, Z. C. (2019). Nursing students' view of critical thinking as 'Own thinking, searching for truth, and cultural influences'. Nurse education today, 78, 14-18. https://doi.org/10.1016/j.nedt.2019.03.015
The methodology I would utilize to identify a quality improvement gap in my current organization is the hospitals' scorecard on Hospital Compare. "The Centers for Medicare & Medicaid Services (CMS), the federal agency that runs the Medicare program, created this tool in collaboration with organizations representing people with Medicare, hospice organizations, other stakeholders, and other federal agencies". (Center for Medicare and Medicaid Services, n. d.). CMS's website, hospital compare, is a website that allows participants/caregivers/others, to identify providers based on the criteria most relevant to them. In reviewing my current organizations' scorecard via hospital compare, the hospitals' rate for 30- day inpatient psychiatric readmissions is 21.1%, while the national average is 20.1, which is not statistically significant. However, the percentage of patients included in this data (Medicare only), are minimal, compared to the total number of patients discharged from the inpatient psychiatric unit.
To be sure that this data was accurate, I compared this data to the same statistics reported by some of our other payors via the Value-Based Purchasing (VBP) program. This is a method of provider payments, directly related to the providers' performance. More specifically, providers are held accountable for the quality of care they provide, which is directly related to the organizations' reimbursement (HealthCare.gov, n. d.). My organization currently has VBP agreements with two payors. As reported by these payors, our 30-day readmission rate for the inpatient psych unit is significantly higher than the local/state/national average. Thus, this is an opportunity for our department to address.
The method I would choose to address this gap in practice is a retrospective chart review. This is a review of a medical record after a patient has been discharged from the hospital. It is the most comprehensive method of data collection related to patient care. Additionally, a retrospective chart review "is the primary tool for answering the "why" of a given situation" (Nash, Joshi, Ransom, E. & Ransom, S., 2019, pg. 114). Following a patients' discharge, a thorough review of a patients' chart could help to provide some detail regarding the patients' discharge plan, wrap-around services in the community and other factors, or lack thereof, that may have contributed to the patients' readmission.
After a thorough review of a sampling of patients' charts, collecting data, I would use a fishbone diagram to assist in sorting the data, identifying potential causes for patients' readmissions. The fishbone diagram organizes possible causes, in a format that's visual for ease in understanding (Nash et al., 2019). Although the reasons for readmission may be very individualized, my goal would be to ensure that, as an organization, we provided patients with all of the tools required to be successfully discharged to the community. Overall, in a review of this data, the focus would be on psychiatric readmissions, but would also consider patient outcomes. "Management strategies to reduce readmissions may influence indicators of well-being such as psychiatric symptomatology, functional status, quality of life, social adjustment, self-efficacy, service satisfaction, life skills, medication adherence, and ability to live independently" (RTI-UNC Evidence-based Practice Center, 2015, pg. 25). Improved quality of life is a goal for patients with severe and persistent mental illness.
References
Center for Medicare and Medicaid Services (n. d.). Hospital Compare. https://www.medicare.gov/care-compare/resources/about-this-tool
HealthCare.gov (n. d.). Value-Based Purchasing. https://www.healthcare.gov/glossary/value-based-purchasing-vbp/
Nash, D. B., Joshi, M. S., Ransom, E. R., & Ransom, S. B. (Eds.), (2019). The healthcare quality book: Vision, strategy, and tools (4th ed.). Health Administration Press.
RTI-UNC Evidence-based Practice Center (2015). Effective health care program: Management strategies to reduce psychiatric readmissions. Technical Brief Number 21. https://effectivehealthcare.ahrq.gov/sites/default/files/pdf/psychiatric-readmissions_technical-brief.pdf
This is an outstanding work Andretta. The methodologies of identifying quality improvement gap in health care organization have been clearly identified. I concur with your post. Ideally, identification of quality improvement gap should be followed by addressing the gap and determination of quality of the service. However, evaluating the perceptions and expectations of patients concerning health care delivery and areas that need improvement remains a great challenge (Javed & Ilyas, 2018). Usually, surveys have been used to understand quality improvement gaps from the perspective of the patients and other stakeholders. However, another important methodology that organizations and providers can use is to compare the perceived and the expected quality of service and identify the gaps between them, utilize the feedback from the stakeholders to enhance quality, and evaluate the real experiences of health care (Lu et al., 2020). As service quality is increasingly becoming a critical aspect of corporate strategy in health care system, an approach of measuring the perception and understanding the gap between perception and expectation can be important in quality improvement initiatives (Dopeykar et al., 2018).
References
Dopeykar, N., Bahadori, M., Mehdizadeh, P., Ravangard, R., Salesi, M., & Hosseini, S. M. (2018). Assessing the quality of dental services using SERVQUAL model. Dental Research Journal, 15(6), 430. https://www.ncbi.nlm.nih.gov/pmc/articles/PMC6243813/
Javed, S. A., & Ilyas, F. (2018). Service quality and satisfaction in healthcare sector of Pakistan—the patients' expectations. International journal of health care quality assurance. https://doi.org/10.1108/IJHCQA-08-2016-0110
Lu, S. J., Kao, H. O., Chang, B. L., Gong, S. I., Liu, S. M., Ku, S. C., & Jerng, J. S. (2020). Identification of quality gaps in healthcare services using the SERVQUAL instrument and importance-performance analysis in medical intensive care: a prospective study at a medical center in Taiwan. BMC Health Services Research, 20(1), 1-11. https://doi.org/10.1186/s12913-020-05764-8