NURS 8210 Meaningful Use Paper
NURS 8210 Meaningful Use Paper
NURS 8210 Meaningful Use Paper
Meaningful use refers to an electronic health records (EHR) incentive program, which offers incentive payments for specific healthcare providers to adopt EHR technology in ways that improve patient care. The program encourages eligible providers to use the EHR's capabilities to arrive at benchmarks that promote improved patient care (CMS, 2017). The meaningful use program has particular requirements that the eligible providers must meet to get the incentive payments. This paper seeks to discuss the legal, financial, and ethical issues that may arise due to meaningful use legislation and how they may hinder the successful implementation of meaningful use in an organization.
Legal, Financial, and Ethical Issues That May Arise As A Result Of Meaningful Use Legislation
Legal issues that can occur during meaningful use legislation include increased legal responsibility and accountability for healthcare providers. Complex electronic-based auditing procedures can point out providers who review or fail to review vital patient information in the EHR (Balestra, 2017). As a result, providers can be sued on the grounds of medical negligence for failing to address priority patient issues. Challenges related to the quality, usability, and reliability of the available EHRs may bring complex legal implications. Most EHR contracts have a 'hold harmless' clause which restricts health providers from reporting EHR-related challenges (Balestra, 2017). Furthermore, documentation-related EHR issues may result in legal liabilities. Documentation must be accurate and clear to offer a foundation for every provider to improve patient outcomes (Balestra, 2017). However, electronic documentation that does not meet these principles may result in undesirable outcomes for the provider, patients, families, or the healthcare organization, resulting in legal proceedings.
Financial issues that may occur from meaningful use include unresolved issues on the party that should pay for the implementation and use of the EHR. In most of the current provider reimbursement models, the highest percentage of the EHR monetary benefits go to health care payers instead of those currently financing the EHR implementation (Lite et al., 2020). Health care providers may raise financial concerns about the cost and resources needed to implement and maintain the EHR.  The transition costs from paper-based records to EHR documentation are barriers to successful, meaningful use legislation (Lite et al., 2020). The transition is associated with costs to reduce patient load during the transition process, staff training, various technical support charges, and costs to load medical records from paper into the EHR system.
Evidence reveals that EHRs result in unintentional consequences with patient safety implications. EHR usability challenges may result in ethical issues that may need ethical decision-making models to guide health providers on the appropriate actions to promote safe, effective patient care (McBride et al., 2018). The EHR has enhanced portability and accessibility, which raises ethical questions on the ownership of protected health information. Ethical issues may also arise on the health providers' responsibility to prevent and notify patients of the potential for privacy breaches when using the EHR (McBride et al., 2018). Computer-based breaches on personal health information may result in complex ethical and legal issues on the suitability of the approaches used to address them.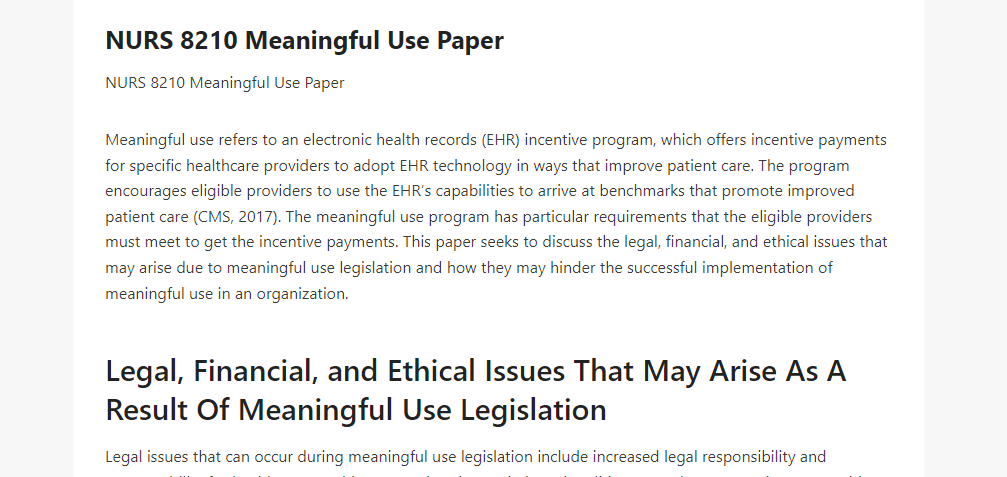 How These Issues Might Present Barriers to Successful Implementation within an Organization
Potential legal, financial, and ethical issues significantly hinder the implementation of meaningful use within a healthcare organization. Legal issues hinder successful, meaningful use implementation since healthcare leaders become concerned about the legal liabilities that EHR implementation may bring to the organization (McBride et al., 2018). The legal fees needed to develop EHR contracts also hinder the successful implementation of meaningful use, especially in small practices (Lite et al., 2020). Financial issues such as limited resources limit organizations from purchasing the EHR, which is a major barrier to implementing meaningful use. Ethical issues related to patient privacy and data integrity bar organizations from implementing meaningful use due to concerns of failing to uphold the HIPAA rule on maintaining patients' privacy when using the EHR.
Ways That Health Care Organizations Can Make the Most of Their Electronic Health Record Investments In Light Of Meaningful Use
The Meaningful Use program promotes a safer, more efficient way to deliver healthcare services. Health care organizations can make the most of their EHR in view of meaningful use by using it to foster smooth, accurate data-sharing among the healthcare providers and improved quality of care for all patients (Wani & Malhotra, 2018). Organizations can use the EHR to ensure that the providers have access to complete and accurate information, facilitate the diagnosis of health conditions, and provide the best possible patient care. Besides, they can use the EHR to improve care coordination in the organizations (Wani & Malhotra, 2018). With the EHR, information can be shared instantaneously across care organizations, including hospitals, physician offices, and health systems, resulting in better care coordination.
Organizations can use the EHR to increase their patient engagement. The EHR strengthens the capacity of organizations to receive their medical records electronically and share them securely over the Internet. Health organizations can use it to their benefit to encourage patients to take a more active role in managing their health and their families (Wani & Malhotra, 2018). Organizations can also use the EHR to improve patient safety. For instance, they can use the EHR to promote fast electronic access to patient information about allergies, conditions, medications, and treatment history, thus significantly reducing the risk of medical errors (Wani & Malhotra, 2018). Lastly, organizations can use the EHR to promote healthier patient populations and communities by capturing vital data about diseases and outcomes and sharing it with other health professionals locally, regionally, and countrywide.
How EHR-Related Meaningful Use Legislation Is Being Implemented In My Organization
Meaningful legislation is being implemented in my organization through interventions consistent with the 13 Core Objectives and 9 Menu Objectives of stage one (CMS, 2017). Clinicians use computerized provider order entry (CPOE) and clinical decision support (CDS) in making clinical decisions and carry out drug-drug and drug-allergy checks. The organization maintains an updated problem list of current and active diagnoses, an active drug list, and an active medication allergy list for patients. In addition, we have adopted E-Prescribing for the largest percentage of our patients (CMS, 2017). We also implement meaningful use by documenting patients' demographics, changes in vital signs, and smoking status for patients 13 years and above. Furthermore, the organization offers patients the capacity to view, download, and transmit their health data online.
The organization further implements meaningful use by conducting a security risk analysis to protect electronic health data. Clinicians also provide patients with clinical summaries for their outpatient visits within three business days. It also submits electronic data to immunization registries and electronic syndromic surveillance data to public health agencies (CMS, 2017). Besides, we conduct drug formulary checks and create lists of patients by their specific conditions. We also send reminders to patients for their preventive and follow-up care and provide them with patient-specific education resources. Health providers in the organization implement meaningful use by integrating clinical lab-test results, carrying out medication reconciliation, and recording the summary of care for transitions of care.
Conclusion
Legal issues related to meaningful use can be attributed to complex EHR systems, problems with quality, usability, and reliability of the EHR, and electronic documentation. Financial issues include inadequate resources to purchase and maintain the EHR as well as the transition from paper-based records to EHR. Ethical issues may be related to patient safety and breach of patient privacy. These issues may hinder the successful implementation since organizations become concerned about the legal and ethical liabilities and lack adequate resources to maintain the EHR.

References
Balestra, M. L. (2017). Electronic health records: patient care and ethical and legal implications for nurse practitioners. The Journal for Nurse Practitioners, 13(2), 105-111. https://doi.org/10.1016/j.nurpra.2016.09.010
Centers for Medicare & Medicaid Services. (2017). Electronic health records (EHR) incentive programs. Eligible Hospital and Critical Access Hospital Meaningful Use Core Measures: Measure, 6.
Lite, S., Gordon, W. J., & Stern, A. D. (2020). Association of the meaningful use electronic health record incentive program with health information technology venture capital funding. JAMA network open, 3(3), e201402-e201402. https://doi.org/10.1001/jamanetworkopen.2020.1402
McBride, S., Tietze, M., Robichaux, C., Stokes, L., & Weber, E. (2018). Identifying and addressing ethical issues with the use of electronic health records. Online J Issues Nurs, 23(1). https://doi.org/10.3912/OJIN.Vol23No01Man05
Wani, D., & Malhotra, M. (2018). Does the meaningful use of electronic health records improve patient outcomes?. Journal of Operations Management, 60, 1-18. https://doi.org/10.1016/j.jom.2018.06.003