NURS 8210 Information Systems and Changing Organizational Culture
NURS 8210 Information Systems and Changing Organizational Culture
NURS 8210 Information Systems and Changing Organizational Culture
Sault Area Hospital is an organization that supports the district of Algoma in Sault Ste Marie, Ontario. Recently, the organization has made progress in implementing a variety of health information technology to increase quality of care. Gamification of health care is an emerging trend which includes the use of game features, mechanisms, and designs to support patient care issues as well as well-being (El Morr, 2018). Gamification can be utilized within Sault Area Hospital to increase compliance and concordance with health teaching and discharge instructions. This can be beneficial to both patients and staff. With gamification, patients are challenged to complete a variety of modules and to demonstrate comprehension and understanding regarding discharge instructions. For staff members, gamification can be utilized to enhance the appeal to ensure all discharge information and education is provided to patients in a timely manner.
When implementing change, one must consider barriers which may be present. With the implementation of gamification, technology availability could be a barrier. Each room at Sault Area Hospital should be equipped with a bedside computer, however, often these computers are needing information technology (IT) support as they are not functional. Without appropriate bedside technology, the health care staff may be unable to complete gamification as required. It will be important to ensure adequate IT availability to ensure all workstations are functioning. Application and usability may be a barrier as staff may not be willing to apply gamification within their practice. A strategy to overcome this barrier would be to ensure that staff received appropriate education and training regarding gamification (Caballero & Cossio, 2010). Further barriers surround health literacy of patients. Gamification is only effective if patients understand the concept and obtain knowledge from it. This will be based upon health literacy of the patient which can vary between age and gender.  With this initiative, it will be important to create strategies to engage minority populations. Keselman et al., (2008) note that those who do not access Internet health resources are financially unstable, less educated, over the age of 65, disabled, or ethnic minorities. These populations may require increased time with the staff completing the gamification.  
With this proposed change, it would be beneficial to utilize change management strategies to ensure implementation is successful. With the addition of gamification, it would be beneficial to involve all staff who would be affected by this change within the design and implementation of the technology. Staff should be involved when designs are being made regarding gamification and could be involved within design, technology usage, as well as implementation plan (Ball et al., 2011). Engaging individuals is attributed to success within health informatics technology implementation (Caballero & Cossio, 2010). Although, it is difficult to involve all individuals within decision making, it would be wise to sought out suggestions from staff (Ball et al., 2011).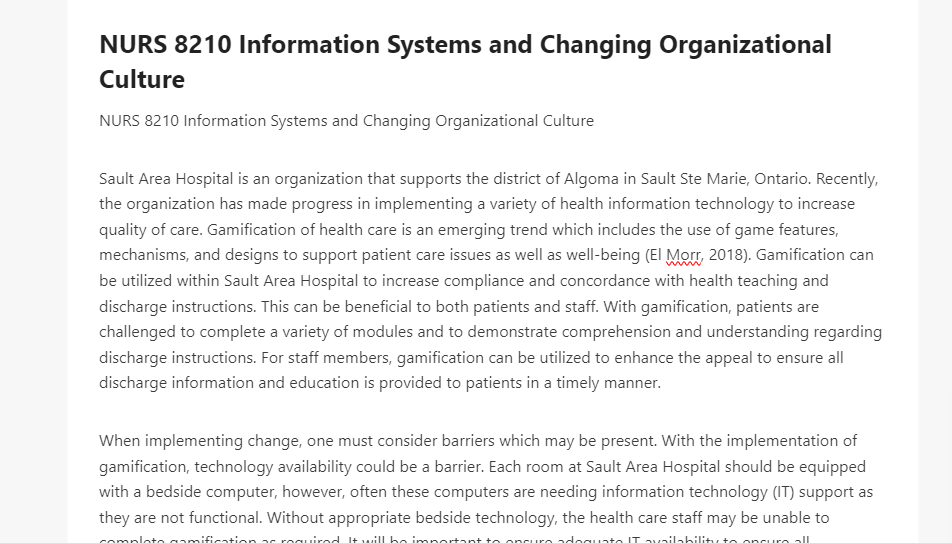 During implementation, it will be important to ensure support and commitment of this initiative by the leadership group (T.I.G.E.R. Technology Informatics Guiding Education Reform (2011). When implementation occurs, it will be preferable for the leader to engage with individuals and model understanding and application of the technology. Furthermore, leaders should ensure that individuals are aware of resources and assistance they provide during navigation of the new technology (T.I.G.E.R. Technology Informatics Guiding Education Reform (2011).
References
Ball, M. J., Douglas, J. V., Hinton Walker, P., DuLong, D., Gugerty, B., Hannah, K. J., . . .
Troseth, M. R. (Eds.) (2011). Nursing informatics: Where technology and caring meet
(4th ed.). London, England: Springer-Verlag.
Caballero Munoz, E., & Hullin Lucay Cossio, C.M. (2010). Engaging clinicians in health
informatics projects. Students in Health Technology and Informatics, 151. 195-206.
El Morr, C. (2018). Introduction to Health Informatics. Toronto: Canadian Scholars.
Keselman, A., Logan, R., Smith, C., Leroy, G., & Zeng-Treitler, Q. (2008). Developing
informatics tools and strategies for consumer-centered health communication, Journal
of the American Medical Informatics Association, (15), 4, 473– 483,
T.I.G.E.R Technology Informatics Guiding Education Reform. (2011). Informatics competencies
collaborative team. Retrieved from https://web.archive.org/web/20150910131244/ http://www.thetigerinitiative.org/docs/tigerreport_informaticscompetencies.pdf
This is insightful. The application of technology in the healthcare system is critical in the quality improvement processes. Today, most organizations adopt different technologies to ensure effective health outcomes and reduce errors associated with various medication processes (Lee et al., 2017). Gamification of healthcare is one of the technological approaches that is emerging in different organizations. The technology has been designed to provide support to patients in the course of treatment (Muangsrinoon & Boonbrahm, 2019). According to healthcare experts, motivation is one of the factors in changing behaviors towards the treatment processes. Gamification focuses on and controls attention to enhance the delivery of quality care. Many healthcare organizations rely on the Gamification programs to enhance patients' behavioral change, making them ready for different treatment processes (Sardi et al., 2017). The game is more than an automatic collector of vital signs and notifications. One of the probing questions that I would ask is: Can the Gamification program be used for patients under emergency care for those in critical conditions?
References
Muangsrinoon, S., & Boonbrahm, P. (2019). Game elements from literature review of gamification in healthcare context. JOTSE: Journal of Technology and Science Education, 9(1), 20-31. http://hdl.handle.net/2117/133736
Sardi, L., Idri, A., & Fernández-Alemán, J. L. (2017). A systematic review of gamification in e-Health. Journal of biomedical informatics, 71, 31-48. https://doi.org/10.1016/j.jbi.2017.05.011
Lee, C., Lee, K., & Lee, D. (2017). Mobile healthcare applications and gamification for sustained health maintenance. Sustainability, 9(5), 772. https://doi.org/10.3390/su9050772
The TIGER initiative was developed to bring together nursing stakeholders to brainstorm on issues that matter in the profession. TIGER addresses actions such as medication delivery of healthcare and H.I.T. (TIGER, 2011). According to TIGER initiatives, nursing stakeholders who commit to implementing improvement plans should stick to the plans to develop them as agreed.
I.T. initiative
To implement a successful information system, some steps need to be followed. The initial step would be creating a solid team to work on the project. Through forming, storming, norming, and performing, and a dynamic team can be created. The multidisciplinary team members (including I.T.) will initially get to know one another, familiarizing themselves with the project's goal. Interprofessional collaboration practice models can be used to assist in building high-performing teams (Chaney, 2021). An effective team is one that also displays effective communication. One has clear objectives, and every member has a clear understanding of the said objectives (Kim et al., 2019). Input from end-users is very important as they can provide pointers to a successful system.
In the computer patient records system (C.P.R.S.) I noticed that there is no availability in recording continuous bladder irrigation (C.B.I.) input and output.
Change management for successful implementation
To be successful in this project, I would have to act as a mediator between end-users, management, and I.T. developers. Internal mediation is then carried out with organization leaders and nurse managers. Computer literacy is essential; therefore, a few employees will be trained as superusers to help educate fellow staff members on using the systems and troubleshooting issues should they arise. The superusers will, in turn, provide feedback and will be the change agents for implementation. Members of the help desk will be trained as well in case their services are needed. In addition, external contractors can be hired to act as backup services to the system; therefore, there should always be someone available to help.
Potential barriers
Not every employee accepts change; to ease this, it is important to include and keep stakeholder members well informed on the progress of the implementation. Effective communication is vital, let everyone be heard and ideas acted on. Security is important in H.I.T. All barriers to breaches should be set in place. The superusers would continue to track the progress of the system. Keep communication transparent. Costs and estimates are some factors that I would need to investigate since funding is equally important. Any proposed changes should be rectified promptly. I.T. also informed me that C.P.R.S. has no more space to accommodate a flow sheet, so I must rethink and currently am in the process.
References
Chaney, A. (2021). Building your team and talent. Journal of the American Association of Nurse Practitioners, 33 (10), 761-762. doi: 10.1097/JXX.0000000000000649.
Kim, L. Y., Giannitrapani, K. F., Huynh, A. K., Ganz, D. A., Hamilton, A. B., Yano, E. M., Rubenstein, L. V., & Stockdale, S. E. (2019). What makes team communication effective: a qualitative analysis of interprofessional primary care team members' perspectives. In Journal of Interprofessional Care (Vol. 33, Issue 6, pp. 836–838). https://doi-org.ezp.waldenulibrary.org/10.1080/13561820.2019.1577809
T.I.G.E.R. Information Technology Guiding Education Reform. (2011). Informatics Competencies collaborative team. Retrieved from https://web.archive.org/web/20150910131244/http://www.thetigerinitiative.org/docs/tigerreport_informaticscompetencies.pdf
Umstead, C. N., Unertl, K. M., Lorenzi, N. M., & Novak, L. L. (2021). Enabling adoption and use of new health information technology during implementation: Roles and strategies for internal and external support personnel. Journal of the American Medical Informatics Association, 28(7), 1543–1547. https://doi-org.ezp.waldenulibrary.org/10.1093/jamia/ocab044
This is insightful Eunice, incorporation of technology in the healthcare processes is critical in ensuring quality healthcare outcomes. Today, most healthcare institutions are considering various aspects of technology to transform the management of patients and general treatment outcomes (Sardi et al., 2017). Computer patient record systems are one of the technologies commonly applied in the healthcare processes to manage data and information for different patients (Chaney, 2021). The technology provides security of data and allows for accessibility for different healthcare providers. To fully integrate Computer patient record systems in the healthcare organization, there is the need for the healthcare providers to consider effective collaboration between IT experts and healthcare professionals (Kim et al., 2019). One of the questions I would like to ask is: Can Computer patient record systems allow for interoperability so as to enhance further sharing of information among healthcare providers?
The implementation of technology in the healthcare processes is always associated with different barriers, including lack of proper security of information, inadequate staff that can operate the system and adheres to the security measures, and lack of appropriate infrastructure that can be utilized to enhance sharing of data.
References
Chaney, A. (2021). Building your team and talent. Journal of the American Association of Nurse Practitioners, 33 (10), 761-762. doi: 10.1097/JXX.0000000000000649.
Kim, L. Y., Giannitrapani, K. F., Huynh, A. K., Ganz, D. A., Hamilton, A. B., Yano, E. M., Rubenstein, L. V., & Stockdale, S. E. (2019). What makes team communication effective: a qualitative analysis of interprofessional primary care team members' perspectives. In Journal of Interprofessional Care (Vol. 33, Issue 6, pp. 836–838). https://doi-org.ezp.waldenulibrary.org/10.1080/13561820.2019.1577809
Sardi, L., Idri, A., & Fernández-Alemán, J. L. (2017). A systematic review of gamification in e-Health. Journal of biomedical informatics, 71, 31-48. https://doi.org/10.1016/j.jbi.2017.05.011