NURS 8210 Decision Support and Innovative Informatics Tools
NURS 8210 Decision Support and Innovative Informatics Tools
NURS 8210 Decision Support and Innovative Informatics Tools
The first wearable devices can be traced back to the late 50s, when an implantable pacemaker was developed for arrhythmia patients (Guk et al, 209). Over the last 6 decades, wearable devices have evolved from being implanted into our bodies to devices we can simply wear on our hands. Wearable devices include wristbands, smartwatches, wearable mobile sensors, and other mobile hub medical devices that collect a large range of data from blood sugar and exercise routines to sleep and mood. Patient data are collected either through consumer reporting or passively through sensors in apps that communicate with devices through application programming interfaces (APIs); these data are then shared through data aggregators such as Apple's HealthKit that pools data from multiple health apps (Dinh-Le et al, 2019).
These devices have a wide range of benefits. They provide Real-time health monitoring of vital statistics, providing more timely data for analysis. Additionally, through these devices, earlier detection of disease or risk of a major health event has improved, preventing unnecessary deaths (Dinh-Le et al, 2019). Wearable devices also contribute to instant notification when biometric readings move into a risk zone. Further, there is also convenience of not having to schedule an office visit, especially during this pandemic period occasioned by lockdowns (Dinh-Le et al, 2019). Easy sharing of health data between remote patients and clinicians throughout the patient care ecosystem is also enhanced.
However, these devices still face a myriad of challenges which affect their application. Consider an issue such as a device malfunctioning and giving the wrong data. This could result in misinterpretation of results, leading to undesired consequences for both the patient and the physician (Dinh-Le et al, 2019). One of the primary benefits of wearable devices is the amount of data available for patients and doctors to analyze and to act upon. But, with that data comes the risk of data breaches and the stored information falling into the wrong hands. In conclusion, these devices have the potential of improving healthcare practice and related outcomes. They collected and analyze a vast amount of patient data using artificial intelligence and machine learning algorithms such as nearest neighbor search which allows for the early diagnosis of chronic conditions, ensuring the patient receives primary care early enough. The implication herein is they enhance preventive/proactive healthcare. NNS for example has been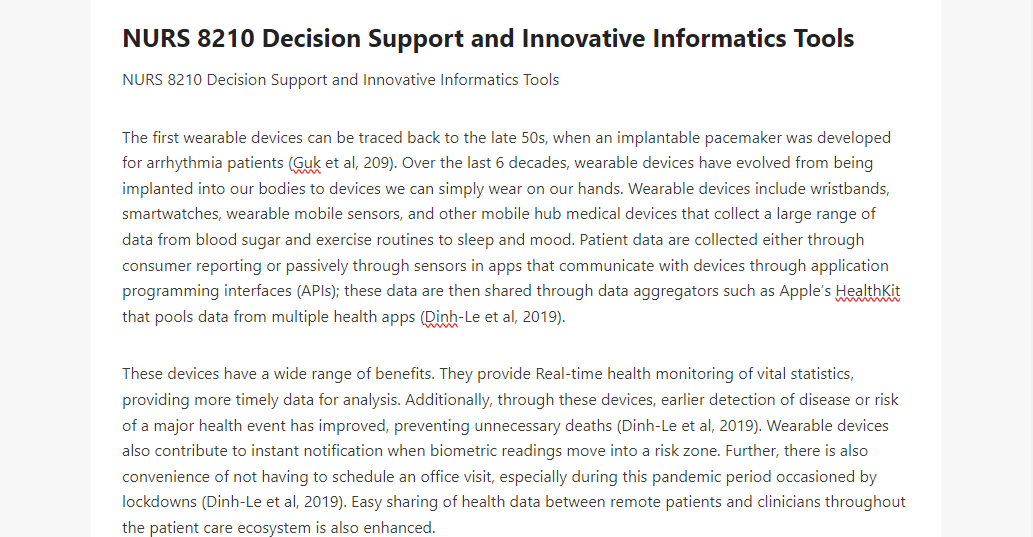 combined with logistic regression to develop wearable devices that enhance diagnostic processes in neonatal sepsis, reducing mortality rates significantly (Xiao et al, 2010).
References
Dinh-Le, C., Chuang, R., Chokshi, S., & Mann, D. (2019). Wearable Health Technology and Electronic
Health Record Integration: Scoping Review and Future Directions. JMIR mHealth and uHealth,
7(9), e12861. https://doi.org/10.2196/12861
Guk, K., Han, G., Lim, J., Jeong, K., Kang, T., Lim, E. K., & Jung, J. (2019). Evolution of Wearable Devices
with Real-Time Disease Monitoring for Personalized Healthcare. Nanomaterials (Basel,
Switzerland), 9(6), 813. https://doi.org/10.3390/nano9060813
Xiao, Y., Griffin, M. P., Lake, D. E., & Moorman, J. R. (2010). Nearest-neighbor and logistic regression analyses of clinical and heart rate characteristics in the early diagnosis of neonatal sepsis. Medical Decision Making, 30(2), 258-266.
Your focus on wearable device technology is welldone and superbly detailed. You have highlighted important points about application of the wearable devices, benefits and shortcomings, and how the technology can improve health care practice. This is essential in understanding the context and implementation of wearable devices. However, when designing and implementing wearable devices, it is important to consider range of questions (Kim & Park, 2019). For instance, what vital wearer characteristics are considered? Essentially, every individual has unique skin, and every skin is breathing and regenerates. Coupled with other factors such as diet, age, environmental factors, ethnicity, and culture, they can influence the success of wearable devices. For instance, if the wearer is an older person or an infant, the skin will be fragile, while is the wearer is an adolescent; the device should withstand oily body. It is only important to determine whether the objective of the wearable device is meticulously assessed (Wu & Luo, 2019). This involves understanding the user and what they intend the device to do routinely. This critical in determining the level of complexity and details needed to create an effective device (Krey, 2020).
References
Kim, J., & Park, E. (2019). Beyond coolness: Predicting the technology adoption of interactive wearable devices. Journal of Retailing and Consumer Services, 49, 114-119. https://doi.org/10.1016/j.jretconser.2019.03.013
Krey, M. (2020). Wearable device technology in healthcare—Exploring constraining and enabling factors. In Fourth International Congress on Information and Communication Technology (pp. 1-13). Springer, Singapore. 10.1007/978-981-15-0637-6_1
Wu, M., & Luo, J. (2019). Wearable technology applications in healthcare: a literature review. Online J Nurs Inform, 23(3). https://www.himss.org/resources/wearable-technology-applications-healthcare-literature-review
Technology in healthcare has advanced to remain current with trends. Through evidence-based practices, the need to expand is recognized even in everyday habits. The purpose of this entry is to explore the voice activated technology Dragon Medical, application of the product, and its modernization capacity.
Typing is a skill that many have yet to master. Often time, this can cause a delay in documentation, reducing patient care delivery. Ball & Hinton (2011) positions that "advances in technology have enabled us to communicate in new ways, each one more "immediate" tan the last; from the telegraph to the telephone; from radio to television; from fax machines to email; from online message boards to text messaging on cell phones" (Ball et al., 2011, p. 303). Dragon Medical is a voice activated software that allows the user to dictate their input rather than type.
Dragon Medical is a speech-initiated software, utilized by Veteran Administration, which was introduced by Nuance Communications in 2014. Compatible with VA Computerized Patient Record System (CPRS) and Cerner Millennium, it is a key productivity component in Electronic Health Record (EHR) solutions throughout the federal government, including Veterans Affairs and the military Health System (United States, n.d.-b, para. 3). The majority of the providers in the emergency are contract employees and navigating the CPRS system can be troublesome. The Dragon Medical has been an asset to the documentation time and ease for the providers.
The pandemic has caused an increase of stress for providers, resulting in burnout. For the first time in history, a generation exists that has never known a world without the Internet, cellphones, online social networks, blogs, and other electronic media (American Nurses Association [ANA], 2015, p. 53). The elder providers have to adapt to changes in technology to remain competitive with younger counterparts. Pandemic physician burnout caused by a staggering administrative workload of electronic paperwork to document patient care and to meet requirements for insurance coverage, financial reimbursement, and medicolegal protection (United States, n.d.-a, para. 2). The introduction of the voice-activated software assists with the entry of progress notes in the electronic health record, reducing typing time and improving data entry.
Adapting new technology in the workplace assists with meeting goals and improving healthcare delivery. Advancements in healthcare continue to grow and progress daily. Nursing informatics is a trend that will continue to enhance as technology evolves.
References
American Nurses Association. (2015). Scope and standards of practice: Nursing Informatics (2nd ed.). ANA.
Ball, M. J., Douglas, J. V., Hinton Walker, P., DuLong, D., Gugerty, B., Hannah, K. J., &Troseth, M. R. (2011). Nursing Informatics: Where technology and caring meet (4th ed.) [Eds.]. London, England: Springer-Vertag.
United States. (n.d.-a). Nuance and Cerner Expand Strategic Voice AI Collaboration to include Dragon Medical Virtual Assistant Technology (2020, August 1) [Mena Report]. https://link.gale.com/apps/doc/A631252529/EAI?u=minn4020&sid=ebsco&xid=e6f30bf
United States. (n.d.-b). U.S. Department of Veterans Affairs Migrates to Nuance Dragon Medical One with FedRAMP Authorized Solution (2021, September 16) [Mena Report].
This is wonderful work Latoya. You have given a detailed and thoughtful discussion on the voice activated technology Dragon Medical, application of the product, and its modernization capacity. Indeed, you had a good grasp of the content. Undoubtedly, the voice activated technology has significantly revolutionized healthcare delivery since inception (Hugo et al., 2020). The technology has ensured expediency and convenient technology interface. Physicians can use the technology to update their patient EHRs, dictate notes into healthcare network system, hands-free communication, and the ability to receive voice instantly from the devices (Kumah-Crystal et al., 2018). The current health care is characterized by ineffective data collection and leveraging, lack of user-friendliness, and poor communication leading to medical errors, delays in treatment, and other system failures. However, the voice technology is crucial in enhancing real-time data collection and supports the ability for self-management through the ease in engaging health care providers (Sezgin et al., 2020). The technology also facilitates patient management through enhancing accessibility of all users, improve patient involvement, and home-based locations. Therefore, it can ensure more effective and proactive patient care.
References
Hugo, N., Israr, T., Boonsuk, W., Miloud, Y. B., Cloward, J., & Liu, P. P. (2020, February). Usability Study of Voice-Activated Smart Home Technology. In International Conference on Remote Engineering and Virtual Instrumentation (pp. 652-666). Springer, Cham. 10.1007/978-3-030-52575-0_54
Kumah-Crystal, Y. A., Pirtle, C. J., Whyte, H. M., Goode, E. S., Anders, S. H., & Lehmann, C. U. (2018). Electronic health record interactions through voice: a review. Applied clinical informatics, 9(03), 541-552. doi: 10.1055/s-0038-1666844
Sezgin, E., Militello, L. K., Huang, Y., & Lin, S. (2020). A scoping review of patient-facing, behavioral health interventions with voice assistant technology targeting self-management and healthy lifestyle behaviors. Translational Behavioral Medicine, 10(3), 606-628. https://doi.org/10.1093/tbm/ibz141