NURS 8201 Starting the Research Process
NURS 8201 Starting the Research Process
NURS 8201 Starting the Research Process
Starting the Research Process
Diabetes is a condition that can hardly be cured and requires long-term interventions, such as regular use of insulin and lifestyle changes. To prevent complications of this condition, patients should adhere to the treatment plan created by their provider (Mendes et al., 2019). Unfortunately, people often fail to follow all recommendations precisely, which undermines their health (Polonsky & Henry, 2016). In view of this, there is a necessity to develop interventions that contribute to diabetes self-management.
When developing a study based on this problem, one is likely to consider the following dependent variable – self-management behavior. Diagnosis of diabetes and patients' characteristics (such as age, gender, social support, duration of treatment, educational and employment status) can be discussed as independent variables (Sayeed et al., 2020). Since the study would involve human beings, it would be significant to obtain approval. Attention should be paid to the importance of explaining the essence of the study to its participants and ensuring that they understand all procedures, benefits, and drawbacks. Personal information should not be disclosed or shared with third parties (Yip et al., 2016). Participation should be voluntary and people should be free to quit as soon as they want to.
Based on the problem statement, the following hypothesis can be developed: educational and employment status, as well as the duration of treatment, are associated with higher levels of diabetes self-management. A study based on this hypothesis can contribute to the nursing practice greatly. Healthcare providers will know what population requires additional attention and comprehensive education to improve their self-management practices and associated outcomes (Mikhael et al., 2020). In this manner, it will also be possible to reveal what patient population should be assessed for diabetes more thoroughly and when follow-up visits should be more frequent. Taking into consideration the fact that patients face a necessity to learn to cope with diabetes independently, it is critical for providers to be able to identify those individuals who are at risk of poor self-management.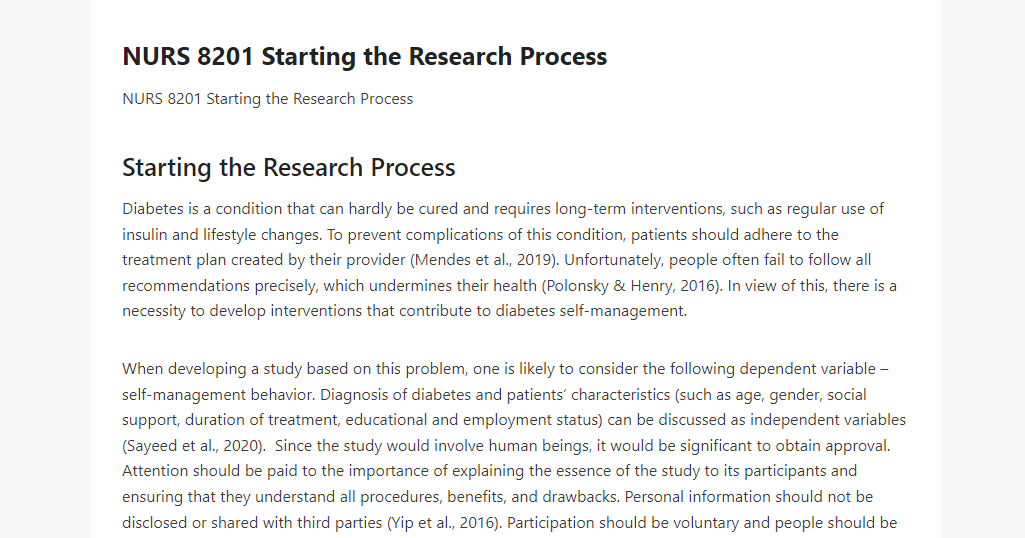 References
Mendes, R., Martins, S., & Fernandes, L. (2019). Adherence to medication, physical activity and diet in older adults with diabetes: Its association with cognition, anxiety and depression. Journal of Clinical Medicine Research, 11(8), 583–592. https://doi.org/10.14740/jocmr3894
Mikhael, E. M., Hassali, M. A., & Hussain, S. A. (2020). Effectiveness of diabetes self-management educational programs for type 2 diabetes mellitus patients in middle east countries: A systematic review. Diabetes, Metabolic Syndrome and Obesity, 13, 117–138. https://doi.org/10.2147/DMSO.S232958
Polonsky, W. H., & Henry, R. R. (2016). Poor medication adherence in type 2 diabetes: Recognizing the scope of the problem and its key contributors. Patient Preference and Adherence, 10, 1299–1307. https://doi.org/10.2147/PPA.S106821
Sayeed, K. A., Qayyum, A., Jamshed, F., Gill, U., Usama, S. M., Asghar, K., & Tahir, A. (2020). Impact of diabetes-related self-management on glycemic control in type II diabetes mellitus. Cureus, 12(4), e7845. https://doi.org/10.7759/cureus.7845
Yip, C., Han, N. R., & Sng, B. L. (2016). Legal and ethical issues in research. Indian Journal of Anaesthesia, 60(9), 684–688. https://doi.org/10.4103/0019-5049.190627
Starting the research process
The problem and purpose statements are an essential part of a research paper, and both explain why the study is being conducted, what will be researched, accomplished, and how the study will proceed (Grady & Edgerly, 2009). Clear and concise communication of the problem and purpose statements will assist reviewers in developing a clear understanding of what the researcher is doing while persuading them of its merits as a worthy contribution to the nursing community. To participate in this week's discussion:
Research topic: Effects of Mandatory overtime
Research Problem statement: Stress, exhaustion (burn out), medication error, and driving nurses away from the bedside are common side effects of mandatory overtime. New staffing tools that can reduce or prevent these side effects need to be identified.
Study variables: A variable is a thing whose value changes. A variable is a necessary component of any statistical data set. It is a distinguishing feature of a given sample or population member that differs in quantity or quantity from another member of the same sample or population. Variables are important because they aid in operationalizing concepts for data collection (Kaliyadan & Kulkarni, 2019). My research variables are Age, nursing work experience, and family responsibility.
Research Hypotheses: a sample of nurses working mandatory overtime with more family responsibility/less nursing experience are associated with making more medical errors and stress.
Ethical consideration: Employees who work long hours or shift work have a higher risk of illness and injury. Fatigue-related errors made by employees working in these demanding schedules can have serious and negative consequences for public safety.
Positive practice change: The environment in which health organizations operate can influence healthcare quality and patient safety. Longer work hours have been linked to nurses' health and care quality, as well as work-related hazards (Son, Lee & Ko, 2019). Not using mandatory overtime as a staffing management tool helps decrease nurses' dissatisfaction and errors. Forcing a nurse who may already be fatigued to work beyond her/his scheduled shift increase the likelihood of patient harm.
References
Grady, C., & Edgerly, M. (2009). Science, technology, and innovation: nursing responsibilities in clinical research. The Nursing clinics of North America, 44(4), 471–481. https://doi.org/10.1016/j.cnur.2009.07.011
Kaliyadan, F., & Kulkarni, V. (2019). Types of Variables, Descriptive Statistics, and Sample Size. Indian dermatology online journal, 10(1), 82–86. https://doi.org/10.4103/idoj.IDOJ_468_18
Son, Y. J., Lee, E. K., & Ko, Y. (2019). Association of Working Hours and Patient Safety Competencies with Adverse Nurse Outcomes: A Cross-Sectional Study. International journal of environmental research and public health, 16(21), 4083. https://doi.org/10.3390/ijerph16214083
Working in the critical care setting for about two years now, I can clearly imagine how it feels to be in the shoes of family members who are watching or taking care of their critically ill families; ones that are mechanically ventilated, sedated, and on vasoactive medications. Whenever, I start my shift as an ICU nurse, I always make it a habit to plan how I am going to achieve my patient care goals; which is how to accomplish the most care within a 12 hour shift. Since most of the patients that are admitted in the ICU are critically ill that requires them to be intubated and sedated, I try my best as a nurse to ease their discomfort by promoting plans of care that would help decrease their days of being intubated and sedated. I plan to accomplish these goals through working alongside with other interdisciplinary healthcare team members that play a role in the patient's daily care.
Moving forward, my colleagues and I who have been working in the ICU for a significant amount of time should be comfortable in handling mechanically intubated and provide plan of care in decreasing the patient length of stay and length of intubation. In the past few months, we are slowly hiring new nurses from different units that want to take up the challenge of becoming an ICU nurse. With this in mind, our nursing educator has brought it to the attention of the nursing management that the new nurses must be comfortable assessing the parameters that verify that a patient is ready to be extubated. This week, our nursing educator has set up educational information about the importance of pairing up spontaneous breathing trials (SBT) with spontaneous awakening trials (SAT) among ventilated patients in the ICU.
One of the most recent research EBP measures that our nurse education has presented to us is to learn the importance of incorporating spontaneous breathing trails partnered up interruption of sedation holidays. The rationale behind this to prevent ventilation assisted pneumonia development, which would further increase their length of stay as well as morbidity and mortality rates. According to AHRQ (2017), SATs and SBTs are associated with reduced length of mechanical ventilations, thereby reducing the ventilator assisted pneumonia, resulting in faster extubating time and earlier discharge date. Protocols for weaning from sedation and ventilation should be done in a timely manner to optimize outcomes.
The ICU setting is driven by sedation and analgesia as most patients experience pain and stress within their stay. It is also required to ease the discomfort and adaptation of mechanical ventilation. According to Shinotsuka (2013), prolonged sedation with intubation increases delirium rates, longer ICU stays, and increased mortality rate (p.186). Because of this, the evidence practice gap must be addressed because analgesia based goal is commonly a nurse driven protocol; therefore, educational efforts must be addressed to everyone working in the ICU.
With the current situation of the Covid-19 pandemic, healthcare personnel are now becoming more resilient and accepting to new protocols and education towards combating this new pandemic as well as teaching the community. As the burden of critical care services and its down streaming effects of sedation strategies, according to the Massachusetts General Hospital (2020), targeting less sedation overall is associated with improved outcomes in the critically ill mechanically vented patients including morality and overall stays in the ICU. These principles also apply with the management of Covid-19. Also, with the significant rise in the number of patients suffering from Covid-19 and medication shortages; sedation and analgesia should be saved for supporting care among critically ill patients who are reaching moderate to severe acute respiratory distress syndrome to facilitate comfort and ventilator tolerance. Therefore, research of current literature must be implemented in the ICU educational setting determining the risk of sedation balanced with need for lung protection. As a result, daily evaluation of sedation use should be visited among interdisciplinary healthcare teams and pay careful attention to pain and prevention of ICU delirium.
Reference(s):
AHRQ (2017). Spontaneous awakening trials and spontaneous breathing trial literature review.
AHRQ Safety Program for Mechanically Ventilated Patient Article.16 (17). 18-19. Retrieved from https://www.ahrq.gov/hai/tools/mvp/modules/technical/sat-sbt-lit-review.html
Massachusetts General Hospital (2020). Update in sedation and analgesia management in Covid-
19 ARDS. The General Hospital Article.. Retrieved from https://advances.massgeneral.org/pulmonary/article.aspx?id=1393
Shinotsuka, C. (2013). Implementing sedation protocols: Closing the evidence-practice gap.
Scielo Journal. 25(3). 186-187. Retrieved from https://www.scielo.br/j/rbti/a/hrpnjPwKdvz6kMQ966J5zVD/?lang=en&format=pdf
Find your discussion post awesome and informative about the safety and efficacy that pairing of spontaneous awakening and breathing will have on reducing the mortality rate among critically ill patients in ICU. The critically ill patients require sedation and intubation during treatment. Sedation may have a negative effect of causing delirium among the patients (Cain, 2019). Intubation causes discomfort among critically ill patients due to the presence of tubes in the alimentary canal. Thus, the most effective and efficient strategies are necessary to ensure that both sedation and intubation take place for only a short time. Interdisciplinary healthcare team members should work together to increase the effectiveness in the treatment of critically ill patients. I have learned from your post that a health professional's working experience determines the effectiveness and comfort in handling mechanical intubation and providing a plan of care that focuses on decreasing the length of intubation and stay in the ICU. Thus, new nursing professionals need to work together with the most experienced professionals.
Evidence-Based Practice (EBP) helps in improving the quality of patient care by helping nurses and other healthcare professionals adopt the most efficient and effective techniques (Paler & Arganza, 2021). EBP will help determine the significance of incorporating spontaneous breathing and interruption of sedation in ICU. New and advanced techniques of patient care will help in reducing the length of stay in ICU and hospital wards. For instance, spontaneous breathing trials and interrupted sedation may reduce the risk of developing ventilation-assisted pneumonia. Depending on sedation and assisted breathing may increase complications that lead to a high mortality rate. The COVID-19 pandemic increased the seriousness of caring for patients, especially critically ill patients. The pandemic increased the complications of the patients suffering from respiratory problems. Thus, nursing professionals should be more careful than before to reduce the mortality rate. EBP is necessary for improving the care in ICU because patients may require advanced care due to the emergency of new complications.
References
Cain, C. (2019). Nurses' Attitudes About Sedation: An Update. American Journal of Critical Care, 28(4), 264. https://doi.org/10.4037/ajcc2019641
Paler, C. M., & Arganza, C.G. (2021). Evidence-Based Practice: Are Nurses   Ready? Journal of Nursing Practice Applications & Reviews of Research, 11(1), 43–50.            https://doi.org/10.13178/jnparr.2021.11.01.1006  
In this research, the topic of the research is Pressure Ulcer. It is caused by prolonged pressure on a single area of the body. Due to the pressure, the blood supply to the affected area of the skin is cut off. Blood is made up of oxygen and other necessary nutrients for tissue health (Matozinhos et al., 2017). Therefore, the title for research is 'The Incidence Pressure Ulcer rate among the patient with an underlying health condition. In addition, the research problem statement will be: The objective is to analyze and assess the prevalence of pressure ulcers in individuals with comorbidities.
Moreover, it mainly sought to answer questions such as, what is the pressure ulcer? What is the profile of the respondents in terms of their age group, economic and social status of the respondents, sex, and the underlying medical condition of the respondents? Another question is, how are pressure ulcers among the patients prevented? Also, Is there a significant disparity in pressure ulcers between the population in terms of lifestyle, age, and gender?
The hypothesis in this research makes the problem statement of the study topic clear. The first hypothesis is: There is no statistically meaningful difference in the pressure ulcers rates among individuals with underlying health conditions based on their age, their gender, or their lifestyle. The second hypothesis: The prevalence rate of pressure ulcers is affected by the patient's health conditions.
Additionally, the study's hypothesis is made in a null hypothesis in this research. Thus, this indicates that if there is a substantial difference in the results, the rejection of the null hypothesis and meaningful data is noticed (Moulder et al., 2018). Therefore, this concludes a considerable difference in the prevalence of pressure ulcers amongst patients with health problems age group, gender, and lifestyle. On the other hand, if there is no significant disparity, the information is not essential, and the null hypothesis is accepted.
The ethical implications concerning accountability that may arise from practice, and policy perspectives should be considered when considering this study problem statement (Welsh, 2014). Therefore, it is helpful since the clinicians can refer to ethical principles and theories to develop a framework especially addressing ethical dilemmas. Finally, addressing this research problem brings about positive change in nursing practice since it reduces caring for patients. For example, Pressure ulcer morbidity can necessitate more attention and resources and lengthier inpatient admission. Thus, addressing this problem is significant to nursing practice.
References
Matozinhos, F. P., Velasquez-Melendez, G., Tiensoli, S. D., Moreira, A. D., & Gomes, F. S. L. (2017). Factors associated with the incidence of pressure ulcer during hospital stay. Revista da Escola de Enfermagem da USP, 51.
Moulder, R. G., Boker, S. M., Ramseyer, F., & Tschacher, W. (2018). Determining synchrony between behavioral time series: An application of surrogate data generation for establishing falsifiable null hypotheses. Psychological methods, 23(4), 757.
Welsh, L. (2014). Ethical issues and accountability in pressure ulcer prevention. Nursing Standard (2014+), 29(8), 56. https://doi.org/10.7748/ns.29.8.56.e9262
I have learned useful information from your discussion post about pressure ulcers, research, and Evidence-Based Practice (EBP) that is necessary for promoting improved patient care. Nurses and other healthcare professionals should carry out research to determine the underlying conditions for various health problems, such as pressure ulcers. Effective treatment measures and prevention techniques will take place when the underlying conditions are evident through research. Research starts with the identification of a research problem statement (Kapucu, 2019). You identified the research problem statement in this discussion post. The research process will help healthcare professionals understand the underlying conditions for pressure ulcers and the disparity in pressure ulcers based on gender, lifestyle, or age. The factors, such as gender, lifestyle, or age may be the influence of the development of pressure or not. Stating the null and alternative hypothesis is the stage that follows the identification of the statement of the problem. Researchers carry out research to find results for testing research hypotheses.
A lack of statistically meaningful difference in the rates of pressure ulcer development among the individuals based on gender, lifestyle, or age is the null hypothesis for the research. The alternative hypothesis is the opposite of the null hypothesis because it states the presence of a statistically meaningful difference. Hypothesis testing takes place when a researcher has collected data and analyzed the data for results (Van Eck, 2021). I agree with you that research involving people as the subjects may cause ethical implications. Researchers should be accountable for the ethical issues that take place due to research. Research activities should not negatively affect the patients who serve as the research participants. EBP results from the research results concerning the suitable techniques for handling patients. In this discussion, EBP will help nurses understand how to handle patients with pressure ulcers irrespective of the patient's gender, lifestyle, or age.
References
Kapucu, M. S. (2019). Students' Experiences of Design-Based Research in Science Applications Course: A Design and Development Research. International Journal of Progressive Education, 15(5), 70–91. https://doi.org/10.29329/ijpe.2019.212.6
Van Eck, R. N. (2021). Who Needs Methodologists? I Do. (And So Do You). Research in the            Schools, 27(1), 29–33.
I really loved reading your post about pressure ulcer. The incidence of pressure ulcers is increasing due to our aging population and the increase in the elderly living with disability. Learning how to manage pressure ulcers appropriately is increasingly important for all professionals in wound care. Many new dressings and treatment modalities have been developed over the recent years and the goal of this review is to highlight their benefits and drawbacks to help providers choose their tools appropriately. Despite an increased number of therapies available on the market, none has demonstrated any clear benefit over the others and pressure ulcer treatment remains frustrating and time-consuming. Additional research is needed to develop products more effective in prevention and treatment of pressure ulcers (Boyko et, al. 2018).
Pressure ulcers represent a considerable cost, both in terms of healthcare spending and quality of life. They are increasingly viewed in terms of patient harm. For clinicians involved in pressure ulcer prevention, ethical issues surrounding accountability may arise from both policy and practice perspectives. It may be useful for clinicians to refer to ethical theories and principles to create frameworks when addressing ethical dilemmas. However, such theories and principles have been criticized for their simplicity and over-generalization. Alternative theories, for example, virtue ethics and experiential learning, can provide more comprehensive guidance and promote a pluralistic approach to tackling ethical dilemmas (Bhattacharya et, al. 2016).
References
Boyko, T. V., Longaker, M. T., & Yang, G. P. (2018). Review of the Current Management of Pressure Ulcers. Advances in wound care, 7(2), 57–67. https://doi.org/10.1089/wound.2016.0697 Bhattacharya, S., & Mishra, R. K. (2016). Pressure ulcers: Current understanding and newer modalities of treatment 48(1), 4–16. https://doi.org/10.4103/0970-0358.155260