NURS 8200 The Doctoral Degree and Professional Nursing Practice
NURS 8200 The Doctoral Degree and Professional Nursing Practice
NURS 8200 The Doctoral Degree and Professional Nursing Practice
Higher education attainment has been associated with enhanced competency and knowledge within the specific field pursued by an individual. For instance, attainment of a doctoral degree is considered the highest attainment in every field, and therefore doctoral degree holders are expected to demonstrate a high degree of competence (Dos Santos & Lo, 2018). A DNP-prepared nurse is no exception and is expected of higher levels of knowledge and competency in patient care as compared to nurses without the DNP. This week's discussion explores doctoral degrees and professional nursing practice. To accomplish the discussion, the role of a nurse with a practice doctorate and the associated expectations will be discussed. In addition, this discussion will explore how the consideration relates to my motivation to pursue a DNP and an experience with addressing practice change or gap in practice.
Role of a Nurse with a Practice Doctorate
DNP-prepared nurses have various advanced roles in the continuum of patient care. For instance, through the translation of quality improvement outcomes, and translation of evidence into clinical areas, and unique practice innovations, the DNP-prepared nurses create new knowledge (Trautman et al., 2018). The implication is that these nurses apply evidence-based research to systems and/or clinical settings for better health outcomes. They practice at the highest level of practice and formulate evidence-based strategies to optimize health and patient outcomes. In addition, DNP-prepared nurses also take executive and leadership positions in healthcare organizations to influence health policies, analyze cost-effective protocols, direct patient care, and coordinate quality improvement teams.
Expectations Associated With Obtaining DNP
DNP is the highest degree in nursing and is associated with various expectations. Those who have obtained the degree are expected to show high levels of skills in the care environment to effectively direct care and coordinate care teams. As opposed to PhDs holders who mainly focus on research, DNP is associated with improvement of patient care and population outcomes (Edwards et al., 2018). The implication is that these nurses with this degree have adequate skills for implementing evidence-based strategies to improve health outcomes for individual patients and the general population. Nurse practitioners who do not have a DNP offer specializations focusing on particular patient care aspects like a pediatric or family practitioner. This role differs from a DNP prepared nurse as they are expected to step up to more advanced roles that help shape the direction of healthcare organizations.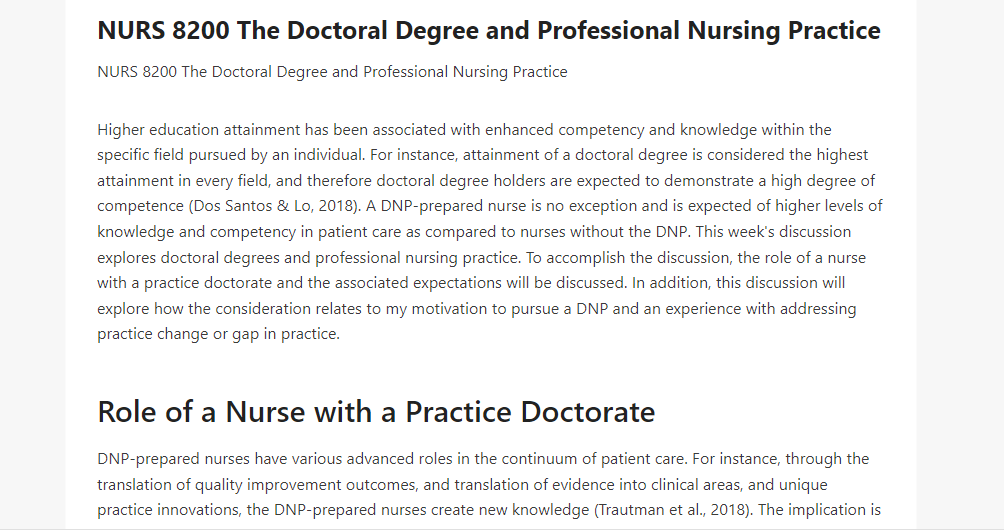 How The Considerations Relate to My Motivation to Pursue a DNP
Growing up, I have had a passion for seeing everyone lead a healthy life devoid of health complications. While doing my undergraduate degree, I realized that such goals cannot be achieved by solely focusing on what happens in the care environment but also what happens in the surroundings, such as policies and funding. One of my motivations to pursue a DNP is to get to executive and leadership positions where I can participate in effectively influencing healthcare policies and decisions. As such, the role of the DNP-prepared nurse resonates and relates well with my motivation. Translating research evidence into clinical practice also helps in improving patient outcomes (Trautman et al., 2018), which is among my motivations for pursuing a DNP. Indeed, with a higher degree, I believe I will accomplish such a goal more efficiently.
Among the top organization needs is to be leaders in providing improved patient care and enhance the patient experience. Improving the quality outcome to enhance patient experience requires that the healthcare organization addresses the quality gaps (Trautman et al., 2018). As such, my role as a DNP-prepared nurse will help in various ways to such effect. For instance, in assuming the leadership roles of leading and coordinating care teams, I will be able to effectively lead other nurses into a careful analysis of quality data, organizational standards, and government standards to identify gaps in practice. This will lead to a formulation of the most relevant and effective strategies to address such gaps and meet the goals. Besides, I will also be able to lead the organization into a literature search for evidence that can be translated into practice to address practice gaps or lead a practice change for patient quality improvement.
The experience I have Had With How our Organization addressed a Practice Change
Organizations usually strive to achieve the central aim of offering patient optimized and improved patient care. As such, organizations either undertake steps to implement a practice change or address a gap in practice (Yip et al., 2019). I have had experience with the implementation of practice change within an organization. In one of the healthcare organizations, I have worked. There was a year where the rates of catheter-associated urinary tract infections were growing month after month. A decision was then made to explore initiatives to deal with the threatening growing rates of infection. One of the chosen strategies was using a protocol to evaluate patients and use the indwelling catheters only when it is a must and ensuring that the time of usage of the catheters by the patients be reduced to as minimum as possible. As such, nurses accomplished a comprehensive one-week training on the protocols. After the training, the catheter use rates reduced by 20% as nurses were able to avoid unnecessary catheterization. Coupled by minimizing the duration of catheter use, the rates of infection dropped by an impressive 47% by the second month due to the practice change.
Conclusion
In conclusion, the doctoral degree prepares individuals for greater and more advanced professional roles. DNP-prepared nurses have a special role to play in the care environment, one of which is translating evidence into practice for improved patient outcomes. This week's discussion has covered the roles of a DNP-prepared nurse, expectations associated with DNP, and an experience with a practice change implementation.
References
Dos Santos, L. M., & Lo, H. F. (2018). The Development of Doctoral Degree Curriculum in England: Perspectives from Professional Doctoral Degree Graduates. International Journal of Education Policy and Leadership, 13(6), n6. https://doi.org/10.22230/ijepl.2018v13n6a781.
Edwards, N. E., Coddington, J., Erler, C., & Kirkpatrick, J. (2018). The Impact of the Role of Doctor of Nursing PracticeNurses on Healthcare and Leadership. Medical Research Archives, 6(4). https://doi.org/10.18103/mra.v6i4.1734
Trautman, D. E., Idzik, S., Hammersla, M., & Rosseter, R. (2018). Advancing scholarship through translational research: The role of PhD and DNP prepared nurses. Online Journal of Issues in Nursing, 23(2). DOI: 10.3912/OJIN.Vol23No02Man02.
Yip, W., Fu, H., Chen, A. T., Zhai, T., Jian, W., Xu, R., … & Chen, W. (2019). 10 years of healthcare reform in China: progress and gaps in universal health coverage. The Lancet, 394(10204), 1192-1204. https://doi.org/10.1016/S0140-6736(19)32136-1