NURS 8114 Philosophy of Nursing Practice
NURS 8114 Philosophy of Nursing Practice
NURS 8114 Philosophy of Nursing Practice
Philosophy in nursing refers to the things that influence one's actions and decisions in their professional role. Philosophy of nursing differs from one person to the other. It also changes over time based on one's experiences with their environment. Therefore, this essay examines my philosophy of nursing practice. It also focuses on my expanded awareness, advocacy and social change, and interdisciplinary and middle-range theories that inform my philosophy.
Philosophy of Nursing Practice
My philosophy of nursing practice has been evolving with time based on my personal and professional growth as a nurse. Interaction with patients, families, and other healthcare providers have shaped my understanding of my nursing philosophy and the role I play in promoting the desired outcomes in my caring, leadership, management, and research roles. Initially, my philosophy of nursing practice was dedicating myself to ensure I meet the actual and potential needs of the patients that I care. The philosophy meant being there for patients and their significant others and implementing care strategies that align with their needs. However, my philosophy of nursing has undergone some evolution over time. Currently, concepts that include evidence-based practice, patient-centeredness, holism, and advocacy have been incorporated into the philosophy (Rasheed et al., 2019). My dedication to ensuring that I meet the patient needs is incomplete without the use of evidence-based interventions to optimize outcomes such as safety, quality, and efficiency.
In addition, I have grown to recognize that holistic care should underpin the care decisions when addressing the needs of the diverse populations. The adopted interventions should not only focus on the disease process but also the factors influencing patient's experience with the disease. Holism empowers patients to examine other aspects of their lives that influence their health and wellbeing. My philosophy has also expanded to incorporate advocacy in my professional roles. Accordingly, I believe that nurses should continually champion strategies and policies that prioritize the needs of the patients (Abbasinia et al., 2020). The advocacy role should contribute to the nurses' expanded understanding of their role in influencing outcomes in not only healthcare institutions but also other areas such as research and policymaking.
Expanded Awareness
            My philosophy accommodates my expanded awareness of practice issues ad a DNP. Nursing and healthcare are constantly evolving. Nurses and other healthcare providers must be ready to embrace and implement new changes in their practice daily. As a DNP nurse, I am aware of the complex needs in my care environment that require flexibility and innovative interventions. I have developed my adaptability to emerging issues in nursing practice over time (Younas et al., 2020). For example, DNP prepared nurses work with individuals from diverse backgrounds in their clinical and non-clinical roles. The diversity requires in-depth understanding of responsive and appropriate strategies and behaviors that meet the needs of all.
I continually engage in self-awareness and reflective practice to identify opportunities for personal and professional growth as a DNP nurse. Evidence supports that self-awareness in nursing is crucial in improving the nature and quality of nurse-patient relationship and patient care. It also strengthens the confidence that nurses have in responding and managing challenging situations alongside offering culturally appropriate care to patients from diverse backgrounds (Rasheed et al., 2019; Tower et al., 2019).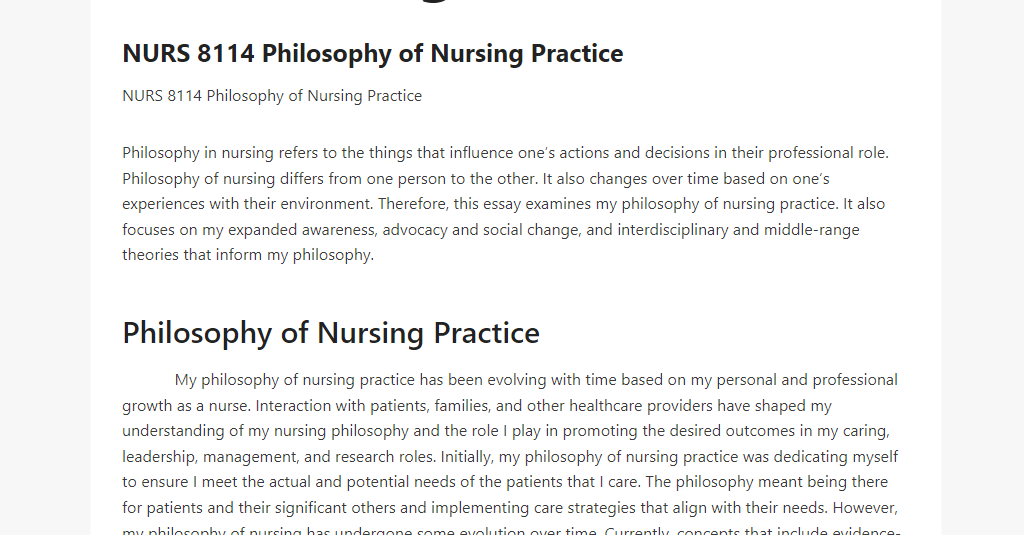 The Newman's theory of health as expanding consciousness informs my expanded awareness of issues that affect nursing practice and healthcare as a whole. According to the theory, everybody in any situation is part of an expanding consciousness in the universe. This means that people should engage in processes that help them become more of themselves, find greater meaning in their lives, and reach new dimensions of connectedness with others and the world (Racine & Vandenberg, 2021). This understanding informs my openness, adaptability, flexibility, and readiness for new approaches and practices in my role as a DNP nurse.
Advocacy of Social Change
My philosophy supports advocacy of social change. As noted initially, I believe that nurses should incorporate evidence-based practices, holism, and patient-centeredness in addressing the needs of their populations. Nurses should also be the drivers of change. They use their experiences in the clinical and non-clinical settings to propose and implement evidence-based strategies that would promote change. For example, my interest in areas related to employee management has led me to drive change in this area of practice by advocating policies that address the actual needs of the employees. In addition, my experience with the challenges that elderly hospitalized patients living alone experience following their discharge from the intensive care unit has increased my interest in identifying effective strategies to help them address their needs. My philosophy also holds the need for holistic approaches to care. Holism drives change in nursing practice and healthcare. It increases the need for the adoption of interventions that reflect the diverse nature of health organizations and providers (Abbasinia et al., 2020; Turale & Kunaviktikul, 2019). For example, it encourages healthcare providers to be culturally competent in the delivery of care to patients from diverse backgrounds.
Middle-Range Nursing Theories
Some middle-range nursing theories support my philosophy of nursing practice. One of them is Banner's model of skill acquisition in nursing. According to Banner's model, skill acquisition in nursing occurs in steps that include novice, advanced beginner, competent, proficient, and expert. The model asserts that skill development is evolutionary, which also affects one's philosophy (Murray et al., 2019). This model aligns with my philosophy since I believe that nursing knowledge and skills develop through testing and refining propositions, principles, and hypotheses in practice.
The other middle-range theory that supports my philosophy of nursing is the Leininger's cultural care diversity and universality theory. Leininger was a theorist who increased the need for considering culture in health and healing. According to her, nursing care and practice should respect the cultural values, beliefs, and practices of the patients and their families. The theory asserts that culture influences individual's view of an illness. Nurses should utilize their understanding of the effect of culture on health to develop culturally appropriate interventions in their practice (McFarland & Wehbe-Alamah, 2019). This theory supports my philosophy of providing holistic nursing care. Nurses can only be able to provide holistic care if they understand the influence of culture on managing conditions affecting their patients.
The transitions theory also supports my philosophy of nursing. Melei developed the transitions theory to define changes in people's lives and ways of improving their health and well-being. My philosophy of nursing supports the need for implementing interventions that support successful patient transition from the hospital to their communities. I value linking patients and their significant others with resources in their communities for their recovery and optimum health. I also strive to understand patient experiences with their health problems and ways in which their needs can be incorporated into the care process (Eyimaya & Tezel, 2021). These practices underpin the realization of care objectives in the transitions theory, hence, the relationship.
Interdisciplinary Theories
Interdisciplinary theories also support my philosophy of nursing. An example is the Health Belief Model (HBM). HBM is a theory that explains the reason and factors that influence behavioral change among people. The theory identifies concepts that also act as driving factors for change such as perceived severity, benefits, and cues to action, perceived barriers, susceptibility and self-efficacy. People are likely to change their behaviors if they believe they are susceptible to a disease. Similarly, eliminating barriers to behavioral change may present an opportunity for change (Rusli et al., 2020). This theory supports my philosophy in that I believe that the use of interventions such as health education will promote optimum health outcomes by influencing behavioral change in the population.
Conclusion
In summary, my philosophy of nursing has evolved over time. It has grown to incorporate new concepts that inform my practice as a DNP nurse. The middle-range and interdisciplinary theories support my philosophy in nursing. I will engage in activities that expand my nursing philosophy to enable me meet the competencies on the DNP nurses.

References
Abbasinia, M., Ahmadi, F., & Kazemnejad, A. (2020). Patient advocacy in nursing: A concept analysis. Nursing Ethics, 27(1), 141–151. https://doi.org/10.1177/0969733019832950
Eyimaya, A. Ö., & Tezel, A. (2021). The effect of nursing approaches applied according to Meleis' Transition Theory on menopause-specific quality of life. Health Care for Women International, 42(1), 107–126. https://doi.org/10.1080/07399332.2020.1825440
McFarland, M. R., & Wehbe-Alamah, H. B. (2019). Leininger's Theory of Culture Care Diversity and Universality: An Overview With a Historical Retrospective and a View Toward the Future. Journal of Transcultural Nursing, 30(6), 540–557. https://doi.org/10.1177/1043659619867134
Murray, M., Sundin, D., & Cope, V. (2019). Benner's model and Duchscher's theory: Providing the framework for understanding new graduate nurses' transition to practice. Nurse Education in Practice, 34, 199–203. https://doi.org/10.1016/j.nepr.2018.12.003
Racine, L., & Vandenberg, H. (2021). A philosophical analysis of anti-intellectualism in nursing: Newman's view of a university education. Nursing Philosophy, 22(3), e12361. https://doi.org/10.1111/nup.12361
Rasheed, S. P., Younas, A., & Sundus, A. (2019). Self-awareness in nursing: A scoping review. Journal of Clinical Nursing, 28(5–6), 762–774. https://doi.org/10.1111/jocn.14708
Rusli, N. T., Mansyur, M., Kekalih, A., Sulistomo, A., & Werdhani, R. A. (2020). Assessment of compliance to standard precautions among nurses using the Health Belief Model. Universa Medicina, 39(3), Article 3. https://doi.org/10.18051/UnivMed.2020.v39.199-206
Tower, M., Watson, B., Bourke, A., Tyers, E., & Tin, A. (2019). Situation awareness and the decision-making processes of final-year nursing students. Journal of Clinical Nursing, 28(21–22), 3923–3934. https://doi.org/10.1111/jocn.14988
Turale, S., & Kunaviktikul, W. (2019). The contribution of nurses to health policy and advocacy requires leaders to provide training and mentorship. International Nursing Review, 66(3), 302–304. https://doi.org/10.1111/inr.12550
Younas, A., Rasheed, S. P., Sundus, A., & Inayat, S. (2020). Nurses' perspectives of self-awareness in nursing practice: A descriptive qualitative study. Nursing & Health Sciences, 22(2), 398–405. https://doi.org/10.1111/nhs.12671
Nurses perceive the health practice and routine responsibilities differently depending on their understanding of patient care, experience, and specialties, among other factors. As nurses execute their everyday functions, health outcomes and relationship with patients are highly influenced by a nurse's philosophy. Cheraghi et al. (2019) described nursing philosophy as the values, ethics, beliefs, and motivations that inspire nurses to be health care professionals. I look forward to using my experience and skills to promote healthy living founded on kindness, empathy, compassion, and patient-centeredness. As an experienced mental health professional, I use these values in everyday care as a psychiatric nurse to influence patient-centered mental health care with the belief that nursing must be guided by caring, integrity, and sacrifice. It is a profession dedicated to improving other people's lives.
As a nurse committed to deliver the best care and transform society, my general belief is that nurses should empathize with patients at all times. Patients also need to be understood and treated compassionately and given the confidence and assurance that they will be healed. As I examine how the world changes and the health problems that people experience, I believe that nursing should be lifelong learning where we must remain committed to addressing global health issues. In agreement with Roberts (2018), mental illness is a global problem that requires a global response. As a result, I am inspired to expand my experience and practice as a DNP to address global health issues such as mental health disorders as culturally and linguistically appropriate.
As a DNP, I have a social and moral obligation to advance positive social change. My role as a social change agent is to use my skills and experience to improve human and social conditions. My view aligns with Walden University's definition of social change that involves applying strategies and ideas to develop individuals, communities, and societies (Walden University, 2021). As a Walden DNP, I will advocate for positive social change by using my skills and position to advocate for improved mental health services. I will also participate in policymaking to improve critical aspects of care, such as quality, access, and equity. Mentally ill people are not understood and are victims of stigmatization that worsens their conditions (da Silva et al., 2020). I will advocate for better treatment of vulnerable individuals to create an equal society for all.
Generally, I am a dedicated nurse who wants to see human beings enjoying life. Therefore, I will continue perceiving nursing as a personal responsibility to help people impartially. I will continue acquiring the skills necessary to deliver the best care as I integrate ideas, skills, and processes necessary into my practice to transform the world by reducing the illness burden.
References
Cheraghi, F., Yousefzadeh, M. R., & Goodarzi, A. (2019). The role and status of philosophy in nursing knowledge, insight and competence. Journal of Clinical Research in Paramedical Sciences, 8(2). doi: https://dx.doi.org/10.5812/jcrps.90762
da Silva, A. G., Baldaçara, L., Cavalcante, D. A., Fasanella, N. A., & Palha, A. P. (2020). The impact of mental illness stigma on psychiatric emergencies. Frontiers in Psychiatry, 11, 573. https://doi.org/10.3389/fpsyt.2020.00573
Roberts, S. (2018, Jul 10). Mental illness is a global problem: We need a global response. Health Poverty Action. https://www.healthpovertyaction.org/news-events/mental-health-world-health-day-2017/
Walden University. (2021). Vision, mission, and goals. https://catalog.waldenu.edu/content.php?catoid=179&navoid=65155