NURS 8114 Applying Interdisciplinary Theories to Nursing Practice
NURS 8114 Applying Interdisciplinary Theories to Nursing Practice
NURS 8114 Applying Interdisciplinary Theories to Nursing Practice
Transformational leadership is a leadership style that seeks to effect change in an organization change through a strategic vision. A transformational leader recognizes the desired change, develops a vision to direct the change through motivation, and carries out the change with commitment from the team members (Iqbal et al., 2020). The strategic vision helps to bond organizational members and motivates them to strive towards attaining organizational objectives derived from the organization's vision and mission.
The leader nurtures team members to grow into leaders by responding to the needs of an individual team member and empowering them (Iqbal et al., 2020). My practice issue is diabetes-related complications, attributed to challenges in the clinical and self-management of diabetes (Papatheodorou et al., 2018). Diabetes complications are associated with increased morbidity and mortality rates and pose a considerable economic burden on our country's health care system.
Transformational Leadership in Nursing and Health Care can be applied to address diabetes complications by identifying a change needed in clinical practice and care of patients with diabetes. I will then create a vision of how I envision patient care and health outcomes of diabetic patients, which will guide the change (Iqbal et al., 2020). I will communicate the vision to other nurses and inspire them to work towards attaining the vision. Besides, I will motivate nurses to execute the identified change with commitment from all nurses (Iqbal et al., 2020). As a leader, I will encourage and inspire creativity and innovation among nurses to develop new ways of providing care to diabetic patients and improve their health outcomes. Furthermore, I will apply the Transformational leadership theory by striving to create an environment where there is open communication to encourage sharing of constructive ideas among nurses.

References
Iqbal, K., Fatima, T., & Naveed, M. (2020). The Impact of Transformational Leadership on Nurses' Organizational Commitment: A Multiple Mediation Model. European Journal of Investigation in Health, Psychology and Education, 10(1), 262-275.
Papatheodorou, K., Banach, M., Bekiari, E., Rizzo, M., & Edmonds, M. (2018). Complications of Diabetes 2017. Journal of diabetes research, 2018, 3086167. https://doi.org/10.1155/2018/3086167
Health Belief Model
People's beliefs affect all tenets of their lives including their health and health-seeking behavior. This theory was developed in the 1950s by US scientists to study why populations failed to adopt disease prevention strategies like screening and vaccination among others (Qiao et al., 2021). The purpose of this paper is to describe the Health Belief Model and the application of the model in nursing practice.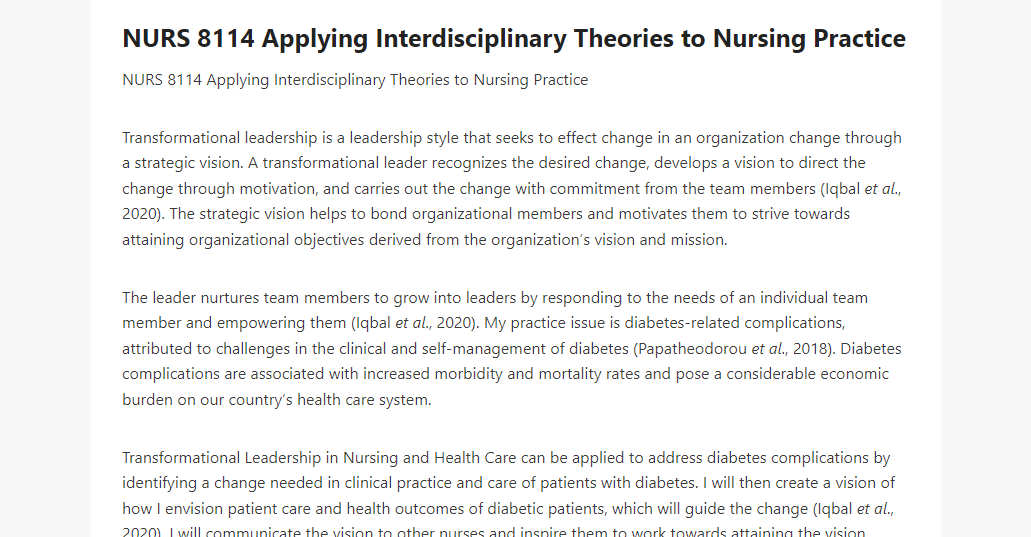 According to this model, perceived threats, behaviors, and self-efficacy greatly influence an individual's health-related behavior (Qiao et al., 2021). For a population or an individual to seek health care solutions, they look at the severity of the illness, risk of acquiring illness, and benefits of the process; does it totally cure an illness or just prevent exacerbations and relapses? They also look at the barriers to the health action if they are manageable, a stimulus to trigger the action, and the personal confidence to act (LaMorte, 2019). All these factors act in a complex model to influence a person's behavior or action towards a health-related theme. This model asserts that when an individual perceives that he or she has a higher risk for the illness, has severe illness, believes that is likely to be cured, and feels confident of the treatment they are likely to seek care and treatment.
Application of Health Belief Model in Practice
Nurses generally interact more with patients compared to other health care practitioners. This model is important in the nursing profession as it helps nurses counsel patients appropriately regarding their illnesses. Through the knowledge of the health belief model, nurses can help increase the uptake of preventive measures for certain illnesses. An example would be the case of a patient who is obese, has a family history of Diabetes mellitus type 2, takes four bottles of Coca-Cola every day, and is not keen to regularly screen for diabetes. In counseling this patient, the nurse must indicate the high risk for Type 2 DM as the patient is obese and has a family history. This might help improve the patient's perception of screening and healthy living. There are several barriers to health care seeking such as sigma, lack of transport, inadequate staffing, and limited or no insurance cover (Lu et al., 2022). Nurses may use these demotivating factors to influence policies like staffing and ambulance services. The theory is also helpful to nurses in improving vaccine uptakes. A perfect case is a COVID-19 vaccine which was met with a lot of opposition in some areas. Most of the vaccine brands conferred a descent score in controlling the severity and recurrence of the viral illness. Nurses can use the information to motivate patients to increase uptake and improve their quality of life. Another important aspect in the application of the health belief model is in the treatment and screening of cancer. A relevant example would be breast cancer. The self-breast examination is a simple procedure that one can do but it goes a long way in the initial screening and diagnosis (Kissal & Kartal, 2019). Breast cancer is a real-life threat with a high mortality rate if diagnosed late or left untreated. The exposition of the information on an individual's risk for breast cancer and the perceived benefits of having a self-breast examination is highly likely to persuade an individual towards screening and early treatment.
Conclusion
Consequences of actions tend to make people adopt a certain way of doing things to avoid negative repercussions for their actions. Naturally, this molds behavior over time. This model is largely effective in the transformation of patients' health-seeking behavior by discussing with the patients the risks and perceived benefits of a health-related action. The model gives a good deal in enhancing preventative health measures and treatments.

References
Kissal, A., & Kartal, B. (2019). Effects of Health Belief Model-Based Education on Health Beliefs and Breast Self-Examination in Nursing Students. Asia-Pacific Journal of Oncology Nursing, 6(4), 403. https://doi.org/10.4103/apjon.apjon_17_19
LaMorte, W. (2019). The health belief model. Boston University School of Public Health. https://sphweb.bumc.bu.edu/otlt/MPH-Modules/SB/BehavioralChangeTheories/BehavioralChangeTheories2.html
Lu, G., Cao, Y., Chai, L., Li, Y., Li, S., Heuschen, A.-K., Chen, Q., Müller, O., Cao, J., & Zhu, G. (2022). Barriers to seeking health care among returning travelers with malaria: A systematic review. Tropical Medicine & International Health: TM & IH, 27(1), 28–37. https://doi.org/10.1111/tmi.13698 Qiao, X., Ji, L., Jin, Y., Si, H., Bian, Y., Wang, W., & Wang, C. (2021). Development and validation of an instrument to measure beliefs in physical activity among (pre)frail older adults: An integration of the Health Belief Model and the Theory of Planned Behavior. Patient Education and Counseling. https://doi.org/10.1016/j.pec.2021.03.009