NURS 8100 Issues in Health Care Reform (Interview)
NURS 8100 Issues in Health Care Reform (Interview)
NURS 8100 Issues in Health Care Reform (Interview)
Health reform involves revamping a country's or state's health care system. It entails addressing the ever-rising costs of health care for individuals, families, and the government. Health reforms center on improving the benefits citizens receive from the country's healthcare system and increasing access to health insurance. Healthcare reforms aim to lower the number of uninsured individuals, making healthcare more affordable and enhancing the quality of care. During this course, I met with a state legislator and discussed a healthcare reform issue that has caught my interest. The purpose of this paper is to give a summary and analysis of the interview and discuss the health care reform issues I presented.
Selected State Legislator
I planned to present my healthcare reform of interest to a legislator from my state Illinois. With the help of my colleagues, I was able to plan a meeting with Representative LaToya Greenwood through her personal assistant. Greenwood is a Democratic member of the Illinois House of Representatives. She has represented the 114th district since January 2017 and is the chairperson of the Health Care Availability and Access Committee (Illinois General Assembly, n.d.). She is also a member of several other committees such as Prescription Drug Affordability; Agriculture & Conservation; Approp-Elementary & Secondary Education (Vice-Chairperson); Data Analytics & IT; Appropriations-Human Services; Cybersecurity, Public Utilities; Museums, Arts, & Cultural Enhancement.
Rep. LaToya Greenwood was the legislator of choice due to her admirable track record. She has chiefly sponsored numerous bills as a Representative. She recently passed House Bill 4645 to strengthen minority representation in health care and stop the uneven quality of care across underserved communities (Illinois General Assembly, n.d.). The bill was founded on her belief that every citizen in Illinois deserves the highest quality of health care at an affordable cost. Furthermore, Rep. Greenwood is dedicated to fighting for affordable prescription drugs and increasing the workforce in public health.
Summary of the Interview
The PA scheduled a one-hour meeting on 15th April 2022 at the Representative's office from 10 am to 12 pm. The Rep welcomed me to her office, and after establishing rapport, I explained my purpose for the meeting and the desired outcomes from the meeting. The health care reform of interest was the introduction of a bill on mandatory Nurse-to-Patient ratios in all healthcare settings across Illinois. I explained to the Rep that hospitals in Illinois do not observe the WHO-recommended nurse-to-patient staffing ratios, which are purposed to promote safe patient care and prevent nurse burnout. I gave an example of the California nurse-to-patient staffing ratios act. The bill was passed to address the increasing concern that patients' safety is often compromised by inadequate staffing attributed to the increasing severity of health conditions and complexity of care (Livanos, 2018).
I explained the benefits of enacting a bill on mandate nursing ratios, including the challenges the state currently faces due to the lack of that reform. There is a connection between nurse workload and patient morbidity and mortality rates. Hospitals with unsafe nurse-to-patient ratios overwork their nurses, resulting in burnout. Features of hospitals with high nursing workloads include increased incidences of medical errors and missed nursing care. Various studies found a high prevalence of hospital-acquired infections, like urinary tract infections and pneumonia, and failure to perform CPR in facilities with a high nurses' workload.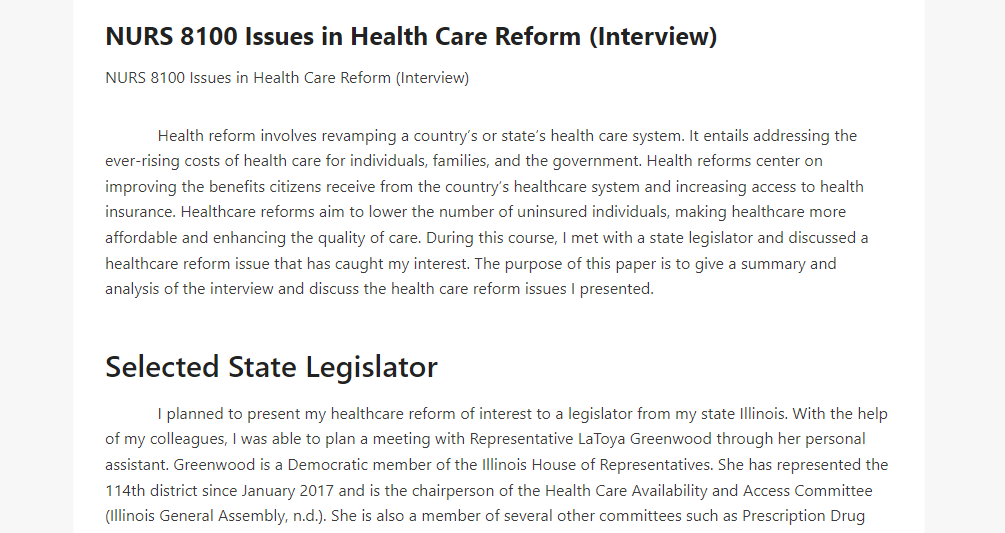 I informed Rep. Greenwood that the biggest benefits from a health reform on safe nurse-to-patient ratios would be improved patient outcomes, reduced morbidity and mortality rates, reduced nursing turnover, and increased patient and staff satisfaction (Griffiths et al., 2018). Safe staffing ratios are equivalent to greater job satisfaction and reduced nurse turnover, saving organizations from the costs spent in frequently hiring new nurses. nurse-to-patient ratios influence most patient outcomes, most noticeably in mortality rates. Nurse staffing ratios are linked to a higher likelihood of patient survival. Lee et al. (2018) found that patients were 95% more likely to stay alive when health facilities observed a hospital-mandated nurse-to-patient ratio. Besides, managing critically ill patients in settings with high nursing workloads and unsafe staffing ratios was associated with a significant decrease in the odds of survival.
Potential Challenges with the Health Reform
We discussed the potential challenges of enacting mandatory nurse staffing ratios and approaches to address them with Rep. Greenwood. I explained that the main shortcoming of the health reform is that health organizations will be mandated to increase the number of nurses without getting increased reimbursement for patient care. Besides, the costs of hiring additional nurses needed for the increased mandated ratios will not be compensated by additional payments to health organizations (de Cordova et al., 2019). This will lead to unfunded mandates. Fortunately, the challenge can be addressed by providing a market-based incentive to healthcare organizations to improve nurse staffing levels (de Cordova et al., 2019). This will separate nursing care from the current room and board charges and adjust healthcare payments for optimum nursing care.
Feedback from the Legislator
Rep. Greenwood was pleased with the presentation since she is devoted to increasing the workforce in Illinois public health. She agreed that the proposed reform would significantly improve nurses' working environment and quality of patient care resulting in improved health outcomes. She requested that I leave her with the printed proposal so that she can through it and make amendments where necessary. She also stated that she would organize another meeting to discuss the amendments and the way forward.
Conclusion
Enacting mandatory staffing ratios is the healthcare reform of interest. I presented the reform to Rep. LaToya Greenwood of the Illinois House of Representatives representing the 114th district. I presented the reform to Rep. Greenwood and discussed the benefits of enacting the bill on patients' health outcomes and nurses' job satisfaction. We also discussed potential challenges and solutions.

References
de Cordova, P. B., Rogowski, J., Riman, K. A., & McHugh, M. D. (2019). Effects of Public Reporting Legislation of Nurse Staffing: A Trend Analysis. Policy, politics & nursing practice, 20(2), 92–104. https://doi.org/10.1177/1527154419832112
Griffiths, P., Maruotti, A., Recio Saucedo, A., & Redfern, O. C. (2018). Nurse staffing, nursing assistants and hospital mortality: retrospective longitudinal cohort study. BMJ Qual Saf.. https://doi.org/10.1136/bmjqs-2018-008043
Illinois General Assembly. (n.d.). Representative Biography. https://www.ilga.gov/house/Rep.asp?MemberID=2902
Lee, A., Cheung, Y. S. L., Joynt, G. M., Leung, C. C. H., Wong, W. T., & Gomersall, C. D. (2018). Are high nurse workload/staffing ratios associated with decreased survival in critically ill patients? A cohort study. Annals of intensive care, 7(1), 1-9. https://doi.org/10.1186/s13613-018-0269-2
Livanos, N. (2018). A broadening coalition: Patient safety enters the Nurse-to-Patient ratio debate. Journal of Nursing Regulation, 9(1), 68-70. https://doi.org/10.1016/S2155-8256(18)30056-5