NURS 8100 Advocating Through Policy
Sample Answer for NURS 8100 Advocating Through Policy Included After Question
By Day 4
Post your PowerPoint presentation.
Read a selection of your colleagues' postings.
By Day 6
Review each group member's PowerPoint presentation and offer constructive feedback on:
Style and quality of the PowerPoint
Persuasiveness
Clarity
Representation of stakeholders, such as additional individuals/groups that could be included
Strategy proposal
Return to this Discussion in a few days to read the responses to your initial posting. Note what you learned and/or any insights you gained as a result of the comments made by your colleagues.
Be sure to support your work with specific citations from this week's Learning Resources and any additional sources.
Click on the Reply button below to reveal the textbox for entering your message. Then click on the Submit button to post your message.
A Sample Answer For the Assignment: NURS 8100 Advocating Through Policy
Title: NURS 8100 Advocating Through Policy
Nurse-Led Discharge planning to Reduce Readmissions
The nurse-led discharge planning is a process that can benefit from advocacy in healthcare settings. The process support the reduction of readmission policy and comprises of different interventions (Qui et al, 2021). Key among them include having daily rounds to identity those to be discharged next and any potential difficulties that they may have, provision of written instruction on discharge and providing pre-scheduled follow up visits to the outpatient unit and the physicians in-charge (Chaka et al., 2019). The process also entails involvement of patients and caregivers in planning and decision-making that comprise of patient education and a better understanding of the discharge process.
Stakeholders
The stakeholders in this process include the patients and their families or caregivers, nurses, physicians and pharmacists. The case manager, the nutritionists and even the healthcare organization and its management are also critical stakeholders in this process. Through them, it is possible to advocate for changes in policy processes to improve the Readmission Reduction policy's outcomes.
Nurse-Led Discharge Process
The multidisciplinary team will comprise of different professionals with well-documented roles and responsibilities. The team will conduct discharge planning with the patient and family through educating them using layman's language (Vernon et al., 2019). For instance, the physician will discuss the management of the disease and prognosis while the nurse will offer education on medication and administration of medicines (Mabire et al., 2018). The pharmacist will review medications before discharge while the case manager will ensure that all home needs that the patient requires are available. The nutritionist or dietitian will discuss effective and appropriate food options for the patients.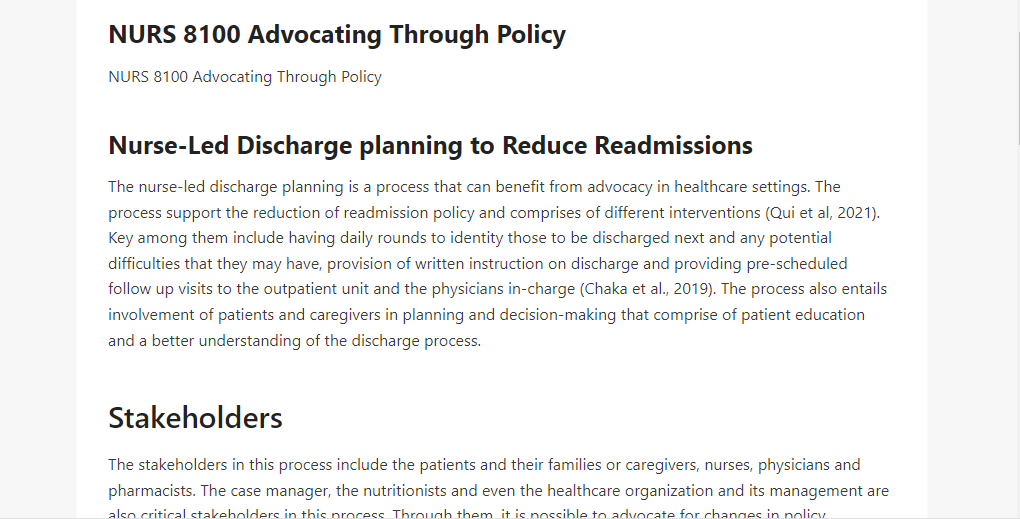 Conclusion
The use of multidisciplinary approach in rounds on a constant basis improve the ability of the facility to address barriers to effective patient management. Secondly, it improves patient compliance to treatment upon discharge and reduces readmissions that are costly, especially when not done sufficiently. The process reduces the cost of care and improves clinical outcomes. The implication is that advocating for this process improvement allows the facility to attain the goals of its Readmission Reduction policy.
References
Chaka, R., Karki, N., Ketlogetswe, K., & Ayala, T. (2019). Multidisciplinary
rounds in prevention of 30-day readmissions and decreasing length
of stay in heart failure patients: A community hospital based
retrospective study. 98(27). doi: 10.1097/MD.0000000000016233.
Mabire, C., Dwyer, A., Garnier, A., & Pellet, J. (2018). Meta-analysis of the
effectiveness of nursing discharge planning interventions for older
inpatients discharged home. Journal of Advanced Nursing 74(4),788–799.
Qiu, X., Lan, C., Li, J., Xiao, X., & Li, J. (2021). The effect of nurse-led
interventions on re-admission and mortality for congestive heart failure: A
meta-analysis. Medicine, 100(7). doi: 10.1097/MD.0000000000024599.
Vernon, D., Brown, J. E., Griffiths, E., Nevill, A. M., & Pinkney, M. (2019). Reducing
readmission rates through a discharge follow-up service. Future healthcare
journal, 6(2), 114. doi: 10.7861/futurehosp.6-2-114