NURS 8002 BLOG: THE DNP-PREPARED NURSE AND THEIR COMMUNITY
NURS 8002 BLOG: THE DNP-PREPARED NURSE AND THEIR COMMUNITY
NURS 8002 BLOG: THE DNP-PREPARED NURSE AND THEIR COMMUNITY
One of the issues in my organization is the long length of hospital stay with patients. This was an important issue as it does not only affect the increase in cost, it also affects the patient's health. Unnecessary days in the hospital may lead to increase hospital-acquired patient complications (e.g., healthcare-associated infections, falls) and increased costs for patients and healthcare systems (Tipton, 2021). One of the practice changes that we adopted was the throughput method to help with this issue. According to CenTrak (2023), the throughput method is described as the movement of patients from arrival to discharge. This method involves the care, resources and the decision that is being made to move patients through the hospital. When this method is implemented well, it improves the quality-of-care patients receive as well as their level of satisfaction with their experience. Another practice change that was helpful was the adoption of interdisciplinary rounds. This helped with communicating the plan for the patient's care which in turn improves patient's outcome. According to Reduced Hospital Days and Dollars With Interdisciplinary Rounds (2018b), according to a study, when compared, the outcome for patients receiving interdisciplinary rounds as opposed to traditional rounds found that length of stay was reduced from 6.1 to 5.5 total days, for an overall cost reduction of 17%. Communication is important with both the throughput method and interdisciplinary rounds. The use of technology is very important in other to get a faster and more reliable result from both. DNP graduates are distinguished by their ability to use information systems/technology to support and improve patient care and healthcare systems and provide leadership within healthcare systems and/or academic settings (AACN, 2006).
Another issue that the organization is facing is staffing shortages. With these shortages, we are witnessing healthcare workers at the bedside with less knowledge and experiences. Prognosis based on knowledge and experience and multidisciplinary treatment and care may not only save lives of ICU patients with severe and complex conditions but may also influence their subsequent activities of daily living and quality of life (Fukuda et al., 2020). With this issue, continuous education was implemented to help with the constant change in healthcare. According to Green (2022), continuous education is important because it helps ensure that medical professionals are up to date on the latest treatment and procedures. It also helps healthcare providers maintain their licenses and sharpen their skills. Another change that was implemented was incentives for healthcare employees. Some incentives might require employers to dig a bit deeper into their annual budgets to help attract and retain valuable staff (Walid & Walid, 2023). This helps staff feel as they valuable and paid for their worth. It also helps retain experienced nurses with greater knowledge. Knowledge of the disease process and how patient's respond to the treatment is very important when it comes to healthcare providers. DNP graduates possess a wide array of knowledge gleaned from the science and have the ability to translate that knowledge quickly and effectively to benefit patients in the daily demands of practice environment (AACN, 2006).
Reference
Tipton, K. (2021, September 1). Introduction. Interventions to Decrease Hospital Length of Stay – NCBI Bookshelf. https://www.ncbi.nlm.nih.gov/books/NBK574438/#:~:text=Unnecessary%20days%20in%20hospital%20may,for%20patients%20and%20healthcare%20systemsLinks to an external site..
CenTrak. (2023, January 19). How Busy Hospitals Can Increase Patient Flow: 6 Tips. CenTrak. https://centrak.com/resources/blog/increase-patient-flowLinks to an external site.
American Association of Colleges of Nursing. (2006). The essentials of doctoral education for advanced nursing practice.https://www.aacnnursing.org/Portals/42/Publications/DNPEssentials.pdf
Fukuda, T., Sakurai, H., & Kashiwagi, M. (2020). Efforts to reduce the length of stay in a low-intensity ICU: Changes in the ICU brought about by collaboration between Certified Nurse Specialists as head nurses and intensivists.Links to an external site.Links to an external site. PLOS ONE, 15(6), e0234879. https://doi.org/10.1371/journal.pone.0234879Links to an external site.
Green, E. (2022). The Importance of Continuous Education in Healthcare. Caregiver Support Services. https://www.caregiversupportservices.com/the-importance-of-continuous-education-in-healthcare/
Walid, & Walid. (2023). Incentives For Healthcare Employees: Retention Strategies (Healthcare Reward). Conference Source. https://conference-source.com/nursing-incentive-programs/
These are a double-edged sword. Although there are positives to incentives there are also negatives and these must be considered when initiating such a program for employees or departments. Positives include increased performance and retention as you identified. Negatives include creating an environment of hostility in the workplace. Based on the nature of the department some may never meet the incentive threshold. This is due to the requirement of a team approach to the incentive and some team members may never promote the level required for the team as a whole to meet requirements and obtain the incentive. Individual incentive requirements may also not be met by some employees and they too can grow resentful as they see others reach and exceed the threshold and reap the benefits of the incentive. Such programs must be thoroughly reviewed prior to and following implementation in order to ensure that they promote the intended outcome. Thanks for your post. Dr. M. Revell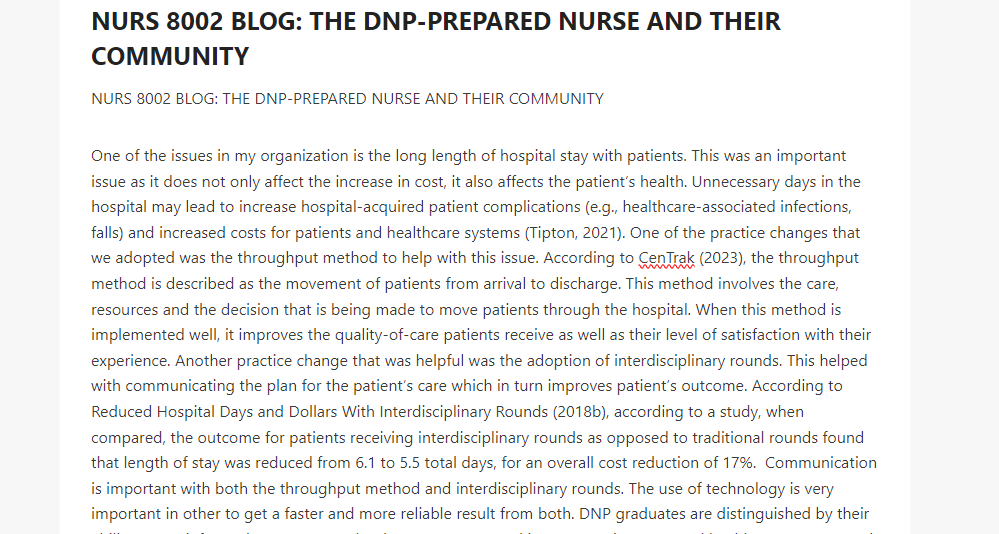 I absolutely agree that incentive is a two-edged sword, as awesome as it sounds to reward employees, there are also disadvantages that comes with it as you have mentioned. According to Incentive Bonuses in Business: The Pros and Cons PerkUp (n.d), there are many other ways that one can reward employees for their efforts apart from incentives like spending one-on-one time with them, offering developmental opportunities to employees that show promise and rewarding productive behaviors that are not typical or expected. Being in leadership, I have used each of these methods and seen it work with my staff.
Overall, implementing incentives will generally have a positive effect on your organization, provided that are well thought out. Rewarding your people creates a happy and healthy working environment with high productivity (Incentive Bonuses in Business: The Pros and Cons | PerkUp, n.d.). According to AACN (2006), As DNP graduate, one will have the capacity to engage proactively in the development and implementation of health policy at all levels, which includes advocating for the nursing profession within the policy and healthcare communities.
References
Incentive Bonuses In Business: The Pros And Cons | PerkUp. (n.d.). https://www.perkupapp.com/post/incentive-bonuses-in-business-the-pros-and-cons#:~:text=There%20are%20many%20benefits%20to,and%20loyalty%20to%20your%20business.&text=It%20may%20also%20bring%20forth,unethical%20behavior%20to%20meet%20targets.
American Association of Colleges of Nursing. (2006). The essentials of doctoral education for advanced nursing practice.https://www.aacnnursing.org/Portals/42/Publications/DNPEssentials.pdf
Great post. The issue of staffing shortage has become a serious problem. During my MSN practicum in the psychiatric hospital, I cannot belief what the nurses in the acute unit were going through, it is ridiculous, but not to the fault of the management, the shortage of nurses is a national emergency and requires immediate action. I cannot belief the burned on the nurses and how overwhelmed they are with the acuity of the patients, and they also must deal with the family who are naïve and inquisitive due to lack of knowledge of the health care system. Having witnessed this in the center during the holiday, I strongly belief that the shortage of health care providers and especially nurses is a serious problem that requires urgent solution.
Among the many effects they have on nurses, two are more outstanding, the mortality rate and the rate at which nurses get burnt out. According to a study published in the Journal of the American Medical Association, more nurses at the bedside could save thousands of patients lives each year. Nursing researchers at the University of Pennsylvania determined that patients who have common surgeries in hospitals with low nurse-to-patient ratios have an up to 31% increased chance of dying. Funded by the National Institute for Nursing Research, the study found that every additional patient in an average hospital nurse's workload increased the risk of death in surgical patients by 7%. Having too few nurses may cost more money given the high costs of replacing burnt-out nurses and caring for patients with poor outcomes.
Reference
American Association of Colleges of Nursing. (2016) the impact of Nursing Shortage on Patient
      Care. Retrieved from. American Association of Colleges of Nursing | Nursing Shortage Links to an external site.
Lengthy hospital stays can have several negative effects on a person's health. This contributes to muscle weakness and loss, increased risk for infection, functional decline, nutritional issues, emotional and psychological impact, and sleep disturbances. The presence of co-morbidities and risk factors of cardiovascular diseases, a longer LOS during an initial HF hospitalization has been linked to poor clinical outcomes (Tigabe et al., 2022). Heart Failure (HF) is the leading public health problem associated with frequent hospital admissions, prolonged length of hospital stays, increased healthcare costs, and mortality rates (Tigabe et al., 2022). To mitigate these poor health outcomes, hospitals and healthcare providers implement various strategies such as early mobilization, infection control measures, nutrition support, psychological support, and enhanced patient education. Healthcare teams need to prioritize patient well-being and implement measures that promote a safe and timely discharge from the hospital whenever possible.
Nurses are the main professional component of the 'front-line staff in most health systems, and their contribution is recognized as essential to meeting development goals and delivering safe and effective care (Buchan, 2008). However, many organizations are faced with insufficient nursing staff to provide dedicated patient care. Staffing shortages in healthcare settings can have a range of negative effects on patients. This can contribute to delays in patient care, increased workload of staff, poor patient monitoring, ineffective communication, and patient engagement. Also, other issues are a risk of medication error contributing to a negative impact on patient care. Addressing staffing shortages is crucial to ensure quality patient care. Healthcare organizations can work towards improving staffing levels by recruiting and retaining healthcare professionals, implementing appropriate staffing ratios, and providing support and resources to staff members. Adequate staffing not only benefits patients but also supports the well-being and job satisfaction of healthcare providers.
References:
Buchan, J., & Aiken, L. (2008). Solving nursing shortages: a common priority. Journal of clinical nursing, 17(24), 3262-3268.
Tigabe Tekle, M., Bekalu, A. F., & Tefera, Y. G. (2022). Length of hospital stay and associated factors among heart failure patients admitted to the University Hospital in Northwest Ethiopia. Plos one, 17(7), e0270809.
Great post this week. You raised two great issues that affect our daily work life. Nursing shortage has been an issue that everywhere you turn, the discussion of short staffing is almost a routine and the same. Obviously, people acquire more knowledge, decide to move up the ladder, change career or even retire. But the problem of staff retention goes beyond this. Recently as a result of the covid pandemic, healthcare suffered massively because staff were either sick or staff were offered more money at a different location or even remained at home to care for children or loved one. My workplace was greatly affected. After reading your post, as I was researching the articles, I found an article that suggested an option that I think I may suggest or implement. Traditionally when one thinks about incentive, it is expected that monetary values are involved. In their article Young et al., (2007) described the "Parent shift" as that time between the hours of 9am and 2pm when parents would have sent their children to school or day care and would feel comfortable going to work. This flexibility in hours encouraged experienced nurses to return to work and helped to alleviate the stress of the hospital shortage. Incentives like increased salary, health benefits, continuing education and job promotion are important factors related to job satisfaction but still does not prevent the resignation rate of healthcare workers as noted by Sriratanaprapat, et al., (2012) but rather the physical infrastructure which is the people one works with and the resources one is provided creates a functional and pleasant place to go to everyday and complete productive job.
Thanks.
Reference
Sriratanaprapat, J., Chaowalit, A., & Suttharangsee, W. (2012). Development and Psychometric
Evaluation of the Thai Nurses' Job Satisfaction Scale. Pacific Rim International Journal
of Nursing Research, 16(3), 175–191.
Young CM, Albert NM, Paschke SM, & Meyer KH. (2007). The "Parent Shift" program:
incentives for nurses, rewards for nursing teams. Nursing Economic$, 25(6), 339–344.
My organization also faces staffing shortages, this makes staffing our individual units a big challenge. I currently work in the workforce management office; daily the organization runs between 20-30 experienced acute care and critical care nurses short. This is very stressful to correct but with the help of travel nursing staff and new nurses coming off orientation we have made do. Unfortunately, you are correct this places staff with minimal knowledge and experience at the bedside. Nurse shortages are not only specific to our organizations but are a growing concern worldwide (Drennan & Ross, 2019).
Luckily, continuous education is not the only solution to improving staffing concerns. Creating a flexible float pool baseline is an adequate way to develop and retain staff (Griffiths et al., 2021). Properly trained float pool staff is capable of covering shortages on individual units until the gap can be repaired (Griffiths et al., 2021). True, without a large pool the deficit does not always cover the shortage, but units tend to fluctuate on staffing percentages allowing for correction in staffing concerns to be bandaged for a shift. This allows for pool staff to be trained in several areas, turning a minimal knowledge staff member into a seasoned veteran in a short period of time, due to the varied experiences they gather (Griffiths et al., 2021). Thank you again for your post, I find staffing challenges to be quite interesting as it forces leaders to creatively think outside the box. As DNP prepared graduates we will be able to combat this concern across the continuum.
References:
Drennan, V., & Ross, F. (2019). Global nurse shortages—the facts, the impact and action for change. British Medical Bulletin, 130(1), 25–37. https://doi.org/10.1093/bmb/ldz014Links to an external site.
Griffiths, P., Saville, C., Ball, J., Jones, J., & Monks, T. (2021). Beyond ratios – flexible and resilient nurse staffing options to deliver cost-effective hospital care and address staff shortages: A simulation and economic modelling study. International Journal of Nursing Studies, 117, 103901. https://doi.org/10.1016/j.ijnurstu.2021.103901