NURS 8002 AACN COMPETENCIES AND THE WALDEN MISSION, VISION, AND OUTCOMES
NURS 8002 AACN COMPETENCIES AND THE WALDEN MISSION, VISION, AND OUTCOMES
NURS 8002 AACN COMPETENCIES AND THE WALDEN MISSION, VISION, AND OUTCOMES
The AACN developed the DNP essentials, which define the elements and competencies that the curriculum for a degree in Doctor of Nursing Practice must have. The AACN outlines eight essentials, which are considered the basic outcome competencies regarded as essential for every DNP graduate in spite of their nursing specialty or career focus (AACN, 2006). The Walden University mission is offering a diversified community of professionals with a chance to revolutionize themselves from scholar to practitioners to bring about positive social change (Walden University, 2021). Additionally, the Walden University foresees a uniquely diverse 21st-century learning community where knowledge is deemed valuable to the program that it can be employed by its learners to the solutions of vital challenges in the society, thus enhancing the overall global good.
The Walden University's standpoint relates to the AACN competencies, including
Essential I, Scientific Underpinnings for Practice. The AACN Essential I states that DNP-prepared nurses should have broad and deep knowledge gained from sciences and should demonstrate the translation of that scientific knowledge promptly and efficiently to assist patients in the daily needs in the practice setting (AACN, 2006). Walden's mission relates to this competency as it offers its students the opportunity to scholarly transforms themselves to bring about positive social change (Walden University, 2021). DNP students at Walden can become scholar-practitioners and effect positive health outcomes in society through putting evidence-based research into practice. They can also establish new strategies that can improve communities' health outcomes and promote better outcomes in specific patient populations.
Walden's standpoint is also support the AACN essential III on Clinical Scholarship and Analytical Methods for EBP. Essential III explains that the DNP learner should apply knowledge to find solutions to challenges in practice through the scholarship of nursing practice (AACN, 2006). The Walden standpoint relates to essential III since it aims at having learners applying knowledge to identify immediate solutions to societal challenges.
            My academic and professional goals are to improve health outcomes among individuals diagnosed with chronic illnesses. I also aim at making our communities healthier through sustainable and socially acceptable health promotion interventions. Walden's standpoint relates to my goals as it encourages a learning community where scholars apply knowledge to solve crucial societal challenges (Walden University, 2021). My professional goals challenge me to make a difference in the community by addressing the common health challenges encountered in the community I live. Besides, promoting a healthier community through health promotion interventions will help shape a better world and advance the greater global good.
I will incorporate social change in the academic goal of improving health outcomes among individuals diagnosed with chronic illnesses by researching and identifying evidence-based community interventions that can promote better health outcomes. For instance, I will examine interventions that have effectively reduced morbidity rates in persons with chronic conditions such as diabetes, cancer, and cardiovascular diseases (Phillips, 2019). I will also collaborate with an interdisciplinary team, which will help me implement the interventions in the community and measure their impact in achieving the overall goal (Phillips, 2019). Furthermore, I will incorporate social change to make communities healthier through sustainable and socially acceptable health promotion interventions by focusing on real-world applications that can improve the health of individuals (Phillips, 2019). I will also research theories and evidence-based strategies that engender positive social change.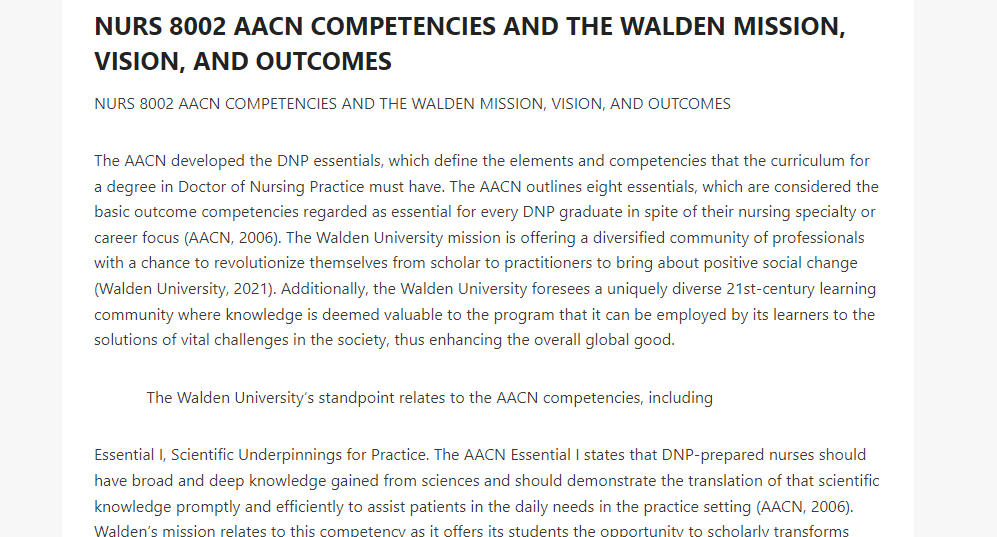 References
American Association of Colleges of Nursing. (2006). DNP essentials: the essentials of doctoral education for advanced nursing practice. https://www.aacnnursing.org/DNP/DNP-Essentials
Phillips, A. (2019). Effective approaches to health promotion in nursing practice. Nursing Standard. https://doi.org/10.7748/ns.2019.e11312
Walden University. (2021). Social change. Accredited Online University | Online Degree Programs | Walden University. https://www.waldenu.edu/why-walden/social-change#mission
I also agree with Walden University's (2021) view on social change that "Walden supports social change through the development of principled, knowledgeable, and ethical scholar-practitioners, who are and will become civic and professional role models by advancing the better of society". As an FNP and DNP to be, I am incorporating social change in my profession by applying both my past and current work experiences and knowledge to become a better professional role model to patients, co-workers and community at large. According to Walden University (2021), exhibiting ongoing commitment to professional development is one of the learning outcomes for the MSN among others (Walden University, 2021). I am constantly trying to learn new ways to improve and better my knowledge and education.
Currently I'm work in collaboration with healthcare providers to educate the public on healthy lifestyles and behaviors that minimize their risk of developing health problems in some suburban area in Illinois. I hope that with my past and current experiences and my future knowledge gained at Walden University, I will be able to become a good professional advocate and role model for the future of geriatric care and the population at large.
References
Walden University. (n.d.). Vision, mission, and goals. www.waldenu.edu. Retrieved April 3, 2021,
from https://catalog.waldenu.edu/content.php?catoid=180&navoid=65653
The standpoint of Walden University from its vision, mission, social change message and outcomes relate significantly with AACN competencies and my professional and academic goals. The mission statement of Walden University is to provide learners with a diverse community of career professionals with an opportunity to transform themselves and effect social change as scholar-practitioners (Walden University, n.d.). The mission statement of Walden University relates to essential I of AACN that relates to scientific underpinnings for practice by DNP nurses. According to the essential, DNP graduate nurses have extensive knowledge and skills that can be translated into practice to benefit patients and promote social change in practice environments. Essential I of AACN further states that DNP level nurses are prepared to use science-based theories to determine nature of health and health-related needs, implement nursing actions, and evaluate outcomes of care. The mission statement of Walden University also relates to the AACN competency of self-leadership (King et al., 2018). The AACN states that DNP nurses should demonstrate the ability to assess, plan, manage and develop oneself to optimize and preserve relationship alongside adding value to their organizations.
The above standpoints also relate to my professional and academic goals. One of my academic goals is to acquire a doctoral degree from Walden University. I would like to use the knowledge and skills that I acquire from the doctoral program to promote social change through working in collaboration with other healthcare providers. I intend to work with other healthcare providers in developing programs that aim at promoting the health and wellbeing of the vulnerable populations (Moran et al., 2019). I also intend to promote social change by advocating the adoption of interventions that promote disease, illness and injury to the populations at risk in the communities I will serve as a professional. I also intend to accomplish the Essential VII of the DNP practices that aims at ensuring that DNP nurses adopt measures that promote clinical prevention and population health to promote the health of the nation. I will accomplish this essential by engaging in scientific investigations to identity the needs and gaps in the healthcare of individuals, families and communities (Ahmed et al., 2018). I will use the concepts learned from the doctoral program to develop community-centered interventions that will optimize the realization of their health-related needs with the available scarce resources.
Plan for Incorporating Social Change
One of the plans that I will utilize to incorporate social change into two of my professional or academic goals is adopting measures that promote the health of the population in my community. I will promote positive social change by working in collaboration with the other healthcare providers to create awareness among the population on their health needs and ways of meeting them. I will also work in collaboration with the healthcare providers to educate the public on healthy lifestyles and behaviors that minimize their risk of developing health problems. I will also promote social change in my practice by working with other healthcare professionals to incorporate evidence-based interventions into the care given to the diverse populations. Evidence-based practice promotes the realization of health outcomes such as safety, quality and efficiency in nursing (Ahmed et al., 2018). Therefore, the utilization of evidence-based practice interventions will address the existing barriers and determinants of health among the vulnerable populations that I will work with in my practice.
References
Ahmed, S. W., Andrist, L. C., Davis, S. M., & Fuller, V. J. (2018). DNP Education, Practice, and Policy: Mastering the DNP Essentials for Advanced Nursing Practice. Springer Publishing Company.
King, C. R., Gerard, S., & Rapp, C. G. (2018). Essential Knowledge for Cnl and Aprn Nurse Leaders. Springer Publishing Company.
Moran, K. J., Burson, R., & Conrad, D. (2019). The Doctor of Nursing Practice Project. Jones & Bartlett Learning.
Walden University. (n.d.). Social Change. https://www.waldenu.edu/why-walden/social-change
Building on what you have said, I would add that the AACN has worked hard to refine NP Core Competencies so as to reflect the most up to date requirements for the current state of healthcare (Chan, Lockhart, Schreiber, & Kronk, 2020). The goal is to ensure that DNP students gain highly specific skills sets that evolve from Competency Based Education (CBE) as set forth by the Domains of Nursing or observable and measurable aspects of performance that allows the student to demonstrate competent, fully functional abilities in order to provide safe, quality care to a wide variety of patient populations, while promoting social justice and equality in medicine (Chan et al., 2020). Graduates of DNP programs possess the evidenced-based knowledge, practical experience, and professional attitudes necessary to advocate and facilitate changes that will shape future healthcare policies (Mullin, 2019).
The attainment of social justice and equity in healthcare is a lofty goal, but it doesn't have to be "pie in the sky". DNP graduates need to cultivate leadership skills that entitle them to pull up a chair and sit at the big table where the crucial decisions that affect nursing and medical practice are rolled out (Mullin, 2019). This will allow nursing representatives to have an influential voice in political decision making and social change policies where it has the greatest impact on professional nursing (Mullin, 2019). DNP graduates should be the gold standard in Advanced Nursing Practice because as leaders in the field there is no area of institutional, local, state, regional, and federal politics where knowledge of health policy, expert experience in evidenced-based research, and influential advocacy in practice cannot serve to promote proactive development and implementation of social change policy for the betterment of society and population health (Mullin, 2019).
Two nursing organizations that are full service professional organizations the DNP student can join so as to advance political abilities and become agents of social change are the American Nurse's Association (ANA) and the International Council of Nurses (ICN) (Matthews, 2012).
Thank you for your excellent post, Mary Ann Keith-Marcus
References
Chan, T. E., Lockhart, J. S., Schreiber, J. B., & Kronk, R. (2020). Determining nurse practitioner core competencies using a Delphi approach. J Am Assoc Nurse Pract, 32(3), 200-217. doi: 10.1097/JXX.0000000000000384.PMID: 32132457.
Matthews, J. (2012). Role of professional organizations in advocacy for the nursing profession. OJIN: The Online Journal of Nursing, 17(1). Manuscript 3. doi: 10.3912/OJIN.Vol17no01Man03.
Mullin, M. H. (2019). Chapter 5: DNP involvement in healthcare policy. In Chism, L. A. (4th Ed). Doctor of Nursing Practice: A Guidebook for Role Development and Professional Issues (131-156). Burlington, MA. Jones & Bartlett.