NURS 6512 Diversity and Health Assessments
NURS 6512 Diversity and Health Assessments
NURS 6512 Diversity and Health Assessments
Patient Summary
The patient selected is John, a 33-year-old male that has been transitioning from a female for the last two years and made a full transition with family and socially last year. He has been administering testosterone obtained via telehealth (he was previously receiving medication from the internet). He also takes Biktarvy as he tested positive for HIV 3 years ago but virally suppressed as of his blood draw six months ago. His medical history includes depression, smoking two packs of cigarettes daily, and smoking 3-6 marijuana joints on the weekend (he has an active green card). He is currently unemployed and has been feeling very weak over the last few weeks, which prompted him to move back into his parent's house.
Factors Affecting The Patient
This patient has a multitude of factors that could lead to isolation or worsening of his depression if he does not have a proper outlet or trusted healthcare provider. Socioeconomic factors affecting this patient include his unemployment status and moving back in with his parents. A patient's socioeconomic status can influence how they seek medical care and the type of care they receive from providers (Ball et al., 2019, p. 24). Spirituality wasn't mentioned in the summary, but it is helpful to understand the patient's beliefs in order to tailor their care and offer resources if they haven't been able to attain them (Ball et al., 2019, p. 10). The patient's lifestyle has probably changed since he has been feeling weaker, and this could take a toll on his mental health. Changes to his lifestyle could include leisure activity, sexual experiences, and diet or exercise habits. Cultural factors for this patient include his beliefs, sexual orientation, the people he surrounds himself with, heritage, ethnicity, and socioeconomic status (Ball et al., 2019, p. 23). All of these factors together make each individual unique and should be considered when having discussions about their health, as they might impact how a patient feels about medication or treatment.
Building a Health History & Targeted Questions
Building a trusting relationship with this patient is the initial priority because it seems his healthcare recently has been solely online, which may indicate he has apprehension about an in-person visit. Patients of the LGBTI community have faced bias and undesired interactions with healthcare providers, which has steered many away from seeking care (Coleman et al., 2022). The goal is to make sure this patient is comfortable throughout the visit so he can openly communicate and return for follow-up appointments.
The first question would be asking the patient about his identity. The summary did indicate that he transitioned two years ago, but it is important to hear from the patient how they want to be addressed, and this is a great opportunity to be open and supportive while building rapport. If the patient is comfortable, asking about their medical journey with transitioning is important because this will help understand why he has been seeking most of his care online. 
The second question would be directed toward his chief complaint. The patient mentioned feeling weaker in the last few weeks. I would ask the patient about specific symptoms because often, weakness and fatigue are mixed up and can mean different things. Weakness could indicate overall muscle weakness from an electrolyte imbalance, thyroid issues, or an overall new development of a disease (HealthLink BC, 2020). Fatigue is the feeling of exhaustion, and this could be attributed to the patient's HIV, depression, or marijuana usage (Ethan et al., 2020; HealthLink BC, 2020). Once established with exactly what he is feeling, I would ask how often he feels this way or if it is consistent, if there are other symptoms associated, and how it affects his daily life.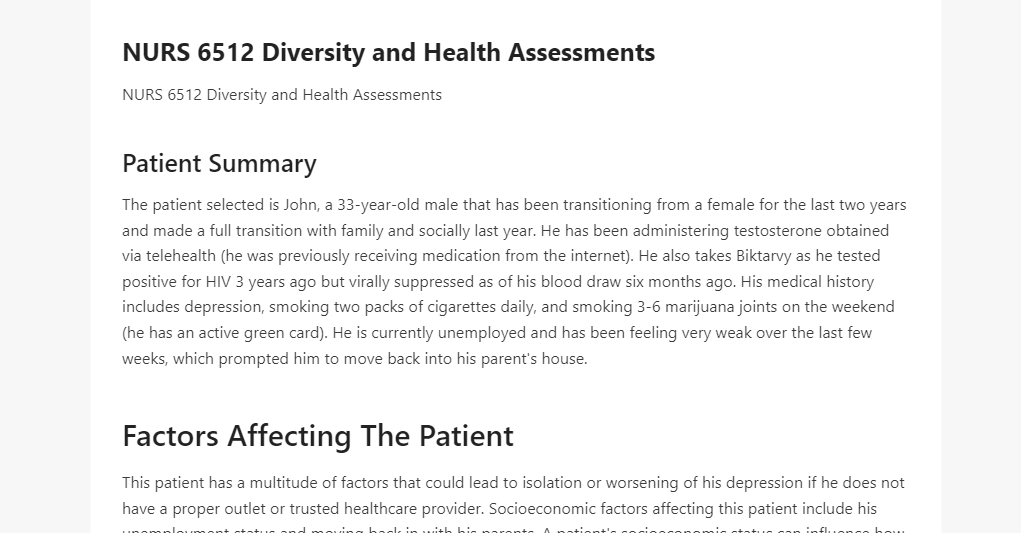 The third question would address his mental health status because he feels his health is declining, he is unemployed, he had to move in with his parents, and he has had episodes of depression. This can all weigh heavy on a person that does not have the right support system. I would also want to address how his depression has been, if he has had any recent episodes, what he does to help them, and if he feels he is ready to start on an antidepressant. It would also be appropriate to perform the PHQ-9, which helps identify major depressive disorder, and the Columbia-Suicide Severity Risk Screener to identify suicide risk (Ball et al., 2019, p. 94).
The fourth question will be related to the last, asking if he does feel like he has a support system. This patient is going through a lot, and a strong support system is vital. I would ask the patient about his relationship with his parents, friends, and community. Offering resources where he lacks support, whether that be his mental health, personal relationships, or medical condition, will help him find people who are going through similar issues and form a trusting community (White & Fontenot, 2019).
The fifth question would be if he would want to start getting his medications (testosterone and Biktarvy) through me instead of online. Offering this service to the patient will let him feel he is receiving thorough care without judgment. This will hopefully be a gateway into a long-term relationship with the patient and help him create a healthier future for himself. In future visits, addressing smoking cessation and other healthy lifestyle habits will be addressed.
Strategies
All of these questions are very personal, and as the patient's provider, it is our job to create a trusting environment. One strategy to use while performing his examination would be incorporating patient-centered care in which the provider asks the patient their preferences and their needs to ensure a care plan can be developed that will properly suit them (Ball et al., 2019, p. 2). Another strategy includes asking open-ended questions, as this will allow the patient to answer with as much or as little information but never try and force answers from the patient (Ball et al., 2019, p. 4). When confronted with a patient that has different ideals, cultural beliefs, or any other significant differences, it is important to keep an open mind and never pass judgment. This will allow for the smoothest conversation and keep the patient at ease throughout their visit.
References
Ball, J. W., Dains, J. E., & Flynn, J. A. (2018). Seidel's guide to physical examination: An interprofessional approach (9th ed.). Mosby.
Coleman, E., Radix, A. E., Bouman, W. P., Brown, G. R., de Vries, A. L. C., Deutsch, M. B., Ettner, R., Fraser, L., Goodman, M., Green, J., Hancock, A. B., Johnson, T. W., Karasic, D. H., Knudson, G. A., Leibowitz, S. F., Meyer-Bahlburg, H. F. L., Monstrey, S. J., Motmans, J., Nahata, L., . . . Arcelus, J. (2022). Standards of Care for the Health of Transgender and Gender Diverse People, Version 8. International Journal of Transgender Health, 23(sup1), S1–S259. https://doi.org/10.1080/26895269.2022.2100644
Ethan, X., Logan, A., Liam, M., & Leonard, J. (2020). Impact of Marijuana (Cannabis) on Health, Safety and Economy. Int. Digit. Organ. Sci. Res, 5, 43-52.
HealthLink BC. (2022). Weakness and Fatigue. https://www.healthlinkbc.ca/illnesses-conditions/fatigue-and-sleep/weakness-and-fatigue
White, B. P., & Fontenot, H. B. (2019). Transgender and non-conforming persons' mental healthcare experiences: An integrative review. Archives of Psychiatric Nursing, 33(2), 203–210. https://doi.org/10.1016/j.apnu.2019.01.005
Calling a transgender person by their pronouns can decrease suicidal ideations, suicidal behaviors, and depressive symptoms (Grossman, 2018). Your questions are great which can bring forth honest answers. I think I would question if he a psychologist or psychiatrist that he thinks is helpful and how long has he been seeing them. If his mental health is deteriorating and his been going for a while, I think that is a clear sign that there might be a better mental health practitioner for him.
Dealing with depression can be challenging. Many elite psychologists and psychiatrists recommend however, that at some point, in order to get better, a person has to begin to have healthy exposure to the stimulation that is causing or contributing to their distress (Lembke, 2022). For example, a person who wants to overcome their fear of spiders would need counseling and at some point, a healthy amount of exposure to spiders possibly(Lembke, 2022). Even if it starts with pictures of the spider at first. At some point, John needs to integrate better into society if he wants to get to a healthier headspace (Peterson, 2018). John has taken some steps to do this by looking more like the gender he prefers to be called. People will call John by his preferred pronouns because it's easier to do and this makes it easier for John to integrate into society. Thie fact that John is trying to look like the gender pronouns he wants to be called, I think should be acknowledged, it will help with his confidence and helps with his integration process. Overall, isolation and avoidance will not make John mentally healthier but instead more neurotic (Peterson, 2018).
References
Grossman, A. H., Pollitt, A. M., & Russell, S. T. (2018). Chosen Name Use Is Linked to Reduced Depressive Symptoms, Suicidal Ideation, and Suicidal Behavior Among Transgender Youth. The Journal of adolescent health: official publication of the Society for Adolescent Medicine, 63(4), 503–505. https://doi.org/10.1016/j.jadohealth.2018.02.003
Lembke, A. (2022). Dopamine nation: Finding balance in the age of indulgence. Dutton.
Peterson, J. B. (2018). 12 Rules for Life: An antidote to chaos. Vintage Canada.
Thank you for this great post. Indeed, this patient has many factors that could worsen his depression including unemployment, which forced him to move in with his parents. These socioeconomic factors could impact how he seeks medical care and the kind of care he can receive. There are also other factors including lifestyle changes, mental health, and cultural factors which may significantly impact the healthcare of patients and should be considered as part of healthcare delivery. As you have noted, these factors can be considered through the establishment of health history and targeted questions (Seitz et al., 2019). Obtaining accurate health history and asking patients targeted questions requires a relationship of trust between the healthcare provider and the patient. Trust is critical in influencing the outcomes of patient management, especially in the management of long-term conditions such as the one presented in the case scenario at hand (Montgomery et al., 2020). It also influences the outcomes of prevention and health promotion programs. A relationship of trust between the clinician and the patient is associated with a direct therapeutic effect.
References
Montgomery, T., Berns, J. S., & Braddock, C. H. (2020). Transparency as a trust-building practice in physician relationships with patients. JAMA, 324(23), 2365-2366. Doi:10.1001/jama.2020.18368
Seitz, T., Raschauer, B., Längle, A. S., & Löffler-Stastka, H. (2019). Competency in medical history taking—the training physicians' view. Wiener klinische Wochenschrift, 131(1), 17-22. https://doi.org/10.1007/s00508-018-1431-z
You submitted a very thoughtful and thorough approach to this patient's assessment. There are many factors that needed to be addressed considering the patient's sexuality, socioeconomic, and mental health state. As you stated creating a safe and secure environment is essential to building trust with the patient to best identify the needs and resources available (Ball et al., 2019). I found it interesting that the patient has an active green card. Using the RESPECT model would allow the patient to feel at ease discussing his cultural beliefs and values (Ball et al., 2019). This allows the provider to connect on a social level even if the provider is not on the same level-Rapport. The patient has multiple issues that need assistance and has been brave enough to come to the clinic, so providing help and empathy creates security and safety in the patient-provider relationship-Empathy. Understanding the patient's preference for pronouns, as you stated, is important to acknowledge how the patient identifies and shows respect (Ball et al., 2019). Identifying the patient's barriers are necessary to also discover his support (Ball et al., 2019). Since the patient is unemployed, it would be beneficial to determine if he has insurance (Schembri & Ghaddar,2017). Referring the patient to a financial counselor would benefit him in discovering resources available to help with medication assistance and regular provider visits (Ball et al., 2019). Understanding the country of origin will help the provider understand if the patient is battling cultural beliefs and values with his decision to transition from his natural gender assignment (Young & Guo 2016). This may be a factor contributing to his depression. As you reported, it is important to discover his support system as being a green card holder and transgender patient raises concern for the need for a good support system so the patient does not feel alone (Pankaew & Nuchanad, 2022). Depression is ranked high in the transgender population, therefore finding appropriate resources for counseling and medications is essential for the holistic health of the patient (Pankaew & Nuchanad, 2022). With the prescribing of gender-altering hormones, anxiety and depression are higher among the transgender population (Aldridge, et al., 2022). As the provider, it is important to communicate to the patient that you are a team and working toward the same goal (Ball et al., 2019). Continually assessing if the patient is understanding your communication is key as he is not from this country. Explaining the rationale for questions and treatment is essential to determine mutual goals and understanding (Coleman, 2019). Respecting the patient's decision is essential for gaining trust (Ball et al., 2019). This is a sensitive subject so the patient needs to feel confident in trusting the provider to disclose inhibitions, lifestyle, and limitations (Ball et al., 2019).
I agree with the open-ended questions, but see the importance of specific questions to target specific needs for medication assistance as having a provider to follow medication administration and socioeconomic factors is essential (Ball et al., 2019).
With the patient's history of HIV, addressing The Five P's of Sexual History is essential as the transition completion does not negate safe sex (Ball et al., 2019). The Five P's include partners, practices, protection of STIs, past history of STIs, and prevention of pregnancy for the patient.
I appreciate your thorough assessment approach and wish you continued success in the program!
References
Aldridge, Z., Patel, S., Guo, B., Nixon, E., Pierre Bouman, W., Witcomb, G. L., & Arcelus, J.
(2021). Long-term effect of gender-affirming hormone treatment on depression and anxiety symptoms in transgender people: A prospective cohort study. Andrology, 9(6), 1808–1816. https://doi.org/10.1111/andr.12884
Ball, J.W., Dains, J.E., Flynn, J.A., Solomon, B.S., & Stewart, R.W. (2019). Seidel's guide to
physical examination: An interprofessional approach (9th ed.). St. Louis, MO: Elsevier Mosby.
Coleman, D. E. (2019). Evidence based nursing practice: The challenges of health care and cultural diversity Links to an external site.Links to an external site.. Journal of Hospital Librarianship, 19(4), 330–338. https://doi.org/10.1080/15323269.2019.1661734
I agree with all the interventions that you plan on addressing with your new patient. The fact that this patient has been seeking all his care online would be difficult in trying to help him transition into a clinic setting as you mentioned building a rapport with him would be huge. With this patient being seen at a clinic setting, you will be able to understand more about his medical journey and the reason why he has been seeking his treatment online. I also agree with you about the intervention that you are going to take in order to find out about his complains of weakness. According to (Ashwitha, et al 2021) patients with long term viral suppression and having HIV have an increased rate of developing cardiovascular disease as compared with the general population. With this patient complaining of weakness would be a good opportunity as you said to run all the labs and see if there are any electrolytes imbalance or medication interactions that could be causing the symptoms that he is currently experiencing. Some of the similarities between our patients and some of the interventions include being sensitive to their social context which will entail inquiring more about their current stressors. Your patient moved back to live with his parents which is probably stressful. According to (Veldorale-Griffin, et al 2016) transgender people face significant higher rates of unemployment, homelessness, job discrimination and at times workplace harassment. All these factors have also led to transgender patients being rejected by their own families when they try to seek their help or even get any support from them. Great post.
Reference,
Ashwitha, S. K., Jacob, P. A., Ajaj, A., Shirke, M. M., & Harky, A. (2021). Management of cardiovascular diseases in HIV/AIDS patients. Journal of Cardiac Surgery, 36(1), 236–243. https://doi.org/10.1111/jocs.15213
Veldorale-Griffin, A., & Darling, C. A. (2016). Adaptation to Parental Gender Transition: Stress and Resilience Among Transgender Parents. Archives of Sexual Behavior, 45(3), 607–617. https://doi.org/10.1007/s10508-015-0657-3
Many transgender people experience stigma and discrimination in their day-to-day lives which can affect access to healthcare (CDC,2022). This patient has a lot of different factors that play a role in his current mental state. The patient is currently unemployed, has multiple diagnoses, and currently not feeling his best. The patient has also been transitioning, which is the biggest phase of this patient's life. Transgender people may also have unique needs and concerns when interacting with the healthcare system (CDC, 2022). You are correct about using the proper pronouns when referring to the patient, that shows that you respect the patient's wishes and current state of mind during this transition. We must also consider how this patient feels about moving with his parents after becoming unemployed. It is important for the health care provider to build a trusting relationship with this individual to provide the best care. The strategies that you have chosen will best fit this scenario, asking open-ended questions, and involving the patient in care would help the patient to lead care and be actively involved in care. Everything that the patient is currently dealing with can cause him to struggle mentally. It would be safe to do a thorough mental exam, it would be important to build a trusting relationship because you would want to make sure that the patient is being 100% honest about his mental state. Recent changes in living situations, death, relocation of friends or family members, or changes in physical health (Ball & et al, 2019). I would be sure to ask the patient if he has any feelings about harming himself or anyone else or if he has had any feelings recently about harming himself since the recent changes in his life. This patient could be a good candidate for a thorough mental health exam.
Ball, J. W., Dains, J. E., Flynn, J. A., Solomon, B. S., & Stewart, R. W. (2019). Seidel's guide to
physical examination: An interprofessional approach (9th ed.). St. Louis, MO: Elsevier
Mosby.
Centers for Disease Control and Prevention. (2022, February 18). Patient-centered care. Centers
for Disease Control and Prevention. Retrieved December 10, 2022, from