NURS 6512 Assessing the Genitalia and Rectum 
NURS 6512 Assessing the Genitalia and Rectum 
NURS 6512 Assessing the Genitalia and Rectum 
Assessment of the genitalia and rectum is vital in depicting genitourinary and gastrointestinal abnormalities respectively. A rectal examination is necessary to complete an abdominal exam. Meanwhile, assessment of the genitalia is usually sensitive and must be done in the presence of a chaperone. The purpose of this paper is to explore the potential history, physical exam, and differential diagnosis based on a case scenario of T.S. a 32-year-old woman who presents with dysuria, frequency, and urgency for two days. She is sexually active and has had a new partner for the past three months.
Subjective
A triad of urgency, frequency, and dysuria characterizes a pathology that is most likely in the urinary tract. Consequently, it is essential to inquire about associated symptoms such as hematuria, fever, and malaise. Association with malaise and fever is common in urinary tract infections. Similarly, it is important to inquire about the presence of any abnormal vaginal discharge, and burning sensation during urination since she is sexually active and a sexually transmitted infection might be the cause of her symptoms. Likewise, changes in the smell and color of the urine must be elicited as well as associated suprapubic pain. Related to sexually transmitted infections, it is crucial to inquire about the number of sexual partners if similar symptoms have manifested in her partner or the use of protection during intercourse (Garcia & Wray, 2022).
Similarly, her last menstrual period must be known to determine if pregnant as this will impact the management (Bono et al., 2022). Additionally, a history of medication use, alcohol, smoking, and use of illicit drugs must be elicited. A history of contact with an individual with a chronic cough or TB prior to the occurrence of the previous symptoms must be elicited as urogenital TB may present similarly. Finally, it is crucial to inquire about any history of trauma or recent urethral catheterization as these are common risk factors for urinary tract infections.
Objective
The vital signs are mandatory in this patient as it is a pelvic exam. In the general exam, the mental and nutrition status of the patient must be noted. Additionally, a complete abdominal exam must be conducted as the patient has flank pain and suprapubic tenderness. Palpation of the abdomen for any masses and percussion of the flank for costovertebral angle tenderness must be done (Bono et al., 2022). Similarly, complete respiratory and cardiovascular exams must be conducted as a routine during the assessment of any patient. Finally, a digital rectal examination must be performed to exclude associated rectal abnormalities.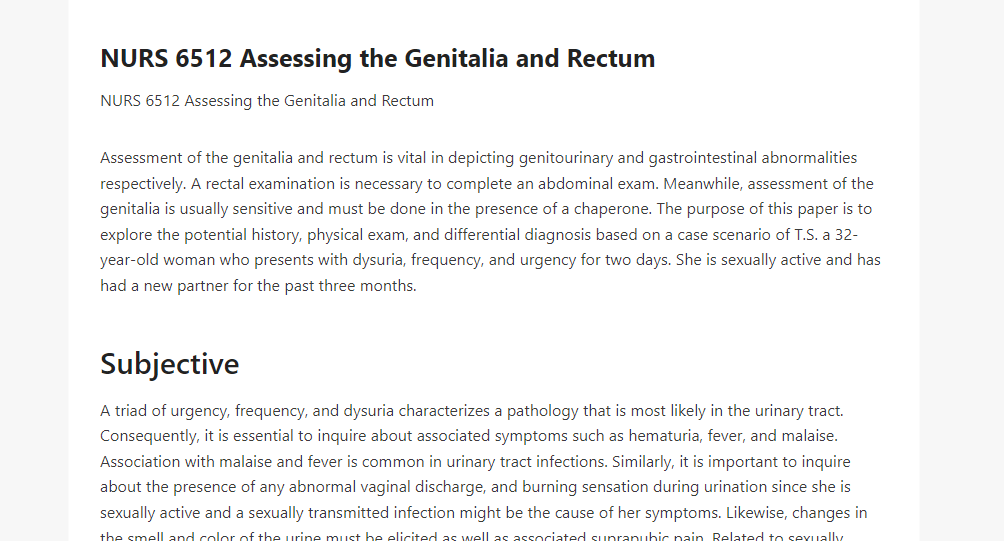 Assessment
In addition to urinalysis, STI, and pap smear testing, a complete blood count and urine culture must be conducted as the patient presents with signs of infection. Similarly, a pregnancy test must be conducted as this may complicate urinary tract infections. Additionally, she has no appetite and therefore a random blood sugar must be done to exclude hypoglycemia. Similarly, urea, creatinine, and electrolyte must be conducted to check the renal function as the patient has flank pain. Finally, Inflammatory markers such as ESR and CRP as well as blood cultures must be done as the patient has flank pain which may indicate pyelonephritis (Bono et al., 2022). Imaging tests are not necessary for the diagnosis of lower UTI. However, the patient has flank pain, and therefore, a CT scan of the abdomen and pelvis with or without IV contrast as well as an ultrasound of the kidneys and bladder must be done to identify any pathologies and outline the architecture of the kidney and bladder (Belyayeva & Jeong, 2022).
The possible diagnoses include a urinary tract infection and a sexually-transmitted infection. Urinary tract infections refer to the infection of the bladder, urethra, ureters, or kidneys (Bono et al., 2022). UTIs are more common in women, a consequence of a short urethra and proximity of the anal and genital regions (Bono et al., 2022). A triad of frequency, dysuria, and urgency collectively defines the irritative lower urinary tract symptoms (Bono et al., 2022). Similarly, suprapubic tenderness is a key feature of lower urinary tract infections. However, the patient is also feverish and has flank pain which also denotes the potential for involvement of the upper urinary tract (Bono et al., 2022). T.S is also sexually active, a risk factor for urinary tract infection.
A sexually transmitted infection is another possible diagnosis. T.S is sexually active and she has had her new partner for the last three months which is a key risk factor for this condition (Garcia & Wray, 2022). Most STIs present with suprapubic pain. Most STIs are asymptomatic and if symptomatic manifests with urethral discharge, vaginal discharge, pruritus, and pain (Garcia & Wray, 2022). T.S was negative for the aforementioned features.
Other differential diagnoses include pyelonephritis, interstitial cystitis, and urethritis due to an STI. Pyelonephritis is of the renal pelvis and parenchyma (Belyayeva & Jeong, 2022). It is usually a complication of ascending bacterial infection of the bladder and manifests principally with frequency, dysuria, urgency, fever, malaise, flank pain, and suprapubic pain (Belyayeva & Jeong, 2022). Interstitial cystitis is a chronic noninfectious idiopathic cystitis associated with recurrent suprapubic pain (Daniels et al., 2018). It presents with urgency, frequency, suprapubic discomfort, and pain relieved by voiding. T.S has some of these features although the gradual onset of symptomatology and a duration of more than six weeks is required for the diagnosis of this condition (Daniels et al., 2018). Finally, urethritis secondary to an STI may present in females with only frequency, urgency, and dysuria with minimal or no vaginal discharge (Young et al., 2022).
Conclusion
Assessment of the genitalia and rectum is sensitive and may help identify abnormalities of the rectum and genitourinary tract. Most abnormalities of the genitourinary system particularly UTIs and STIs can be diagnosed clinically. Consequently, a comprehensive history and physical examination are mandatory. Most UTIs are common in females. Pregnancy must always be excluded in a patient presenting with features suggestive of a UTI.
References
Belyayeva, M., & Jeong, J. M. (2022). Acute Pyelonephritis. https://pubmed.ncbi.nlm.nih.gov/30137822/
Bono, M. J., Leslie, S. W., & Reygaert, W. C. (2022). Urinary Tract Infection. https://pubmed.ncbi.nlm.nih.gov/29261874/
Daniels, A. M., Schulte, A. R., & Herndon, C. M. (2018). Interstitial cystitis: An update on the disease process and treatment. Journal of Pain & Palliative Care Pharmacotherapy, 32(1), 49–58. https://doi.org/10.1080/15360288.2018.1476433
Garcia, M. R., & Wray, A. A. (2022). Sexually Transmitted Infections. https://pubmed.ncbi.nlm.nih.gov/32809643/
Young, A., Toncar, A., & Wray, A. A. (2022). Urethritis. https://pubmed.ncbi.nlm.nih.gov/30725967/