NURS 6501 Module 1 Case Study Analysis
NURS 6501 Module 1 Case Study Analysis
NURS 6501 Module 1 Case Study Analysis
Advanced Pathophysiology Module 1 Assignment: Case Analysis
One of the most useful components of patient care is a correct diagnosis which leads to offering a patient the correct treatment. Central to correct diagnosis and treatment is an understanding of the cell, and cell behavior as come conditions may have various circumstances and factors affecting their onset, hence making them more complex (Karaca & Aslan, 2018). Therefore, understanding the cells and cell behavior needs to be integrated with ethnic and racial variables, patient characteristics, environment, and genes. This week's assignment deals with a patient cases study where the symptoms presented by the patient will be analyzed using various discussion questions.
Why the Patient Presented With the Symptoms
The patient has presented with various symptoms such as fevers, constipation, and crampy left lower quadrant pain. After refusing colonoscopy for some time, the patient eventually went for one, which revealed a positive test for adenocarcinoma of the colon. Even though the patient went for colonoscopy after resolution of the acute diverticulitis, the symptoms presented at the clinic point to a recurring case of acute diverticulitis. The patient has the three most common symptoms of diverticulitis (fever, constipation, and pain in the lower left quadrant). The condition is more an individual's lifetime and therefore could be troubling the patient. The patient also eats a diet lacking in fiber and is obese, which are all factors leading to the development of the condition.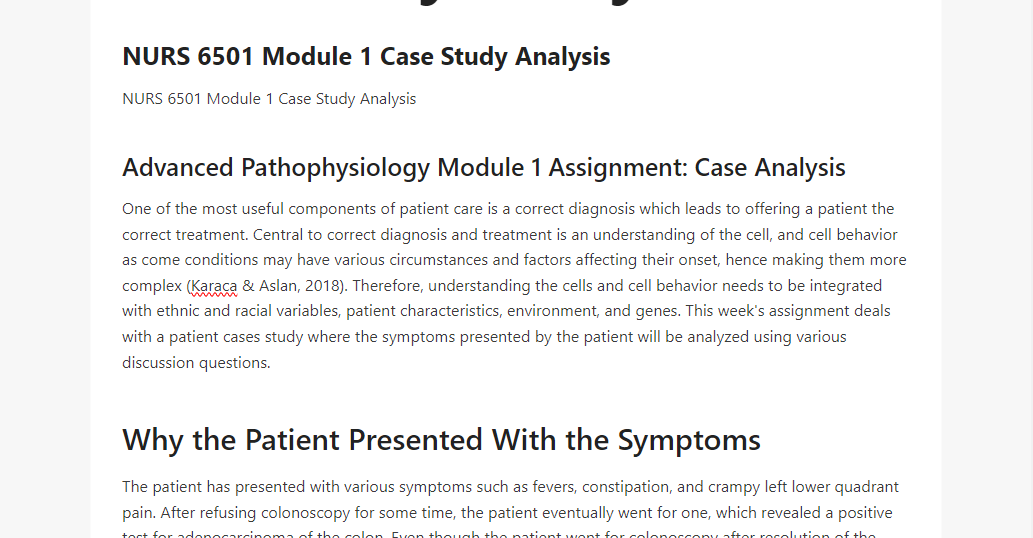 Genes That May Be Associated With the Development of the Condition
            According to Strate & Morris (2019), diverticulitis may result from a complex interaction of gut microbiome, genetics, medications, lifestyle factors, and diet. Even though it has been agreed that genetics play a substantial role in the development of the condition, only a few genes have been implicated. However, a recent study reported that one of the genes that can be implicated in the development of diverticulitis is the laminin β 4 gene (LAMB4) (Coble et al.,2017). Prior to the findings regarding LAMB4, the Tumor necrosis factor superfamily member 15 (TNFSF15) gene was also found to be associated with the development of diverticulitis.
The Process of Immunosuppression and the Effect It Has On Body Systems
Immunosuppression refers to reduced immune system activation. While some parts of the immune system may possess immunosuppressive effects, immunosuppression can be also be induced (Xe, 2020). The process can be induced by the administration of medications belonging to the class of antidepressants, in some cases to allow organ transplant or bone marrow transplant to prevent a possible rejection. The process of immunosuppression may come from the blockage of intracellular pathways necessary for recognizing antigen or other immune response systems or when the immune effector cells are killed (Xe, 2020). Immunosuppression, especially when persistent, exposes an individual to the risk of cancer, especially virus-connected cancers. The effects of immunosuppression induced by ultraviolet ratio or ionizing or pharmaceutical drugs depend on the dosage or the intensity used as higher dosage or intensity lead to enhanced effects on the body systems (Xe, 2020). Even though not common, immunosuppression induced for an organ transplant can lead to metastatic tumor cells or occult tumors within the organs or tissues. The occult metastatic melanoma is dangerous for the individual receiving the transplanted organ and tissue.
Conclusion
In conclusion, as an APRN, it is important to understand effective patient diagnosis for effective treatment. It allows careful analysis of symptoms to come up with the best management strategy. This write-up has explored a case study of a patient presenting with various symptoms. After an analysis, it was noted that the symptoms could be coming from recurring diverticulitis.
References
Coble, J. L., Sheldon, K. E., Yue, F., Salameh, T. J., Harris, III, L. R., Deiling, S., … & Broach, J. R. (2017). Identification of a rare LAMB4 variant associated with familial diverticulitis through exome sequencing. Human molecular genetics, 26(16), 3212-3220. https://doi.org/10.1093/hmg/ddx204.
Karaca, T., & Aslan, S. (2018). Effect of 'nursing terminologies and classifications' course on nursing students' perception of nursing diagnosis. Nurse education today, 67, 114-117. https://doi.org/10.1016/j.nedt.2018.05.011
Strate, L. L., & Morris, A. M. (2019). Epidemiology, pathophysiology, and treatment of diverticulitis. Gastroenterology, 156(5), 1282-1298. https://doi.org/10.1053/j.gastro.2018.12.033.
He, X. (Ed.). (2020). Immunosuppression. BoD–Books on Demand.