NURS 6053 Workplace Environment Assessment
NURS 6053 Workplace Environment Assessment
NURS 6053 Workplace Environment Assessment
The key to changing world is by listening to one another, giving each other chances to be heard can prevent chaos in the workplace and the work at large, the stress encounter in healthcare work environment could create lack of respectful way of communication. Poor communication and lack of knowledge are barrier to successful interprofessional collaboration (Broome & Marshall, 2021). our ability to cope with stress and control our emotion and talk to each other with respect hinges upon our ability to handle stress.
Description of Work Environment Assessment
My workplace scored 42 on the Clark Health Workplace Inventory, indicating that my workplace is very unhealthy. My workplace scored 4 points each under 2 statement categories "Individual and collective achievement are celebrated and publicized equitably" and "There is a comprehensible mentoring program for employees." My workplace scored 1 point each on the statement "The workload is reasonable, manageable, and fairly distributed" and "Members of the organization use effective conflict resolution skills and address disagreements respectfully and responsibly." My organization scored 2 points each in all other statement categories.
Members of my organization do not live by a shared vision and mission based on trust, respect, and collegiality. A shared mission and vision in an organization are critical because it helps to shed light on an organization's direction. The actualization of shared vision hinges on its ability to form a sense of ownership among the team members in an organization. A well-embraced shared vision brings about a sense of identity that will run in the organization, and an organization that embraces a shared vision will grow.
My organization needs more trust between and among formal and other workforce members. When trust is infused in organization tasks get done with ease. Communication at all levels of the organization needs to be more transparent and direct. Effective communication is always essential to nurses (Wynn et al., 2023). Poor communication kills employee morale and engagement, resulting in poor productivity and satisfaction. Poor communication affects cooperation and collaboration among workers. In my organization, employees are not seen as assets. When a company sees employees as assets, it will nurture employee talents and help them grow. When an employee is valued, they tend to maximize their potential.
               My organization needs teamwork, spirit, and collaboration. Interdisciplinary collaboration is a means of enhancing future healthcare (Broome & Marshall, 2021). There is some degree of a mentoring program for all the employees', mentoring program is vital in the organization because it provides employees with necessary support and guidance. Mentorship promotes cohesion and collaboration in an organization. My organization does not lay emphasis on employee wellness and self-care. A good employee is a happy employee, and a happy employee results in high productivity.
My organization needs to gain the ability to continuously assess organizational culture, organization can take measures to improve organizational culture through the assessment of organizational culture. Members of my organization are not engaged in shared governance, do not engage in shared governance no joint decision-making effort or policy is being developed. At my organization workload could be more reasonable. Work needs to be fairly shared. Managing team workload is essential to prevent burnout and stress from work.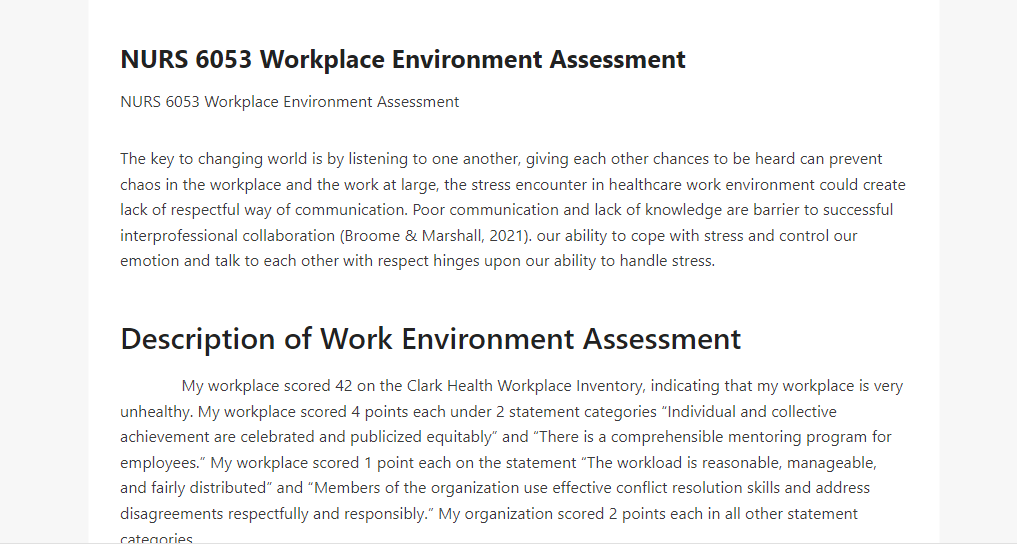 My organization has no room for free expression or opposing ideas. In my organization, there needs to be more competitive salaries and benefits. When an organization offers a competitive pay rate, it enhances overall job satisfaction and zero opportunities for promotion, although there is a certain degree of provision for career advancement. In my organization, employee turnover is very high, and my organization needs to attract or retain the best and the brightest employee. Many employees will not recommend my organization as an excellent workplace for their friends.
How Civil is My Workplace – Explanation
Civility means politeness, showing courtesy, the ability to control one's emotions, and a respectful way of treating others. Civility at the workplace is a vital behavior an employee must exhibit in an organization; civilized behavior is interpersonal rules of engagement that dictate how people interact with each other civility is essential in the workplace. Civility is showing respect to another coworker at work. Civility at work brings about greater job satisfaction and a governable atmosphere. Civility has a relationship with improving morale and the spirit of teamwork.
When I look at my organization, there is a lack of civility and respect, resulting in a harmful environment. Lack of civility at work contributes to emotional exhaustion, sickness, burnout, and a high turnover. It causes chaos. Staffing levels and turnover negatively affect the quality of care in nursing homes (Cimarolli et al., 2022). The lack of civility at my organization serves as a basis for increased grievances. Nurses bully other nurses, causing depression and anxiety among employees. Bullying is a systematic sequence of behavior designed to erode, debase and humiliate others (Griffin & Clark, 2014). My organization cannot authoritatively say that employees are treating each other with respect, and my organization cannot say that they can effectively handle conflicts between employees. My organization cannot say they have an effective way of addressing lousy behavior among their staff.
Incivility I experienced at work
I experienced incivility when I got hired at a nursing home. Incivility among healthcare workers can create an unsafe working environment that can result in poor patient care (Clark et al., 2011). I have been bullied at work by other nurses. When I got hired, I did not know that some nurses were using the schedule/shift my organization was trying to give me as overtime. These old nurses try their best to frustrate me so that I can quit the job, and they can continue to enjoy their overtime, and the company continues to suffer high turnover and a bad image.
However, the new Director of Nursing, a transformational leader, addressed the issue and put the old nurses in order. Leadership is a position of influence, a process that takes place in a group setting, and it has to do with achieving goals that represent a shared vision (Riesch et al., 2023). In an attempt for these old nurses to sabotage my effort, they exhibited various deviant behavior with ambiguous intent to push me out of the facility. Their nefarious behavior included insulting remarks, dirty looks, and intentionally ignoring my input.
They do not want me to ask questions. However, they love querying me, telling our supervisor that they did not know my whereabouts when I just saw them a minute ago, talking to me using a condescending tone, talking about me behind me, trying to prove that they are competent at the expense of my image, accusing professional competence, displaying the silent accusation about professional competence, displaying the silent treatment. In this case, it is the old nurses that are being uncivil. Uncivil encounters in the patient environment can create uncertainty self- doubt, erode self-confidence, and affect the critical thinking ability of a nurse (Clark, 2019).
How the Incivility was Addressed
Incivility at work costs the organization plenty of resources, sometimes affecting its technical and logical problems. Bullying and incivility significantly affect employees psychologically (Alberts, 2022). At my organization, we recently had a good Director of Nursing, and she models good behavior. She did not make excuses, and she did not dismiss my concerns. She immediately agreed with my perception and believed what I said about other nurses' attitudes. She discovered that the problem I pointed out could affect productivity and increase employee turnover. The director of Nursing held everyone accountable, and she addressed the issue. When I brought it to her notice, she called and talked to all the nurses involved without implicating me.
The director of nursing redefines acceptable conduct at work. Every time the director of nursing sees me coming to work, she always asks how I am doing and listens to my answer. The more she shows me she cares and is willing to listen to me, the more I share potential problems with her. My Director of Nursing utilizes her conflict resolution skills to address my problem. The workload at that facility was hectic, but because of the director of Nursing's professionalism, I decide to hang on.
Conclusion
The nature of interaction among employees can influence how they discharge their responsibility and how healthcare is delivered. The code of ethic for Nurses describes vividly, the nurse's obligation to promote safe, ethical environment and culture that encourage civility and affection, dealing with colleagues, coworkers, we encounter with civility, creating a feel free environment at work place, enables employee to speak up. Creating a civil working environment requires a shard organizational vision, values, and team norms. Developing and maintaining of high level of staff, group, and organizational civility, bring up the topic of civility at all quarters of the organization.
References
Alberts, H. L. (2022). Addressing bullying and incivility in clinical nursing education. Teaching and Learning in Nursing, 17(4), 433–437. https://doi.org/10.1016/j.teln.2022.05.004
Broome, M. E., & Marshall, E. S. (2021). Transformational leadership in nursing: From expert clinician to influential leader (3rd ed.). Springer Publishing Company.
Cimarolli, V. R., Bryant, N. S., Falzarano, F., & Stone, R. (2022). Factors associated with nursing home direct care professionals' turnover intent during the covid-19 pandemic. Geriatric Nursing, 48, 32–36. https://doi.org/10.1016/j.gerinurse.2022.08.012
Clark, C. M. (2019). Combining cognitive rehearsal, simulation, and evidence-based scripting to address incivility. Nurse Educator, 44(2), 64–68. https://doi.org/10.1097/nne.0000000000000563
Clark, C. M., Olender, L., Cardoni, C., & Kenski, D. (2011). Fostering civility in nursing education and practice. JONA: The Journal of Nursing Administration, 41(7/8), 324–330. https://doi.org/10.1097/nna.0b013e31822509c4
Griffin, M., & Clark, C. M. (2014). Revisiting cognitive rehearsal as an intervention against incivility and lateral violence in nursing: 10 years later. The Journal of Continuing Education in Nursing, 45(12), 535–542. https://doi.org/10.3928/00220124-20141122-02
Riesch, S. K., Chiappa, J., Floyd, N., & Ponce, M. (2023). The chief nursing officer shared leadership model. Nurse Leader, 21(1), 31–37. https://doi.org/10.1016/j.mnl.2022.09.006
Wynn, S. T., Ratcliffe, C. J., & Hardin, L. (2023). Ready, set, woo: Refining nursing students' communication skills. Teaching and Learning in Nursing. https://doi.org/10.1016/j.teln.2023.03.004
This is an informative and well-written post on the Workplace Assessment results at your particular workplace. The example you've shared is a common and unfortunate scenario in today's organizational landscape. As corporations seek creative and innovative methods for reducing costs while maximumizing access to care, the critical aspect of demonstrating empathy and professionalism in work environments is often ignored. Many times, staff are expectated to demonstrate high performance, without having access to key pieces of information to effectively discharge their responsibilities to meet the defined goals. Yet the solution is so readily apparent and effective: proper communication.
As you've stated so well here, demonstrating civility and respect in the workplace matters. Respect for everyone involved, including staff, patients and the community served, is demonstrated by a decision to ensure solid communication plan is in effect, and followed by everyone involved. And, when the staff feel that they have been given an opportunity to fully understand the situation and expectations of performance, more positive outcomes can result. Having innovative ideas that include perspectives from staff is considered a best practice for respectful collaboration and safe patient care work environments.
This is a great post! Working in an environment where incivility exist makes it difficult to deliver patient care in a safe manner because it creates anxiety among staff. According to Clark 2015, The American Nurses Association Code of Ethics for Nurses with Interpretive Statements clearly articulates, the nurses obligation is to foster a safe, ethical, civil workplace and to be kind to others and that bullying harassment, intimidation, manipulation and violence will not be tolerated. It seems you had a great leader that believed and supported you and your concerns which made all the difference in your decisions to stay. They addressed the issue which could've increased and gotten out of hand for you.
The transformational leader coaches and promotes collaboration among clinicians, patients, and researchers to create a professional culture and transformed environment of care in which decisions are made on the basis of best evidence, patient preferences and needs, and expert clinical judgement (Broome & Marshall, 2021). We must keep this in mind in order to maintain a higher quality of care to our staff and patients. Thanks Sunday.
References
Broome, M., & Marshall, E. S. (2021). Transformational leadership in nursing: From expert clinician to influential leader (3rd ed.) New York, NY: Springer.
Clark, C. M. (2015). Conversations to inspire and promote a more civil workplace. American Nurse Today, 10(11), 18-23 
I agreed with your post Sunday, Incivility among healthcare workers can thus lead to unsafe working conditions and the safety of a patient. Care providers and organizational leaders must communicate in a way that fosters civility and empowers nurses to speak up. They must strive to create and sustain a healthy work environment where courtesy is evident. Overall, Companies should come up with a no tolerance policy for incivility in the workplace. The procedure could have a penalty resulting in every infringement, verbal caution for the initial offense, written caution for the second mistake, non-payment leave for the third one, and termination. The department of human resources should be included in the policymaking process. If incivility at the workplace is tolerated, destructive behaviors become commonplace and continue in the working environment. Each team member in a company should be educated on the right professional characters with the job code of conduct. Both staff and nurse managers must have the ability to identify it, taking it seriously, and cease the action in its ways.
References
Broome, M. E., & Marshall, E. S. (2021). Transformational leadership in nursing: From expert clinician to influential leader (3rd ed.). Springer Publishing Company.
Cimarolli, V. R., Bryant, N. S., Falzarano, F., & Stone, R. (2022). Factors associated with nursing home direct care professionals' turnover intent during the covid-19 pandemic. Geriatric Nursing, 48, 32–36. https://doi.org/10.1016/j.gerinurse.2022.08.012Links to an external site.
Clark, C. M. (2019). Combining cognitive rehearsal, simulation, and evidence-based scripting to address incivility. Nurse Educator, 44(2), 64–68. https://doi.org/10.1097/nne.0000000000000563Links to an external site.
Thank you for sharing your experience with bullying in the work setting. I can relate. I had similar
experiences in my work setting as a new hire. Fortunately, most of the negative behaviors I endured from my
co-workers have subsided, but the bullying did not subside from support from management. You were blessed
to have a director of nursing who listened to your concerns, took them seriously, and took action to change
the culture.
The term "nurses eat their young" has been used for nearly 40 years. Meissner first wrote about the
phenomenon and coined the phrase in 1986 (Lama-Rondon, 2022). To effectively eliminate incivility and
workplace violence, we need to understand why it exists in the first place. Gillespie et al. (2017) identified
studies showing that bullying occurs when a group is oppressed. Nurses' bullying behaviors have been
associated with being oppressed in the healthcare system, and instead of "professionally intervening and
mitigating the problem," they commit lateral violence (p. 13). It is suggested that nursing schools should
provide education on oppressed group behavior, strategies for prevention and mitigation, and how to change
the culture instead of retaliating or repeating the pattern. As John Bowlby, the proposer of attachment theory,
states, "We do as we have been done by" (GoodReads, 2023, quote, 8). His statement depicts the truth,
"without intervention, bullying will continue to be passed down from one generation of nurses to the next"
(Gillespie et al., 2022, p. 13).
In my situation, one manager told me not to stand up to the bully or the bully would attack me more. The
next manager told me it was my perception and that the bullying was not real. In nursing school, I completed
clinical hours at this same hospital, and we were told there was zero tolerance for "nurses eating their young."
As Broome and Marshall (2021) pointed out, my experience depicts how reality is incompatible with the claims
of a caring and supportive culture or an organization. I lost trust in the leadership of the organization. I sought
outside support and developed resiliency skills with effective counseling. Bullying is behavior consistent with
feelings of insecurity (Lama-Rondon, 2022). When I realized people who bully have also been bullied, their
behavior is more reflective of how they have been treated and how they feel about themselves; I became less
affected by bullying behaviors. I cannot control other people, but I can control how I respond. I have identified
how to not engage in the pattern of bullying with another person and have found better ways of managing
conflict with co-workers than trying to get management support.
References
Broome, M., & Marshall, E. S. (2021). Transformational leadership in nursing: From expert clinician to influential
leader (3rd ed.). New York, NY: Springer.
Gillespie, G. L., Grubb, P. L., Brown, K., Boesch, M. C., & Ulrich, D. (2017). "Nurses eat their young": A novel
bullying educational program for student nurses. Journal of Nursing Education and Practice, 7(7), 11–21.
GoodReads. (2023). John Bowlby quotes.
20risk,have%20the%20same%20etymological%20root.%E2%80%9D&text=%E2%80%9CWe%20do%20as%20we%20have%20been%20done%20by.%E2%80%9D
Lama-Rondon, X. (2022, November 2). "Nurses eat their young": What is really behind the old stereotype. Lecturi.
     stereotype/#:~:text=The%20first%20recorded%20use%20of,at%20the%20hand%20of%20colleagues.
Sunday, I am sorry you had to experience that level of incivility in the work place. The phrase "nurses eat their young" exists for a reason; bullying is an unfortunate incident that too many nurses have experienced (Arnetz et al., 2020). Nurse bullying was actually linked to an increased rate of central line associated bloodstream infections. This is thought to be related to the stress it places on the victim that decreases the focus she has to focus on patient care (Arnetz et al., 2020). It seems like your manager has adequately handled this situation, as nurse bullying is often perpetuated by management's lack of response to the situation (Shorey & Wong, 2021). Another addition to the management of this scenario is to ensure all nurses have a "safe space" to express their concerns without repercussions (Shorey & Wong, 2021). This would allow both the victim and the perpetrator to express underlying feelings, and it may be beneficial to have a third-party mediator to resolve any misunderstandings between the nurse bully and the nurse. It was also suggested that more focus be put into education for horizontal bullying and new-graduate nurse mistreatment during undergraduate nursing education (Shorey & Wong, 2021). However, I do not know how effective this suggestion would be due to the inconsistencies in real-world practice versus simulation in nursing school. Thank you for the insightful post.
References
Arnetz JE, Neufcourt L, Sudan S, Arnetz BB, Maiti T, Viens F. Nurse-Reported Bullying and Documented Adverse Patient Events: An Exploratory Study in a US Hospital. J Nurs Care Qual. 2020 Jul/Sep;35(3):206-212. doi: 10.1097/NCQ.0000000000000442. PMID: 32433142.
Shorey S, Wong PZE. A qualitative systematic review on nurses' experiences of workplace bullying and implications for nursing practice. J Adv Nurs. 2021 Nov;77(11):4306-4320. doi: 10.1111/jan.14912. Epub 2021 Jun 3. PMID: 34081351. 
Hi Sunday, thank you for your informative post this week. I am sorry you had to go through incivility at your
workplace like that. It sounds like you're a competent leader. This requires learning, implementing, enacting, and
assessing in the ever-changing workplace environment. Although a leader can construct a context in which he or she
may lead, most contemporary leaders usually face situations where they must learn to lead. Most of us inherit an
environment that must be improved and grown in (Broome & Sorenson Marshall, 2020).
The incivility you experienced at your workplace is unfortunate. However, it is great to hear that the new Director of
Nursing, a transformational leader, has addressed this issue and arranged the old nurses. Leadership is essential for
addressing workplace incivility and taking action (Broome & Sorenson Marshall, 2020).
Having a workplace policy that explicitly addresses incivility and its consequences might have been helpful. It is
essential to have a detailed policy that outlines the consequences of incivility and how to manage it. As well as
providing a method for reporting incivility, it would also allow employees to share their views (Alberts, 2022).
Respect and professionalism should also be promoted in the workplace by the organization. Training can be provided
on communication, conflict resolution, and respecting colleagues to achieve this. The organization can encourage
employees to speak out if they witness or experience incivility (Alberts, 2022).
As a result, incivility in the workplace can cause serious harm to employees and patients alike. Leadership must take
action against incivility. Implementing a clear policy, promoting a culture of respect, and providing training can all help
prevent and mitigate workplace incivility incidents (Alberts, 2022).
References
Alberts, H. (2022). Addressing bullying and incivility in clinical nursing education. Teaching and Learning in Nursing,
17(4), 433–437. https://doi.org/10.1016/j.teln.2022.05.004
Broome, M., & Sorenson Marshall, E. (Eds.). (2020). Transformational leadership in nursing (M. Broome & E. Sorenson
Marshall, Eds.; 3rd ed.). Springer Publishing. https://mbsdirect.vitalsource.com/books/9780826135056