NURS 6053 Review of Current Healthcare Issues
NURS 6053 Review of Current Healthcare Issues
NURS 6053 Review of Current Healthcare Issues
The resiliency of providers working in primary care is a significant issue facing healthcare, with provider burnout to the lack of new providers entering the workforce. With new Medicare, Medicaid, and Commercial insurance, primary care providers are shifting from quantity to quality in healthcare-based payment. The new quality metrics are causing stress on an already overwhelming patient load in primary care and contributing to provider burnout. (Adler et al., 2018) Working as an RN Clinical Supervisor in primary care, the workforce's resiliency has decreased as providers strive to meet quality performance but also see and treat acute illness during a pandemic. In the last year, four providers have either left to treat only acute patients in Urgent Care Centers, or others have moved to specialty care as Advance Practice Nurses (APNs). The strain and resilience of the impacts of retention with shortages in nurses in primary care and lack of certified medical assistants (CMAs). (Marshall & Broome, 2021, p. 69) Along with restraints placed on APNs practicing with their autonomy instead of regulations of an overseeing physician. In North Carolina, Nurse Practitioners can only practice under contract with a Medical Doctor. These cause provider resiliency and workforce shortages and impact recruitment and the workforce. (Marshall & Broome, 2021)
Leaders within my organization are using tools to mitigate provider burnout by teaching how to effectively use the electronic health record EHR to improve the quality of care and document the interventions being used.  A CMA academy has been designed within the organization to increase the workforce within primary care and to train CMAs to start provider notes and to practice to the top of their certifications. At the same time, nurses are allowed to practice at the top of their license.  Incentives are in place for Bachelor prepared nurses to return to school with tuition reimbursement incentives to further education to allow them to broaden their practice. Growing the ranks of advanced practice nurses and allowing them to practice side by side as partners with providers can enable the implications to help the physicians in the process and relieve strain and burnout. (Auerbach et al., 2018)  This year within our organization, an extra forty hours of paid time off was given to help reduce burnout. Free counseling is offered to employees experiencing any strain, stress, or behavioral health issues.
Quality of care improves when resiliency in the workforce improves, productivity improves, effectiveness and safety, and patient outcomes.
References
Adler, R. N., Hamdan, S., Scanlon, C., & Altman, W. (2018). Quality measures: How to get them right. Family Practice Management, 25(4), 23–28.
Auerbach, D. I., Staiger, D. O., & Buerhaus, P. I. (2018). Growing ranks of advanced practice clinicians — implications for the physician workforce. New England Journal of Medicine, 378(25), 2358–2360. https://doi.org/10.1056/nejmp1801869
Marshall, E. S., & Broome, M. (2021). Transformational leadership in nursing (3rd ed.). Springer Publishing Company LLC.
COVD-19 pandemic currently has greatly impact Healthcare. According to the COVID-19 In December 2019, a pneumonia caused by a novel coronavirus (SARS-CoV-2) emerged in Wuhan, China and has rapidly spread around the world since then.
Stressor to focus on
According to the COVID-19 surges have stressed hospital systems and negatively affected health care and public health infrastructures and national critical functions. Resource limitations, such as available hospital space, staffing, and supplies led some facilities to adopt crisis standards of care, the most extreme operating condition for hospitals, in which the focus of medical decision-making shifted from achieving the best outcomes for individual patients to addressing the immediate care needs of larger groups of patients. When hospitals deviated from conventional standards of care, many preventive and elective procedures were suspended, leading to the progression of serious conditions among some persons who would have benefitted from earlier diagnosis and intervention.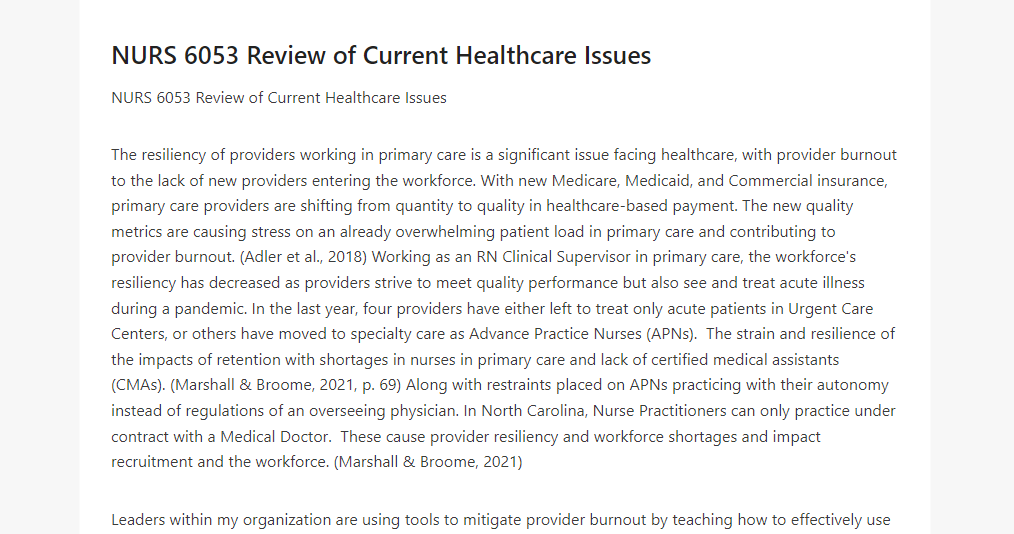 The conditions of hospital strain during July 2020–July 2021, which included the presence of SARS-CoV-2 B.1.617.2 (Delta) variant, predicted that intensive care unit bed use at 75% capacity is associated with an estimated additional 12,000 excess deaths 2 weeks later. As hospitals exceed 100% ICU bed capacity, 80,000 excess deaths would be expected 2 weeks later.
According to Vahedian-Azimi, et al., (2017) stress has anegative impact on both nurses and patient outcomes; with a greater impact to those working in critical care areas. Hospitals reported a range of strategies to address their challenges and identified areas in which further government support could help as they continue responding to the pandemic. Broadly, the areas of government support included enhancing knowledge and guidance on the prevention and treatment COVID-19, including safe means to discharge patients with COVID-19; helping to fill gaps in hospital staffing, especially for nurses and certain specialists; continuing financial relief, especially to increase care to rural and underserved communities; and, encouraging widespread vaccinations to reduce the circulation of the virus.
Beyond the immediate needs in responding to COVID-19, the pulse survey documents hospitals' perspectives about longer-term opportunities for improvement to address challenges that existed before, and were exacerbated by, the pandemic. These include reducing disparities in access to health care and in health outcomes; building and maintaining a more robust health care workforce; and strengthening the resiliency of our health care system to respond to pandemics and other public health emergencies and disasters.
Reducing Stress on Healthcare
According to the ANA The balance of safety and efficacy and the perception of personal risk versus overall benefit are at the core of acceptability of immunization practices. The known and potential benefits of a COVID-19 vaccine must outweigh the known and potential risks. ANA strongly recommends that registered nurses be vaccinated against COVID-19. All health care personnel (HCP), including registered nurses (RNs), should be vaccinated according to current recommendations for immunization of HCP by the CDC and Association for Professionals in Infection Control and Epidemiology (APIC). ANA also believes that it is imperative for everyone to receive immunizations for vaccine-preventable diseases as vaccines are critical to infectious disease control and prevention. Moreover, nurses have a professional and ethical obligation to model the same health care standards they prescribe to their patients. There is now significant clinical evidence on the safety and effectiveness with approved COVID-19 vaccines being administered under the Food and Drug Administration's (FDA) Emergency Use Authorization process.
Annals of Internal Medicine stated We need to be more aggressive about respiratory hygiene and placing restrictions on patients, visitors, and health care workers with even mild symptoms of upper respiratory tract infection. Potential policies to consider include the following: 1) screening all visitors for any respiratory symptoms that may be related to a virus, including fever, myalgias, pharyngitis, rhinorrhea, and cough, and excluding them from visiting until they are better; 2) restricting health care workers from working if they have any upper respiratory tract symptoms, even in the absence of fever; and 3) screening all patients, testing for all respiratory viruses (including SARS-CoV-2) in those with positive screening results regardless of illness severity, and using precautions (single rooms, contact precautions, droplet precautions, and eye protection) for patients with respiratory syndromes for the duration of their symptoms regardless of viral test results. A collateral benefit is that if a patient is subsequently diagnosed with COVID-19, staff who used these precautions will be considered minimally exposed and will be able to continue working.
Conclusion
Laureate education (2015) states, that one thing that individuals and leaders can do to be prepared for healthcare challenges of the future is to develop cultural competency, gain skills to view multiple perspectives, and develop greater understanding the survival side of any healthcare organization. Having Beyond the immediate needs in responding to COVID-19, the pulse survey documents hospitals' perspectives about longer-term opportunities for improvement to address challenges that existed before, and were exacerbated by, the pandemic. These include reducing disparities in access to health care and in health outcomes; building and maintaining a more robust health care workforce; and strengthening the resiliency of our health care system to respond to pandemics and other public health emergencies and disasters.
References
ANA Board of Directors September 2020 www.NursingWorld.org/COVID19Vaccines/
Annals of Internal Medicine https://doi.org/10.7326/M20-0751
Centers for Disease Control and Prevention. (2020). Daily updates of totals by week and state. Retrieved June 2, 2020 from, https://www.cdc.gov/nchs/nvss/vsrr/covid19/index.htm
Vahedian-Azimi, A., Hajiesmaeili, M., Kangasniemi, M., Fornes-Vives, J., Hunsucker, R. L., Rahimibashar, F., … Miller, A. C. (2017). Effects of Stress on Critical Care Nurses: A National Cross-Sectional Study.  Journal of Intensive Care Medicine,  34(4), 311–322. doi: 10.1177/0885066617696853
Great post Ayeshia. Coronavirus COVID-19 is caused by a novel coronavirus called SARS-CoV-2. It was first discovered in China and within 4month spread worldwide with over 3.5million confirmed cases as of May,2020. COVID 19 is an infectious disease that is transmitted through droplet of saliva or nasal discharge from person -to-person contact. (WHO,2021). The Virus can remain dormant in a host carrier for up to 14days, making a contagious for weeks without showing symptoms. This created a situation where mass quarantine was implemented to stop the spread of the virus. COVID-19 affects individuals of all ages and those with preexisting conditions like respiratory, heart disease and diabetes. Covid 19 as a current national healthcare affected most healthcare with unsafe level of nurse staffing. It has impacted my work setting whereby nurses are having huge workloads to contend with because of the increasing volume of patients who are seeking health care services leading to shortage of nurses and the increasing volume of patient's ratio to nurses which in turn lead to burnout among nurses and high staffing turnover (Scibilia et al, 2022). In my workplace, staffing shortage negatively impacts the quality of nursing outcomes and jeopardizes patients' safety. A nurse suffering from burnout is likely to cause medication errors, which puts the life of patients at great risk. Such nurses are also likely to be less productive. Staffing shortage forces nurses to work for longer periods. This means that they will not have adequate time to think about new ideas and integrate evidence into their practice. The nurses, therefore, become less creative (Ravens-Sieberer et al, 2022). Within the health care organization where I work, we have numerous solutions to the shortage of nurse staffing. First, the organization set aside funds to employ and train more staff to help bridge the shortage of nurses. The organization gives a very attractive salary package/ incentives to nurses. This has helped to promote retention. They hire more nurses through contracts with nursing agencies, travel nurses and this has helped to immediately replace those who are retiring or leaving for other assignments. The organization created flexible scheduling of nurses, which has enabled most of us to juggle our busy schedules. This reduces stress and the emotional demands associated with the profession.
  References
Ravens-Sieberer, U., Kaman, A., Erhart, M., Devine, J., Schlack, R., & Otto, C. (2022). Impact of the COVID-19 pandemic on quality of life and mental health in children and adolescents in Germany. European Child & Adolescent Psychiatry, 31(6), 879–889. https://doi.org/10.1007/s00787-021-01726-5
Scibilia, S. J., Gendreau, S. K., Towbin, R. T., & Happ, M. B. (2022). Impact of COVID-19 on Patient-Provider Communication in Critical Care: Case Reports. Critical Care Nurse, 45(4), 38–46. https://doi.org/10.4037/ccn2022405
 World Health Organization (WHO). (2021). World Health Organization
Your post is detailed and well-articulated. It is true that the emergence of the Corona Virus negatively affected many health care organizations. Facilities faced patient surges, challenges with staff shortages, and a lack of sufficient resources and infrastructure to cater to the crisis. The staff members were exposed to the COVID-19 virus due to hospitals' lack of personal protective equipment, and the pandemic adversely affected their mental health. Muller et al. (2020) Conducted a study and discovered that healthcare workers were at significant risk of facing adverse mental health complications for caring for patients diagnosed with the Corona Virus. Korkmaz et al. (2020) conducted a research study, revealing that medical practitioners had high chances of developing mental health complications such as lack of sleep and anxiety, among others.
My organization was also majorly affected by the Covid-19 pandemic, and we are still recovering from our challenges. The facility faced the challenge of staff shortage, and the available staff experienced burnout, exhaustion, and their mental well-being was also affected. The staff shortages affected the facility's ability to dispense care to other patients. Additionally, the health care organization experienced financial challenges due to the increased expenses related to responding to the public health crisis. However, the organization's management team outlined strategies to salvage the situation and plan for the future. A recruitment strategy was introduced, and there was a significant salary increase. The two fundamental strategies help the organization recruit more health workers, and the salary increment help retains healthy employees.
References
Korkmaz, S., Kazgan, A., Çekiç, S., Tartar, A. S., Balcı, H. N., & Atmaca, M. (2020). The anxiety levels, quality of sleep and life, and problem-solving skills in healthcare workers employed in COVID-19 services. Journal of Clinical Neuroscience, 80, 131–136. https://doi.org/10.1016/j.jocn.2020.07.073 Muller, A. E., Hafstad, E. V., Himmels, J. P. W., Smedslund, G., Flottorp, S., Stensland, S. Ø., Stroobants, S., Van de Velde, S., & Vist, G. E. (2020). The mental health impact of the covid-19 pandemic on healthcare workers, and interventions to help them: A rapid systematic review. Psychiatry Research, 293, 113441. https://doi.org/10.1016/j.psychres.2020.113441