NURS 6053 Developing Organizational Policies and Practices
NURS 6053 Developing Organizational Policies and Practices
NURS 6053 Developing Organizational Policies and Practices
This discussion explores the competing needs of health policy that are challenged to coexist with improved patient outcomes. Change adaption is difficult, is often met with resistance, and is perceived as burdensome. Healthcare organizations routinely default to a transactional approach to meet governmental regulations through cutbacks and organizational strain resulting in cultural degradation and ethical concerns (Kelly & Porr, 2018). Nurses are immersed in the reality of these unintended consequences of change. Ethical principles governing nursing practice drive nurses to speak up to protect their practice landscape (Milliken, 2018).
Value-based healthcare (VBHC) aims to reduce healthcare spending through a collaborative model while improving patient outcomes. This model presents itself as a win-win on paper but needs to be more evidently self-aware. Collaboration is not an inherent skill of all healthcare-related professionals. Furthermore, collaboration takes time many do not have within their busy schedules afflicted by a national workforce shortage. Utilizing health information exchanges (HIEs) can assist in time management barriers. However, HIE proficiency requires training and is not a universal solution as it faces ongoing patient privacy issues for participation and consent (Vest & Gamm, 2010).
            The VBHC model is an active reimbursement model in outpatient community mental health, but practices still need to be assimilated. In the video, Buttaro (Walden University, 2012) discusses a common dilemma in meeting the needs of the underserved in outpatient care when encountering complex individuals that require a higher level of care. Many clients lack natural and community supports. Homelessness, persistent mental illness, and substance use complicate patient care and require extensive intervention. A full nurse schedule that allows a 30-minute time slot to achieve patient care needs is a daily uphill battle. Nurses driven by their principles strive to advocate, refer patients for support, and connect with family members and professionals, which requires time and critical thinking (Milliken, 2018). The care pathway needed to provide necessary interventions is seldom commensurate with the time available within the nurse's workday. Nurses must decide what aspect of their duties must receive less attention. Robust charting is an organizational requirement. Patient advance and care is an ethical requirement. Working overtime can lead to burnout and patient safety risks and deviates from the nurse's personal responsibility to take care of themselves.
Policy is the overarching force through which change happens. Rubino (Walden University, 2009) reminds us that change is necessary for all healthcare environments to address competing needs and is not an inherently negative paradigm. Reconciliation of policy and the reality of practice can align with transformational leadership within an organization. Nurses must be a voice that innervates incremental change with the potential for meaningful impact (Kelly & Porr, 2018). Nurses on my unit have spoken out about high-risk clients and the need for complex case management and collaboration. Leaders respond to data and request that nurses bring specific cases for discussion at site-based meetings with stakeholders. Numerous cases illustrated and quantified that high-need patients were straining healthcare resources through frequent rehospitalization, and crisis interventions unveiling that outpatient care was not meeting their needs. A response was implemented as a universal synchronized one-hour weekly block of care coordination time for each clinician. This time can be used for team meetings, case management, extended patient care, or charting overflow. Collaborative care has genuinely benefited from this alignment in schedules by maximizing relationships on behalf of patients. This small change needs to be evolved and revisited as an iterative process.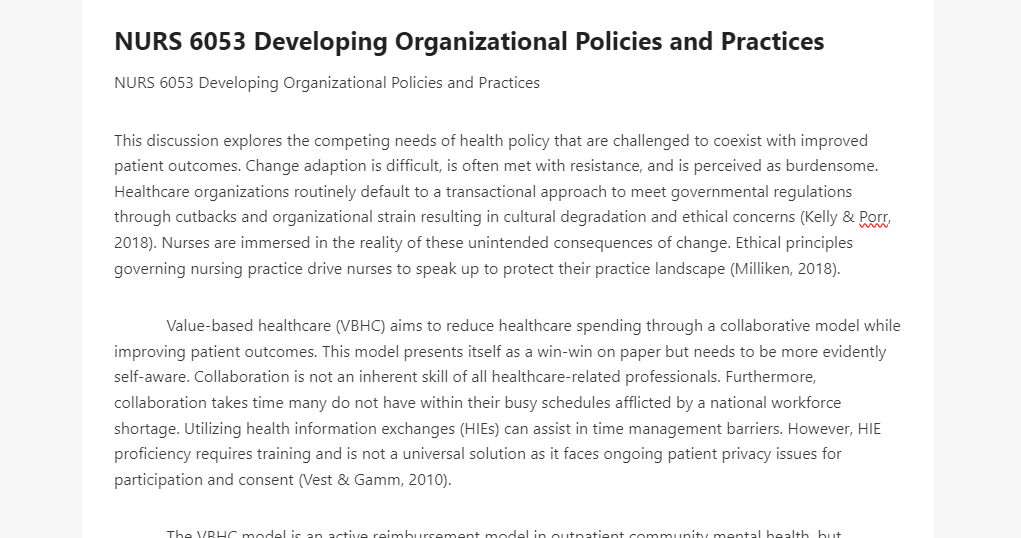 Nurses have the power to influence policy. In the video, Freshman (Walden University, 2009) advises that the process begins with self-awareness and understanding the environment and why circumstances exist. Complaining is not the solution. Competencies in data collection, observation, and evidence-based knowledge must be leveraged to grab the attention of stakeholders. Nurses with high-emotional intelligence are effective in unifying organizational values with personal values.
References
Kelly, P., & Porr, C. (2018). Ethical nursing care versus cost containment: Considerations to enhance RN practice. Online Journal of Issues in Nursing, 23(1). https://doi.org/10.3912/OJIN.Vol23No01Man06
Milliken, A. (2018). Ethical awareness: What it is and why it matters. Online Journal of Issues in Nursing, 23(1). https://doi.org/10.3912/OJIN.Vol23No01Man0
Vest, J. R., & Gamm, L. D. (2010). Health information exchange: persistent challenges and new strategies. Journal of the American Medical Informatics Association, 17(3), 288-294. https://doi.org/10.1136/jamia.2010.003673
Walden University. (2012). Ethical, moral, and legal leadership [Video file]. Walden University Canvas. https://waldenu.instructure.com
Walden University. (2009). Working with individuals [Video file]. Walden University Canvas. https://waldenu.instructure.com
I enjoyed reading your post. Resistance to change can be a powerful barrier to policy adoption. In my work setting, we have
experienced multiple policy or procedural changes that staff is resistant to accept. Within a few months, most staff reverts to the original way of
doing things. One of the most significant barriers an organization faces when initiating change is resistance from staff, and how behavior toward
change is approached will determine long-term success (Redman et al., 2021). Competing needs add another layer of complexity to the problem.
Self-awareness and high emotional intelligence are essential characteristics to cultivate to be a positive change agent. The purpose of this post is
to take a deeper look at resistance to change in efforts to support policy change leading to positive patient outcomes.
Although resistance is identified as a barrier, resistance should not be viewed as unfavorable. When nurse leaders understand resistance as
fear of the unknown and a sense of loss from the change, leaders can be more equipped to successfully navigate their team through the change
process (Dubose & Mayo, 2020). Although this response to change is considered normal and pliable, a more rigid reaction to change can be
explored through early childhood trauma. Through an attachment lens, individuals who establish a secure attachment with a parental figure in
early childhood are less resistant to change in adulthood. Those who developed an insecure attachment during childhood with a parental figure
are more resistant to change in adulthood (Forsell & Åström, 2012).
When nurse leaders understand, acknowledge, and communicate with their staff why resistance is present during policymaking, leaders can
be more successful at creating long-term change. Self-awareness and emotional intelligence skills enhance when individuals become aware of
and can differentiate between average levels of resistance and an altered reaction to change due to their personal history. Working together as a
team creates an environment capable of effective policymaking for competing needs.
References
Dubose, B. M., & Mayo, A. M. (2020). Resistance to change: A concept analysis. Nurs Forum, 55, 631-636.
Forsell, L. M., & Åström, J. A. (2012). An analysis of resistance to change exposed in Individuals' thoughts and behaviors. Comprehensive
Psychology, 1. https://doi.org/10.2466/09.02.10.CP.1.17
Rehman, N., Mahmood, A., Ibtasam, M., Shah Ali, M., Naveed, I., & Edina, M. (2021). The psychology of resistance to change: The antidotal effect
of organizational justice, support and leader-member exchange. Frontiers in Psychology, 12, 678952, 1-15.
A block of time for care coordination sounds like a great intervention for these complicated patients that get stuck in hospitals. This approach also assists with value-based healthcare (VBHC), since it could help with finding solutions and improving outcomes for these difficult patients (NEJM Catalyst, 2017). Unfortunately, my experience with VBHC is that since payers (Medicare in particular) reimburse based on outcomes, they are more focused on undesired outcomes than positive ones so they can avoid payments. This has trickled down to organizations that base any new policies around the negative outcomes associated with not being paid back. Instead of focusing on positive outcomes with policies like increased time for collaborative care coordination, the old business model of healthcare is just manifesting itself in a new way (Kelly & Porr, 2018). Healthcare systems and payers using VBHC need to integrate inevitable negative outcomes in a way that is not punitive and find ways to reward desired outcomes. For example, fall prevention is an even bigger priority in hospitals since the implementation of VBHC by Medicare means falls impact hospital reimbursement. This priority conflicts with the evidence-based health benefit of early mobilization of patients since nurses are trained to over-use bed alarms and patients end up feeling like they are bothersome when alarms are involved. This newer policy-based barrier to mobilizing patients combines with inappropriate activity orders, staff not having time, patients refusing, and patients only moving with physical and occupational services. (Young et al., 2022). Ironically, an attempt to improve outcomes through VBHC can do the exact opposite. Bed alarms are, of course, appropriate and preventative intervention for falls in many cases, but nurses being scared to move patients and patients being afraid to set off bed alarms leads to deconditioning, longer hospital stays, and other health complications. Financial prioritization by hospitals often leads to trading off patient-centered care like this example with fall prevention grossly outweighing mobility.
References
NEJM Catalyst (2017, January 1). What is Value Based Healthcare? https://catalyst.nejm.org/doi/full/10.1056/CAT.17.0558
Kelly, P., & Porr, C. (2018). Ethical Nursing Care Versus Cost Containment: Considerations to Enhance RN Practice. OJIN: Online Journal of Issues in Nursing, 23(1), Manuscript 6. doi:10.3912/OJIN.Vol23No01Man06.
Young, D., Kudchadkar, S., Friedman, M., Lavezza, A., Kumble, S., Daley, K., … & Hoyer, E. (2022). Using systematic functional measurements in           the acute hospital setting to combat the immobility harm. Archives of physical medicine and rehabilitation, 103(5), S162-S167.
I agree with your post and find it sad that nurses have such limited time to spend with their patients and family members. The nursing practice is based on giving our patients the best care possible (Walden University, LLC, 2012). When we spend more time charting than with the patients it can feel as though we aren't giving our patients most of our attention, and this can be frustrating. In the ICU we typically have more quality time with our patients. About a year ago my facility-initiated charting by exception to relieve some of the charting burdens the nurses are faced with. Charting by exception allows the nurse to enter the initial assessment into Epic. All other assessments that shift are charted by what changed from the initial assessment. So, if the patient was alert and oriented x3 initially at 1900 but by 0400 the patient is sedated the neuro section would need to be entered into Epic. This has saved nurses an immense about of time. This should be put into place for all nurses charting systems to free up their time. It may be challenging to do this for clinic visits but I'm sure it could be done. When this was first rolled out nurses were hesitant due to the "not charted, not done" way of thinking that was engrained into nurses' heads during nursing school but the legal team at the hospital states that this type of charting would be sufficient if ever taken to court. Here we can see how documenting resources conflicts with the quality of time spent with the patients. Ultimately if the documentation resources are improved the quality time patients and nurses long for will also be improved. Improving clinical documentation is definitely a time-honored vision (Hay, P., Wilton, K., & Cumerlato, M., 2019).
References
Hay, P., Wilton, K., & Cumerlato, M. (2019). Sage Journals. The importance of clinical documentation improvement for Australian hospitals. 49(1)  https://doi.org/10.1177/1833358319854185
Competing and Impact on Policy Development
Any healthcare system is characterized by unending challenges encompassing the need to balance the available resources in the context of an organization's needs and guarantee effective, quality, and safe patient care (Calvert et al., 2019). In most cases, these needs compete against one another since compromise on one negatively affects the other. The most common element is the desire to deliver high-quality services while seeking to control the healthcare organization's costs. While every healthcare organization aspires to deliver the best quality of services to its patients, the ever-growing needs of the population are characterized by a ballooning number of old aged patients seeking services and increased access to health insurance implying more people are seeking medical services in health institutions, the need to integrate technology in improving quality of service and the enduring nurse shortage are making its realization a challenge (Sloane et al., 2018). The increasedmedical needs amid the ever-growing nurse shortage problems only exacerbate the problem as the available nurses are overworked, poorly motivated, and experiencing stress and burnout. These attributes reduce the quality of care, primarily because of increased medical errors and hospital-acquiredinfections (Chegini et al., 2020). Because of these challenges, it becomes imperative for policies to be formulated to set the tone and establish guidelines on how interventions address the issue in healthcare facilities.
Specific Competing Needs Impacting Nurse Staff Shortage
The challenge posed by the nurse shortage is experienced nationally, with projections being that it will grow into the future. The core ethical consideration in the assessment of nurse staff shortage is the obligation of a healthcare organization to deliver quality services, ensure patient safety, maintain staff morale, and at the same time, remain profitable by managing their operation costs (Kelly & Porr, 2018). Every organization seeks to maintain an excellent nurse-to-patient ratio as it will create an environment whereby nurses are not overworked to theextent that the quality and safety of care delivered arecompromised while ensuring the organization remains profitable(Holland et al., 2019). Addressing the challenge posed by nurse shortages, such as burnout, depression, attribution, medical errors, and quality services, by having sufficient nurse staff in all departments creates an environment where both the staff and the patients are satisfied, thus facilitating the profitability of the organization.
Impacts and How Policy Addresses the Competing Needs
The immediate impact of the nurse staff shortage is that the available nurses are overworked, working longer shifts or more shifts than expected if the staffing was sufficient.
References
Chegini, Z., Kakemam, E., Asghari Jafarabadi, M., & Janati, A. (2020). The impact of patient safety culture and the leader coaching behavior of nurses on the intention to report errors: a cross-sectional survey. BMC nursing, 19, 1-9. https://doi.org/10.1186/s12912-020-00472-4
Holland, P., Tham, T. L., Sheehan, C., & Cooper, B. (2019). The impact of perceived workload on nurse satisfaction with work-life balance and intention to leave the occupation. Applied nursing research, 49, 70-76. DOI: 10.1016/j.apnr.2019.06.001
Kelly, P., & Porr, C. (2018). Ethical Nursing Care Versus Cost Containment: Considerations to Enhance RN Practice. Online Journal of Issues in Nursing, 23(1). DOI: 10.3912/OJIN.Vol23No01Man06
Milliken, A. (2018). Ethical awareness: What it is and why it matters. Online Journal of Issues in Nursing, 23(1). DOI: 10.3912/OJIN.Vol23No01Man01
Sloane, D. M., Smith, H. L., McHugh, M. D., & Aiken, L. H. (2018). Effect of changes in hospital nursing resources on improvements in patient safety and quality of care: a panel study. Medical care, 56(12), 1001. doi: 10.1097/MLR.0000000000001002.