NURS 6052 Developing a Culture of Evidence-Based Practice 
NURS 6052 Developing a Culture of Evidence-Based Practice 
NURS 6052 Developing a Culture of Evidence-Based Practice 
Evidence-based practice plays an immense role in contributing to optimum care outcomes in nursing practice. Nurses utilize evidence-based interventions to ensure their patients are assured to receive highest possible safety, quality, and efficiency in the care process. Nurses should be competent in disseminating evidence-based practice data to influence the profession. Therefore, the purpose of this paper is to explore the dissemination strategies that I may use in my practice and potential barriers that may be experienced in the process.
Dissemination Strategies
            One of the dissemination strategies that I am most inclined to use in my practice is presenting results of my project in conferences. Often, nurses participate in scientific conferences that aim at increasing the availability of current evidence on nursing practice and healthcare. Nursing conferences provide immense opportunities to interact with other nurses and reach a wider audience with the project. It also offers the opportunity to get feedback on ways of improving the evidence-based practice project and enhancing its generalizability to different populations (Lewis et al., 2021). The impact of sharing the evidence-based practice intervention and results in a conference is significant since I can be offered an opportunity to publish it and lead similar evidence-based initiatives in nursing practice.
The second dissemination strategy that I am most inclined to use in my practice is publishing an article about the project and its outcomes. Publishing an article provides opportunities to reach the global audience and inform them about the need and significance of the project. It also informs future evidence-based practice projects in nursing (Mangold & Arring, 2019). Some of the credible publishers that I may consider to achieve this objective includes PubMed, EMBASE, and CINAHL among others. Publishing will contribute to my local, regional, and global recognition as a nurse scholar.
Least Inclined Dissemination Strategies
I am least inclined to use strategies such as forcefully implementing the evidence-based practice intervention in the organization without informing or involving the other organizational stakeholders. Accordingly, the adopters of the evidence-based intervention should be actively involved in assessing, planning, implementing, monitoring, and evaluating the need and effectiveness of the intervention (Jones, 2019; Tucker & Gallagher-Ford, 2019). Implementing the initiative without their involvement increases the risk of poor outcomes due to resistance to change and their inadequate preparedness to embrace the initiative.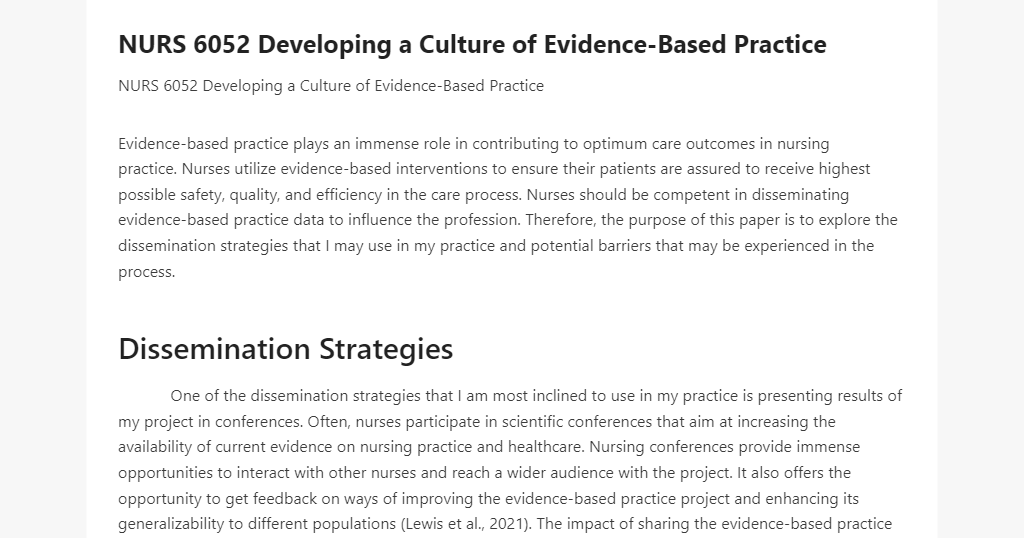 Barriers
One of the barriers that I may experience in using the above dissemination strategies is time constraints in publishing the intervention. Accordingly, different publishers have requirements that must be met for the project to be published. For example, it may take a long period for the project to be approved and published, affecting its clinical significance and impact. The other challenge is the lack of adequate knowledge and skills among nurses who should adopt the evidence-based intervention. Dissemination of results in scientific conferences may not result in the direct adoption of the intervention in clinical practice. Strategies such as training nurses on the use of the intervention at the organizational level may be needed for its successful adoption (Dang et al., 2021). However, issues such as resource shortages and competing organizational needs may hinder the successful use of the intervention in nursing practice.
Conclusion
In summary, disseminating evidence-based practice project outcomes is important in nursing. I am most likely to adopt dissemination strategies such as publishing an article and presenting results in scientific conferences for my evidence-based practice project. I am least likely to forcefully translate the intervention in my workplace. I will explore anticipatory strategies to overcome barriers to disseminating the evidence-based initiative.
References
Dang, D., Dearholt, S. L., Bissett, K., Ascenzi, J., & Whalen, M. (2021). Johns Hopkins Evidence-Based Practice for Nurses and Healthcare Professionals: Model and Guidelines, Fourth Edition. Sigma Theta Tau.
Jones, S. (2019). Faculty and students find a niche in scholarship: Teaching strategies to disseminate scholarly evidence-based practice projects. ABNF Journal, 30(4), 109–112.
Lewis, C. C., Powell, B. J., Brewer, S. K., Nguyen, A. M., Schriger, S. H., Vejnoska, S. F., Walsh-Bailey, C., Aarons, G. A., Beidas, R. S., Lyon, A. R., Weiner, B., Williams, N., & Mittman, B. (2021). Advancing mechanisms of implementation to accelerate sustainable evidence-based practice integration: Protocol for generating a research agenda. BMJ Open, 11(10), e053474. https://doi.org/10.1136/bmjopen-2021-053474
Mangold, K., & Arring, N. (2019). Advancing Professional Practice Through a Research and Evidence-based Practice Festival. Nurse Leader, 17(1), 59–64. https://doi.org/10.1016/j.mnl.2018.09.013
Tucker, S. J., & Gallagher-Ford, L. (2019). EBP 2.0: From Strategy to Implementation. AJN The American Journal of Nursing, 119(4), 50. https://doi.org/10.1097/01.NAJ.0000554549.01028.af
Great post! I love going to conferences and hearing colleagues discussed new information or experiences they have encountered at their organization. These conferences provide education, sharpen skills, gives us the ability to interact with peers, and try new equipment which leads to improvement in health-care delivery, and patient outcomes. (Mishra, S, 2016).
Sometimes, we may think that our place of work is the only one going through an issue, when, it happens more often, but not discussed. At conferences, I learn about issues, or techniques that are being used or no longer in use and the nurses elaborate as to why. Their input is valuable, and gives us as a whole a much clearer understanding.
Publishing an article is another great dissemination strategy. Writing for a publication allows you to contribute to nursing practice and help build nursing and healthcare knowledge. Clinical articles aim to help nurses understand the clinical presentation and progression of a disease or health issue and the subsequent care for a specific patient population.
The nursing literature serves as a primary means of communicating new knowledge to nurses and should provide some discussion about the nursing perspective and nurses' contributions to these health care initiatives. It is important not to lose our nursing perspective. (Oerman et al, 2019). Journal articles, websites, books, and other publications provide our primary means of communicating this knowledge and new information to others.
I concur with you about forcefully implementing the evidence-based practice intervention in the organization without informing or involving the other organizational stakeholders. This is a recipe for disaster, lack of support, an unwillingness to learn and implement, and dissatisfaction among leaders, nurses and other stakeholders.
References
Mishra S.(2016). Do medical conferences have a role to play? Sharpen the saw. Indian Heart J. 68(2):111-3. doi: 10.1016/j.ihj.2016.03.011. PMID: 27133315; PMCID: PMC4867024. https://www.ncbi.nlm.nih.gov/pmc/articles/PMC4867024/
Oermann, M, Chinn, P, Carter-Templeton, H, Nicoll, L. (2019). The Importance of Nursing in Nursing Publications. https://doi.org/10.1111/j.1750-4910.2019.tb00043.x
Unit-level presentations are another great strategy that can be utilized as a method of facilitating dissemination of research. Sharing information during a change-of-shift huddle is a great way to share information with multiple staff members. Learning can be completed online through the hospital website and can consist of PowerPoint presentations.
Meeting deadlines can certainly be a challenge when it comes to publishing research. Setting goals for completing the article can help ensure that it is completed by a certain timeline. Different journals publish at different dates throughout the year. Time will also need to be allotted for article revisions, if needed. Looking ahead at approval deadlines and issue publishing dates can help plan out requirements and manage time constraints.
The lack of knowledge can pose a challenge when it comes to implementing evidence into practice. First, it is important to know your audience. For example, presenting information on bedside rounding would not be received or clearly understood by outpatient nurses. Having the information available in different languages and accounting for cultural differences is another great way to overcome the communication barrier and increase understanding of the intervention (Schipper et. al., 2016). My previous unit would have short educational briefings at the nurse's station a couple of times a month. Though nurses are very busy in a shift, the charge nurse can also help to ensure that each nurse has time for a quick educational session. This is a great way to provide teaching on the research and aid in implementing interventions or change to practice.
References
Schipper, K., Bakker, M., De Wit, M., Ket, J. C., & Abma, T. A. (2016). Strategies for disseminating recommendations or guidelines to patients: a systematic review. Implementation Science: IS, 11(1), 82. https://doi.org/10.1186/s13012-016-0447-x
Thank you for the write-up. This response will provide additional ways to disseminate your evidence-based practice recommendations. As stated by the Agency for Healthcare Research and Quality (2012), inadequate dissemination is a significant obstacle to implementing evidence-based practices; Healthcare providers use evidence-based practice (EBP) in providing the best clinical practice to ensure excellent patient outcomes (Melnyk et al., 2011). To ensure widespread adoption, it is essential to use effective dissemination methods. Two methods to consider include publishing in professional journals and presenting at unit or organizational meetings. Publishing in professional journals allows a broad audience to access the recommendations, while unit or corporate presentations offer face-to-face interaction and immediate feedback. Nurses need to identify and address any barriers that impede the dissemination of evidence-based practices for the benefit of other professionals.
References
Agency for Healthcare Research and Quality (2012). Communication and Dissemination
Strategies to Facilitate the Use of Health-Related Evidence.
Thanks for your detailed post. I agree with you that evidence-based practice intervention cannot be useful in the organization without informing or involving the other organizational stakeholders. From my research, I want to add that Inadequate and delayed implementation of best scientific evidence into practice contribute to clinical errors, safety issues and patient deaths. Clinical practice based on scientific evidence increases the quality and safety of care and consequently improves patients' outcomes. Furthermore, nurses working in an organizational environment that promotes and supports evidence-based practice (EBP) are more empowered and satisfied with their work. Despite this, in many contexts the implementation of EBP at the patient's bedside is not yet a reality, but the Advance Research and Clinical Practice through Close Collaboration (ARCC) model focuses on system-wise implementation of evidence-based practice (EBP) and sustainability of EBP to achieve quality outcomes.
The model involves assessing organizational culture and readiness for EBP in addition to the development of a critical mass of EBP mentors who work with point-of-care clinicians to facilitate the implementation of evidence-based care. Determining how the various components of the ARCC Model relate to one another is important for understanding how EBP culture and mentorship impact EBP implementation, nurses' job satisfaction, and intent to stay. Its aim is to provide hospitals and health care systems with an organized conceptual framework to guide system-wide implementation and sustainability of EBP for the purpose of improving quality of care and patient outcomes. In addition, this model can be used to achieve a "high reliability" organization (one that delivers safe and high-quality care), decrease costs, and improve clinicians' job satisfaction.
References
Giuffrida, S., Bernasconi, S., & Levati, S. (2021). The Role of APNs in Developing an EBP Culture: the ARCC Model in Switzerland.
Melnyk, B. M., Tan, A., Hsieh, A. P., & Gallagher‐Ford, L. (2021). Evidence‐based practice culture and mentorship predict EBP implementation, nurse job satisfaction, and intent to stay: Support for the ARCC© model. Worldviews on Evidence‐Based Nursing, 18(4), 272-281.
Melnyk, B. M., Fineout-Overholt, E., Gallagher-Ford, L., & Stillwell, S. B. (2011
Evidence-based practice, step by step: Sustaining evidence-based practice through organizational policies and an innovative model. Links to an external site. American Journal of Nursing, 111(9), 57–60. doi:10.1097/01.NAJ.0000405063.97774.0e
Your discussion was clear and well-written. One of the barriers discussed in your post is the lack of adequate knowledge and skills among nurses who should adopt evidence-based interventions. One of the best solutions to overcome this barrier is working with nurse leaders. According to McCauley et al. (2020), to become a nurse leader, a registered nurse must pursue a Doctor of Nursing Practice degree (DNP) which is the highest education level in nursing alongside a Master of Science in Nursing (MSN). Therefore, nurse leaders are well-equipped with the necessary knowledge and skills to incorporate evidence-based interventions and to guide the registered nurse in applying dissemination strategies.
Reference
McCauley, L. A., Broome, M. E., Frazier, L., Hayes, R., Kurth, A., Musil, C. M., & Villarruel, A. M. (2020). Doctor of nursing practice (DNP) degree in the United States: Reflecting, readjusting, and getting back on track. Nursing Outlook, 68(4), 494–503. https://doi.org/10.1016/j.outlook.2020.03.008
Dissemination of research literature aims at providing adequate knowledge to the broad audience. The wide dissemination of evidence-based interventions increases the adoption and utilization of the research findings in nursing practice, contributing to optimal care quality for patients and staff (Rositch et al., 2020). Nursing students should engage in writing to demonstrate the ability to develop, organize, and write about a particular topic effectively and successfully. dissemination helps nurses increase their awareness of the importance of evidence-based practice and promote its adoption. Nurses therefore need to efficiently use dissemination strategies to increase the awareness of evidence-based practice to achieve maximum efficiency in care (Shelton et al., 2020). A more understanding evidence-based practice will further enhance the quality of patient care. Nurse must ensure good hand washing practices as a measure of providing high-quality nursing care. Nurses should also undertake sound evidence-based procedures through a systematic approach to provide qualitative, efficient and effective nursing care.
References
Rositch, A. F., Unger‐Saldaña, K., DeBoer, R. J., Ng'ang'a, A., & Weiner, B. J. (2020). The role of dissemination and implementation science in global breast cancer control programs: Frameworks, methods, and examples. Cancer, 126, 2394-2404.
Shelton, R. C., Lee, M., Brotzman, L. E., Wolfenden, L., Nathan, N., & Wainberg, M. L. (2020). What is dissemination and implementation science?: an introduction and opportunities to advance behavioral medicine and public health globally. International journal of behavioral medicine, 27(1), 3-20.
Thanks for sharing about different dissemination strategies. Evidence based practice and education is very important in our field and something that we must include every day. I appreciate your willingness to present your findings in conferences. I would enjoy going to a conference to learn more information but would not be someone who would want to present information. (Methods of Dissemination, n.d.). I also think that it is beneficial when information can be presented to the population in different methods other than a conference setting. For example, nurses could present evidence based practice to youth in schools and allow them to learn about how to take care of themselves and their health. I believe this is beneficial because it presents information in a different setting which may help some to learn better.
I agree with you that I would be least inclined to use methods that may feel forceful to patients or learners. there are many other methods that work for dissemination strategies and forcing others to learn is never going to be effective. I also believe that if individuals want to learn and change their way of living they will, but no one is going to be able to force them to do so. Softer dissemination strategies may be more effective such as brochures and videos that may help with educating others on these topics (F, n.d.).
Thanks for sharing about this topic.
References
F, C. (n.d.). Disseminating Evidence in Nursing. Study.com. https://study.com/academy/lesson/disseminating-evidence-in-nursing.html
Methods of Dissemination. (n.d.). https://www.ruralhealthinfo.org/toolkits/rural-toolkit/6/dissemination-methods
Dissemination is the targeted distribution of information and intervention materials to a specific public health or clinical practice audience. (AHRQ, 2012). It is used to spread knowledge and evidence-based practice on a wide scale within or across geographic locations, practice settings, social media, or other networks for the benefit of patients and health care providers.
The two dissemination strategies I would be most inclined to use are social media and mass communication. The reason being, we live in a social media world, everyone is on some type of social media platform, and they find out information very quickly. If a specific topic is trending, it is most likely going to reach the masses of people in a matter of seconds. Social media helps facilitate to most recent and most relevant information.
Mass communication is another great way to exchanging information on a large scale to a wide range of people. It has brought information to people that otherwise could not be reached and has increased awareness among people about what is happening in other parts of the world. Websites and healthcare applications are great in delivering mass communications on topics that need to be discussed to a particular population an also keep the community up to date and in the know. (Krohn et al, 2022).
I would be least likely to distribute program materials, such as flyers, guides, pamphlets and DVDs because most of the time, they end up in the trash. Having a phone or tablet to search for information is more convenient and less clutter for humans. It will take more time to find the pamphlet and scan for the information as opposed to searching online.
The barriers I might encounter when using social media and mass communication are social anxiety, depression, and exposure to content that is not age appropriate. (Dalomba, 2022). People tend to believe everything on social media, it is not always a good thing, and people do not talk about what they read but tend to internalize it.
Ways to overcome these barriers are to display some type of public service announcement or disclaimer after the information. Sometimes, people need to be reminded about things they just read, and know that there is help, or someone here to further explain and answer questions.
References
Agency for Healthcare Research and Quality. (AHRQ). (2012). Communication and Dissemination Strategies To Facilitate the Use of Health-Related Evidence. https://effectivehealthcare.ahrq.gov/products/medical-evidence-communication/research-protocol
Dalomba, F. (2022). Lifespan: Pros and Cons of social media. https://www.lifespan.org/lifespan-living/social-media-good-bad-and-ugly
Krohn, Kristina M. MD1; Crichlow, Renee MD2; McKinney, Zeke J. MD3; Tessier, Katelyn M. MS4; Scheurer, Johannah M. MD5; Olson, Andrew P.J. MD6 (2022). Introducing Mass Communications Strategies to Medical Students: A Novel Short Session for Fourth-Year Students. Academic Medicine 97(7):p 999-1003 https://journals.lww.com/academicmedicine/Fulltext/2022/07000/Introducing_Mass_Communications_Strategies_to.42.aspx