NURS 6051 The Impact of Nursing Informatics on Patient Outcomes and Patient Care Efficiencies
Sample Answer for NURS 6051 The Impact of Nursing Informatics on Patient Outcomes and Patient Care Efficiencies Included After Question
The Assignment: (4-5 pages not including the title and reference page)
In a 4- to 5-page project proposal written to the leadership of your healthcare organization, propose a nursing informatics project for your organization that you advocate to improve patient outcomes or patient-care efficiency. Your project proposal should include the following:
Describe the project you propose.
Identify the stakeholders impacted by this project.
Explain the patient outcome(s) or patient-care efficiencies this project is aimed at improving and explain how this improvement would occur. Be specific and provide examples.
Identify the technologies required to implement this project and explain why.
Identify the project team (by roles) and explain how you would incorporate the nurse informaticist in the project team.
Use APA format and include a title page and reference page.
Use the Safe Assign Drafts to check your match percentage before submitting your work.
A Sample Answer For the Assignment: NURS 6051 The Impact of Nursing Informatics on Patient Outcomes and Patient Care Efficiencies
Title: NURS 6051 The Impact of Nursing Informatics on Patient Outcomes and Patient Care Efficiencies
The American Nurses Association (ANA) defines nursing informatics as a nursing specialty that consolidates nursing science with multiple data and analytical sciences. Informatics facilitates the process of identifying, defining, managing, and conveying information and knowledge in nursing practice (Kassam, Nagle & Strudwick, 2017). Nursing informatics work with a diverse group of professionals across the care continuum to bridge the gap between healthcare's clinical and technical aspects. This paper will discuss a nursing informatics project that I advocate to improve patient outcomes and patient-care efficiency in my organization and how the project will achieve these goals.
The Proposed Project
My proposed nursing informatics project for the organization is developing a patient portal. A patient portal is a secure online website that offers patients convenient access to their health information using an Internet connection. A patient is provided a secure username and password to access the portal. Developing a patient portal improves patient care efficiencies as patients can easily access their medical information including, Medical history, clinical summaries, medication lists, diagnostic results, and prescription renewals (Sieck, Hefner & McAlearney, 2018).
Besides, the patient portal features allow patients to pay their medical bills online, update demographic information, and make appointment requests and reminders. The portal also has secure messaging that is HIPAA-compliant and supports communication between patients and their primary care providers (PCPs) (Sieck et al., 2018). This can significantly ease patient care as patients can consult their PCP from home and save them the frequent visits to the hospital. Furthermore, the portal has a feature of patient educational materials, which allow patients to view health education materials. The feature can help increase health promotion practices among patients and improve health outcomes.
The Stakeholders Impacted By This Project
The patient portal project will impact internal stakeholders such as healthcare providers and external stakeholders such as patients and insurance providers. Healthcare providers, including nurses, physicians, and nurse practitioners, will be positively impacted by the patient portal, which improves the efficiency of patient care and streamlining workflow. According to Zhong et al. (2018), implementing a patient portal in healthcare organizations increases health providers' efficiency by facilitating effective communication between the PCP and patients. Patients can also register themselves on the portal by entering their details electronically, which eliminates formation and reduces the errors that arise when handling a patient's medical history manually (Dendere et al., 2019). Additionally, the portal streamlines providers' workflow through online appointment scheduling and secure messaging, which patients can use for urgent consultations rather than visiting the physician physically.
The patient portal will significantly impact patients since the primary goal is to improve their care and health outcomes. A study by Sorondo et al. (2016) found that having access to patient portals can increase access to health providers and data, contributing to improvements in patients' functional status and reducing healthcare costs. Patients with chronic illnesses, including geriatrics and their caregivers, may benefit more from using the portal technology than others since they are the highest healthcare consumers. Sorondo et al. (2016) argue that patient portals can facilitate care coordination programs to enhance patients' self-management and care. Insurers will also be positively impacted since the portal allows patients to pay for the services they have utilized through a secured online platform. Patients can also change their insurance details and access their billing information seamlessly.
Patient Outcomes or Patient-Care Efficiencies This Project Is Aimed At Improving
The patient portal project aims at improving health outcomes and increasing care efficiency for patients with chronic illnesses and on long-term follow-up. According to Sorondo et al. (2016), integrating healthcare information technology in care coordination can improve health care by increasing patients' self-efficacy for managing their disease, improving health outcomes, reducing unnecessary health care visits, and reducing administrative costs and time for health providers.
The project also aims to improve care coordination for patients with chronic illness on coordinated care. Informatics can improve outcomes for chronic conditions patients by increasing access to primary care and care coordination provided through patient portals and can assist care coordination as a sustainable resource (Dendere et al., 2019). The project will improve care coordination by exchanging information between health providers, patients, and their caregivers. Besides, patient portals have screening and decision tools that can support improving care coordination.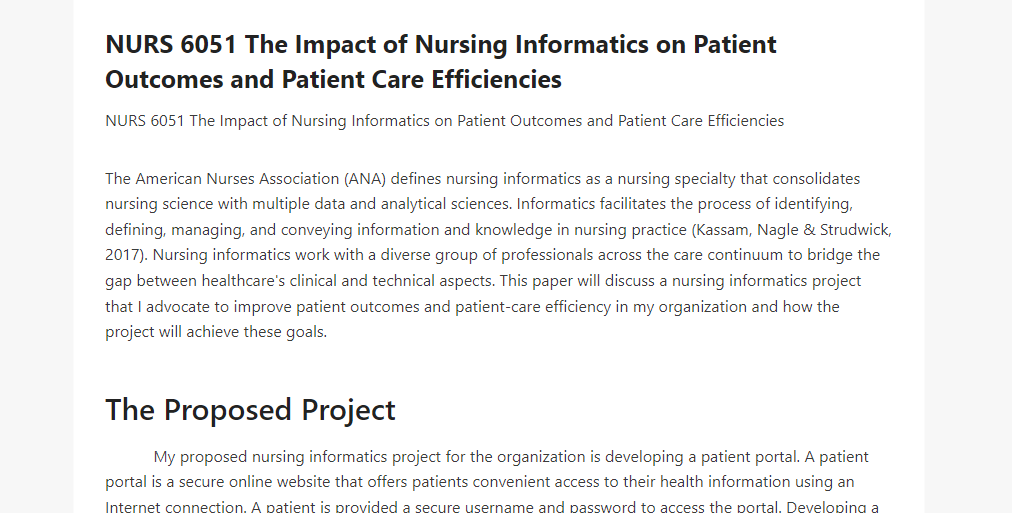 The project also aims at increasing patient engagement by improving their knowledge, skills, ability, and readiness to manage their health and care using interventions tailored to foster positive patient behaviors. Patient engagement will be achieved by the portal allowing patients access their health records, book their clinic appointments, consult their PCPs electronically, and access health education materials. Zhong et al. (2018) hypothesize that patients with access to their medical information become more educated healthcare consumers and are better informed to ultimately employ self-management interventions, thus reducing healthcare costs and healthcare costs.
For instance, the engagement of patients with cardiovascular diseases will be increased by allowing them to access their medical history and diagnostic results and accessing education materials on self-care (Dendere et al., 2019). Consequently, they will monitor their progress and modify their lifestyle to improve health outcomes.
Technologies Required To Implement This Project
The patient portal will require a wide range of technology features to ease its implementation. The portal will need a profile creation feature that will enable patients and providers to effortlessly register themselves on the portal by entering their personal and demographic information (Sieck et al., 2018). It will also require an information access feature, which will enable patients to access all their health information like diagnostic and lab reports and prescriptions. Besides, the portal will require a scheduled appointment feature where clients can make an appointment with their PCPs using the robust feature (Sieck et al., 2018). It will also need a feature for messaging options, which will allow patients to communicate and consult their PCPs electronically.
The patient portal will require a Real-time notifications feature, which will allow the administrator to send updates and vital information about the website to its users in real-time. Third-party integrations will be required to facilitate integrating other essential software applications like EHR software and telemedicine apps in the patient portal software (Sieck et al., 2018). An online payments feature will also be needed to implement the patient portal to allow clients to pay for healthcare services through an online-secured platform that uses digital payment methods. Furthermore, the portal will require a feature for digital registration forms, which the clients can fill online and even download the form (Sieck et al., 2018). Lastly, security tools and systems will be needed to secure the patient portal website from malware attacks and hackers and protect patient data.
The Project Team and How I Would Incorporate the Nurse Informaticist in the Project Team
The project team will include a project manager, website developer, and one member from the departments that will be directly affected by the portal's implementation, including operations, front-line, clinical, and health informatics. The project manager will be tasked with managing the project daily and coordinating the activities documented in the project plan. 
Besides, the project manager will lead the team in developing a project charter, including key elements that will guide the implementation of the project. The website developer will be tasked with designing the patient portal, installing the portal's technological features, and developing a friendly user interface that eases access to the portal. The departmental members will represent their department or clinic location and learn operations and workflows. They will also facilitate communication between the project team and their department. I would incorporate a nurse informaticist in the project by inviting them to act as a consultant to the team, especially on essential features, which should be incorporated into the portal to help achieve the project's goals (Kassam et al., 2017). The nurse informaticist will also evaluate the patient portal to assess whether it has complied with HIPAA and HITECH regulations.
Conclusion
The proposed nursing informatics project is designing and implementing a patient portal to allow access of patients' to their medical information and facilitate communication with their PCPs. The patient portal's goals are to improve patient outcomes, increase efficiency in patient care, streamline health providers' workflow, and increase patient engagement. The project mostly targets patients with chronic illnesses who are the highest healthcare consumers and often require coordinated care.
The portal will seek to increase access to providers and data to improve their functional status and lower healthcare costs. The portal will also enable patients to access health education materials, improving their self-care, and promoting lifestyle modification. The project team will include a project manager, website developer, nurse informaticist, and members from departments directly impacted by the patient portal. 

References
Dendere, R., Slade, C., Burton-Jones, A., Sullivan, C., Staib, A., & Janda, M. (2019). Patient Portals Facilitating Engagement with Inpatient Electronic Medical Records: A Systematic Review. Journal of medical Internet research, 21(4), e12779. https://doi.org/10.2196/12779
Kassam, I., Nagle, L., & Strudwick, G. (2017). Informatics competencies for nurse leaders: protocol for a scoping review. BMJ Open, 7(12), e018855. https://doi.org/10.1136/bmjopen-2017-018855
Sieck, C. J., Hefner, J. L., & McAlearney, A. S. (2018). Improving the patient experience through patient portals: Insights from experienced portal users. Patient Experience Journal, 5(3), 47-54. https://pxjournal.org/journal/vol5/iss3/8
Sorondo, B., Allen, A., Fathima, S., Bayleran, J., & Sabbagh, I. (2016). Patient portal is a tool for enhancing the patient experience and improving the quality of care in primary care practices. Egems, 4(1). https://doi.org/10.13063/2327-9214.1262
Zhong, X., Liang, M., Sanchez, R., Yu, M., Budd, P. R., Sprague, J. L., & Dewar, M. A. (2018). On the electronic patient portal's effect on primary care utilization and appointment adherence. BMC medical informatics and decision making, 18(1), 1-12. https://doi.org/10.1186/s12911-018-0669-8