NURS 6051 The Application of Data to Problem-Solving
Sample Answer for NURS 6051 The Application of Data to Problem-Solving Included After Question
By Day 3 of Week 1
Post a description of the focus of your scenario. Describe the data that could be used and how the data might be collected and accessed. What knowledge might be derived from that data? How would a nurse leader use clinical reasoning and judgment in the formation of knowledge from this experience?
By Day 6 of Week 1
Respond to at least two of your colleagues* on two different days, asking questions to help clarify the scenario and application of data, or offering additional/alternative ideas for the application of nursing informatics principles.
*Note: Throughout this program, your fellow students are referred to as colleagues.
A Sample Answer For the Assignment: NURS 6051 The Application of Data to Problem-Solving
Title: NURS 6051 The Application of Data to Problem-Solving
Telephone triage
The phone rings on a busy Saturday afternoon and the pleasant voice of a registered nurse answers professionally, greeting the caller seeking advice and care. This could be a day for a typical for an ambulatory telephone triage nurse. The concept of telephone triage and consultation can be one of a registered nurse using evidence-based algorithms from electronic databases. The nurses, like most nurses, working in a progressive health care industry are using technology to counsel patients. According to McGonigue & Mastrian, (2022), "For information to be valuable, it must be accessible, accurate, timely, complete, cost-effective, flexible, reliable, relevant, simple, verifiable, and secure." p.9.
This information could be valuable to many leaders in the healthcare team. Accessibility would be easiest in form of electronic records and telephone recordings. McGonigue & Mastrian (2022), argue, "Computer science offers extremely valuable tools that when used skillfully, can facilitate the acquisition and manipulation of data and information by nurses, who then can synthesize the data into an evolving knowledge and wisdom base "p. 35). Accurate and timely information could be an interest in nursing quality and control.
One argument on how telephone triage could be cost-effective is that paying nurses to man the phone lines is cheaper than using inappropriate resources such as the emergency room to care that can be directed elsewhere. Flexibility, reliability, simple, verifiable and secure would require a more in-depth look into the nature of telephone triage and program development within a system, but the concept of triage nursing seems to be malleable to the interest of how the data would be used.
An additional source of centralized evidence-based algorithm software program could also be used and from my research is being used in assisting the nurses to effectively triage the caller and ensure best practice standards. Documentation done by triage nurses would have data from the callers that are subjective and objective, the nursing assessment, and recommendations based on the call.
From this data collection, multiple departments within healthcare could use this or would have an interest in this data collection. Intradisciplinary teams have an opportunity to look at how to retrieve data from electronic retrieval of health records or from recorded lines if those are being used.  An ambulatory nurse manager might be interested in using the data as a system educator of staff development and improvement strategy to support the training needs within their triage staff. A quality nurse might want to use this data to help in creating of protocol development and safety improvements for effective triage and outcomes.
Ambulatory providers could use data to see the patient population's interests and barriers to care and from there use it to modify their practices.  Health information technology departments within health care organizations could be supportive of this nursing department in implementing programs in making documentation more time efficient and detailed. Nursing leadership could use this as a cost-effective strategy.
All departments could build off one another and become temporary team members to gain knowledge and benefit in patient care and satisfaction. Emerging roles could be created as, "Teams are working across boundaries of organizations and will be organized around a particular patient." (Nagale et al, 2017, p. 215).   Within most healthcare systems the mission and visions of these organizations are built on patient outcomes and patient centered care. An informatics nurse specialist could support patients, nurses, providers, and leaders with the interpretation of data analytics and therefore participate in applying new knowledge from data to wisdom. (Nauright et al., 1999)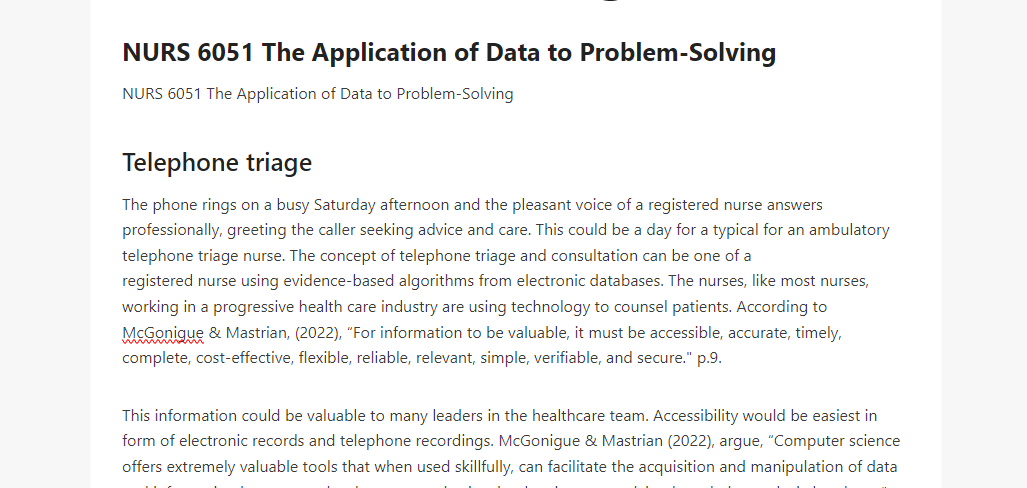 This hypothetical scenario of a nurse working at a telephone triage call center would benefit immensely from data access, problem-solving and the process of knowledge formation. In a real-time, scenario, I could see how this could impact patient care and outcomes on a global level and be a perfect role for a nurse informatics specialist to pilot.
References
Nauright,L.P.,Moneyham,L.& Williamson,J.1999. Telephone triage and consultation: An emerging role
for nurses,Nursing Outlook, 47(5) , 219-226.https://doi.org/10.1016/S0029-6554(99)90054-4.
Nagle, L., Sermeus, W., & Junger, A. (2017). Evolving Role of the Nursing Informatics Specialist Links to an external site.
Links to an external site.. In J. Murphy, W. Goosen, & P. Weber (Eds.), Forecasting Competencies for Nurses in the Future of Connected Health (212-221).
McGonigle, D., & Mastrian, K. G. (2022). Nursing informatics and the foundation of knowledge (5th ed.). Jones & Bartlett Learning.
A Sample Answer 2 For the Assignment: NURS 6051 The Application of Data to Problem-Solving
Title: NURS 6051 The Application of Data to Problem-Solving
It was great going through your post. Telehealth is a crucial part of our healthcare system, especially with technological advancement in the recent past. I agree with the benefits of telehealth, as your post indicated.It allows access to healthcare information in a swift manner. Technology helped telemedicine reduce congestion in hospitals as patients can easily access information via teleconference. It has also expanded the opportunities for the nurses who interact closely with the patients.

Telemedicine is a sustainable type of healthcare and can open several doors for treatment for patients and practitioners. It saves time, and treatment is convenient and affordable for people who dread visiting the doctor and avoid going to the hospital. In addition, telehealth is helpful in diagnosis, administrative work, and professional and patient education.

A study assessing the effectiveness of telehealth consultations discovered they could improve patient outcomes in certain areas. Telehealth may not help and completely replace traditional office visits — after all, many services and procedures can only be done in person — but it can reduce the need for them. Telehealth effectively reduces the spread of infectious diseases, especially in this Coronavirus (COVID-19) warfare. When other patients have an infectious disease, they can stay home and call their healthcare provider to get treatment. By staying at home, patients do not expose their illnesses to healthcare professionals and other patients. Patients also reduce the chances of contracting an infectious disease from another person or transmitting and spreading their own  while using telehealth services.
 
References
Aggarwal, A. (2017). Telepyschiatry: Current outcomes and future directions. International Journal of Clinical Psychiatry and Mental Health, 5. https://doi.org/10.12970/2310-8231.2017.05.07
Menage, J. (2020). Why telemedicine diminishes the doctor-patient relationship. BMJ, m4348. https://doi.org/10.1136/bmj.m4348
Stokel-Walker, C. (2020). Why telemedicine is here to stay. BMJ, m3603. https://doi.org/10.1136/bmj.m3603
A Sample Answer 2 For the Assignment: NURS 6051 The Application of Data to Problem-Solving
Title: NURS 6051 The Application of Data to Problem-Solving
A nursing home trach to vent patient comes in to the ER. Their vital signs are a Temperature of 101 F, heart rate of 110, respiratory rate of 24, BP of 85/60. He complains of pain in his back and upon assessment we see a large amount of discharge from his stage 4 sacral wound. Blood work is drawn and white blood cells are greater than 16,000/mm3, with a lactic level of 3. The vital signs are inputted into my charting system, Epic, by the nurse. With Epic, we get an automatic pop-up that due to this patients vital signs, this patient meets sepsis criteria and should be worked up appropriately. When the lab results come back, they are automatically added to epic, which also triggers the sepsis warning. The nurse and provider document their physical assessment, including the stage 4 wound, which along with the sepsis warning pop-up, help us think this may be the source of their infection.
Data collection, Knowledge Derived, Clinical Reasoning:
As you can see from the description of the scenario, data like vital signs, blood work, and a physical assessment are collected and assessed. Knowledge can be derived from that data from our medical knowledge, but as a reminder, the charting system can remind us that a patient meets sepsis criteria. Based on the physical assessment, the nurse can use clinical reasoning and judgement to find the cause of the abnormal vital signs and blood work. The likely diagnosis is sepsis due to a sacral wound. These criteria in the EHR are developed based on evidence-based studies, such as the International Guidelines for Management of Severe Sepsis and Septic Shock (Dellinger et al., 2012). I see this scenario very often when I worked as a medical step-down nurse, where many chronically ill, bed-bound, chronically vented nursing home patients came in.
Supporting Data:
As described by Walden University, very soon artificial intelligence is going to be a great support to medical professionals, where when a patient comes in with a certain complaint, asking a certain set of questions will help diagnose or rule out the most common possible conditions (Walden University, 2018). This does not replace the nurse or physician but certainly supports us in our decision-making, just like how the Epic Sepsis warning helps remind us to keep this diagnosis in mind if the patient meets the initial criteria.
Public Health Informatics professionals are the ones who make it so that an EHR like Epic works between different hospitals, outpatient offices, and more (Public Health Informatics Institute, 2017). For example, I would be able to see that the above patient in my scenario had a recent primary care office visit for a fever 1 week prior, and was discharged on antibiotics. When the provider enters the billing code for sepsis, it is thanks to the work of Informatics professionals that that code can be translated from ICD-10 to another medical billing language, so that everyone including insurance companies are receiving the correct information (Public Health Informatics Institute, 2017).
References:
Walden University, LLC. (Producer). (2018). Health Informatics and Population Health: Trends in Population Health [Video file]. Baltimore, MD: Author.
Public Health Informatics Institute. (2017). Public Health Informatics: "translating" knowledge for health Links to an external site. [Video file]. Retrieved from https://www.youtube.com/watch?v=fLUygA8Hpfo
Dellinger, Levy, Rhodes, Annane, Gerlach, & Opal. (2012). Surviving Sepsis Campaign: International Guidelines for Management of Severe Sepsis and Septic Shock: 2012. Guideline Central. Retrieved 2022, from http://content.guidelinecentral.com/guideline/get/pdf/3525.
A Sample Answer 3 For the Assignment: NURS 6051 The Application of Data to Problem-Solving
Title: NURS 6051 The Application of Data to Problem-Solving
Thank you for your example of how nursing informatics can be beneficial to provide treatment plans and medical coding. This sounds like an essential feature that technology is providing for both information and safety in the realm of patient care. I like what Ohno-Machado, 2018, states "Although media attention occasionally concentrates on what can go wrong when information systems are employed in practice, there is also much to say on what might go wrong if information systems were not employed" p.773. This pop-up feature you mention seems to be in alignment with technology use as a benefit. In your experience, how do you see this in time management? Do you agree or disagree with the argument this enables the nurses to focus on analyzing the data rather than obtaining it? Did an informatics specialist train you on the usage of this application?
In my experience, when new technology was added to my practice, I lacked the education on new programs and found new integrations to take time. I feel that could be minimized by having supportive education in assuming new roles and use of new products. There were only a few trainers available during the rollout period of new styles and most of us were "figuring it out" solo. This was frustrating and gave the staff residence to the technology intended to be helpful.
According to Nagle et al, 2017, nursing informatics specialists will be supporting and assuming new roles within data analytics and applying this knowledge. As the scope of practice of nurses changes, nursing informaticians have such an opportunity to support the profession. As healthcare is already vastly integrating new uses of technology there is a growing demand for this specialty to support it.
In hindsight to my experience, I would have advocated more for training to be supportive rather than resistant. Thank you for your scenario to highlight some of my own inner biases based on a negative experience.
McGonigle, D., & Mastrian, K. G. (2022). Nursing informatics and the foundation of knowledge (5th ed.). Jones & Bartlett Learning
Nagle, L., Sermeus, W., & Junger, A. (2017). Evolving Role of the Nursing Informatics Specialist Links to an external site. Links to an external site.
Links to an external site.. In J. Murphy, W. Goosen, & P. Weber (Eds.), Forecasting Competencies for Nurses in the Future of Connected Health (212-221).
Ohno-Machado, L. (2018). The role of informatics in promoting patient safety. Journal of the American Medical Informatics Association, 25(7), 773–773. https://doi.org/10.1093/jamia/ocy079
A Sample Answer 4 For the Assignment: NURS 6051 The Application of Data to Problem-Solving
Title: NURS 6051 The Application of Data to Problem-Solving
Your scenario was excellent!  Technology systems such as EPIC, serve more than 250 healthcare organizations nationwide and store approximately 45 percent of the US population's health records (Jo Ann Day, 2016)  Although the utilization of EHR such as EPIC has greatly impacted overall patient outcomes, there is the human error factor that poses a constraint. In this case, documentation of vital signs and other pertinent assessments was extremely important for the sepsis alerts. For this reason, appropriate treatment was implemented based on set guidelines such as those of the International Guidelines for Management of Severe Sepsis and Septic Shock.
According to Ruppel & Liu (2019), "Sepsis is a global health priority of staggering impact, resulting in at least 6 million deaths worldwide each year and contributing to as many one-half of all hospital deaths in the US".  A drawback to the appropriate utilization of information technology such as the sepsis alert trigger is that sometimes, healthcare professionals do not input data in real-time, and end up delaying timely notifications. In my experience years ago as a medical surgical nurse, Nursing Assistants who were responsible for recording vital signs were sometimes unable to record vitals on time and end up documenting vitals at the end of the shift. Although they would verbally notify nurses of abnormal blood glucose and blood pressure, other pertinent information such as respiratory rate and temperature is sometimes overlooked.
Uploading an abnormal respiratory rate and low body temperature to a  system that already has records of an elevated white blood cell count, will trigger a sepsis alert. If the information was inputted earlier in the day, the appropriate treatment would be initiated in a timely manner.  To effectively utilize EHR, I believe that healthcare leaders need to allocate resources to units with higher patient-to-nurse or nurse-assistant ratios. An example will be investing in vital sign machines that automatically upload EHR to the patient chart to avoid delay. 
Reference
Jo Ann Day. (2016, September 23). Why Epic | Johns Hopkins Medicine. Hopkinsmedicine.org. https://www.hopkinsmedicine.org/epic/why_epic/
A Sample Answer 5 For the Assignment: NURS 6051 The Application of Data to Problem-Solving
Title: NURS 6051 The Application of Data to Problem-Solving
 I use EPIC at my facility as well and very familiar with pop-up alerts for vital signs. There is a rapid response nurse (RRN) and rapid response team (RRT) at my facility who address sepsis alerts, hypovolemic shock and cardiac arrest. In 2020, my hospital added another alert to the RRN role called DI alert. DI alert is an artificial Intelligence (AI) program that use data from vital signs and laboratory values to improve early recognition of patient deterioration.
In addition to DI alerts, my hospital adopted another AI program called deep learning-based artificial intelligence (DLBAI), it demonstrated a high performance in predicting cardiac arrest using a single ECG lead (Kwon et al., 2020). I agree, AI have already began to support medical professionals by capturing a tremendous amount of data using innovations and algorithms to store information in the electric health record (EHR) (Cato et al., 2020). AI have made it imperative for nurse leaders to develop clinical reasoning and judgement around assessing data and improving patient quality of care.
References:
Cato, K. D., McGrow, K., & Rossetti, S. C. (2020). Transforming clinical data into wisdom. Nursing Management, 51(11), 24–30. https://doi.org/10.1097/01.numa.0000719396.83518.d6
Kwon, J. M., Kim, K. H., Jeon, K. H., Lee, S. Y., Park, J., & Oh, B. H. (2020). Artificial intelligence algorithm for predicting cardiac arrest using electrocardiography. Scandinavian Journal of Trauma, Resuscitation and Emergency Medicine, 28(1). https://doi.org/10.1186/s13049-020-00791-0
A Sample Answer 6 For the Assignment: NURS 6051 The Application of Data to Problem-Solving
Title: NURS 6051 The Application of Data to Problem-Solving
I like your senario  and would to emphasize the need for health care staf to learn how to navigate health informatics like EPIC. It is like an acquisition, storage, retrieval and use of health information.  Health informatics promotes efficient and effective patient care through the fluid transmittance and retrieval of health care information.  The use of technology such as computer systems, software and other technologies promote informatics.  A good and simple example of the efficiency and importance of informatics can be seen when considering mail via the post office and emails via computer systems and network.  The delivery of mail using email transmittance allows for the quick, efficient and certain delivery of information.  Sending information through the post office takes time, vulnerable to be lost as well as being damaged. 
The same efficiency is needed in addressing patient Care as patients lives at times will be dependent on the efficient transmittal of information.  A patient, for example, that meets in a car accident and requires emergency surgery, would benefit from health informatics as the patient's medical history is readily retrievable from a health care informatics system that links providers to each other.  Imagine calling around for patient information or worst yet, writing letters to request patient information.  Antiquated systems can jeopardize patient care and patient safety (Alotaibi and Frederico, 2017).  
    As the main health care personnel, nurses are charged with the responsibility of operating systems that utilize informatics.  In addition, nurses should be able to efficiently and fluently use those systems.  It is therefore important that nurses understand the full purpose of informatics as well as to navigate any system in their network that utilizes informatics.  This is a critical part of nursing care as it promotes proper nursing care for patients as well as to increase positive outcome for the patients as well.  Informatics should also be part of the core curriculum in nursing school because it teaches student nurses how to better care for their patients (Leung et. al., 2015). 
In addition, this core curriculum should again be reinforced in the clinical setting, as there are nuances to different informatics network systems.  The nurse should be familiar with these nuances so that they can best utilize the system when dealing with health informatics.  Nurses understanding and use of informatics should be greater than any other personnel in the clinical setting as the nurse is the main point of contact for patient care.  A nurse, for example, may alert the doctor or others of a patient's pre-existing conditions or allergies thereby preventing any type of accident. 
The nurse should also be able to properly train other personnel in using health informatics.  In training a new on how to use health informatics, it is also important that the nurse possess basic technology skills such as computer skills and understanding how software works.  Health informatics is the wave of the future and the nurse should also be at the forefront of this wave as it directly impacts patient care and patient outcome.  It has also been shown that hospitals that uses health informatics efficiently, has more positive patient outcomes (Snyder et. al., 2011).  
References:
Alotaibi, Y. K., & Federico, F. (2017). The impact of health information technology on
patient safety. Saudi medical journal, 38(12), 1173–1180.
Snyder, C. F., Wu, A. W., Miller, R. S., Jensen, R. E., Bantug, E. T., & Wolff, A. C.
(2011). The role of informatics in promoting patient-centered care. Cancer journal (Sudbury, Mass.), 17(4), 211–218.
Leung AA, Denham CR, Gandhi TK, Bane A, Churchill WW, Bates DW, et al. A safe
    practice standard for barcode technology. J Patient Saf. 2015;11:89–99. 
A Sample Answer 7 For the Assignment: NURS 6051 The Application of Data to Problem-Solving
Title: NURS 6051 The Application of Data to Problem-Solving
Health Informatics
Health informatics improves the application and management of patient data, clinical evidence, population data, and community environment information (Kim, 2019). Informatics relates clinical science, computing, and information science to provide better medical resources for quality patient care. The concept of informatics is applying reusable evidence-based methods standards in medical institutions. According to (Kim, 2019), informatics uses automation to organize, analyze, manage, and apply information in health systems. Knowledge is a concept of health informatics that explains data progression to usable information.
A hypothetical case of a patient who reports to the hospital with a chief complaint of shortness of breath on exertion might be diagnosed with asthma, Chronic Obstructive Pulmonary Disease, cystic fibrosis, or low hemoglobin (Kosmala et al., 2019). Although the patient remembers visiting the hospital in the past, she has no memory of medical assessments or interventions. Health informatics carefully maintains patient information for future reference (Rahimi et al., 2018). The medical records show the patient has a PMH of hypertension and a PSH of Cholecystectomy. The patient records indicate the need for diagnostic tests to finalize the growing list of differential diagnoses which now include viral pneumonia, mediastinal cysts, and lung tumors (Kosmala et al., 2019). 
Patient information is essential in referencing follow-up visits and similar condition cases. Medical documentation collects all essential information that can be later stored on computing devices (Rahimi et al., 2018). Nurse leaders use clinical reasoning to determine the connection between previous diagnoses and present symptoms. Documentation of successful nursing interventions provides usable treatments for similar cases in different patients. Access to data has to be restricted for patient confidentiality (Rahimi et al., 2018).
References
Kim, H. N. (2019). A conceptual framework for interdisciplinary education in engineering and nursing health informatics. Nurse Education Today, 74, 91–93. https://doi.org/10.1016/j.nedt.2018.12.010
Kosmala, W., Przewlocka-Kosmala, M., Rojek, A., & Marwick, T. H. (2019). Comparison of the Diastolic Stress Test With a Combined Resting Echocardiography and Biomarker Approach to Patients With Exertional Dyspnea. JACC: Cardiovascular Imaging, 12(5), 771–780. https://doi.org/10.1016/j.jcmg.2017.10.008
Rahimi, B., Nadri, H., Lotfnezhad Afshar, H., & Timpka, T. (2018). A Systematic Review of the Technology Acceptance Model in Health Informatics. Applied Clinical Informatics, 09(03), 604–634. https://doi.org/10.1055/s-0038-1668091