NURS 6051 Professional Nursing and State-Level Regulations
NURS 6051 Professional Nursing and State-Level Regulations
The Board of Nursing requirements vary from state to state; however, it ensures individuals meet the qualifications to practice in their state by setting guidelines to certify safe and competent care is being provided to patients in various health care settings. The state scope of practice for advanced practice register nurse affects the ability in which an APRN can practice and if any oversight is required. Barriers from legislators at the state and national level can hinder APRNs from practicing to the full extent in which their education and skills have prepared them for (Bosse et. Al, 2017). Florida and California have two very distinctive practices for APRNs.
Practice Authority
California State board of Registered Nurses eliminates APRN to have 1-1 supervision by physicians. Under this new statue effective January 1, 2021 APRNs may practice independently if they meet the requirements of a 3-year or 4,600-hour transition to practice period within defined settings (Phillips, 2021). APRN's can have certain hospital privilege but are legally prohibited to admit patients into the hospital. As for Florida, APRNs can practice autonomously if they meet the requirements of 3,000 practice hours within the last 5 years (practicum hours are included). On site supervision is no longer required. Unlike California, Florida APRNs can admit patients to hospital and hold hospital privileges, nonetheless these privileges are determined by the institution and supervising physician. Both states require applicants to graduate from a master's degree and hold national board certifications to practice.
Reimbursement
Although Florida authorized APRNs to work independently, for reimbursement purposes APRN will benefit to work alongside with a physician to receive an 100% reimbursement rate for Medicaid patients. An onsite physician would have to sign the charts within 24 hours for this to occur, without an onsite physician an APRN will only be reimbursed 85% from Medicaid. Private and third-party insurances are prohibited to discriminate based on licensure. As for California, APRNs are reimbursed independently by Medi-Cal at a 100% rate and third-party reimbursement will vary from payer to payer.
States where advanced nurse practitioners have full scope of practice would not have barriers such as practice authority and they also provide access to primary care in areas that lack. According to Miner, APRNs can ultimately fill the gap amongst the shortage of physicians by broadening the APRN autonomy (2019). APRNs who practice autonomously may only work in specific institutions such as primary practice or general pediatrics, which still limits the autonomy of an APRN.
References
Bosse, J., Simmonds, K., Hanson, C., Pulcini, J., Dunphy, L., Vanhook, P., & Poghosyan, L.
Position statement: Full practice authority for advanced practice registered nurses
is necessary to transform primary care. Nursing Outlook, Volume 65, Issue 6,
761 – 765
Miner, M. A. (2019). Physicians, Nurse Practitioners, and the Shortage in Primary
Care Providers:Professional Autonomy in the Public Discourse.
Sociological Imagination, 55(1), 51–67.
Phillips, S. J. (2021). The Nurse Practitioner, 46 (1), 27-55.
doi: 10.1097/01.NPR.0000724504.39836.69.
Discussion: Professional Nursing and State-Level Regulations
Boards of Nursing (BONs) exist in all 50 states, the District of Columbia, American Samoa, Guam, the Northern Mariana Islands, and the Virgin Islands. Similar entities may also exist for different regions. The mission of BONs is the protection of the public through the regulation of nursing practice. BONs put into practice state/region regulations for nurses that, among other things, lay out the requirements for licensure and define the scope of nursing practice in that state/region.
It can be a valuable exercise to compare regulations among various state/regional boards of nursing. Doing so can help share insights that could be useful should there be future changes in a state/region. In addition, nurses may find the need to be licensed in multiple states or regions.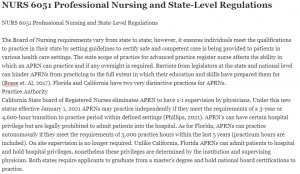 RE: Discussion – Week 5
Collapse
Advanced Practice Registered Nurse (APRN) practice is typically defined by the Nurse Practice Act and governed by the Board of Nursing (BON), but other laws and regulations may impact their practice, and other boards may play a role. For instance, in some states, the clinical nurse specialists (CNS) category is not identified in the Nurse Practice Act, which means the CNS is held to the same scope of practice as any registered nurse (RN) within the state.
Given the variations between APRNs and related state statutes, rules and regulations, it is essential that APRNs have a clear understanding of how their scope of practice is defined by those laws and regulations, as well as any opinions from the state regulatory agency. APRNs hold at least a Master's degree, in addition to the initial nursing education and licensing required for all RNs. American Nurses Association (ANA) remains committed to fighting barriers to nursing practice, to ensure that nurses may practice to the full extent of their expertise and education.
In Texas the scope of practice for an APRN for example nurse practitioners and clinical nurse specialists work under the supervision of a physician. They are not authorized to work independently to do activities like ordering, performing and interpreting diagnostic tests, formulating primary and differential medical diagnoses, advanced assessments and treating actual or potential health problems.
In Texas APRNs like nurse practitioners and clinical nurse specialists are not able to independently prescribe drugs, therapeutic and corrective measures, such as nutrition support, diagnostic support services, home health care, physical therapy and hospice care.
In Texas collaborative agreements are written contracts between a physician and an APRN, which outline the practice privileges granted to the APRN, how often the supervising physician will review patient records, whether and to what extent the physician will oversee the APRNs' daily work with patients. It also involves how both the physician and the APRN should interact with patients in the case of one or the other's absence. Collaborative agreements typically outline certain protocols that APRNs must abide by-for example, what types of medical services APRNs can provide in certain situations, when APRNs should consult with their supervising physician, and in what situations they are able to dispense certain medications.
Nurse Practitioners (NPs) provide primary, acute, chronic and specialty health care across the lifespan through assessment, diagnosis, and treatment of illnesses and injuries. NPs provide immunizations, prescribe and manage medications. NPs order and interpret lab tests, x-rays, provide health teaching and supportive counseling.
Clinical Nurse Specialists (CNS) provide diagnosis, treatment, and ongoing management of patients. They provide expertise and support to nurses caring for patients and help drive practice changes throughout the organization. CNS ensures the use of the best practices and evidence-based care to achieve the best possible patient outcomes. CNS provides advanced nursing care in hospitals, acute and chronic care management. CNS develop quality improvement programs, serve as mentors, educators, researchers and consultants.
Full practice authority, reduced practice authority and restricted practice authority are definitions developed by the American Academy of Nurse Practitioners (AANP) to describe the degree to which APRNs can practice in alignment with their advanced academic and clinical training within their state of residence. These categories are useful in assessing the degree of practice autonomy an APRN has in a given state.
NPs in Texas have a restricted practice. This means NPs need physician oversight to prescribe, diagnose, and treat patients. Meanwhile the state and licensure laws in Alabama have a reduced practice for NPs. NPs can diagnose and treat patients but they need physician oversight to prescribe medications (aanp.org).
The District of Columbia have granted NPs the ability to practice independently. NPs in these states can prescribe medication (including controlled substances), sign death certificates, order physical therapy, and conduct telehealth visits (AANP) without physician oversight. However, in Texas a physician who delegates to a nurse practitioner must follow certain statutory protocols for quality review and assurance. Texas Occupations Code 157.051 (ama-assn.org)
In Texas an APRN means a RN approved by the Board to practice as an APRN on the basis of completion of an advanced educational program like NP, Certified Nurse Midwife, Certified Registered Nurse Anesthetist, and CNS.
In Alabama, APRNs have multiple credentials. A licensed RN approved to work as an APRN, have to hold both a credited master or post-master certifications. APRNs need to have national certification by a board recognized certification agency to maintain their credential. APRN has many certification agencies for them. APRNs have to renew their licenses every two years. APRNs should have their current certificate to work as APRN and need to six hours of pharmacology as a part of continuing their education. APRN is regulated by the state board of nursing.
References
https://www.aanp.org/advocacy/state/state-practice-environment
www.ama-assn.org
https://www.ncbon.com