NURS 6051 Healthcare Information Technology Trends 
NURS 6051 Healthcare Information Technology Trends 
NURS 6051 Healthcare Information Technology Trends 
A general healthcare technology trend related to information that I have observed in my nursing practice is the increasing use of electronic health records (EHRs). EHRs allow multiple healthcare providers to access and update a patient's information digitally, as opposed to relying on locating or faxing over paper records (HealthIT.gov, 2018). When I worked in an outpatient office that did not use an EHR, I saw how this slowed down patient care. We wanted to avoid repeating tests a patient had already gotten and wanted to fully understand the patient's history, but it could mean hours of waiting for the patient's record to be faxed over from the other office. Sometimes we would finally get a record, but a crucial page would be missing, or an important page would have handwriting from the provider that was barely legible, which further delayed patient care and could have caused patient harm. This shows how a benefit of EHRs is the improvement in patient care outcomes by giving providers complete and up-to-date information about their patients immediately. This allows more accurate diagnosis, quicker treatment, and the ability to communicate with other healthcare providers in the team.
EHRs help avoid many of the problems of paper records, but also come with their own set of risks. For example, security and confidentiality of patient information that is now visible by possibly hundreds of healthcare providers is a concern, as well as the risk of data loss or system outages. My current hospital uses an EHR, and the system shut down during shift change one Sunday morning. This caused a lot of confusion and risk for patient harm, as we could not access the patient's information needed to give report to the oncoming nurse, hand off critical medications, give medication, and more. There is also a risk of data breaches with EHRs, which could lead to patient information being disclosed without their consent to unauthorized parties. This risk can be mitigated by having strong security measures, such as two-factor authentication that my hospital uses, and regularly training staff on how to protect patient data (Abouelmehdi et al., 2018).
A healthcare technology trend that I believe is promising for impacting healthcare technology in nursing practice is telehealth. I believe it will help patient care outcomes and efficiencies. Telehealth allows healthcare providers to deliver care remotely, using video conferencing and other digital tools (Skiba, 2017). This is especially useful in areas that do not have nearby access to healthcare providers, such as rural or underserved areas. For patients that have chronic conditions or who cannot easily travel to a healthcare facility, telehealth is also valuable. During the beginning of the covid pandemic when social distancing was paramount for everyone's safety, I met with my healthcare provider through telehealth.
A potential risk of telehealth is thinking that it is suitable for all types of care, as a physical exam is a key to diagnosing and treating most conditions; a provider may not be able to safely diagnose a condition with only a history and your description of your symptoms. Another risk is the quality of the technology being used, as a zoom meeting with choppy audio or internet outages will not allow you to have a productive telehealth visit. There is also a risk of a lack of confidentiality of patient data. However, overall, both EHRs and telehealth can improve patient care outcomes, efficiencies, and data management for nursing practice, as long as we consider the risks associated with these technologies and take steps to mitigate them.
References:
HealthIT.gov. (2018c). What is an electronic health record (EHR)?  Retrieved from 
https://www.healthit.gov/faq/what-electronic-health-record-ehr
Indeed most healthcare organizations are shifting from paperwork to electronic health records and electronic medical records. Electronic medical records to document medication dosages, administration, and other treatments help nurses avoid medical errors and confusion during practice. The electronic systems keep the patient information safe and confidential. Patient safety is also increased due to minimal errors during treatment and care management. I am sure there are organizations using cradle for recording patient information and this has improved nursing care and reduced medical errors because there is no misleading information about drug administration and care planning (Agbo et al., 2019). Communication has also been enhanced by applying new technology. Clinicians are not being trained fast enough to keep pace with the rate of service demand. In addition, given the rising cost of care, new models for reimbursing hospitals and other providers have begun to emphasize quality and efficiency rather than units of delivered services.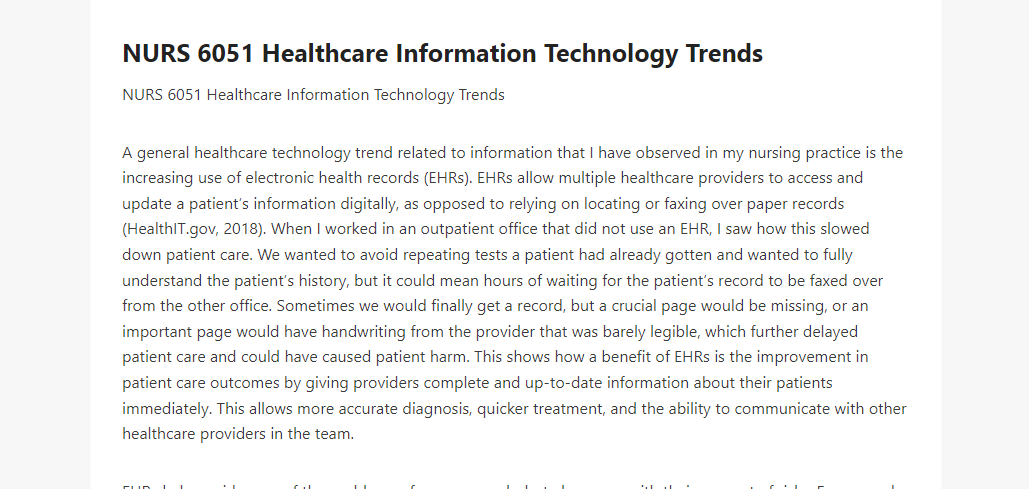 Reference
Agbo, C. C., Mahmoud, Q. H., & Eklund, J. M. (2019). Blockchain technology in healthcare: a systematic review. In Healthcare (Vol. 7, No. 2, p. 56). Multidisciplinary Digital Publishing Institute.
Thank you Anupa for your discussion response and I agree with you that the use of electronic health records (EHRs) is critical in the current healthcare dispensation as it offers various benefits to patients and providers. EHRs allow seamless flow of patient health information from one provider to another and ensures correct and accurate data for effective decision-making and development of care plans. As you note, the use of EHRs solves a host of issues like delays in information sending from one facility and provider to another and minimizes paper work that is prone to human errors and mistakes (Lee & Yoon, 2021). EHRs offer complete and up-to-date patient health information for effective actions and decisions to improve care and this enables better diagnosis and fast treatment as well as enhanced communication (Rutledge & Gustin, 2021).
However, as you note, all technologies have their disadvantages that require effective actions and measures. For instance, data security, confidentiality and privacy are not just legal but also ethical aspects that impact the use of EHRs in healthcare systems. Furthermore, data breaches are always a concern and this implores organizations to have safety and security measures to mitigate such occurrences (Mayer et al., 2019). The implication is that organizations should have robust security protocols on access to such data and information.
Again, the use of telehealth as a promising technology cannot be overemphasized because of the benefits that it provides. Other technologies like artificial intelligence, mobile apps and texting as well as machine learning also promise to enhance care delivery and improve access to healthcare services for patients and health promotion for different populations. Artificial intelligence allows for fast diagnosis and ensures that providers make better decisions while mobile apps enhance telehealth and telemedicine to improve overall access and quality of care offered (Mishra et al., 2022). While these technologies offer certain benefits, they also have certain risks that providers should mitigate.
References
Lee, D., & Yoon, S. N. (2021). Application of artificial intelligence-based technologies in the
healthcare industry: Opportunities and challenges. International Journal of Environmental Research and Public Health, 18(1), 271. https://doi.org/10.3390/ijerph18010271
Mayer, M. A., Blanco, O. R., & Torrejon, A. (2019). Use of health apps by nurses for
professional purposes: Web-based survey study. Journal of Medical Internet Research mHealth and uHealth, 7(11), e15195. https://doi.org/10.2196/15195
Mishra, S., Dhuna, N., Lancki, N., Yeh, C., & Larson, D. N. (2022). Telehealth utilization and
patient satisfaction in an ambulatory movement disorders center during the COVID-19 pandemic. Journal of Telemedicine and Telecare, 1357633X221146819. https://doi.org/10.1177/1357633X221146819
Rutledge, C. M., & Gustin, T. (2021). Preparing nurses for roles in telehealth: Now is the time.
            The Online Journal of Issues in Nursing, 26(1). DOI: 10.3912/OJIN.Vol26No01Man03
Thanks for sharing your experience before Electronic Health Records (EHR). I had the same experience working at a nursing home when I first graduated. It was very time consuming to document on paper manually, and I would be at work for almost 2 hours extra after end of shift. Most of the nurses who had been working there for almost 15 to 20 years ,thought it was a tactic for me to get paid for extra hours. This led to many problems for me, fresh out of nursing school and having no guidance from the senior nurses. I took my time because it was my first time doing anything like that and I did not want to make any mistakes. That was many years ago, and I am so grateful EHR is available for nurses now, especially in bigger hospitals like the one I currently work at with the large amount of data we have to deal with.
With EHR, protecting patient privacy is important (Abouelmehdi et al., 2018).
Telehealth is promising just like you mentioned. Providing care remotely is something we saw a lot during Covid 19 (Skiba, 2017). For those who just need to see the doctor for some minor consultations or yearly checkups, this works perfectly. But for those who need the doctor to physically assess something on their body, this might not be ideal. Sometimes, the doctor needs to physically touch something or physically see it to make the right diagnosis as you mentioned as well.
References
Abouelmehdi, K., Beni-Hessane, A. & Khaloufi, H. (2018) Big healthcare data: preserving security and privacy. J Big Data 5, 1. https://doi.org/10.1186/s40537-017-0110-7Links to an external site.
Skiba, D. (2017). Evaluation tools to appraise social media and mobile applications Links to an external site.. Informatics, 4(3), 32–40. 
I reckon that the potential risk while using EHR is data breaches of sensitive patients' information. With the continued advancement of electronic health records (EHRs), there is increasing concern that a potential loss of documentation integrity could lead to compromised patient care, care coordination, and quality reporting and research as well as fraud and abuse. (The American Health Information Management Association., n.d.). The patient's confidential material can often be accessed by licensed and unauthorized employees of the healthcare companies which leaves the patient's health information without protection. Fortunately, it is known that by failing to keep patient records private, your organization could face substantial penalties under HIPAA's Privacy and Security Rules, as well as potential harm to its reputation within your community. Most importantly, patient safety and care delivery may also be jeopardized (AHA, n.d.). Despite its advantages and continuing shortcomings in the healthcare industry, electronic health records have significantly contributed to improving patient care and the provision of better patient outcomes.
References
American Hospital Association. (n.d.). The importance of cybersecurity in protecting patient safety | Cybersecurity | Center AHA.
The American Health Information Management Association. (n.d.). The American Health Information Management Association. Integrity of the Healthcare Record: Best Practices for EHR Documentation.
Thank you for sharing on this topic. It is a big shift for healthcare organizations to switch from paper charts to electronic charts. Many hospitals while utilizing EHRs, also still have paper charts for their patients. I think this is interesting as in my experience I have not seen many hospitals putting any information into the paper charts. It seems that they just have them for the sake of having them but do not really utilize them for any specific patient information. At the end of the day, making the switch from paper charts to electronic health records has many benefits and is a smart decision from healthcare organizations. The biggest benefit to EHR is that it creates efficient patient care practices and efficient communication between providers which will result in better patient outcomes (Medical Practice Efficiencies & Cost Savings | HealthIT.gov, n.d.).
I also agree with you that Telehealth is a promising aspect of technology in healthcare. Telehealth has the potential to provide many benefits to all aspects of patient care and creates a patient provider contact method that many be much more convenient for patients (Alu, 2022). With the use of Telehealth, patients who live in rural access have the ability to be seen by their provider same day. Patients also have the ability to continue follow up care with their provider and ensure that they are being compliant with their care while maintaining their health. A big downside to Telehealth is that providers are unable to assess their patients, which could cause them to miss big clues about the patient's health condition and could result in misdiagnoses.
References
Alu, A. (2022, September 15). The Future of Telehealth. School of Public Health. https://publichealth.tulane.edu/blog/future-of-telehealth/
Medical Practice Efficiencies & Cost Savings | HealthIT.gov. (n.d.). https://www.healthit.gov/topic/health-it-and-health-information-exchange-basics/medical-practice-efficiencies-cost-savings
Thank you for your post Anupa,. It provides a very insightful examination of Electronic Health Records' use by nurses and other healthcare professionals. The post offers a comprehensive picture of the rising need for more sophisticated electronic health records systems that saves time for care providers when handling particular issues regarding their patients. Using electronic medical record systems, healthcare professionals can effectively and quickly sift across the data and identify laboratory test results,assesses current and past medication history, diagnosis, treatment plans, medical procedures, and foods that should be avoided for a patient to prevent interactions expressed as medication errors.
Electronic medical record systems can reduce medication errors is by flagging potential adverse reactions or drug interactions(Huang et al., 2019). These errors occur due to the prescription of drugs with negative interaction with current medications or foods, the prescription of drugs that have an allergic reaction to a patient, and the failure to identify adverse reactions for a patient. In these environments, the electronic medical records system triggers alerts for both drug-drug and drug-food interactions that are avoided. Electronic medical record systems also facilitate research about the potential interactions between drugs and foods, reducing the potential for these errors to occur (Huang et al., 2019). Finally, electronic medical records can reduce medication errors through reconciliation tools installed in the electronic health records system. For instance, the system allows listing all patients' medications pre-admission to help the professionals make the right decisions when prescribing medications during admission to prevent potential adverse effects(Huang et al., 2019). All these approaches are fundamental in promoting the quality and safety of medications.
References
Ehr systems: Attributes, benefits, and shortcomings. (2016). In (Ed.), Electronic health records and medical big data (pp. 9–37). Cambridge University Press. https://doi.org/10.1017/9781316711149.002
Huang, L., Shea, A. L., Qian, H., Masurkar, A., Deng, H., & Liu, D. (2019). Patient clustering improves efficiency of federated machine learning to predict mortality and hospital stay time using distributed electronic medical records. Journal of Biomedical Informatics, 99, 103291. https://doi.org/10.1016/j.jbi.2019.103291
Healthcare is an evolving field driven by innovative ideas, evidence-based practices to improve patient outcomes. The global pandemic COVID 19 significantly impacted the healthcare delivery system, facilities, and state governing agencies scrambled to implement work process, policies, and restrictions to provide safe, quality care to patients. Many organizations halted non-emergent visits and procedures and began utilizing telehealth services. In summary, telehealth is medical information transferred electronically to improve patients' health and outcomes (Tuckson et al., 2017). The risk of exposure for patients and healthcare providers drastically decreased.
Besides, limiting exposures an unexpected benefit in my organization is that patients report a higher level of satisfaction with their providers. One patient informed me that previously they felt that their provider did not have their well-being in mind due to rushed visits. Now with telehealth visits, patients report they have more one-on-one time with their providers and receive a detailed assessment. Patients now have access to a nurse 24/7; speaking with a nurse can save funds that spent on an unnecessary ED visit (Mataxen & Webb, 2019).
Although telehealth provides benefits, challenges, and risks remain, such as coverage limitations. While commercial insurance carries cover and encourages telehealth, Medicaid guidelines do not cover the service (Tuckson et al., 2017). After my organization realized the impact COVID 19 on well-visits and preventive care, we scheduled a meeting with our state Medicaid agency. During the meeting, we discussed benchmarks at risk. The only solution we agreed upon was expanding telehealth coverage throughout the end of the global pandemic. By convincing Medicaid, to expand the coverage, we now have data to illustrate the benefits.
In my opinion, the most promising technology trend that positively influences nursing practice is telehealth. Nurses knowledgeable of telehealth aspects have greater accessibility to patients because triage takes place via phone versus having to schedule an appointment that may be weeks away (McGonigle & Mastrian, 2017). The trend may lower ED utilization and noncompliance based on the increased accessibility of patients to their healthcare team. Telehealth can reduce the Medicaid budget, improve patient outcomes, and improve the transferability of data.
References
McGonigle, D., & Mastrian, K. G. (2017). Nursing informatics and the foundation of knowledge (4th ed.). Burlington, MA: Jones & Bartlett Learning.
Mataxen, P. A., & Webb, L. D. (2019). Telehealth nursing: More than just a phone call. Nursing, 49(4), 11–13. https://doi org.ezp.waldenulibrary.org/10.1097/01.NURSE.0000553272.16933.4b
Tuckson, R. V., Edmunds, M., & Hodgkins, M. L. (2017). Telehealth. New England Journal of Medicine, 377(16), 1585-1592.