NURS 6051 Big Data Risks and Rewards 
NURS 6051 Big Data Risks and Rewards 
NURS 6051 Big Data Risks and Rewards 
After the new Health Information Technology Act (HITECH) of 2009 went into effect, the electronic health record (EHR) became the largest application of big data in the healthcare industry. The HITECH act in the U.S. have been the reason why 80% of acute care hospitals that uses the EHR are certified (Ross, 2014, p. 97). The one benefit of the EHR program is the ability of the platform to absorb large amounts of data such as a patient demographics, medical history, allergies and laboratories values. This makes it easy for clinicians to improve patient quality of care by tracking progress and identifying potential problems early in their medical history. If a clinician attempts to order norco for pain, the EHR will display a best practice advisory (BPA) alert and flag the patient codeine allergy; this will redirect the clinician to considering another pain medication that would not put the patient at risk for an adverse drug reaction. Adverse drug events are estimated to occur in 30% or more of hospital stays and cost billions of dollars (Ross, 2014, p. 98). This is a great benefit big data have provided in the development of the EHR program.
The major challenge with EHR is keeping patient health information safe by preventing access to unauthorized individuals. At my facility, the IT department have assigned employee education modules on cyber-attacks. For example, an employee received an email from an IT associate about a Hospital EHR update and upon request, gave their login name and password. Shortly after the information was given, the cyber attacker was able to login into the EHR, steal approximately 50 patient's information and changed all the employee direct deposit bank accounts to an off shore financial institution in the Caribbean. Luckily, the IT department was notified immediately and was able to prevent the massive transfer of money, but was not successful in protecting the patient's healthcare data. After this sentinel event, all employees are quarterly required to take education modules on the best practices to mitigate the challenges of a cyber-attack. It is important to never give your password out and to always encrypt your emails. The new tiger connect system at my facility have features to encrypt your passwords and email before sending a message. In order to hold employees accountable, leadership have started to audit employees to ensure their following the safety protocols. Sometimes fake emails will be sent out to employees to ensure everybody understand there is never a right time to give their login information and the IT associates will never ask for this information. At the hospital, there are policies and procedures that serve to maintain patient privacy and confidentiality; for example, employees must not share their ID with anyone, always log off when leaving a computer and only use their own ID to access patient digital records (Jamshed, 2015, p. 75). We use a new device called WaveID, where your password automatically log in after waving your employee ID over a keyboard magnet. It is a convenient and easy for an individual to steal your badge, which is why it is important to follow the policy in place and mitigate the risk of another cyber-attack.
   References:
Jamshed, N., Ozair, F., Sharma, A., & Aggarwal, P. (2015). Ethical issues in electronic health records: A general overview. Perspectives in Clinical Research, 6(2), 73–76. https://doi.org/10.4103/2229-3485.153997
Ross, M. K., Wei, W., & Ohno-Machado, L. (2014). "Big data" and the electronic health record. Yearbook of Medical Informatics, 23(01), 97–104. https://doi.org/10.15265/iy-2014-0003
Kruse, C. S., Smith, B., Vanderlinden, H., & Nealand, A. (2017). Security techniques for the electronic health records. Journal of Medical Systems, 41(8), 1–10. https://doi.org/10.1007/s10916-017-0778-4
When nurses enter data, they document essential information for the health team's understanding of the patient. The importance of this information is critical to understanding and treatment methods. This data and the value of technology are meaningful use to a clinical system (Glassman, 2018). Technologies can be beneficial to gathering and analyzing patient data in a clinical setting. According to Glassman (2018), nurses must engage themselves in their feedback on big data processes and technology support. Nurses having a voice and being at the table to use good data for improved outcomes is key to making effective positive changes (Thew, 2016). Nurse leaders are interested in how to use big data for advocacy in best practice management.
The lack of data standardization and understanding of what to do with all the big data is an obvious barrier. As overwhelming as this subject is, I empathize with the nurse leader's role in how to make changes from a large influx of data. To untap the value of big data, big data analytics and data mining may offer some solutions for healthcare organizations. Data management systems will help compartmentalize data suitable for big data that comes with healthcare data entry. A potential benefit for leaders is nurse managers using data analytics to view consolidated daily reports concerning patient safety concerns Wang et al. (2018). Data mining are tools to convert data into valuable knowledge. McGonigle & Mastrian, 2022 find that "Data mining includes tools for visualizing relations in the data and mechanizes the process of discovering predictive information in massive databases" (p.537). Nurse managers would be interested in how data mining technology could benefit the interests of their departments and patient outcomes. A nurse manager in a medical unit may be interested in fall prevention methods. Lee et al. (2011) further describe not all falls can be unavoidable, but reducing injuries and avoiding future falls align with desirable goals that healthcare providers and organizations could use from incident reporting system data. Incident data documentation reported by nurses would serve as data to establish fall prevention measures, guidelines, policies, and interventions. Big data could benefit this clinical area of interest through its abilities in data collection measures, methods, and analysis.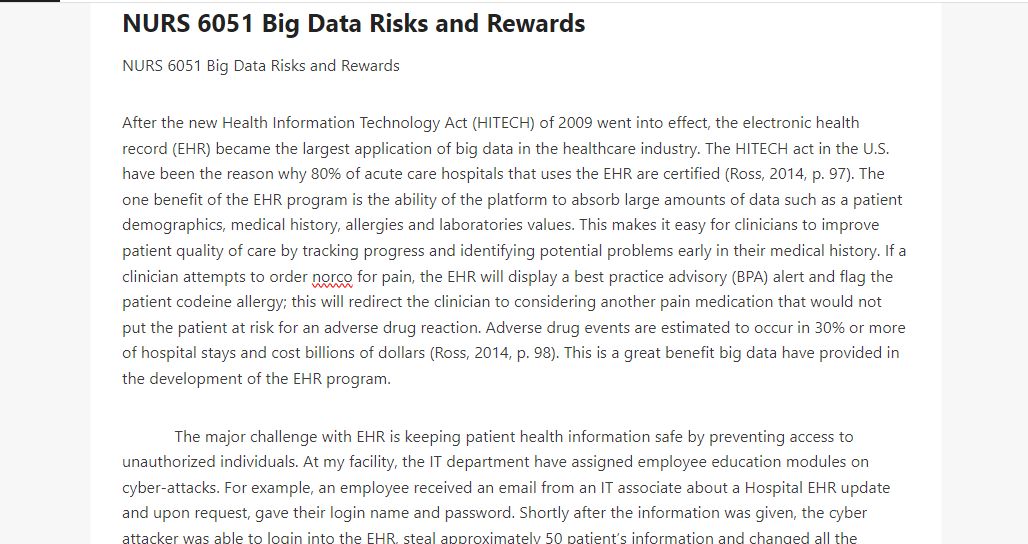 Some challenges of using big data are the need for data standardization and the failure of how data can interact (Thew, 2016). In the example of incidents of falls, accurate fall prediction models may use data from the incident reporting systems. Data that is hard to code or document may use the free text option, which can be a challenging variable. Misinterpretation can also add to the risks and challenges of big data.
A researched mitigation strategy to combat resistance to using big data is accepting and assuming the risk. Since fall prevention is a hot topic, I believe big data is a risk worth investing in. The link between evidence-based nursing knowledge and big data can intertwine in the improvement efforts in fall prevention programs. Stevens et al. (2017) described how "improving case management and implementation strategies that promote patient adherence to evidence-based strategies is crucial to successfully reducing falls" (p.77). The argument of why a nurse manager would advocate for specific methods concerning fall prevention measures would have supportive data rather than resorting to a person-to-person debate. In efforts to improve and understand healthcare to a greater degree, meaningful data is necessary (McGonigle & Mastrian, 2022). By using big data, there is an opportunity for improvements in several aspects of healthcare.
Glassman, K. S. (2017). Using data in nursing practice Links to an external site.Links to an external site. American Nurse Today, 12(11), 45–47. Retrieved from https://www.americannursetoday.com/wp-content/uploads/2017/11/ant11-Data-1030.pdf
Lee, T., Liu, C., Kuo, Y., Mills, M. E., Fong, J., & Hung, C. (2011). Application of data mining to the identification of critical factors in patient falls using a web-based reporting system. International Journal of Medical Informatics, 80(2), 141–150. https://doi.org/10.1016/j.ijmedinf.2010.10.009
McGonigle, D., & Mastrian, K. G. (2022). Nursing informatics and the foundation of knowledge (5th ed.). Jones & Bartlett Learning
Stevens, J. A., Smith, M. L., Parker, E. M., Jiang, L., & Floyd, F. D. (2017). Implementing a Clinically Based Fall Prevention Program. American Journal of Lifestyle Medicine. https://doi.org/10.1177/1559827617716085
Thew, J. (2016, April 19). Big data means big potential, challenges for nurse execs, and Links to an external site.
Links to an external site. Retrieved from https://www.healthleadersmedia.com/nursing/big-data-means-big-potential-challenges-nurse-execs
Wang, Y., Kung, L., & Byrd, T. A. (2018). Big data analytics: Understanding its capabilities and potential benefits for healthcare organizations. Links to an external site.
Links to an external site. Technological Forecasting and Social Change, 126(1), 3–13. 
Good job on your post, You addressed some valid points regarding data size. When data capacities are so large, it becomes difficult to determine which data points are valuable and insightful. It can create difficulty for nurse leaders who want to analyze, compute data and discover new knowledge to reveal patterns, trends, and associations, especially relating to human behavior and interactions that can improve the quality of care their staff provides. Another challenge is ensuring that the significant data insights are in the hands of the right people so that they can work honestly and critical information is not misused. Also, there can be challenges that may arise due to missing data or incomplete data.
Big Data can help healthcare providers meet these goals in unprecedented ways. The potential of Big Data in healthcare relies on the ability to detect patterns and to turn high volumes of data into actionable knowledge for precision medicine and decision-makers. In several contexts, the use of Big Data in healthcare is already offering solutions for improving patient care and generating value in healthcare organizations. By increasing earlier diagnosis and the effectiveness of information on health and access to health services and quality of treatments through the discovery of early signals. Overall, Big Data and predictive analytics can contribute to disease intervention and reduce the probability of adverse reactions. The major challenge with big healthcare data is sorting and prioritizing information.
Reference
Wang, Y., Kung, L., & Byrd, T. (2018). Big data analytics: Understanding its capabilities and potential benefits for healthcare organizations. Technological Forecasting and Social Change, 126, 3–13. https://doi.org/10.1016/j.techfore.2015.12.019
Thanks for sharing on the topic of big data and how it affects the different aspects of healthcare. Big data impacts direct patient care as well as long term patient outcomes which is why it is vital that we understand what it is and why we use it (Duquesne University, 2022).
Electronic Health Records are the primary way that we see big data used in healthcare which makes patient data more accessible and easier to share with others (Duquesne University, 2022). Electronic health record data can be generated, stored, cross referenced, and analyzed to yield valuable results which makes it possible for patients to receive consistent and reliable care at multiple facilities (Duquesne University, 2022). This data may also be used to make informed decision on the direction of a patients care in the future (Duquesne University, 2022). Some people have even said that machine learning algorithms may be used in the future to consider and evaluate more details of a patients EHR than any physician would be able to which may be able to detect patient risks and diseases earlier on resulting in better patient care (Duquesne University, 2022). Although this seems far-fetched, I do believe that there are many benefits to having patient records contained in one area that allows easy access for multiple providers across the care spectrum.
Nurses must be involved in the data collection and assessment process in order to care for their patients well (American Nurse, 2021). Nurses are a key aspect of patients receiving quality and safe care. At the same time, we cannot ensure that these big data programs are working efficiently and safely without nurses being involved in the process. Nurses must constantly be evaluating what can be improved in the big data process in order to ensure that big data is continually effective and informative to patient care.
Thanks for sharing on this topic!
References
American Nurse. (2021, March 12). Using data in nursing practice. https://www.myamericannurse.com/using-data-nursing-practice/
Duquesne University. (2022, June 2). What Is Big Data in Healthcare? Duquesne University School of Nursing. https://onlinenursing.duq.edu/blog/what-is-big-data-in-healthcare/
I appreciated your outlook on the discussion this week. You highlighted some meaningful use for EMRs on quality and safety. An opportunity for nurses to add to the topic of adverse drug events could be in their partnership with the vendors of EMR systems to incorporate narrative-style documentation in addition to flow sheet data from adverse events (Glassman, 2018). The general theme of big data benefits seems centered around involvement and having the data work for a greater purpose. I can relate to the incident you describe at your workplace facility, and I empathize as I have had a similar experience in the healthcare organization I use. Within our local community, there is a monopoly and lack of healthcare access and competition. With only one healthcare facility within a 50-mile radius for a higher level of care opinion, it recently fell victim to a mass cyber-attack. With a recent hack in security, I have witnessed the fallout in trust in the patient relationship with the organization, employees, and providers. A heightened level of disruption has intimately affected numerous community members and me. Getting a letter for free identity theft monitoring was quite unsettling as the solution proposed by the organization. As a patient within a healthcare system and an employee, I felt angry and unsettled; I can only imagine those members who lack an understanding of cyber security. Building a culture around the responsibility of cybersecurity has to stem from education and collaboration efforts like the ones you describe and then some. According to Niki et al. (2022), "cybersecurity in healthcare is not a duty or an obligation but an act of responsibility. When patients and families entrust their lives to the health system and its professionals, their complete commitment to excellence in delivery is a basic expectation" (para 1). With this tremendous fallout effect, the lack of competition in rural hospitals and department infrastructure is desperate for innovative leadership (Austin B. Frakt, 2019). I think cybersecurity and better meaningful use would enhance patient safety and the patient and staff's confidence in assuring their information is secure and used for its intended value.
References
Austin B. Frakt, P. D. (2019, June 18). The rural hospital problem. JAMA. Retrieved December 28, 2022, from https://jamanetwork.com/journals/jama/article-abstract/2735806
Glassman, K. S. (2017). Using data in nursing practice Links to an external site. Links to an external site.Links to an external site. American Nurse Today, 12(11), 45–47. Retrieved from https://www.americannursetoday.com/wp-content/uploads/2017/11/ant11-Data-1030.pdf
Niki, B., Saira, G., Arvind, S., & Mike, D. (2022). Cyber-attacks are a permanent and substantial threat to health systems: Education must reflect that. DIGITAL HEALTH. https://doi.org/10.1177/20552076221104665