NURS 6050 Week 9 Discussion: Legal and Ethical Conduct
NURS 6050 Week 9 Discussion Legal and Ethical Conduct
Click here to ORDER an A++ paper from our Verified MASTERS and DOCTORATE WRITERS: NURS 6050 Week 9 Discussion: Legal and Ethical Conduct
Nurses have a role in adhering with professional standards while in or out of the workplace, including using social media. Nursing professional standards include ethical practice, professional accountability and responsibility; client-focused service provision, as well as knowledge-based practice (Epstein & Turner, 2015). After going through my social media accounts, I found some posts that might be considered unprofessional. For instance, I had posted a photo of my patient and shared the location of the clinic. While she is my friend, people will know that she had visited the clinic. I also found a comment with my personal opinion regarding alcohol use, which may contrast professional standards. Moreover, I found a post about discontentment with a previous employer. Such information may contradict professional standards because I appear to go against my responsibility. Ethical practice necessitates not sharing details about patients, including personal information, medication, and the times they have been in the medical facility (Koocher & Keith‑Spiegel, 2019).
Reasons for Upholding a Standard of Conduct in the Profession of Nursing at Work and Personal Lives
It is imperative that nurses recognize that they have a legal and ethical obligation to always maintain patient confidentiality and privacy. Professional standards and the law prohibit nurses from electronically transmitting any patient-related image or information (NCSBN, 2019). It is not appropriate to identify patients by their name or different information through a social media post. It is essential to maintain boundaries that adhere to professional standards when using electronic media. This implies that nurses should enforce and communicate professional boundaries with nursing clients in the social media environment. In their personal lives, nurses should uphold nursing standards because this can help safeguard their career and avoid controversies that can put them in conflict with patients or coworkers.
How Personal Conduct can be considered Unprofessional or Unethical or violate HIPAA
Federal law defines and reinforces privacy through the HIPAA. This legislation requires medical professionals to protect patient confidentiality and privacy. It defines individually identifiable information and explicates how this critical information might be used, the circumstances under which it may be used, and by whom. Individually identifiable information consists of any info relating to the present, future, or past mental or physical health of an individual (HIPAA Journal, 2018). It also includes information that may result in the identification of an individual. Sharing such information is unethical and unprofessional under the HIPAA.
An example of a violation of confidentiality through the use of social media is a nurse who comments on WhatsApp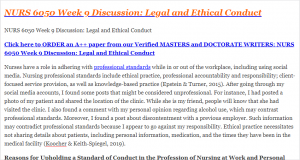 about a patient she has helped. In the context of a WhatsApp Group, the nurse and patient, who are members, may end up communicating information. The patient may say that she is feeling better after visiting the clinic, which the nurse may say that the morphine she provided will help her recover. While the nurse may not have any ill intention, she has already shared details of the patient's medication on social media. This violates the patient's right to confidentiality and privacy. Such conduct may lead to the nurse being reported to a board of nursing or in the media.
Areas of my Social Media Activity that reflect Christian Values
Respecting human dignity and value for all individuals is part of Christian teachings. In my social media activity, the Christian values reflected are friendship and joy. Joy is the emotion of happiness derived from a relationship with God and his people. In the case of my social media post with a patient's photo, I was celebrating a friend who also happened to be my patient. I was showing the world that friendship is critical for every Christian. I implied that it feels great to spend time with a friend whose location, incidentally, was shared by GPS technology.
Areas of Improvement in Social Media Activity
            It is necessary to improve in certain areas of social media use. First, I will stop sharing information about my personal life or opinions. Rather, I will share critical healthcare information that can help the public live healthier lives. I will stop posting any information or image about my patients. Finally, I will not post any information about my employer or workplace.
References
Epstein, B., & Turner, M. (2015). The Nursing Code of Ethics: Its Value, Its History. The Online Journal of Issues in Nursing, 1. DOI: 10.3912/OJIN.Vol20No02Man04
HIPAA Journal. (2018, 01 10). https://www.hipaajournal.com/what-is-protected-health-information/. Retrieved from HIPAA Journal: https://www.hipaajournal.com/what-is-protected-health-information/
Koocher, G. P., & Keith‑Spiegel, P. (2019). "What Should I Do?" – Ethical Risks, Making Decisions, and Taking Action. Courses for Mental Health Professionals, 1.
NCSBN. (2019). A Nurse's Guide to the Use of Social Media. Retrieved from NCSBN: https://www.arnnl.ca/sites/default/files/documents/Standards_of_Practice_for_Registered_Nurses.pdf