NURS 6050 The Role of the RN/APRN in Policy Evaluation
NURS 6050 The Role of the RN/APRN in Policy Evaluation
Nurses make a difference in the lives of their patients by providing the most needed care to optimize health outcomes. However, other than the bedside services, there is a shift in a pattern in the roles of these professionals as they are visibly conspicuous in the boardrooms of the hospitals to formulate policies that influence the fate of healthcare delivery systems (Williams & Anderson, 2018). Nurses have the requisite education and clinical expertise that can help them to present health care issues of special concern to a country. Since health policies go beyond formation and implementation, nurses have additional opportunities to evaluate the whole process. Specifically, Advanced Practice Registered Nurses (APRNs) and Registered Nurses (RNs) are frontline care providers who take part in decision making and advocate for change in patient care through evaluating a vision of a change. However, the roles of nurses in evaluating policy formulation remain unclear due to a lack of clear guidelines on operations. As such, the present article analyzes opportunities for the involvement of nurses in policy evaluation, associated challenges, solutions, and recommendations for improvement.
Opportunities for Policy-Evaluation Involvement
Nurses exhibit advocacy skills and can write to a state regarding implementation of a health policy bill and how it affects the patients. For a time in history, nurses have been considered advocates for patients and therefore they live at the edge of policy regulations that influence the quality outcomes to these clients. RNs and APRNs lobby on behalf of patients on the implementation of a policy by analyzing the cost implications of the proposed intervention (Glasgow, Lichtenstein & Marcus, 2003). They also assess the policy to ascertain its relevance in addressing the current health challenges faced by patients and therefore recommend or refute the adoption of the specific intervention. Nurses as well use their advocacy skills to propose amendments to operational framework of health policy to ensure it conforms to the needs of patient care. Additionally, nurses assess the implementation of old policies and might suggest the removal of such practices if they do not offer evidence of improved patient care.
Registered nurses have excellent communication skills which they can use to review the present health policy. As frontline care providers, nurses use their expertise to interact with patients so as to get insights about their present illnesses. The same skill is translated into policy evaluation in which nurses communicate with the stakeholders about the framework of the policy and potential challenges. Besides, through communication, nurse addresses the standards of delivery of care outlined in the policy to assess its effectiveness in assuring the quality of care (Williams & Anderson, 2018). The premise is supported by comparing existing policy framework with those developed by the regulatory bodies in a state. With communication skills, nurses have an opportunity to attract the interest of stakeholders to meet the needs or goals of patient care in an institution.
Challenges
The opportunities outlined may also work to the disadvantage of the nurses. For instance, implementation of policy allows nurses to use their advocacy skills but they may use this opportunity to review the implementation matrix based on their biased opinion. In other words, nurses may use the opportunity to address issues of personal or institutional needs as opposed to presenting the voice of their patients (Milstead & Short, 2019). Based on this premise, the policy in question may be amended or important clauses removed while adding unnecessary policies that might not address the present healthcare needs. Notably, nurses need to use their advocacy skills wisely to provide positive amendments that improve the quality outcomes to patients.
With regard to communication skills, nurses may take the opportunity to criticize the policy especially if there are clauses that are not defined appropriately. The approach may comprise the collaborative framework needed to achieve successful implementation of the program as there will be a team of supporters and opposition. Nurses can also use their views to communicate with other healthcare providers on the reason to oppose the policy especially by addressing its negative impact on their professional practice (Glasgow, Lichtenstein & Marcus, 2003). The outcome may lead to frustration and disillusionment among the care providers and the bitterness may affect the delivery of care to the given facility. As a remedy to this, nurses are encouraged to use their communication skills to channel their genuine dissatisfaction to improve a positive impact in their profession.
Recommendations
First I would recommend that the policy evaluation based on the advocacy skills of nurses be passed through a panel of senior nurse practitioners and medical officers to ascertain that the opinions present represent the ideas and needs of patients. According to Milstead and Short (2019), senior members must be included in the policy evaluation as their input will guide the formulations of the regulations to govern such amendments.
Second, I recommend standards to be set to guide nurses on how they use their communication skills. In essence, procedures for communication must be clearly outlined and nurses should be advised accordingly against mobilizing other cadres of health to resist the provisions of a given policy (Williams & Anderson, 2018).
Conclusion
As illustrated, health policies in care facilities do not end at the implementation process. Nurses are still mandated to oversee their implementation by assessing the performance metrics of the policy. However, caution must be taken to ensure that nurses use their skills to improve the implementation rather than compromise the performance of a policy.
References
Glasgow, R. E., Lichtenstein, E., & Marcus, A. C. (2003). Why don't we see more translation of health promotion research to practice? Rethinking the efficacy-to-effectiveness transition. American journal of public health, 93(8), 1261-1267.
Milstead, J. A., & Short, N. M. (2019). Health policy and politics: A nurse's guide (6th ed.). Burlington, MA: Jones & Bartlett Learning.
Williams, J. K., & Anderson, C. M. (2018). Omics research ethics considerations. Nursing Outlook, 66(4), 386–393. doi:10.1016/j.outlook.2018.05.003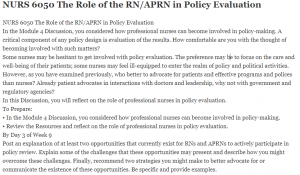 I enjoyed your post. Unfortunately, every situation may have its shortcomings. A few challenges to health policy evaluation include: lack of resources to complete assessment, lack of comparative results, and social media (Milstead & Short, 2019). Although a lack of resources may be a problem, joining a professional association can give you with a wealth of information for a policy review. Social networking is a fantastic tool to communicate and learn about other people's perspectives. Professional nursing organizations can use social media to disseminate policy information to their members and followers (Waddell, 2019). Nurses must take an active role in policy development by joining a professional association, using social media, and conducting evidence-based research to better themselves and the communities they serve.
Nurses must use techniques to advocate for and explain policy issues during the review process. It is the "moral and professional obligation of nurses to be engaged in legislation that affects their patients," according to Brokaw. Researching evidence-based data using reputable and credible databases is one technique for effectively communicating with legislators about policy review. Using current and credible resources will assist you in developing a strong proposal to offer to the legislature. Another way to lobby for policy change is to join a professional organization and network with other RNs/APRNs in your area. Nurses can join professional groups to advocate for themselves and their patients' well-being, allowing them to better serve their communities (ANA, 2021).
References
American Nurses Association. (Jan 2021). ANA Enterprise. Retrieved July 25, 2021, from https://www.nursingworld.org Brokaw, J. (2016, September 26). The nursing profession's potential impact on policy and politics. American Nurse. Retrieved July 19, 2021, from https://www.myamericannurse.com/nursing-professions-potential-impact-policy-politics/.
Thank you for your post. I like how you talked about policies and the association with quality care, as it is important that the policies out in place are directly correlated with quality care. The Institute of Medicine (IOM) has defined quality as "the degree to which health care services for individuals and populations increase the likelihood of desired outcomes and are consistent with current professional knowledge." (Seelbach CL, 2021) Nurses and APRN are an important aspect of ensuring the policies are a direct reflection of what the patients need as they are in the frontlines of patient care. As an advocate for patients, it is the responsibility of the nurses to review the policies being brought forth to ensure they reflect an answer to the issues the patients voiced a concern with.
Reference:
Seelbach CL, B. G. (2021, March 16). Quality Management. Retrieved from StatPearls: https://www.ncbi.nlm.nih.gov/books/NBK557505/#_NBK557505_pubdet_