NURS 6050 LEGISLATION GRID AND TESTIMONY/ADVOCACY STATEMENT
Sample Answer for NURS 6050 LEGISLATION GRID AND TESTIMONY/ADVOCACY STATEMENT Included After Question
The Assignment: (1- to 2-page Legislation Grid; 1-page Legislation Testimony/Advocacy Statement)
Be sure to add a title page, an introduction, purpose statement, and a conclusion. This is an APA paper.
Part 1: Legislation Grid
Based on the health-related bill (proposed, not enacted) you selected, complete the Legislation Grid Template. Be sure to address the following:
Determine the legislative intent of the bill you have reviewed.
Identify the proponents/opponents of the bill.
Identify the target populations addressed by the bill.
Where in the process is the bill currently? Is it in hearings or committees?
Part 2: Legislation Testimony/Advocacy Statement
Based on the health-related bill you selected, develop a 1-page Legislation Testimony/Advocacy Statement that addresses the following:
Advocate a position for the bill you selected and write testimony in support of your position.
Explain how the social determinants of income, age, education, or gender affect this legislation.
Describe how you would address the opponent to your position. Be specific and provide examples.
At least 2 outside resources and 2-3 course specific resources are used.
A Sample Answer For the Assignment: NURS 6050 LEGISLATION GRID AND TESTIMONY/ADVOCACY STATEMENT
Title: NURS 6050 LEGISLATION GRID AND TESTIMONY/ADVOCACY STATEMENT
Legislation Grid Template
Nurses encounter events and situations that influence their participation and involvement in advocacy roles so that they can impact the development and implementation of policies, regulations and laws associated with and aimed at improving health aspects like care delivery (Taylor et al., 2021). Nurses do this by participating in policymaking and lobbying to ensure that patients get quality care (Milstead et al., 2019). The essence of this paper is to review a selected health-related bill in Congress to determine its intent, target population and provide an advocacy statement or testimony related to nursing.
Health-related Bill Name
Preventing Maternal Deaths Reauthorization Act of 2023
Bill Number
H.R. 3838
Description
The bill wants to amend title III of the Public Health Services act with the aim of reauthorizing federal government to support states in their efforts to save and sustain the health of mothers before, during and after pregnancy (Govtrack.us, 2023).
Federal or State?
Federal
Legislative Intent
The bill seeks to eliminate maternal health disparities and improve outcomes for pregnancy-related and pregnancy-associated deaths. The bill focuses on identifying solutions to enhance quality of care and outcomes for mothers during this time (Govtrack.us, 2023).
Proponents/ Opponents
Proponents: mothers and expectant mothers, healthcare providers, social workers, and health department
Opponents: Health insurance companies, conservative legislators within state legislatures based on their party affiliations.
Target Population
Expectant mothers, mothers during delivery, and postpartum mothers.
Status of the bill (Is it in hearings or committees?)
Ordered reported and awaiting consideration after being sent to the House and Senate as a whole bill.
General Notes/Comments
The bill is critical for maternal health since the U.S. lags behind its peers with one of the highest infant mortality rates due to disparities that affect health populations, especially low-income and racial minorities. The bill is a critical part of improving efforts to reduce and prevent high rates of infant mortality in the country. Having assumed a bipartisan sponsorship in Congress, the bill has increased chances of passing and being enacted to save and sustain expectant mothers, those recently delivered, and those experiencing postpartum period.
Part 2: Legislation Testimony/Advocacy Statement
The U.S. continues to have one of the highest maternal mortality rates among its peers from the Organization for Economic Co-operation and Development (OECD). The Centers for Disease Control and Prevention (CDC) (2023) asserts that the U.S. maternal mortality rates stand at 23.8 per 100,000 live births. The rate increases based on racial composition with African Americans registering over 55.3 per 100,000 live births. These high rates mean that expectant mothers and those delivering are not safe (Jang et al., 2022). The disparities in maternal health requires interventions like the proposed bills which will compel both state and federal governments to enact measures aimed at reducing and preventing mortality rates.
Maternal mortality impacts American women irrespective of their background (Hill et al., 2022). Pregnant women risk experiencing complications like preterm labor, infections, gestational diabetes and even fatality because of their condition. Again, among those who survive the pregnancy period and childbirth, close to 50,000 experience life-threatening pregnancy associated complications or severe maternal morbidity (SMM). Therefore, as core part of healthcare provision, nurses advocate for the enactment of such measures to improve the safety and quality of care offered to the expectant women and those delivering and even during the postpartum period to prevent and reduce any complications that may arise (Milstead et al., 2019). This bill will help reduce these complications and deaths that arise from pregnancy.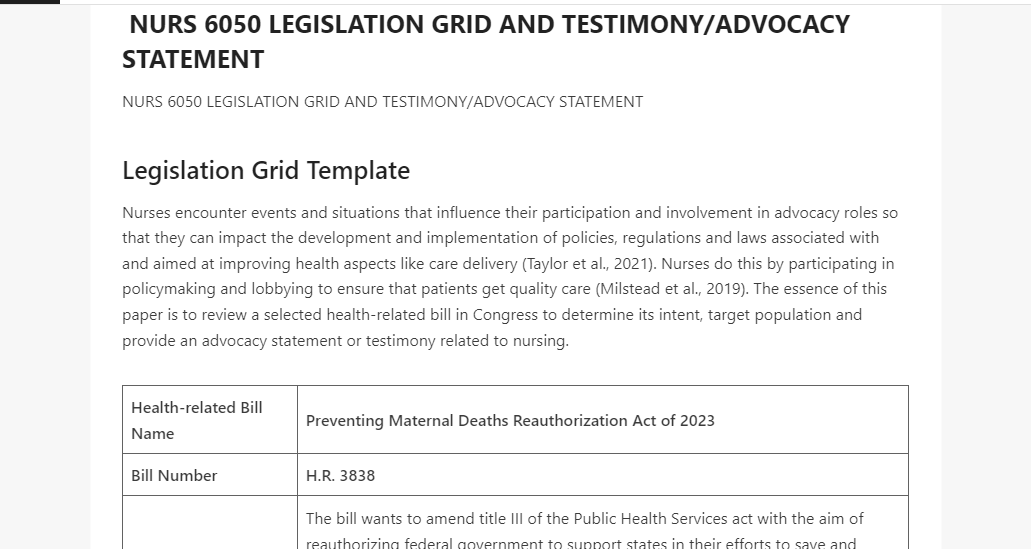 Social determinants of income, age, education and gender may affect this legislation since those impacted most by the disparities are racial minorities, especially African American women. The passage of this bill will ensure that these women get access to healthcare resources to reduce their susceptibility to complications (Taylor et al., 2019). For instance, this bill addresses states to implement measures to increase resources and access aimed at lowering any possible complication during pregnancy, delivery, and at postpartum period.
Opponents of the bill should consider the negative effects of these complications and the need to save and sustain the lives of these women. Again, it would be critical to consider the benefits of reducing and preventing maternal mortality to the overall cost burden of healthcare. Therefore, opponents should focus on the effects of the bill in mitigating costs and improving quality of care offered to the patients.
Conclusion
Health-related bills in Congress focus on improving care delivery. As such, nurses should advocate for these legislations to improve different aspects of care provision like accessibility and quality. The legislative intent of this bill is to reduce maternal mortality and improve the overall care delivery for the targeted population.
References
Centers for Disease Control and Prevention (2023 March 16). Maternal Mortality
Rates in the United States, 2021. https://www.cdc.gov/nchs/data/hestat/maternal-mortality/2021/maternal-mortality-rates-2021.htm
Govtrack.us (2023). H.R. 3838: Preventing Maternal Deaths Reauthorization Act
of 2023. https://www.govtrack.us/congress/bills/118/hr3838
Hill, L., Artiga, S. & Ranji, U. (2022 Nov 01). Racial Disparities in Maternal and
Infant Health: Current Status and Efforts to Address Them. https://www.kff.org/racial-equity-and-health-policy/issue-brief/racial-disparities-in-maternal-and-infant-health-current-status-and-efforts-to-address-them/
Jang, C. J., & Lee, H. C. (2022). A review of racial disparities in infant mortality in
the US. Children, 9(2), 257. DOI: 10.3390/children9020257
Milstead, J. A., & Short, N. M. (2019). Health policy and politics: A nurse's guide
(6th ed.). Jones & Bartlett Learning.
Singh, G. K., & Stella, M. Y. (2019). Infant mortality in the United States, 1915-
2017: large social inequalities have persisted for over a century. International Journal of Maternal and Child Health and AIDS, 8(1), 19. DOI: 10.21106/ijma.271
Taylor, J., Novoa, C., Hamm, K. & Phadke, S. (2019) May 2). Eliminating Racial
Disparities in Maternal and Infant Mortality: A Comprehensive Policy Blueprint