NUR 705 Discussion 2.1: Project Topic Ideas
Discussion 2.1
When considering ideas for my DNP project, I consider the field of nursing that I currently work in, what I experience everyday at work, and some barriers to care that my patients commonly experience in the emergency department setting at a Level I trauma center in central Illinois. I previously worked in a small 20-bed rural emergency department which adds to the perspective and ideas for my DNP project. When considering the barriers to care for both the current large ER that I work in and the small rural ER that I worked in previously, a few themes are common. Consistently I see barriers to care for mental health patients in the emergency department setting. Patients often are "held" in our ER for days, weeks on end, waiting for placement at a mental health facility. These patients often present to the ER after outpatient treatment has failed them or they are in acute crisis, being held in a single ER room for multiple days and not seeing the light of day can dramatically affect/worsen someone's mental health, especially when it is already in a vulnerable state. There are often not good protocols in place for these patients. They routinely do not get showers, any physical activity, etc. while being held in these settings. They have a severely restricted stay while in the ER setting.
Another vulnerable population that is seen in the ER that often has barriers to care are sexual assault and domestic assault patients. These patients often do not have the adequate follow-up, discharge/safety planning, and access to resources as they should. In the rural ER setting, there were often not qualified nurses to perform sexual assault kits for the victims of sexual assaults. Their care was often not performed or followed up on afterwards like it should due to lack of knowledge of the staff and inadequate training of staff. As previously identified in a prior course at Bradley, I identified the need for a teaching program for nurse staff in emergency departments in central IL to help teach them about the resources available, what members of the community that needed to be involved in this patient's care from cops to social workers, and discharge instructions/information to provide to these patients presenting with domestic assault and sexual assault survivors.
Both of these DNP project ideas have strong support/need backing them which would help justify the reason for the need for my project. They directly affect vulnerable populations that are commonly seen in the emergency department setting. Both project ideas focus on direct change for these populations to help improve their quality of life during and after their emergency department visit. Sustainability would be important for these projects to keep them going and implementing changes in the emergency department. Local funding for mental health, sexual, and domestic assault patients like Prairie Center Against Sexual Assault helps fund initiatives like this project.
Some search terms that I would use to find scholarly articles for sources for the first project idea would include "mental health patients AND emergency medicine," "psychiatric evaluation emergency," "delays in inpatient psychiatric care," "mental health holds in the emergency department," "safety for mental health patients emergency department," and "restrictions to mental health treatment in emergency department setting." Search terms for the second project would include "sexual assault AND domestic assault survivor emergency medicine," "SANE nursing," "post-assault care in emergency medicine," "sexual assault follow up resources," and "domestic abuse follow up resources." I would use the boolean phrases like AND and OR for my search terms to be all inclusive of the topics that I am interested in researching for my DNP project. I would limit my range of articles from the past five years. I would also limit them to the United States, English language, and open-text articles.
Hi Savanna
I agree with you that a physician's everyday experiences and the barriers faced to providing quality healthcare usually significantly define their perspectives and research priorities. The challenges faced by patients also vastly redefined the healthcare worker toward practice and formed a critical part of the choice of ideas for scholarly processes such as the DNP project (Molina-Mula & Gallo-Estrada, 2020). I also agree with you that patients with special needs are often significantly advantaged with regard to access to expedited services, especially in the emergency room setting. Many of them experience long wait times awaiting placements in mental health facilities due to the lack of an efficient system or specialized services. The patient is often exceedingly prone to exhibiting mental health outcomes as a result of unmet physical and social needs such as exercising or interaction with their family. Trauma patients, especially those presenting to the clinic with signs of physical or sexual assault, are also often significantly prone to exhibiting the outcomes due to the lack of adequate follow-up and insufficient safety planning (Cowan et al., 2020). There is often little effort placed towards eliminating the toxic influences affecting the victims resulting in possible recurrence of the events. How would you suggest that the challenges facing mental health patients in the emergency care setting be resolved? I would also opine you explore a few strategies for addressing concerns raised regarding valuable population search as assault victims.
References
Cowan, A., Ashai, A., & Gentile, J. P. (2020). Psychotherapy with survivors of sexual abuse and assault. Innovations in Clinical Neuroscience, 17(1-3), 22. https://www.ncbi.nlm.nih.gov/pmc/articles/PMC7239557/ (Links to an external site.)
Molina-Mula, J., & Gallo-Estrada, J. (2020). Impact of nurse-patient relationship on quality of care and patient autonomy in decision-making. International Journal of Environmental Research and Public Health, 17(3), 835. https://www.ncbi.nlm.nih.gov/pmc/articles/PMC7036952/
Hi Savanna,
You make several great points that would support a strong DNP Scholarly Project involving either of these vulnerable populations. I would suggest adding the search term, rural, or rural emergency medicine, when searching for scholarly articles to see what interventions are already being implemented in other rural communities. Would you say you are seeing more mental health illness, sexual assault, and domestic assault in the ED since the COVID-19 pandemic? If so, you could also try using Boolean phrases to include COVID-19 pandemic to support the need for more resources to help the patient cope.
Hey, Savanna,
Firstly, I would like to commend you having such a refined ideas on your future DNP project. I completely agree that many people in these vulnerable populations are often not given the true help that they need, especially in rural populations. Mental health facilities are often sparse in rural communities, and sadly these patients are far too often put into a room and more or less forgotten about. As you stated, they are often put into rooms by themselves with no sunlight or contact with others, they are left to their own unhealthy thoughts. This is not helpful to these types of patients. As for domestic/sexual abuse patients, they are such a unique set of patients, it is often so hard for these patients to come forward and need to be handled a specific way. Unfortunately, many times there is not a specially trained individual in each emergency department for these types of patients. Valuable evidence can be lost in these cases when a trained person isn't conducting these kits and investigations, as well the proper psychological treatments not being given during these crucial moments.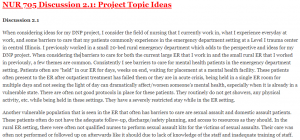 Have you ever researched what policies and laws are in place in Illinois to treat these vulnerable populations? Have you considered trying to change the policies and/or laws in place in Illinois, or is that what you hope to with your DNP project? In my opinion, that would be an amazing and wonderful thing you could do. These patients do need someone to step up and make some kind of change in how these treatments are handled. I truly hope that your project can help make a difference in how these cases are handled. Maybe you can look into the outcomes of these cases when a trained professional is involved in the emergency department initial visit. Good luck with your project!
Hello Savanna
This is an exceptional response to DNP project topic ideas. Ideally, the DNP project is a pillar that binds the didactic and clinical work of a student in the DNP program. The DNP projects require students to recognize gaps in the healthcare delivery system that should be changed to enhance health outcomes (Zaccagnini & Pechacek, 2019). This could be in the community or workplace. Therefore, the project ideas you have proposed should be addressed to seal the gaps they cause in the healthcare system. After selecting the project idea to address, the DNP project presents a unique opportunity to conduct autonomous research to develop an innovative intervention for a real-world clinical issue. Although DNP projects are often challenging, they can also be highly rewarding. They help in honing specific skills that are revered in the job market (Milner et al., 2019). DNP project focuses on developing a variety of skills such as critical, creative, and strategic thinking, building the spirit of teamwork, effective communication, research analysis, and problem-solving skills. Students also get the opportunity to strengthen ethical and social responsibilities since they learn to master their knowledge in various disciplines and work properly in interdisciplinary teams while interacting professionally with their professors and peers.
References
Milner, K., Zonsius, M., Alexander, C., & Zellefrow, C. (2019). Doctor of nursing practice project advisement: A roadmap for faculty and student success. Journal of Nursing Education, 58(12), 728-732. https://doi.org/10.3928/01484834-20191120-09
Zaccagnini, M., & Pechacek, J. M. (2019). The doctor of nursing practice essentials: A new model for advanced practice nursing. Jones & Bartlett Learning.
Hi Savanna,
The topics chosen, it is agreed, that there is need for much reform in these areas of medicine. The populations discussed are in a very vulnerable state as you mentioned.  Working in a small ER in Melrose Park, IL in the past, allows one to reflect on the different encounters and experiences one witnesses working in this setting. Patients with mental health illness, would certainly need to wait days at times for an inpatient psychiatric bed to become available. How many psychiatric hospitals did you have available in the nearby area? Did your hospital seek other psychiatric facilities that were further out, either north or south of Illinois? It is suggested to perhaps dedicate an area of the ER or hospital, to room more comfortably patient's awaiting for more permanent placement, if access is an issue, which it is state and nationwide. Having counselors on hand to start the process of cognitive behavioral therapy, or other forms of psychotherapy, along with having a psychologist and psychiatrist to evaluate and consult with throughout this process, may help the treatment process start sooner rather than later. Having a nice view to the outside, being able to view plants and flowers, having fun activities and games available, and having a shower room, would really elevate the patient experience for this already vulnerable population. This was a great post, that discussed and pointed out areas of the healthcare system in need of change. Thank you.
Mirthala, it sounds like you can understand and relate to some of the struggles in ER I identify for my project ideas! My ER does not have a separate section or mental health professionals trained for the mental health patients who present in crisis. A shower room is a really great point to add for these patients- as most of the time our psychiatric patients have to shower in our decontamination room…. Often times our mental health patients have to have a 4-6 hour drive to an inpatient mental health facility. My local community used to have a ton of resources available and a large inpatient mental health facility present until IL government closed it in the early 2000's. Since then, our community has really struggled with mental health resources and treatment. This is something that I plan to address/focus on working as a future APN in the community. I truly feel like I could make a difference doing this.
Hi Savannah!
Reading your post made me think of my experiences in the ED. I was in the crisis center which is in the ED (a psych ED) for a few years before moving to out-patient psych. You are absolutely right when you say that mental health patients face barriers in this setting. I don't have any experience dealing with sexual assault and domestic assault patients. For this reason, I would love to see a DNP project on this and how to improve quality issues in this population. I agree with you that lack of knowledge and inadequacies on the staff's part is a big deal here. Would you do this based on you ED experience in the rural area or the level 1 trauma center in central Illinois? Awesome ideas!
APA Writing Checklist
Use this document as a checklist for each paper you will write throughout your GCU graduate program. Follow specific instructions indicated in the assignment and use this checklist to help ensure correct grammar and APA formatting. Refer to the APA resources available in the GCU Library and Student Success Center.
☐ APA paper template (located in the Student Success Center/Writing Center) is utilized for the correct format of the paper. APA style is applied, and format is correct throughout.
☐ The title page is present. APA format is applied correctly. There are no errors.
☐ The introduction is present. APA format is applied correctly. There are no errors.
☐ Topic is well defined.
☐ Strong thesis statement is included in the introduction of the paper.
☐ The thesis statement is consistently threaded throughout the paper and included in the conclusion.
☐ Paragraph development: Each paragraph has an introductory statement, two or three sentences as the body of the paragraph, and a transition sentence to facilitate the flow of information. The sections of the main body are organized to reflect the main points of the author. APA format is applied correctly. There are no errors.
☐ All sources are cited. APA style and format are correctly applied and are free from error.
☐ Sources are completely and correctly documented on a References page, as appropriate to assignment and APA style, and format is free of error.
Scholarly Resources: Scholarly resources are written with a focus on a specific subject discipline and usually written by an expert in the same subject field. Scholarly resources are written for an academic audience.
Examples of Scholarly Resources include: Academic journals, books written by experts in a field, and formally published encyclopedias and dictionaries.
Peer-Reviewed Journals: Peer-reviewed journals are evaluated prior to publication by experts in the journal's subject discipline. This process ensures that the articles published within the journal are academically rigorous and meet the required expectations of an article in that subject discipline.
Empirical Journal Article: This type of scholarly resource is a subset of scholarly articles that reports the original finding of an observational or experimental research study. Common aspects found within an empirical article include: literature review, methodology, results, and discussion.
Adapted from "Evaluating Resources: Defining Scholarly Resources," located in Research Guides in the GCU Library.
☐ The writer is clearly in command of standard, written, academic English. Utilize writing resources such as Grammarly, LopesWrite report, and ThinkingStorm to check your writing.