NUR 700 Discussion 2.1: Integrative and Transformative Theories in Practice
NUR 700 Discussion 2.1: Integrative and Transformative Theories in Practice
Dorothea Orem's Self-Care Deficit Nursing Theory
          The integrative theory that applies most to my clinical practice would be Dorothea Orem's Self-Care Deficit Nursing Theory (SCDNT). The SCDNT is commonly seen in rehabilitative nursing because it focuses on teaching patients to care for themselves by giving them the knowledge and means to do so. I currently work in an 80-bed inpatient rehabilitation hospital that is stroke certified through The Joint Commission. This theory applies most to my clinical practice because a large part of my job is treating patients with some form of a self-care deficit. Nursing patients who have been newly affected by a cerebrovascular accident (CVA) or stroke will require teaching and education on new techniques and methods regarding how to care for themselves following a stroke. Patients affected by stroke commonly have to relearn many basic activities of daily living (ADLs). Common ADLs are eating, dressing, getting in or out of bed, toileting, bathing or showering, preparing meals, managing money, shopping, doing housework, using a telephone, etc. Using Orem's SCDNT as the foundation for nursing interventions geared towards stroke patients helps to empower patients to not only participate in their care but to recognize and respond to potential future strokes (Sposito et al., 2018). The SCDNT is comprised of four concepts (Smith, 2020). The concepts are the Theory of Self-Care, the Theory of Self-Care Deficit, the Theory of Nursing Systems, and finally the Theory of Dependent Care (Irshad-Ali, 2018). The Theory of Self-Care focuses on intentionally performing tasks by one's self that are necessary for life, human functioning, and health (Smith, 2020). The Theory of Dependent care focuses on the patient being in a dependent position or relationship, like that of a child and a parent (Smith, 2020). The Theory of Self-Care Deficit described why people need nursing such as health-related shortcomings for comprehending, determining, and yielding care to one's self (Smith, 2020). Finally, the Theory of Nursing Systems encompasses the other three theories and adds the interpersonal relationship between the nurse and the patient (Smith, 2020).
          One example of the application of the SCDNT is Ghani et al., (2019) description of a 62-year-old male patient affected by a CVA resulting in left hemiparesis and dysphagia. A holistic approach to the patient's care was provided using the elements of the SCDNT. The care provided was based on creating a means for the patient to meet his own self-care needs. Using the SCDNT, the nurse was able to assist and care for the patient while supplying an environment appropriate for enriching the remaining self-care skills and nurturing the development of new ones (Ghani et al., 2019). All of this was achieved through nasogastric tube feeding to prevent dehydration or malnutrition, providing rest breaks during activities to reduce fatigue, checking vital signs frequently, providing aids for communication and means for orientation, teaching affected extremity self-positioning techniques, demonstrating the use of adaptive tools and techniques for ADLs, teaching stroke signs and symptoms, medication management and education, and collaborating with other departments such as physical therapy, occupational therapy, speech therapy, the dietician, and physician (Ghani et al., 2019). Despite attempting to teach stroke patients to care for themselves, some deficits may remain that they are unable to accomplish, which is known as dependency (Sposito et al., 2018). It was concluded that although the patient did not recover fully, he showed remarkable improvement and gradual development of the ability to care for himself, develop new skills, and prevent recurrent stroke (Ghani et al., 2019). This was all achieved through nursing care that was based on Dorothea Orem's SCDNT.
References
Ghani, N., Suliman, M., & Fatima, A. (2019). Application of Orem's nursing theory to a stroke patient: A case study. Journal of Saidu
          Medical College, 9(2), 273–277. https://doi.org/10.52206/jsmc.2019.9.2.
Irshad-Ali, B. H. (2018). Application of Orem self care deficit theory on psychiatric patient. Annals of Nursing and Practice, 5(1),
          1093–1095. https://www.researchgate.net/profile/Bibi-Hajira-Wali/publication/343125237_Central_Bringing_Excellence_in_
          Open_Access_Annals_of_Nursing_and_Practice_Application_of_Orem_Self_Care_Deficit_Theory_on_
          Psychiatric_Patient/links/5f17bc21a6fdcc9626a685df/Central-Bringing-Excellence-in-Open-Access-Annals-of-
          Nursing-and-Practice-Application-of-Orem-Self-Care-Deficit-Theory-on-Psychiatric-Patient.pdf
Smith, M. C. (2020). Nursing theories and nursing practice (5th ed.). F.A. Davis.
Sposito, J., Zipf, A., Alhowaymel, F., Almutairi, M., & Breda, K. (2018). Community-based stroke recognition education and response:
          An evidence-based intervention project. Creative Nursing, 24(4), 251–257. https://doi.org/10.1891/1078-4535.24.4.251
Hi Michelle
I agree that Dorothea Orem's Self-care Deficit Nursing Theory (SCDNT) is an effective framework for educating patients to take better care of themselves by assuming a rehabilitative approach. The practitioner effectively equips the subjects with the necessary prerequisite skills to enable them to achieve sustainable progress. The SCDNT is centered on self-care and consists of actions aimed at improving the patient's competence and capacity to act by their own initiative in pursuing activities that promote superior health care practices. The process effectively relegates to the responsibility for one's to the subject. The theory posits that patients are better placed to achieve positive recovery outcomes if a level of independence is maintained. In nursing practice, the patient is ultimately responsible for the success of the treatment program as they are sufficiently prepared to make decisions with an evidence basis. The concept focuses on folding the subjects to initiate and perform practices aimed at maintaining their wellbeing, health, and life.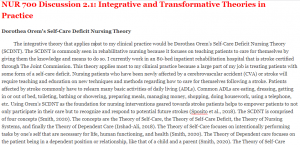 It is true that patients affected by stroke commonly have to relearn numerous basic daily activities, including dressing, maintaining personal hygiene, achieving mobility, and performing household chores. The application of Dorothea Orem's Self-care Deficit Nursing Theory encourages the application of interventions specifically tailored for stroke patients not only to empower but to encourage them to recognize and actively pursue the achievement of positive outcomes. I also agree with you that the theory of self-care deficit endeavors to address the shortcomings of current processes, multiple of which are borne of the approaches being centered on the practitioner (Khademian et al., 2020). A stronger interpersonal relationship between the patient and the nurse is created. Have you considered the impact of the patient's support structure on the achievement of positive health outcomes? You might want to include how each of these parties plays an integral role in fostering independence within the subject to adhere to the treatment program or pursue constant self-improvement to better adapt to the living effects of a stroke.
References
Khademian, Z., Ara, F. K., & Gholamzadeh, S. (2020). The effect of self care education based on orem's nursing theory on quality of life and self-efficacy in patients with hypertension: a quasi-experimental study. International Journal of Community Based Nursing and Midwifery, 8(2), 140. https://www.ncbi.nlm.nih.gov/pmc/articles/PMC7153422/