NUR 674 Topic 9: Professionalism
NUR 674 Topic 9 Professionalism
Click here to ORDER an A++ paper from our Verified MASTERS and DOCTORATE WRITERS: NUR 674 Topic 9: Professionalism
Nurses have a role in adhering with professional standards while in or out of the workplace, including using social media. Nursing professional standards include ethical practice, professional accountability and responsibility; client-focused service provision, as well as knowledge-based practice (Epstein & Turner, 2015). After going through my social media accounts, I found some posts that might be considered unprofessional. For instance, I had posted a photo of my patient and shared the location of the clinic. While she is my friend, people will know that she had visited the clinic. I also found a comment with my personal opinion regarding alcohol use, which may contrast professional standards. Moreover, I found a post about discontentment with a previous employer. Such information may contradict professional standards because I appear to go against my responsibility. Ethical practice necessitates not sharing details about patients, including personal information, medication, and the times they have been in the medical facility (Koocher & Keith‑Spiegel, 2019).
Reasons for Upholding a Standard of Conduct in the Profession of Nursing at Work and Personal Lives
It is imperative that nurses recognize that they have a legal and ethical obligation to always maintain patient confidentiality and privacy. Professional standards and the law prohibit nurses from electronically transmitting any patient-related image or information (NCSBN, 2019). It is not appropriate to identify patients by their name or different information through a social media post. It is essential to maintain boundaries that adhere to professional standards when using electronic media. This implies that nurses should enforce and communicate professional boundaries with nursing clients in the social media environment. In their personal lives, nurses should uphold nursing standards because this can help safeguard their career and avoid controversies that can put them in conflict with patients or coworkers.
How Personal Conduct can be considered Unprofessional or Unethical or violate HIPAA
Federal law defines and reinforces privacy through the HIPAA. This legislation requires medical professionals to protect patient confidentiality and privacy. It defines individually identifiable information and explicates how this critical information might be used, the circumstances under which it may be used, and by whom. Individually identifiable information consists of any info relating to the present, future, or past mental or physical health of an individual (HIPAA Journal, 2018). It also includes information that may result in the identification of an individual. Sharing such information is unethical and unprofessional under the HIPAA.
An example of a violation of confidentiality through the use of social media is a nurse who comments on WhatsApp about a patient she has helped. In the context of a WhatsApp Group, the nurse and patient, who are members, may end up communicating information. The patient may say that she is feeling better after visiting the clinic, which the nurse may say that the morphine she provided will help her recover. While the nurse may not have any ill intention, she has already shared details of the patient's medication on social media. This violates the patient's right to confidentiality and privacy. Such conduct may lead to the nurse being reported to a board of nursing or in the media.
Areas of my Social Media Activity that reflect Christian Values
Respecting human dignity and value for all individuals is part of Christian teachings. In my social media activity, the Christian values reflected are friendship and joy. Joy is the emotion of happiness derived from a relationship with God and his people. In the case of my social media post with a patient's photo, I was celebrating a friend who also happened to be my patient. I was showing the world that friendship is critical for every Christian. I implied that it feels great to spend time with a friend whose location, incidentally, was shared by GPS technology.
Areas of Improvement in Social Media Activity
            It is necessary to improve in certain areas of social media use. First, I will stop sharing information about my personal life or opinions. Rather, I will share critical healthcare information that can help the public live healthier lives. I will stop posting any information or image about my patients. Finally, I will not post any information about my employer or workplace.
References
Epstein, B., & Turner, M. (2015). The Nursing Code of Ethics: Its Value, Its History. The Online Journal of Issues in Nursing, 1. DOI: 10.3912/OJIN.Vol20No02Man04
HIPAA Journal. (2018, 01 10). https://www.hipaajournal.com/what-is-protected-health-information/. Retrieved from HIPAA Journal: https://www.hipaajournal.com/what-is-protected-health-information/
Koocher, G. P., & Keith‑Spiegel, P. (2019). "What Should I Do?" – Ethical Risks, Making Decisions, and Taking Action. Courses for Mental Health Professionals, 1.
NCSBN. (2019). A Nurse's Guide to the Use of Social Media. Retrieved from NCSBN: https://www.arnnl.ca/sites/default/files/documents/Standards_of_Practice_for_Registered_Nurses.pdf

Objectives:
Design a professional portfolio.1.
Describe the importance of an effective mentor relationship.2.
Jul 28, 2022 – Aug 3, 2022 Max Points: 75
Resources
Management and Leadership for Nurse Administrators
Review Chapter 10 in Management and Leadership for Nurse Administrators.
How to Show Off Your Work With a Modern Portfolio
Read "How to Show Off Your Work With a Modern Portfolio," by Porterfield (2019) from Public Relations
Strategies & Tactics.
https://lopes.idm.oclc.org/login?url=https://search.ebscohost.com/login.aspx?
direct=true&db=bth&AN=136362612&site=ehost-
live&scope=site&custid=s8333196&groupid=main&profile=ehost
Building Your Scholarship Portfolio: One Brick at a Time
Read "Building Your Scholarship Portfolio: One Brick at a Time," by Mikhail (2021) from Journal of Trauma
Nursing.
https://lopes.idm.oclc.org/login?url=https://search.ebscohost.com/login.aspx?
direct=true&db=ccm&AN=149520636&site=ehost-
live&scope=site&custid=s8333196&groupid=main&profile=ehost
Page 20 Grand Canyon University 2022 © Prepared on: Jul 11, 2022
Creating a Nursing Portfolio
Read "Creating a Nursing Portfolio," by Burns (2018) from Ohio Nurses Review.
https://lopes.idm.oclc.org/login?url=https://search.ebscohost.com/login.aspx?
direct=true&db=ccm&AN=134145921&site=ehost-live&scope=site
Assessments
Professional Portfolio
Start Date & Time Due Date & Time Points
Jul 28, 2022, 12:00 AM Aug 3, 2022, 11:59 PM 60
The purpose of this assignment is to format a portfolio that reflects your accomplishments, skills, and
professional readiness in preparation for future professional interactions.
You can enhance your professional portfolio by providing a space to show how your personal ethics and
values align with the mission and vision of the organization where you desire or intend to work. Stating short- and long-term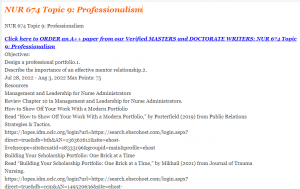 professional goals demonstrates planning and foresight to future employers while presenting a plan to achieve those goals conveys planning and strategic ability.
Include the following in your portfolio: Demographics: Include your name, email, phone number, and any other relevant contact information.
Personal Mission Statement / Goals: In 500-750 words, describe how your personal ethics and values
align with the mission and vision of the health care organization where you intend to work. Include
professional goals and your plans to achieve them.
Education/CEUs, Certifications, and Licenses: Provide documentation of education from accredited
universities and colleges, including graduation dates, and any professional certifications or licenses. If you
have them, include copies of diplomas, certificates, etc.
Professional Organizations/Awards or Honors Earned: In addition to any awards or honors earned, list
any professional organizations to which you belong and what positions you have held in the organization, if
applicable.
Click here to ORDER an A++ paper from our Verified MASTERS and DOCTORATE WRITERS: NUR 674 Topic 9: Professionalism

Resume: A short, one-page document of your work experience, education, and professional
accomplishments.
Examples of Work: Provide two examples of your work as either a learner or a professional. (Model of
Leadership paper from Week 8 is recommended.)
Letters of Reference: Include at least one academic and one professional reference.
Each section of the portfolio should begin a new page.
APA style is not required for this assignment, but scholarly writing is expected.
This assignment uses a rubric. Please review the rubric prior to beginning the assignment to become familiar with the expectations for successful completion.
You are not required to submit this assignment to LopesWrite.
APA Writing Checklist
Use this document as a checklist for each paper you will write throughout your GCU graduate program. Follow specific instructions indicated in the assignment and use this checklist to help ensure correct grammar and APA formatting. Refer to the APA resources available in the GCU Library and Student Success Center.
☐ APA paper template (located in the Student Success Center/Writing Center) is utilized for the correct format of the paper. APA style is applied, and format is correct throughout.
☐  The title page is present. APA format is applied correctly. There are no errors.
☐ The introduction is present. APA format is applied correctly. There are no errors.
☐ Topic is well defined.
☐ Strong thesis statement is included in the introduction of the paper.
☐ The thesis statement is consistently threaded throughout the paper and included in the conclusion.
☐ Paragraph development: Each paragraph has an introductory statement, two or three sentences as the body of the paragraph, and a transition sentence to facilitate the flow of information. The sections of the main body are organized to reflect the main points of the author. APA format is applied correctly. There are no errors.
☐ All sources are cited. APA style and format are correctly applied and are free from error.
☐ Sources are completely and correctly documented on a References page, as appropriate to assignment and APA style, and format is free of error.
Scholarly Resources: Scholarly resources are written with a focus on a specific subject discipline and usually written by an expert in the same subject field. Scholarly resources are written for an academic audience.
Examples of Scholarly Resources include: Academic journals, books written by experts in a field, and formally published encyclopedias and dictionaries.
Peer-Reviewed Journals: Peer-reviewed journals are evaluated prior to publication by experts in the journal's subject discipline. This process ensures that the articles published within the journal are academically rigorous and meet the required expectations of an article in that subject discipline.
Empirical Journal Article: This type of scholarly resource is a subset of scholarly articles that reports the original finding of an observational or experimental research study. Common aspects found within an empirical article include: literature review, methodology, results, and discussion.
Adapted from "Evaluating Resources: Defining Scholarly Resources," located in Research Guides in the GCU Library.
☐ The writer is clearly in command of standard, written, academic English. Utilize writing resources such as Grammarly, LopesWrite report, and ThinkingStorm to check your writing.