NUR 674 Describe the elements necessary in creating a high-reliability organization (HRO)?
NUR 674 Describe the elements necessary in creating a high-reliability organization (HRO)?
NUR 674 Describe the elements necessary in creating a high-reliability organization (HRO)?
A high-reliability organization (HRO) has successfully avoided disasters despite a high level of risk and complexity. HROs are the fundamental characteristics of a goal that modern health care organizations should strive for as an example. HROs are organizations that use five fundamental concepts to accomplish safety, quality, and efficiency goals. These concepts are sensitivity to operation, reluctance to simplify, preoccupation with failure, deference to expertise and practicing resilience (Veazie et al., 2019). These concepts build a foundation for excellence, however implementing these concepts can be hard due to barriers in organizational level.
HROs are distinct organizations because they attempt to improve the overall quality of attention and the staff's understanding of details. As a result, HROs look for strategies to respond to potential problems. HROs are successful organizations continually being corrected and rebuilt (Mousavi et al., 2019). HROs understand the hospital's safe atmosphere and development work. Leaders can identify whether a change has improved by notifying healthcare of issues, errors, and accidents and by allocating resources to more reliable and accurate methods of detecting risk, errors, and injury. The approach that a nurse administrator can use to help an organization implement those principles by generating support for achieving zero-harm goals, fostering a suitable regulatory framework, and adopting a rigorous systems integration culture. Nursing is the principal leader in health care organizations responsible for ensuring patient safety and delivering high quality. Nurses are encouraged to recognize possible patient harm and recommend ways to improve (Riley, 2019). Learning HRO principles and procedures for high dependability is a crucial opportunity for nursing leaders.
On the contrary, leadership fosters open communication and the ability to get input from nurses and other frontline personnel. Practical leadership assessments are crucial to developing and maintaining a high-reliability company. Nurse leaders in HROs constantly push and develop themselves and their problem-solving abilities.
Mousavi, S. M. H., Jabbarvand Behrouz, M., Zerati, H., Dargahi, H., Asadollahi, A., Mousavi, S. A., Ashrafi, E., & Aliyari, A. (2019). Assessment of high reliability organizations model in farabi eye hospital, tehran, iran. Iranian Journal of Public Health, 47(1), 77–85. https://www.ncbi.nlm.nih.gov/pmc/articles/PMC5756604/#:~:text=A%20high%2Dreliability%20organization%20(HRO
Riley, W. (2019). High reliability and implications for nursing leaders. Journal of Nursing Management, 17(2), 238–246. https://doi.org/10.1111/j.1365-2834.2009.00971.x
Veazie, S., Peterson, K., & Bourne, D. (2019). Evidence brief: Implementation of high reliability organization principles. In PubMed. Department of Veterans Affairs (US). https://www.ncbi.nlm.nih.gov/books/NBK542883/
High Reliability Organizations (HROs) are organizations that achieve safety, quality, and efficiency goals by employing 5 central principles: (1) sensitivity to operations (ie, heightened awareness of the state of relevant systems and processes); (2) reluctance to simplify (ie, the acceptance that work is complex, with the potential to fail in new and unexpected ways); (3) preoccupation with failure (ie, to view near misses as opportunities to improve, rather than proof of success); (4) deference to expertise (ie, to value insights from staff with the most pertinent safety knowledge over those with greater seniority); (5) and practicing resilience (ie, to prioritize emergency training for many unlikely, but possible, system failures).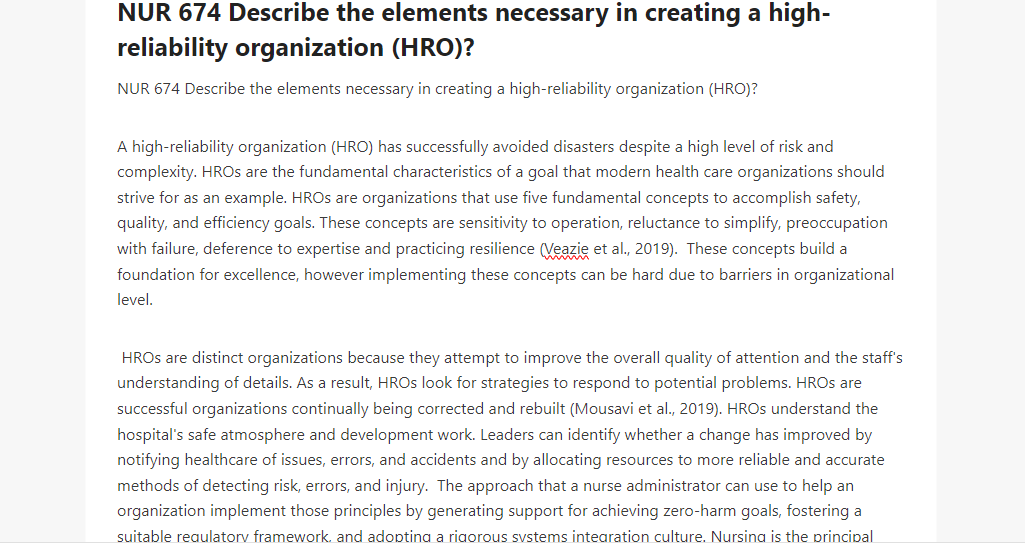 A high reliability organization (HRO) is an organization with predictable and repeatable systems that support consistent operations while catching and correcting potentially catastrophic errors before they happen. High reliability organizations display consistent characteristics. One common thread across these characteristics is a constant state of awareness to recognize errors quickly and intervene before they become catastrophic and impact safety HRO experience improvements in safety culture, including improvement in safety attitudes and an increase in safety success story reporting. HRO also bring about significant improvement in communication, awareness, and working relationships, reductions in serious safety event.
As a nurse administrator you must always as the elements in the for front of your practice. For examples always looking at human factors, how to relate with world around us and how learning more about how we work and interact and design process that take the human factor into account; improving situational awareness; encourage that finding and fixing problems is everyone responsibility. Leader can round with staff giving more positives feedback as compared to negatives feedback, conducting huddles, and modeling he expected behaviors.  
According to the Health Catalyst website, "the necessary pieces for developing and sustaining a culture and system that delivers safe, highly reliable care are strong effective leadership, a culture of safety, and an accessible learning system" (2018). A healthcare organization needs to have multiple things align to become a high-reliability organization. Some of these include effective leadership at the senior and local level, cultural maturity and a culture of safety, and an environment of continuous learning (HealthCatalyst, 2018). What is so important about creating a high-reliability organization is to live by what you "preach" or lead by example. One must truly believe in the principles that embody a high reliability organization. One way a leader can influence a team is by rounding on units and "should conceive of their rounding as all-inclusive, rounding on both patients and teams and covering all the key topics of interest, including safety, quality, experience, engagement, and efficiency" (). Rounding will allow the leaders to be seen on the unit and give the opportunity to show that the safety culture and accountability expectations are maintained. Other ways that leaders can use to execute these elements into an organization are to start with the hiring process and hire people who can answer questions about making a culture of safety a priority. For instance, "human resource departments should screen candidates using behavioral-based questioning that evaluates candidates' commitment to safe, high-quality, patient-centered care" (). This screening will give leaders an idea of where the candidates sits when it comes to a culture of safety. Another opportunity for leaders to create a high reliability organization is to hold daily safety huddles in the morning. One thing about the organization that I am doing my clinicals at is that they do these daily huddles every morning with each unit checking in virtually going over the previous 24-hour safety issues and what was done to rectify each situation. They have been shifting and focusing on making the Advocate Aurora organization more of a "Just Culture" and this is one way they incorporated the safety aspect.
HRO's and quality and safety are related because it is bringing a culture of safety to an organization which will then spill over into the quality of the organization. If safety issues arise, quality must get involved to figure out next steps: do policies need to be changed, does more education need to be done, is there a different, more beneficial way to execute something. Safety and quality go hand in hand with a high reliability organization.
References
Clapper, Craig & Merlino, James & Stockmeier, Carole. (2019). Zero harm: how to achieve patient and workforce safety in healthcare. [Books24x7 version] Available from http://library.books24x7.com.lopes.idm.oclc.org/toc.aspx?bookid=144067.
Health Catalyst. (2021, December 18). High-reliability organizations in Healthcare: Framework. Retrieved June 26, 2022, from https://www.healthcatalyst.com/insights/high-reliability-organizations-in-healthcare-framework
I agree that it is important for organizations to assess whether an applicant is a good culture fit by determining whether their needs, values, and preferences, align with the company's standards, mission, and vision. However, in order for this to occur leaders must be aware of the organizational culture. Unfortunately, as cited in Warrick (2017), some leaders are ill-informed or not fully cognizant of the importance of organizational culture. Warrick (2017) indicated organizational culture is based on shared attitudes, beliefs, customs, and formal and informal rules that have been developed over time. Therefore, it is essential that nurse leaders recognize that organizational culture does exist and that their role is paramount in creating a safe and positive culture where support, collaboration, and mutual respect exist.
References
Warrick, D. (2017). What leaders need to know about organizational culture. Business Horizons, 60(3), 395-404. https://doi.org/10.1016/j.bushor.2017.01.011 
As you stated in your great post a high reliability organization is something an organization can to do address and focus on safety and quality for their patients and themselves. As you pointed out a HRO must do multiple things to create and HRO. Leaders must commit to supporting, leading and maintain the HRO principles (Rundio & Al, 2021). A culture of safety must be fostered through practicing principles and practices which create and support a culture of safety (Rundio & Al, 2021). The Most effective process improvement tools should be implemented, and the methods widely adopted through the organization (Rundio & Al, 2021).  It takes a village to create an HRO and all members from the janitor to the CNO must be preoccupied with safety and quality, practice these principles daily and be collaborative in the process of improving safety practices. Implementing a HRO can be a slow process in health care settings and may be challenging yet the creation of quality and safety is work the wait. Thank you for your post
Rundio, & Al. (2021). The nurse manager's guide to budgeting and finance, 3rd edition (3rd ed.) [original]. SIGMA Theta Tau International.
The primary function of leaders in health care is to influence their followers to develop behaviors, habits, processes, and technologies that result in the safest places to give and receive care. In an HRO, leaders are not identified by position or rank; they exist at all levels and in all groups. The HRO framework requires that all formal and informal leaders are committed to achieving safe, reliable, and effective operational excellence. Leaders should take ownership for setting the climate and focusing the work. Essentially, leaders have four main responsibilities in HRO development.
Guard the learning system. Fully engage in the work of self-reflection that leads to comfortable, nonpunitive transparency; understand and apply improvement science, reliability science and continuous learning; and inspire such work throughout the organization
Create psychological safety. Ensure that anyone in the organization, including patients and families, can comfortably voice concerns, suggestions, and ideas for change.
Foster trust. Create an environment of nonnegotiable respect – ensure that people feel their opinions are valued and any negative or abusive behavior is swiftly addressed.
Ensure value alignment. Apply organizational values to every decision made, whether in service of safety, timeliness, effectiveness, efficiency, equity or patient-centeredness.
When leaders consistently deliver on these responsibilities, they set the stage for a culture and learning system centered on safety and reliability.
Leaders also should be accessible and consistently round on patients and front-line staff. Communication must exist in organizations that link the leaders' responses to front-line provider concerns to ensure that staff feel their voices are heard.
Reference
Meyer, P., Hill, C., & Baker, D. (2019). Standardizing nurse leader safety rounds to promote highly reliable care. Journal of Nursing Care Quality, 35(3), 252–257. https://doi.org/10.1097/ncq.0000000000000445
Roussel, L. A., Harris, J. L., & Thomas, T. (2020). Management and leadership for nurse administrators. Jones & Bartlett Publishers.
High-Reliability Organization (HRO)
Health care organizations should be committed to delivering quality services that address patients' problems adequately. High-reliability organizations (HROs) characterize organizations operating in complex, high-hazard environments for a long time without experiencing catastrophic failures (Agency for Healthcare Research and Quality, 2019). The defining characteristics of a high-reliability organization (HRO) include preoccupation with failure (being aware of failures and thinking about the potential for failure) and reluctance to simplify. In this case, the health care staff should understand the work processes and how things fail or succeed in their environment (Philips et al., 2021). Other characteristics include sensitivity to operations, deference to expertise (assigning work to the most knowledgeable personnel), and commitment to resilience. From a practice viewpoint, commitment to resilience implies assuming that systems are at risk for failure and that rapid assessments and responses to challenging situations are critical.
On the relationship between HROs and safety and quality, high reliability is crucial to enhancing safety and quality in health care facilities. The concept of high reliability is highly relevant to health care since many operations are complex and occur in risky environments. Besides, consequences are usually catastrophic when failures occur. Safety and quality are usually affected adversely. Accordingly, HROs prioritize safety over other performance measures to cultivate resilience (Veazie et al., 2019). They are guided by the tenet that situations constantly change and must maintain safe operations to maintain the required safety and quality standards.
A nurse administrator can use various approaches to execute the elements of HROs in an organization. One of the practical approaches is systems thinking to evaluate and design for safety (Agency for Healthcare Research and Quality, 2019). All organization's systems should be assessed for potential problems that should be anticipated, detected early, and mitigated appropriately. The other approach is situational awareness. Nurse administrators should cultivate an environment that prioritizes situation assessment to identify potential safety threats quickly and respond before damages reach unmanageable levels.
References
Agency for Healthcare Research and Quality. (2019). High reliability. https://psnet.ahrq.gov/primer/high-reliability
Phillips, R. A., Schwartz, R. L., Sostman, H. D., & Boom, M. L. (2021). Development and expression of a high-reliability organization. NEJM Catalyst Innovations in Care Delivery, 2(12). https://doi.org/10.1056/CAT.21.0314
Veazie, S., Peterson, K., & Bourne, D. (2019). Evidence brief: Implementation of high reliability organization principles. Books. https://www.ncbi.nlm.nih.gov/books/NBK542883/