NUR 621 What are the ethical implications of distributing scarce resources?
NUR 621 What are the ethical implications of distributing scarce resources?
NUR 621 What are the ethical implications of distributing scarce resources?
Uninsured patients can negatively impact the financial status of health care organizations. Uninsured people tend to put off medical treatment and visits and preventative care screenings and treatments. These individuals are sometimes more likely to develop chronic conditions such as high blood pressure, diabetes, cancer, obesity, and heart disease, which can burden the health care system by higher mortality and morbidity rates and readmissions to healthcare organizations and increasing healthcare costs. Some organizations provide a healthcare safety net or charity care for the uninsured; however, there might be limited services and resources or limited access to such facilities (Garfield et al., 2019). Limited healthcare services and resources might lead to poorer patient outcomes. Healthcare providers should aim to always provide the best care to all people, which might cost healthcare organizations significantly due to the lack of revenues from uninsured patients.
Despite the negative impacts lack of health insurance can cause a healthcare facility, all patients should receive high quality, exceptional care all the time. "The enjoyment of the highest attainable standard of health is one of the fundamental rights of every human being without distinction of race, race, religion, political belief, economic or social condition" (WHO, 2017). Healthcare organizations and providers should not be biased when providing care. This writer's world view is to treat others the way you would like to be treated; this writer would want the best care despite health insurance status. Lack of care could be a thin line between life and death. A business needs to balance cost, and this issue does come with its challenges, but it should not be that balancing cost out ways the provision of safe quality care for all.
Ethics plays a significant role in healthcare and healthcare delivery. Beneficence, justice, autonomy, and non-maleficence are generally the four ethical guiding principles that guide healthcare delivery (Rawlings et al., 2020). The two principles that stand out for this writer regarding the situation of scarce resource allocation are beneficence which is acting in the best interest of and promoting the well-being of others, and justice which is treating people fairly (Rawlings et al., 2020). Nurses have ethical principles that guide nursing practice. The two provisions from the code of ethics that stands out for this writer regarding the above situation are that nurses have the authority, accountability, and responsibility for nursing practice, and decisions and actions should be consistent with optimal patient care; and that nurses through individual and collective efforts should establish, maintain, and improve the ethical environment of the work setting and conditions of employment that are conducive to safe, quality health care (Gaines, 2021).
References
Gaines, K. (2021). What is the nursing code of ethics? https://nurse.org/education/nursing-code-of-ethics/
Garfield, R., Orgera, K. & Damico, A. The uninsured and the ACA: A primer- key facts about health insurance and the uninsured amidst changes to the Affordable Care Act. Kaiser Family Foundation. https://www.kff.org/report-section/the-uninsured-and-the-aca-a-primer-key-facts-about-heatlh-insurance-and-the-uninsured-amidst-changes-to-the-affordable-care-act-how-does-lack-of-insurance-affect-access-to-care/
Rawlings, A., Brandt, L., Ferreres, A., Asbun, H. & Shadduck, P. (2020). Ethical considerations for allocation of scarce resources and alterations in surgical care during a pandemic. Surgical Endoscopy, 1-6. https://www.ncbinlm.nih.gov/pmc/articles/PMC7216853
World Health Organization (WHO). (2017). Health is a fundamental human right. https://www.who/int/news-room/commentaries/detail/health-is-the-fundamental-human-right
Uninsured patients create a financial impact status on health care organizations because they do not pay for their healthcare services and the healthcare organization who provide the health care services will absorb the financial loss. These financial losses can be absorbed by practitioners and institutions working either in the private or public sector. Uninsured individuals cause an effect on the community in a few situations. These situations include an increase in insurance premiums and how much a hospital will charge individuals for the services that are being provided. According to Penner, uninsured individuals use less medical care than those individuals who have insurance. Unfortunately, uninsured individuals have less access to appropriate medical care, do not receive appropriate health care, and experience worse health care outcomes than those individuals that have health care insurance. There are three in ten uninsured individuals during 2019 went without the necessary medical care due to the medical costs.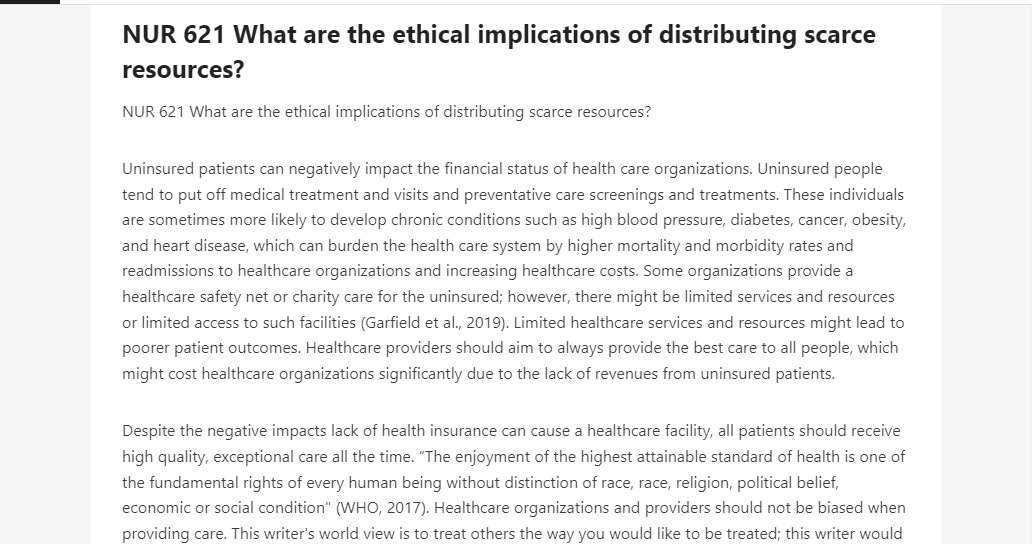 There have been mixed thoughts about balancing the costs of a health care organization and providing quality of care to ensure that all patients receive fair and proper care. Health care costs must be addressed but first we must address how health care is being delivered, including the coordination of care and patient safety. According to the World Health Organization (WHO) health care services should be, "the extent to which health care services provided to individuals and patient populations improve desired health outcomes." WHO maintains that to achieve these outcomes, healthcare should be effective, safe, efficient, timely, equitable, and peopled centered?) (World Health Organization, 2006).
References
Institute of Medicine (US) Committee on the Consequences of Uninsurance. Hidden Costs, Values Lost: Uninsurance in America. Washington (DC): National Academies Press (US); 2003. 3, Spending on Health Care for Uninsured Americans: How Much, and Who Pays? Available from: https://www.ncbi.nlm.nih.gov/books/NBK221653/
Penner, S. J. (2017). Economics and financial management for nurses and nurse leaders (3rd ed.). Springer Publishing Company.
World Health Organization. (2006). Quality of Care This Guide Provides decision-makers and Managers at Country Level with a Systematic Process Which Will Allow Them to Design. https://www.who.int/management/quality/assurance/QualityCare_B.Def.pdf
This was an informative post. It is a well known fact that uninsured patients cause a financial impact on an organization as their care is not paid for by them but instead the organization/facility. I am not familiar with the private sector and sponsored healthcare but am familiar with it in the hospital setting. When a patient is uninsured in the hospital, there is a charity care program that may be called different things but in our hospital is called financial assistance papers. It goes through an application process and is not guaranteed to the patient. They have to meet certain criteria and that being unemployed or in a hardship, having dependents, and uninsured. If the patient is denied approval then a form is sent to the financial department and payment plans are arranged with the patient, case management and the hospital over a given period of time. It is unfortunate to know that the uninsured drive up the hospital costs for those with insurance. As the WHO mentions, it is imperative that all patients can receive quality care in a timely and efficient manner (WHO, 2006). The issue that comes to mind is that the patients that are uninsured typically don't seek preventative care which means when they do go to providers, there is a likelihood that other illnesses may be undiagnosed and the one they are seeking care for is often worse than what a patient who was financially able to get care had. In your experience, do you think there is a way to offset this? Though all patients are entitled to care, it does create a financial variance within the financial healthcare system.
World Health Organization. (2006). Quality of Care This Guide Provides decision-makers and Managers at Country Level with a Systematic Process Which Will Allow Them to Design. https://www.who.int/management/quality/assurance/QualityCare_B.Def.pdf
The goal of healthcare is that all individuals have access to quality care when they need it. This should be regardless of whether they are insured or not however they bear a higher cost of care when compared to those that are insured. One could argue that those that are uninsured live sicker and have a shorter life expectancy then those that are insured as they have a poorer health status (Penner, 2017). Without health insurance coverage, a serious accident or a health issue that results in emergency care and/or an expensive treatment plan can result in poor treated health care and financial ruin. There is also the reality that those that are uninsured forego care needed and end up with advanced stages of disease. The uninsured use fewer screening and prevention services and delay seeking care when sick. Due to this, they tend to be sicker and at a more advanced stage than those patients that are insured.
There are ethical implications of distributing scarce resources for those that are uninsured. Beneficence, autonomy and noncompliance are considered as the four fundamental ethical principles that guide health care delivery. (Persad & Emanuel, 2009). The fundamental principle is to improve the wellbeing of the patient. Patients are not declined of acre in the hospital or of home services. There are financial assistance application papers that are specific to the patient for their hospitalization and this becomes a responsibility of the hospital to discharge the patient safely to home. Discharge medications can be sponsored, durable medical equipment can be sponsored and home health can also be arranged until the follow up visits. I tis a very difficult spot to be in as the patient has need yet no mean to pay for them. It then becomes the hospitals responsibility and of course a loss of revenue. Some of the things the hospital looks at is the cost to keep the patient versus discharge them. There is a fine balance with what the patient may need versus what can be afforded.
Penner, S. J. (2017). Economics and Financial Management for Nurses and Nurse Leaders (3rd ed.). Springer Publishing Company. ISBN: 978-0-8261-6001-0
Persad G, Wertheimer A, Emanuel EJ. Principles for allocation of scarce medical interventions. Lancet. 2009;373:423–431. doi: 10.1016/S0140-6736(09)60137-9
Medicaid. (n.d.) Eligibility. https://www.medicaid.gov/medicaid/eligibility/index.html
The ACA was meant to help decrease the number of uninsured people and also reduce the final burden on low income families. EMTALA is a federal law that requires anyone coming to an emergency department to be stabilized and treated, regardless of their insurance status or ability to pay, but since its enactment in 1986 has remained an unfunded mandate. This means hospitals are having to carry the debt from these costly unpaid visits. Because the health care system is also a business supply and demand can become cross over to an ethical dilemma. Recently pack red blood cells were in scares supply. Management needed decide how the maximize the current supply of PRBC regardless of uninsured or insured patients. Patients that normally received transfusion had to wait until their results fell below the new limit. This caused a delay in patient improvement time due to prolonged anemia. The hospital lost out on income generated from a transfusions and quick hospital stay. Lowering the limit did effect the current quality of care. Decision-making is conceived as a three-step process: (a) an evaluation of how much happiness is associated with each possible option; (b) an assessment of the constraints and trade-offs limiting the options; and (c) choosing the option that maximizes overall happiness (Jones & Yoder, 2010)
College of Emergency Physicians (2021).EMTALA Fact Sheet Retrieved from
Jones, T. L., & Yoder, L. (2010). Economic theory and nursing administration research–is this a good combination?. Nursing forum, 45(1), 40–53. https://doi.org/10.1111/j.1744-6198.2009.00160.x 
As professionals devoted to safeguarding their patients' interests, physicians have a responsibility to contribute their expertise to developing equitable allocation policies that protect patients' welfare. The fundamental ethical obligation of physicians is to improve their patients' well-being. Procedures for allocating scarce hospital services, if either participant focused initially on disproportionately resource constraints, which including ICU (intensive care unit) beds, medications, or solid organs for transplantation, or "triage" situations in times of hardship, such as information relating to ventilators during a pandemic, can impede their capacity to fulfill that liability (Rawlings et al., 2020). It depends on the vision of the organization and its objective; confident CEOs and managers are now held accountable by profit-oriented boards. Local institutions linked with complex multi-institutional arrangements must be subject to regulatory scrutiny by state authorities. Some of these partnerships even span many communities and multiple states. Third-party payers are likely to set spending limitations based on criteria that do not represent or embody the conventional ideals formerly associated with providing health care and professional services in the context of changing institutional missions and arrangements. The six ethical standards are crucial for health care executives (American Medical Association, 2017). They are as follows: beneficence, nonmaleficence, respect for others, justice, utility, and truth-telling. The main concepts that drive decision-making in medical ethics are autonomy, beneficence, and fairness. Distributive justice may effectively make challenging judgments for policymakers, managers, and providers who confront complex resource allocation issues.
American Medical Association. (2017). Allocating Limited Health Care Resources. American Medical Association. https://www.ama-assn.org/delivering-care/ethics/allocating-limited-health-care-resources
Rawlings, A., Brandt, L., Ferreres, A., Asbun, H., & Shadduck, P. (2020). Ethical considerations for allocation of scarce resources and alterations in surgical care during a pandemic. Surgical Endoscopy, 12(1-6). https://doi.org/10.1007/s00464-020-07629-x