NUR-621- Operational Budget Presentation
NUR-621- Operational Budget Presentation
NUR-621- Operational Budget Presentation
Introduction
Nurse Managers are tasked with setting goals and operation objectives in a given nursing units under their own responsibility. However, they are also involved in the design of budgets. For the latter to happen, nurse managers collaborate with the finance department of a health facility. Following the development of a budget, it is updated and submitted to the hospital administration for its approval from the board of directors. At this point, the budget proposed can either be accepted or rejected based on its effectiveness to address the prevailing hospital revenue and expenditure. Development of a concise budget is vital to ensure that it is approved in a care facility.
Key Components of Budget Costs: Staff
The budget on staff involves payment of salaries to professionals providing care to the facility. In an overview the facility has 10 physicians, 100 nurses and 30 Pharmacists as key frontline professionals. In addition, the facility has staff from other cadres of health whose roles ensure adequate services to patients. However, about 5 physicians providing specialized care will be hired on contract since retaining them will be costly to the facility (Contino, 2001). Other than salaries, employees especially those retained on permanent basis will receive benefits such as health coverage, health risk allowances, housing and commuter allowances. The rates will be reviewed based on the prevailing income generated by the facility.
Key Components of Budget Costs: Activities

The premise relates to activities the facility anticipates to undertake. The outlined tasks are crucial for the daily operations of the facility. In a preview of the activities, it is anticipated that charges made on in-patient (IP) and out-patient (OP) services are likely to reach 8% which will increase the total revenue to the facility (Mukherjee, Al Rahahleh & Lane, 2016). Payments made by third-party payers is also believed to yield a bundle of evidence in increasing income to the hospital. All these will improve the overall income to the facility as they are activities sought by many patients. These activities also determine the future growth of the hospital.
Key Components of Budget Costs: Services
Services relates to range of care activities rendered by the facilities. Provision of these services enables the facility to boast an edge in the industry as it serves as a marketing tool. Some of the services rendered are considered as expenses to the facility while there are others that generates revenue (Contino, 2001). Commercial payer mix is believed to increase revenue in the range of 1.8% to 36.2% every year. However, activities related to wages, supplies and commercial payer mix are considered as expenses to the facility. Pharmacy charges on the other hand is expected to increase net income to the facility (Rojas-Cordova et al., 2016).
Key Components of Budget Costs: Supplies
Supplies may be consumable in which they are used and disposed immediately. However, some medical supplies are used for a long time and their procurement is meant to achieve long-term objective of the facility. Cost of flexible supplies form part of the recurrent expenditure that the facility must grapple with on a daily basis. However, the cost on supplies may not be fixed as they are readily influenced by demand. This mainly occur when there is a patient surge in the facility which necessitates additional expenditure. Medical supplies must be availed on demand and therefore an emergency should be set to meet the need when it arises.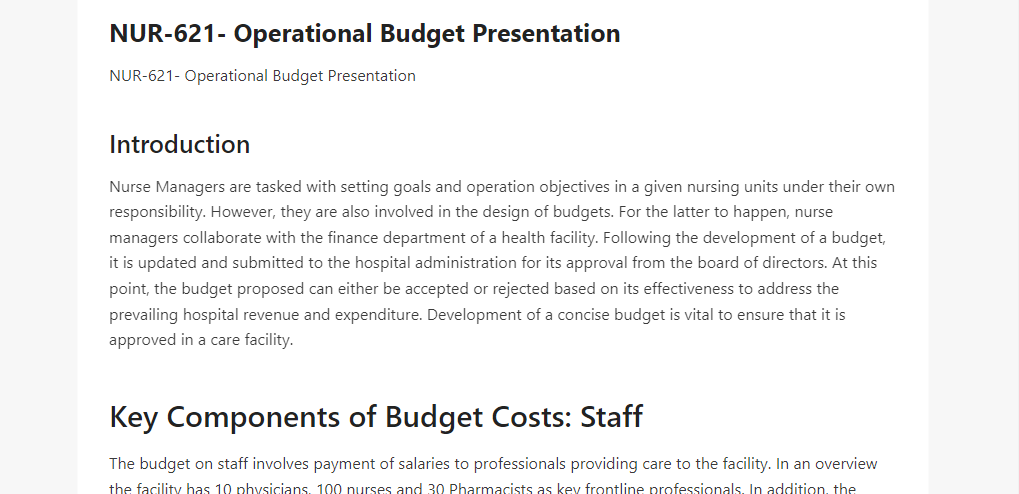 Relevant Capital Purchase: Medical Equipment Budget
Purchasing medical equipment is not similar to procuring medical supplies in a hospital. The expenses on such items are exceedingly high and the management must deliberately keenly before making such purchases. Often, items purchased are intended to be used for a long period of time and therefore durability of the items must be taken into account (Mukherjee, Al Rahahleh & Lane, 2016). As for the present care facility, budget estimate will focus on purchasing equipment that are in high demand in the hospital units. It is anticipated that the capital purchase will take the largest share of the total budget in the facility. A contingency fund is allocated for repair and refurbishment of the equipment.
Relevant Capital Purchase: Return on Investment
Return on investment is based on the marginal revenue obtained from the use of the medical equipment. Most often, the income is earned when patients pay monitory fee when seeking such services. At the facility, cardiac monitoring tools and defibrillators will generate revenue especially when diagnostic tests are order for patients with heart disease (Mukherjee, Al Rahahleh & Lane, 2016). However, revenue generated from the use of the equipment cannot be predetermined since they depend on the patient number at the facility. Besides, since the hospital is new, not much revenue is expected to be obtained from these equipment as the patient pool is likely to be a little bit less.
Relevant Capital Purchase: Benefits
Use of the purchased equipment should provide benefits to the facility. These items should be durable so that they can be used for relatively longer period. This will ensure that the facility does not incur additional costs on repair and maintenance frequently. The equipment should also meet the specifications that are expected in the facility to ensure that they are utilized effectively to realize their benefits in patient care. However, prior to purchase considerations, the facility may opt to buy refurbished medical equipment to avoid cost-overruns in future. These materials must guarantee effectiveness before they are purchased to avoid unintended expenditure on repair and maintenance. 
Proposed Hospital Budget
The total budget for the facility is projected to be US$53,371,234 for the whole year. The financial plan incorporates operating income, expenditures and revenue to be generated. The budget estimate also incorporates the cost on depreciation for the medical equipment and this is calculated every year (Rojas-Cordova et al., 2016). Expenses and cost on medical equipment are the financial estimates that is likely to have great impact to the invested capital to the facility. However, as opposed to expenses, medical equipment are procured once every year. Besides, the only cost required will be charges on repair and maintenance. Considerations should be made when making purchases for these equipment to assess quality and effectiveness to achieve their relevance in the care facility (Mukherjee, Al Rahahleh & Lane, 2016). 
Conclusion
Other than providing bedside services, nurses are also involved in the formulation of a budget for a care facility. Often, it is important that the professional undertake adequate planning before developing a budget for a care facility. They need to consult with finance department before making the budget. The bulk of financial planning for a hospital rests on the purchasing of capital equipment. These items are relatively expensive and the cost of maintenance can be a daunting task for a hospital. As such, before making a financial plan for a 20-bed care facility, a nurse should consult widely and make benchmarks with related hospital in the region before making purchases for such equipment.
References
´Contino, D. S. (2001). Budget training: It's overdue. Nursing management, 32(8), 16-17.
´Mukherjee, T., Al Rahahleh, N., & Lane, W. (2016). The capital budgeting process of healthcare organizations: a review of surveys. Journal of Healthcare Management, 61(1), 58-76.
´Rojas-Cordova, A., Baghaei-Lakeh, A., Zhang, H., Wernz, C., Rahmandad, H., Slonim, A. D., & Caroline, A. (2016, January). Improving Technology Investment Decisions at Hospitals through System Dynamics and Decision Analysis. In 2016 49th Hawaii International Conference on System Sciences (HICSS) (pp. 1517-1526). IEEE.