NUR 621 In an accountable care organization (ACO), insurance companies are looking at how health care organizations care for a specific population
NUR 621 In an accountable care organization (ACO), insurance companies are looking at how health care organizations care for a specific population
NUR 621 In an accountable care organization (ACO), insurance companies are looking at how health care organizations care for a specific population
Accountable Care Organizations (ACOs) aim to provide well-coordinated, cost-effective care when clients need it. The accountable care model emphasizes population care, value-driven outcomes, emphasis on the point of service at which patient care occurs, protocols for effective hand-offs, and inclusion of the family in decision making (Weberg et al., 2020). The ACO provides Medicare beneficiaries with coordinated care at lower costs. ACOs share the triple aim to improve care for the individual, improve population health, and reduce costs. With the direct link between payment for quality care, providers must ensure the best-coordinated care and services every time, thus improving patient outcomes and population health.
Benefits of coordinated care include less medical errors, improved access to care, reduction in hospital readmission, and prevention of duplicate services. ACOs aim to improve population health by providing high-quality care to improve and maintain health by focusing on prevention and managing chronically ill patients (CDC, n.d.). ACOs are held accountable to patients and payers through a pay-for-performance model where providers share overall savings when population-based performance standards are achieved through quality care, and the costs savings are not at the expense of patient care or population health outcomes (Wilson et al., 2020). Policymakers have increasingly advocated for the ACO model because of the shift from volume-based care to value-based care and the emphasis on population outcomes (CDC, n.d.). ACOs will continue to positively impact patient care, patient experiences, patient outcomes, and population health and outcomes.
References
Centers for Disease Control and Prevention. (n.d.). Partnering with ACOs for population health improvement- CDC. https://www.cdc.gov/nccdphp/dch/pdfs/partnering-with-acos.pdf
Weberg, D., Mangold, K., Porter-O'Grady, T., & Malloch, K. (2019). Leadership in nursing practice: changing the landscape of nursing practice. Burlington, MA: Jones and Bartlett Learning. ISBN:9781284146530
Wilson. M., Guta, A., Waddell, J., Lavis, J., Reid, R., & Evans, C. (2020). The impacts of accountable care organizations on patient experience, health outcomes, and costs: a rapid review. Journal of Health Services Research & Policy. https://journals.sagepub.com/doi/10.1177/1355819620913141
Patient outcomes primarily depend on the approach that health care providers apply in health care delivery. Insurance companies also evaluate how health care organizations care for a specific population. As a result, health care providers should use models that promote timely care, reduce costs, and encourage coordination between providers.
Accountable care organizations (ACOs) are health care programs founded on coordination. Under ACOs, health care providers such as doctors and hospitals come together voluntarily to provide coordinated and high-quality care to their patients (Nathan et al., 2019). A suitable example of such a program is the Medicare Shared Savings Program. Initiated by the Centers for Medicare & Medicaid Services (CMS), the program brings organizations together to work towards meeting quality performance benchmarks (CMS.gov, 2021). The other goal is to coordinate care to reduce Medicare spending by a considerable margin so that the organizations under the shared savings program can qualify for sharing in the cost-saving schemes.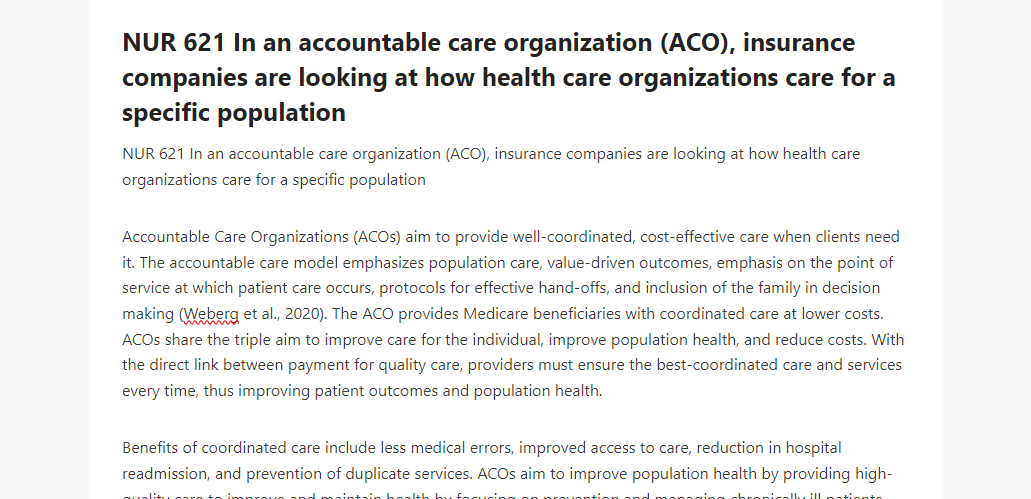 Health care under ACOs impacts the population's health profoundly but, generally, positively. Under ACOs, the primary objective is to deliver value, timely care, and promote cost-effectiveness as much as possible. Mostly, health care providers do not promote timeliness if they do not coordinate. However, as Gross (2020) underlined, the coordinated practice guarantees the population better health outcomes, including timely and value-based care. Health care services are also available when needed, reducing the access problem. Importantly, the urge to minimize spending enables ACOs to reduce wastage in health care delivery. A coordinated approach also prevents service duplication.
As health care providers work towards meeting 21st century needs and benefiting more from insurance reimbursement, they need to adopt health care models that enhance efficiency. They also need to collaborate more and promote cost-effective care. ACOs improve care coordination to reach quality improvement goals. Providers under ACOs qualify for sharing in the savings when they meet the set performance benchmarks, which is easier under coordinated care.
References
CMS.gov. (2021, Mar 4). Accountable care organizations (ACOs).https://www.cms.gov/Medicare/Medicare-Fee-for-Service-Payment/ACO#:~:text=What%20is%20an%20ACO%3F,care%20to%20their%20Medicare%20patients.
Gross, P. A. (Ed.). (2020). Pathways to a successful accountable care organization.Johns Hopkins University Press.
Nathan, H., Thumma, J. R., Ryan, A. M., &Dimick, J. B. (2019).Early impact of Medicare accountable care organizations on inpatient surgical spending. Annals of surgery, 269(2), 191-196. https://doi.org/10.1097/SLA.0000000000002819
"Patient satisfaction is a measure of the extent to which a patient is content with the health care they received from their health care provider. Patient satisfaction is one of the most important factors to determine the success of a health care facility" (Manzoor et al., 2019). To better my organization a couple years ago when we were re-branded into one organization with our sister hospital, the organization sent all employees (physicians, nurses, therapist, secretary, janitors, dietary, volunteers, etc.) from all departments, units, clinics, hospital, etc. (basically anyone that was employed and/or volunteered under our organization) to a customer service training seminar/classes. During these classes we were all educated and taught the importance of presenting, educating, and going up and beyond our job expectations with every patient and team member (employee) encounter within our organization. This has not only increased the moral of the organization but has also really increased our patient satisfaction and HCAHPS scores. All new employees have this training incorporated within their new employee orientation. With the three goals of providing the HCAHPS surveys are to motivate hospitals to improve their quality of care in patient satisfaction; provide transparent public reporting of the results of the surgery; and to allow consumers to compare hospitals objectively (Tevis et al., 2015). From my organization mandating the customer service training classes that they did and currently still do, it has a positive impact within our organization as well as within the communities our organization resigns in. Patients speak very highly about our organization and know that they will receive outstanding safe quality of care within their encounters when choosing our organization for their health care needs and our HCAHPS scores reflect this.
References
Manzoor, F., Wei, L., Hussain, A., Asif, M., & Shah, S. (2019). Patient satisfaction with health care services; An application of physician's behavior as a moderator. International Journal of Environmental Research and Public Health, 16(18). https://doi.org/10.3390/ijerph16183318
Tevis, S. E., Kennedy, G. D., & Kent, K. C. (2015). Is there a relationship between patient satisfaction and favorable surgical outcomes?. Advances in Surgery, 49(1), 221–233. https://doi.org/10.1016/j.yasu.2015.03.006
You are right that Medicare is really focused on the patient care experience. Healthcare organizations are being held accountable and billing is not just billing anymore. The Centers of Medicare and Medicaid Services implemented the Consumer Assessment of Healthcare Providers & Systems (CAHPS) Hospice Survey (CMS, 2020). The CAHPS Hospice Survey is goes out to the patient's primary caregiver a few months after the passing of the patient. The survey addresses questions regarding to the patients care such as symptom management, communication with the interdisciplinary team, primary caregivers experience with the interdisciplinary team, overall rating of the hospice team, and willingness to recommend the hospice company to others. Hospice companies are required to participate in the CAHPS Hospice Survey to receive their full Annual Payment Update (APU).
Currently our hospice company has a Performance Improvement Project that is focusing on the patient's pain management and response. The reason the pain quality initiative was started because the CAHPS Hospice Survey were identifying a deficiency targeting patients' pain. The PI Project was initiated at the beginning of the year to focus on providing quality care and increase hospice scores. All patients identified with a pain level of 4/10 are broadcasted through the email system for proper identification. The RN Case Manager and the rest of the interdisciplinary team are responsible to monitor the patients pain level, medications effectiveness, and open communication with the hospice team, medical director, patient, and family. Patient will be seen every day and will be monitored in the morning and the evening. The patient and primary caregiver are advised to contact the IDT before 5 pm and the triage team after 5 pm for any increase in pain. The PI Project is showing much progress identifying and managing patients' pain plus increased communication with the primary caregiver. These are all efforts to provide great care to the patient and families, but it also ensures that the healthcare organization also gets compensated appropriately by CMS.
References
Centers of Medicare and Medicaid Services. (2020). CAHPS hospice survey. https://www.cms.gov/Research-Statistics-Data-and-Systems/Research/CAHPS/CAHPS-Hospice-Survey#:~:text=The%20Hospice%20CAHPS%C2%AE%20Survey%20started%20national%20implementation%20in,administration%20will%20occur%20several%20months%20after%20the%20death.
ACOs are networks of hospitals, physicians, and other health care providers that share responsibility for providing care to patients. ACOs create financial incentives to cooperate, share information, and save money, while providing coordinated, high-quality care to their Medicare patients2 —primarily adults age 65 and older. ACOs partner with community organizations and health departments to meet the complex needs of older adults (CDC, 2022). ACO's improve care coordination, this reduces cost per person by decreasing hospital admissions, reducing duplicate labs or imaging and promotes health care prevention. These interventions reduce mortality rated. I feel like ACO's improve cost of care and improve health outcome because they are focused on one population. This allows providers to become specialist in the mental, physical and psychosocial needs of the population. Understanding the population you serve allows partnerships to form with community programs and services.
Centers for Medicare & Medicaid Services. (2022). Partnering With Accountable Care Organizations for Population Health Improvement. Partnering with ACOs for Population Health Improvement (cdc.gov)
According to Penner, Accountable Care Organizations (ACOs) are a group of health care providers who agree to take on a shared responsibility for the care of a specific population of patients while assuring active management of both the quality and cost of that care. ACOs were initially implemented as a system-level approach to look at quality differences and prevention of increasing healthcare costs in the United States. ACOs focus on improving the health of the population in which they are accountable for. This is also known as population health management (Wilson, Waddell, Reid, Evans 2020). ACOs improve population health by prevention and management of patients with chronic diseases a part of and they were initiated as part of the changes made to the patient Protection and Affordable Care Act in 2012 Centers for Medicare & Medicaid, 2022).
The focus for the ACO is to improve patient experience, improve population health, reduce costs of healthcare, and ensure positive provider experiences. In order to do this, ACOs create a network of providers such as primary care physicians, specialists and hospitals that care for the specific population. It is important to define the population that the ACO is going to assume care for, ensure appropriate quality care for this group and endure that wasteful expenditure isn't occurring. This happens by ACOs being held 'accountable' to patients and payers through a pay-for-performance model. The providers then share in the overall savings which are linked, in full or in part, to achieving population-based performance standards on quality measures and to reporting reductions in per member, per month costs. This model incentivizes providers to focus on the total cost of care while preventing illness and providing quality care.
ACOs might be appealing for certain populations because of the coordinated care approach and ensuring that patients receive the right care at the right time and place. This may mean providing treatment in community setting versus a hospital when possible. ACOs also decrease duplication of services and have been shown to have a reduction in medical errors (Centers for Medicare & Medicaid, 2022). The patient centered approach is something that is paramount in today's healthcare industry and each individual should receive respectful, high quality and comprehensive care.
Centers for Medicare & Medicaid Services. (2022). Accountable Care Organizations. http://cms.gov
Penner, S. J. (2017). Economics and financial management for nurses and nurse leaders (3rd ed.). Springer Publishing Company.
Wilson, M., Waddell, K., Reid, R., Evans, C. (2020). The impacts of accountable care
organization on patient experience health outcomes and costs: a rapid review. Journal of Health Services Research & Policy. 25(2): 130-138.
I acknowledge your efforts on the subject. Accountable Care Organizations constitute group of hospitals, other healthcare providers and physicians who come together voluntarily to undertake collective responsibility for the health care of a specific population. Providers in undertaking this responsibility share in any potential costs or any savings when cost and service delivery are compared to initial benchmarks. ACOs were implemented initially in the United States as part of Patient Protection and Affordable Act changes in 2012 with the objective of attaining 'Quadruple Aim' of enhancing the patient experience of health care, boost population care, decrease health care per capita costs and guarantee positive provider experiences (Kaufman et al. 2019). To attain these goals, ACOs should develop a network of providers, that is, hospitals, specialists and primary care physicians among others to be able to serve a specific population of patients; determine the population which ACO is able and willing to assume risk, ensure suitable quality and care is delivered to that population and eradicate wasteful expenditure.
The model of ACO emerged from efforts by not-for-profit and for-profit insurance companies and Medicare and Medicaid Services to regulate differences in quality and control increasing costs of healthcare services. As a result, ACOs are responsible to payers and patients through pay-for-performance model which providers share in general savings which are connected, in part or full, to attain population-based performance standards concerning quality measures and to addressing reductions in per member per costs in a month (Centers for Medicare & Medicaid Services, 2022). This mode of payment rearranges incentives to inspire providers to concentrate on total cost of care of patients rather than per service payments to give an incentive for providers to inhibit illness. Nonetheless, ACOs should ensure such cost savings are not attained at the expense of population health outcomes or patient care. Health providers and doctors in an ACO work collaboratively to coordinate care through using HIT, improved communication among patients and with care providers, care management staff and other initiatives (Lewis et al. 2019). Enhanced coordination between the primary care doctor of the patient and other specialty care providers aims at ensuring patients acquire right health care at a right time and in a right place. Payment for medical care services in an ACO are based on quality and value and not volume.
References
Kaufman, B. G., Spivack, B. S., Stearns, S. C., Song, P. H., & O'Brien, E. C. (2019). Impact of accountable care organizations on utilization, care, and outcomes: a systematic review. Medical Care Research and Review, 76(3), 255-290.
Lewis, V. A., Tierney, K. I., Fraze, T., & Murray, G. F. (2019). Care transformation strategies and approaches of accountable care organizations. Medical Care Research and Review, 76(3), 291-314.
Centers for Medicare & Medicaid Services. (2022). Accountable Care Organizations. http://cms.gov