NUR 621 After your monthly review of your unit's operational budget, you find you are over your budget for medical supplies
NUR 621 After your monthly review of your unit's operational budget, you find you are over your budget for medical supplies
NUR 621 After your monthly review of your unit's operational budget, you find you are over your budget for medical supplies
It is incredible what we learn through weekly class discussions and from each other's posts and how applicable it is to our careers. Often managers speak about budget, staffing, supplies, and resources, and from this week's readings, this writer has learned other importances of budgeting for businesses. Budgets help organizations control spending, determine priorities, plan for future growth, plan for the unexpected decline, plan for large capital expenditure and identify new investment opportunities (Biermeier, 2016). In healthcare, budgets are essential to reporting activities and resources used and have three primary functions planning, reporting, and managing (Penner, 2017). Managers use operating budgets to help evaluate how well a unit or organization is doing with its income and expenses. "Operating budgets are used in the day-to-day management of health settings" (Penner, 2017). Adequate resources, whether human or physical, are needed to provide safe and efficient care, which can affect a unit's operating budget.
A manager or leader must not turn a blind eye when there is an over-the-budget of medical supplies or when costs exceed revenues. There must be some investigation or evaluation of why this has happened to solve or correct the issue. Overbudgeting can negatively impact patient outcomes, departmental outcomes, and the department's staff. Several steps can be used to investigate a department's overbudgeting. A manager should evaluate if the overbudget is due to internal factors such as waste of resources, increased patient count, or external factors such as increased medical supplies. Review reports and the budget to ensure there is no error on the part of the manager. Communicate budget issues with staff and reinforce the importance of staying within budget; communication is a great way to get staff involved in action plans, feedback and to help problem-solve any departmental issues. Monitoring staff adherence to planned budget; helps identify as soon as possible if there will be an issue with overbudgeting so the problem can be addressed promptly to avoid more significant problems in the future (Walsh, 2016). Managers must do a budget investigation to determine the root cause of budget problems and consider variances and supply chain management (Penner, 2017). Proper budgeting and keeping within budget limits can make or break a unit's or an organization's optimal functioning and overall outcomes.
References
Biermeier, C. (2016). The importance of having a budget. https://www.wegnercpas.com/the-importance-of-having-a-budget/
Penner, S. J. (2017). Economics and Financial Management for Nurses and Nurse Leaders (3rd ed.). Springer Publishing Company. ISBN: 978-0-8261-6001-0
Walsh, K. (2016). Managing a budget in healthcare professional education. Annals of Medical and Health Sciences Research, 6(2), 71-73. https://www.ncbi.nlm.nih.gov/pmc/articles/PMC4866369/
I agree with you Tameka that managers are concerned with the spending and the financial output. Therefore, budget is a crucial financial document that managers speak about when executing their obligations. Any changes in the budget affects healthcare organizational activities (Malmmose, 2019). As a result, a manager should always be keen on an over-the-budget of medical supplies or when costs exceed revenues. The attention will enable the leader to avert financial problems generated by excess spending. Operating budgets are used in the daily routine (Vammalle et al., 2018). Occasionally, the staff may be forced to include other expenditures in the budget. The new entries in the budget will interfere with the original estimates (James et al., 2018). Therefore, a manager concerned with the excess expenditure for medical supplies will examine the internal factors that may have resulted to the increase. In preparing the budget, the mandated people consider the required medical supplies. As a result, excess expenditure in the operational budgets is an outcome that managers wish to understand in case it happens.
References
James, C., Gmeinder, M., Rivadeneira, A. M. R., & Vammalle, C. (2018). Health financing and budgeting practices for health in South Africa. OECD Journal on Budgeting, 17(3), 95-126.
Malmmose, M. (2019). Accounting research on health care–trends and gaps. Financial Accountability & Management, 35(1), 90-114.
Vammalle, C., Rivadeneira, A. M. R., James, C., Prieto, L., & Montañez, V. (2018). Financing and budgeting practices for health in Peru. OECD Journal on Budgeting, 17(2), 25-64.
Being over budget in medical supplies could be attributed to multiple things within a nursing unit. Medical supplies represent the fastest growing increase in current health care costs (Penner, 2017). As the nurse manager or leader, I would need to look at all the items that could be contributing to this increase. What was the patient census like during the last month? Were there more wounds on the unit? Were there more isolation precautions on the unit? How much chemotherapy was being given? Our patient population can affect the usage of our medical supplies. I would audit charts and our daily sheets to see what we had happening on the unit. When our unit has more chemotherapy, then we are utilizing more supplies for protective personal equipment (PPE) for staff and patients. When we have patients that are in an isolation room, staff often bring more than they need into the rooms, so they do not need to don and doff PPE multiple times. Then, when the patient discharges all these items are disposed of because they cannot be reused. Patient census has a lot to do with medical supplies. Our facility has "central supply" which is our supply management, and I would utilize their resources to see what we were over budget on and specific days that we had a higher need of these supplies so I could focus on those patients from that day, along with the staff that were working. Supply chain management is to help nurse managers better control medical supplies and what is needed for their unit (Penner, 2017). Our central supply comes through our storage unit twice a day, to scan and count products on our unit.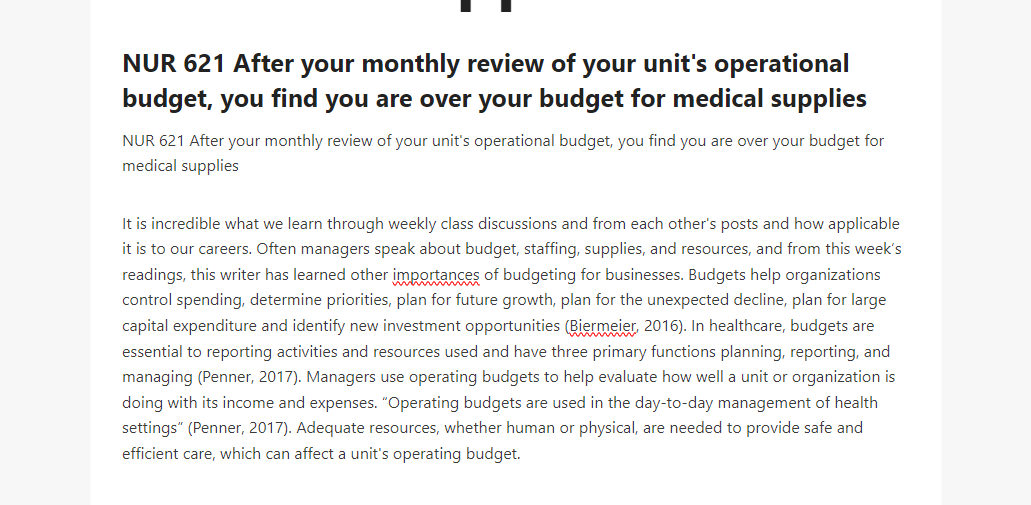 Once these issues were identified, then it would be important to connect with staff and find out ways that we could stop the waste that is happening on our unit. Practicing good stewardship and utilizing our colleagues to help grab supplies instead of opening multiple supplies and leaving them partially used in a room. Involving the staff with the overuse of medical supplies will get them involved and help make a difference.
Penner, S. J. (2017). Economics and financial management for nurses and nurse leaders (3rd ed.). New York, NY: Springer Publishing. ISBN-13: 9780826160010
RESPOND HERE (150 WORDS, 3 REFERENCES)
I concur with you Melisa that medical supplies represent the fastest growing increase in the current health care costs. As a result, the medical supplies may contribute to the over budget in operational budget. Nurse leaders determined to know the genesis of the excess spending ought to examine the cause of the increment. Audit charts and daily sheets provide credible sources for the nurse manager (James et al., 2018). Analyzing the documents will enable the leader to track both daily activities and the medical supplies' utilization. Comparing the figures allows the nurse leader to understand factors resulting to overspending (Campbell et al., 2018). Besides, the information enables the manager to suggest some activities that may be introduced to minimize the expenditure. Apart from the books, the staff is critical in explaining the swelling expenditure in medical supplies (Anderson et al., 2020). Hence, nurse leaders should connect with the staff to obtain accurate information on operational budget. Besides, the nurses may be critical in helping the facility to reduce expenditures.
References
Anderson, D. M., Cronk, R., Best, L., Radin, M., Schram, H., Tracy, J. W., & Bartram, J. (2020). Budgeting for environmental health services in healthcare facilities: a ten-step model for planning and costing. International journal of environmental research and public health, 17(6), 2075.
Campbell, M., Escobar, O., Fenton, C., & Craig, P. (2018). The impact of participatory budgeting on health and wellbeing: a scoping review of evaluations. BMC public health, 18(1), 1-11.
James, C., Gmeinder, M., Rivadeneira, A. M. R., & Vammalle, C. (2018). Health financing and budgeting practices for health in South Africa. OECD Journal on Budgeting, 17(3), 95-126.
According to the text a first step in reviewing budget overspending is to recheck the reported values and calculations for errors or calculation mistakes. Miscalculations can seriously affect the operational budget oof a unit or department. Checking the source of the over budget report and its results should be done, especially if this is a new occurrence. Verifying the data may reveal that the report was in error or that a supply vendor has recently had supply chain difficulty and a new vendor with better pricing or a similar item at an equal or less cost may be available. Ones the budget data has been verified then and analysis of the previous expenses should be completed to identify where the area of excessive expenditure is coming from (Penner, 2016).
Unit policies that establish a financial threshold or specified dollar amount for the investigation of line items that are triggered when the threshold amount is reached or when it is near. Electronic scanning for supplies and a code entry supply room to track waste and abuse would be a valuable means of reducing waste and pilferage. As well as the reuse of supplies that are disposable or one patient BP (Blood Pressure) cuffs and thermometer shields that are for surface temperature monitoring. Sometimes if staff can be educated on how remaining at or under unit budget allocation can lead to raises and unit bonuses. On the other hand, if unit costs are frequently over budget, this could lead to a smaller wage increase and even salary freezes and staff shortages due to budget target shortfalls (Penner, 2016).
Reference
Penner, S. J., RN, , MN, , MPA, , DrPH, , & CNL, . (2016). Economics and financial management for nurses and nurse leaders (3rd ed.). Springer Publishing Company.
RESPOND HERE (150 WORDS, 3 REFERENCES)
I agree with you that miscalculation is an arithmetic error that can resulted to budget overspending. The error may be either the introduction of new entries or overpricing some medical supplies in the operational budget (Troy et al., 2017). Therefore, reviewing the budget is the first step towards uncovering the incident of overspending. Checking and verifying the figures while reviewing the budget provides accurate information (Tabari & Memariani, 2019). Supposedly, the budget does not account for the excess expenditure the nurse leaders should examine other internal factors. Other excess spending may be triggered by wasteful use of medical supplies among the staff members (Robson, 2018). Nurse managers have many obligations they may take a prolonged time to realize the wasteful behaviors among the staff. Unfortunately, the leader cannot reduce waste and pilferage without understanding the cause of the excess expenditure in the operational budget. As a result, examine the cause plays a critical role in determining how the leadership will react to excess spending.
References
Robson, W. B. (2018). Healthcare Costs in Canada: Stopping Bad News Getting Worse. CD Howe Institute e-Brief, 275.
Tabari, M. Y., & Memariani, A. (2019). Developing a decision support system for big data analysis and cost allocation in national healthcare. In Healthcare data analytics and management (pp. 89-109). Academic Press.
Troy, P., Westaway, L., Grondin, A., & Rezanowicz, T. (2017, December). Rationalizing healthcare budgeting when providing services with mandated maximum delays: A simulation modeling approach. In 2017 Winter Simulation Conference (WSC) (pp. 2740-2751). IEEE.