NSG 6999 Discussion Keeper Study
NSG 6999 Discussion Keeper Study
NSG 6999 Discussion Keeper Study
Selected Article: Tasci, G., Baykara, S., Gurok, M. G., & Atmaca, M. (2019). Effect of exercise on therapeutic response in depression treatment. Psychiatry and Clinical Psychopharmacology, 29(2), 137-143. DOI: 10.1080/24750573.2018.1426159.
Reasons for doing the Study
The principal purpose of the study involved investigating the effects of physical exercise on therapeutic response with regard to major depressive disorder (MDD) treatment. Depression is a health burden and affects the wellness of several people in the world (Tasci et al., 2019). Other than the contemporary pharmacotherapy and psychotherapy approaches in managing depression, a need to implement exercise as an adjunct therapy is indispensable (Belvederi et al., 2018).
Sample Size
The study incorporated 33 patients visiting the Psychiatry Department of Firat University Hospital whose diagnosis was major depressive disorder. The participants ranged between 18 and 65 years and were divided into two groups. In the first group, also known as Group 1, the patients received a pharmacological intervention in the name of antidepressant medications under the instruction to brisk walk for 30 minutes (Gerber et al., 2016). As for Group 2, antidepressants only were given to patients.
Reliability and Clarity of the Variables used in the Study
            The instrument of the variables used in the study were clearly defined as they focused on outcomes of symptoms of depression upon administration of physical exercise therapy. The instruments were also reliable in providing a diagnosis for MDD as per the Structured Clinical Interview for DSM-IV Axis I Disorder (SCID-I) (Tasci et al., 2019). Clinical trials using the diagnostic tools provided reliable information based on the observed changes of participants following intervention involving exercise therapy (Adams et al., 2015). The variables assessed were based on outcomes that included improvement of the MDD, severity of the illness as well as that of the identified adverse effects.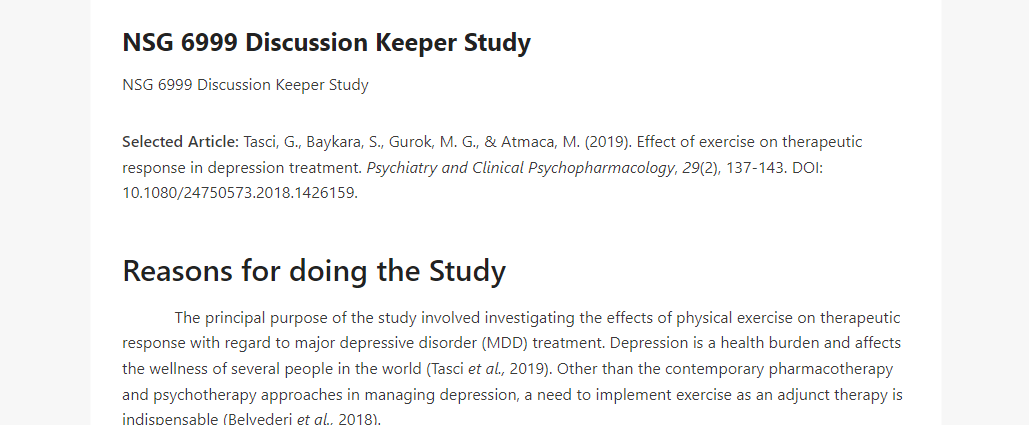 Analysis of Data
Data obtained were analyzed using the computer package program of Statistical Package for Social Sciences (SPSS) for Windows 21.0. Additionally, t-test was applied as a domain for binary comparison (Radovic, Gordon & Melvin, 2017). However, the researchers adopted the Chi-square test mainly for categorical comparisons while ANOVA was applied for the purpose of in cofactor comparisons.
Unusual Events during the Study
No unusual events were identified during the study. The study participants in the two groups remained the same during the course of the research. Based on this premise, no consequences in the therapy may be found when the study is replicated (Gerber et al., 2016). However, the only factor that may change during the research points at physical activity programs and this has a limited effect in predicting overall outcome in symptoms of depression.
How Results Fit in with Previous Research in the Area of Study
The results are consistent with previous that focused on non-pharmacotherapy and non-psychotherapy approaches in addressing MDD in adults. The outcomes from the article support results from past studies which revealed the positive influence of regular exercise on both physical and mental health of patients diagnosed with mental illnesses (Tasci et al., 2019). Besides, the study is based on previous results from other studies which recommended exercise in reducing morbidity and mortality since the intervention focuses on preservation as well as continuity of cognitive functions.
Implications of the Research for Clinical Practice
Physical exercise has protective as well as therapeutic effects for patients suffering from major depressive disorder. The argument is supported by the premise that exercise is vital for the modulation of depression due to its effects on neurodevelopmental, psychological and neurophysiological factors (Belvederi et al., 2018). With this, exercise can be used against stress and depression to support learned helplessness behavior. As such, exercise should be used as an adjunct therapy to enhance the quality of life of the subjects used in the research of Tasci et al. (2019). The approach is recommended for clinical practice as it is not associated with any side effects when compared to pharmacotherapy approaches in the management of depression.
References
Adams, D. J., Remick, R. A., Davis, J. C., Vazirian, S., & Khan, K. M. (2015). Exercise as medicine—the use of group medical visits to promote physical activity and treat chronic moderate depression: a preliminary 14-week pre–post study. BMJ open sport & exercise medicine, 1(1), e000036. DOI: 10.1136/bmjsem-2015-000036.
Belvederi Murri, M., Ekkekakis, P., Magagnoli, M., Zampogna, D., Cattedra, S., Capobianco, L., … & Amore, M. (2018). Physical exercise in major depression: reducing the mortality gap while improving clinical outcomes. Frontiers in psychiatry, 9, 762. DOI: 10.3389/fpsyt.2018.00762.
Gerber, M., Holsboer-Trachsler, E., Pühse, U., & Brand, S. (2016). Exercise is medicine for patients with major depressive disorders: but only if the "pill" is taken!. Neuropsychiatric disease and treatment, 12, 1977. DOI: 10.2147/NDT.S110656.
Radovic, S., Gordon, M. S., & Melvin, G. A. (2017). Should we recommend exercise to adolescents with depressive symptoms? A meta‐analysis. Journal of paediatrics and child health, 53(3), 214-220.
Tasci, G., Baykara, S., Gurok, M. G., & Atmaca, M. (2019). Effect of exercise on therapeutic response in depression treatment. Psychiatry and Clinical Psychopharmacology, 29(2), 137-143. DOI: 10.1080/24750573.2018.1426159.